LEGO Knight Bus 75957: Detailed Review
By

Nikita P.
/
January 01, 2020
LEGO and Harry Potter have partnered once again and the results are simply magical. If you're foreign to the Harry Potter universe, the Knight Bus is a play on the phrase "Night Bus." This is because the Knight Bus is a bus that passes by at night. It is also nausea-inducing because it moves too fast for the average human body and also the wizard body actually. If you have not seen the Harry Potter movies then all you need to know is that Harry, the protagonist boarded a Knight Bus in the Prisoner of Azkaban and it was an experience, to say the least. That experience is what LEGO is trying to recreate and we have to commend them because this set is pretty awesome.


The LEGO Knight Bus 75957 is a 2019 LEGO Harry Potter release. It has garnered a lot of positive reviews and if you're a Harry Potter fan you will definitely adore this model. The Harry Potter universe is home to millions of fans who celebrate the journey of the Boy Who Lived. We may not have gotten our Hogwarts letters in the mail but we can still enjoy and explore the universe.

This set comes with a lot of cool features we shall be discussing so buckle up and enjoy the wild ride.

Features of The LEGO Knight Bus

The LEGO Knight Bus is not as large as the actual Knight Bus. It also doesn't compress and contracts like the Knight Bus and that is actually a good thing because that would be extremely uncomfortable. This LEGO bus stands at 16cm high, 6cm wide and 16cm long. These numbers are very impressive especially for a set with only 403 pieces. It definitely will not be appropriate for all workspaces but it would look wonderful on a shelf or perhaps in your kid's room.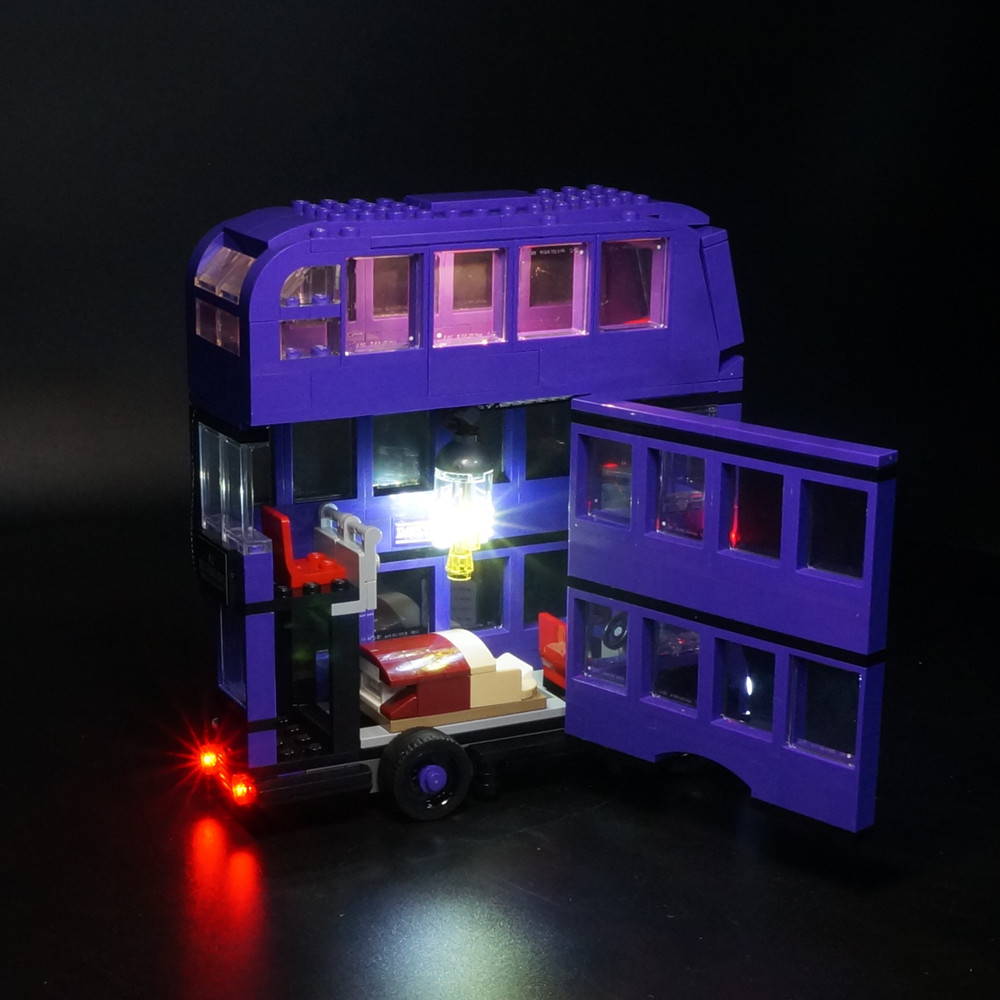 We'll be spending quite some time discussing the design because it is obvious that a lot of effort went into the design. There are intricate examples of this effort as is shown in the tires and especially the chandelier. To make it easier to analyze, we'll break it into three parts - the bus, the minifigures, and the accessories.

The bus is a beautiful deep purple color with black finishings and two plaques that say "Knight Bus." It is a whopping triple-decker bus. If that is not interesting then what is? How often do you see a purple triple-decker bus? As if that isn't enough, the bus can actually be accessed. It comes with a side panel that offers access to the interior. If you're trying to get into the upper deck don't fret, you can remove the roof or you could try out using Wingardium Leviosa to lift the top off. It also has a balcony area at the back of the bus where Stan stands. Red lights are situated at the sides to ensure adherence to the Wizarding Law. Last but not least we have the iconic sliding beds and of course the swinging chandelier. You'll get to experience all these once the bus is on its way.

Next up we have the Minifigures. Even though it only comes with three Minifigures, the harry figure comes bearing surprises. It comes with a trunk that you can load onto the bus. With this set, you can fully recreate the scene we mentioned in the opening paragraph. Of course, we also have Stan Shunpike, the conductor and Ernie Prang the driver of the Knight Bus.

Last but not least we have several accessories. Harry's Minifigure may come bearing a wand but the Knight Bus has something better! The mouthy shrunken head! Other accessories include chocolate, water, a letter, and a potion bottle all of which you can find in Harry's chest.

The design of LEGO Harry Potter Knight Bus 75957 is nothing short of amazing.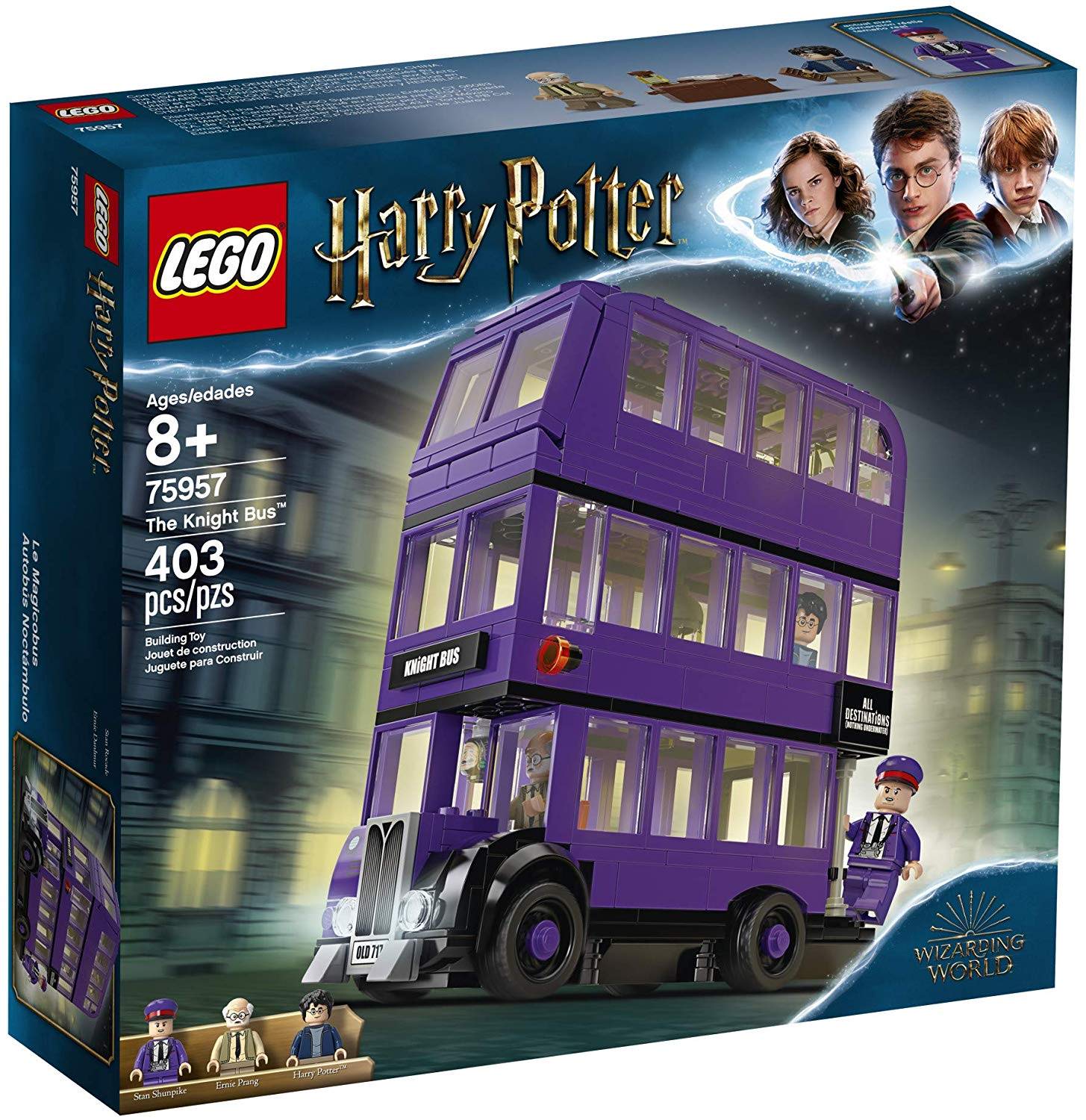 When you look at the LEGO Camper Van, your eyes will notice that it is a true replica of what a camper van is. It comes with the orange hue that reminds us of a typical van. Apart from that, the LEGO Camper Van comes with doors that open and close like rear engine door, Pop up the roof, as well as the Shiny VW logo.


This LEGO Bus set is available for 39.99 US Dollars. It is certainly more affordable than the bigger Harry Potter set. It'll be great for all wizards and witches above the age of eight. If you have ever dreamed of going to Hogwarts or what could've been, this is your chance. No need to dwell in the past. Magic already exists within us. Albus Dumbledore once said, "It does not do to dwell on dreams and forget to live, remember that." So, hop on the Knight Bus and take a ride, Hogwarts awaits you.

Building the LEGO Knight Bus 75957
With a bit of effort and of course with the aid of some spells, this set can be built within an hour or two if you're especially efficient. It does not have as many pieces as larger sets. The Knight Bus comes with 403 pieces therefore it will be relatively easy to piece together.

If you are building it with your friends, you may go faster. Apart from that, it is a pastime that you could share with others.


Nothing is more fun than Magic except Magic with some fireworks! If you want a truly unique Knight Bus experience, check our specially made LEGO Light Kits that will not only light up your way, they will make your collection stand out from any other out there