Practice magic at your best when you build the LEGO Hogwarts Magic Trunk 76399 Set.
Are you a fan of the harry potter movie? Then you are not new to the famous magic trunk to which each kid in the Hogwarts school was entitled. The box gave each Hogwart student special features that no typical trunk could. Hell, there was even a time when harry potter himself fit into this same magic trunk. And not to mention the hilarious moments harry and his trunk gave us on the big screen. 

How would you feel you had the opportunity to recreate this fantastic artifact? Would you play it? If yes is your answer, you can with the Lego Hogwart magic trunk 76399 set. This set comes with incredible details which would be fun to recreate from scratch. Have you been searching for a wonderful gift for a harry potter enthusiast? Then this set is just perfect. The collection features realistic details that will be fun to recreate with your kids and fellow harry potter fanatics. What awaits you as you venture into building this set? Let's find out.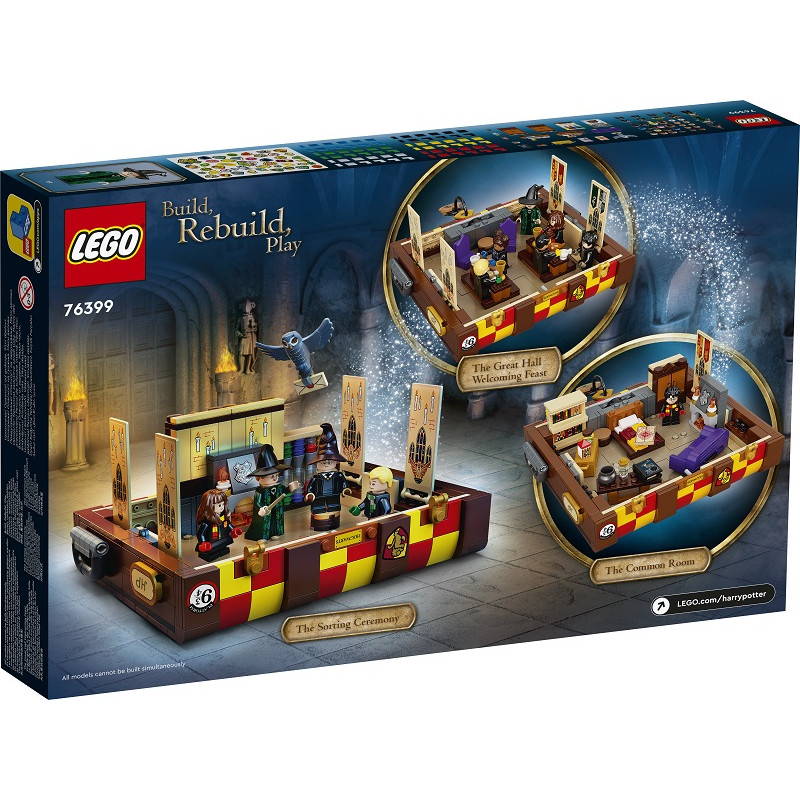 BUILDING EXPERIENCE FOR THE LEGO HOGWARTS MAGIC TRUNK 76399 SET.
This Lego set is very colorful and already gives off a fun vibe. It has many buildable parts that would immediately help remind you of epic scenes from the harry potter movie. This set is classified as a kid set, so you expect them to be easy to build. New Lego builders could try their hands on this set and its effortless build. This Lego set features customizable elements to help make the set feel like your own set. You could add different Hogwarts house colors or even mix up the colors a bit. This set gives you access to a wide range of customizable elements. With the Lego Hogwart magic trunk set, the sky limits what you can achieve. The wider your imagination, the more features you would be able to achieve with this set.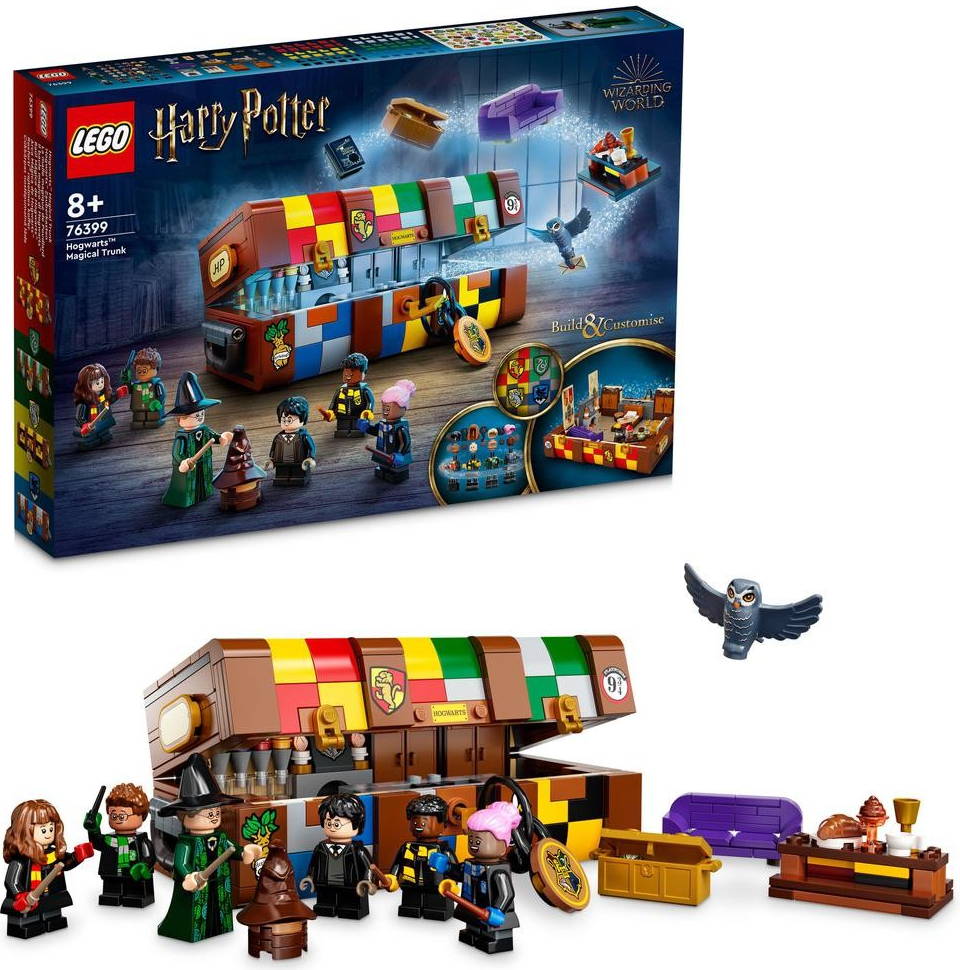 This set also comes with a wide range of Minifigures. And with the large number of details the harry potter movie gives you access to, you could go as crazy as you can with roleplaying and recreation of scenes. You could even recreate new scenes or your very own harry potter movie. Hell, you don't even need to reenact a harry potter movie. You could create your new magic world and fun characters. The set even comes with a manual that would help make the building of the set effortless. This manual is designed to appeal to all young or old users. It features colorful step-by-step pictorial instructions that would be fun to work with. So if you are a Lego collector, let nothing stop you from including this fun set in your Lego collection. Overall, the Lego Hogwart magic trunk set would be entertaining to build. The set also comes with breathtaking features and details. The following section will discuss this further on that.
FUN DETAILS FOR THE LEGO HOGWART MAGIC TRUNK 76399 SET.
● CUSTOMIZABLE SCENES.
Though it has been said countless times through this article, this Lego set comes with authentic accessories that can be built and customized to create new scenes. Yes, you could make your version of the harry potter movie using this set. You could customize scenes from a Greate hall feast, Sorting ceremony, and the Common room are among the films you could tweak with this set and make your own.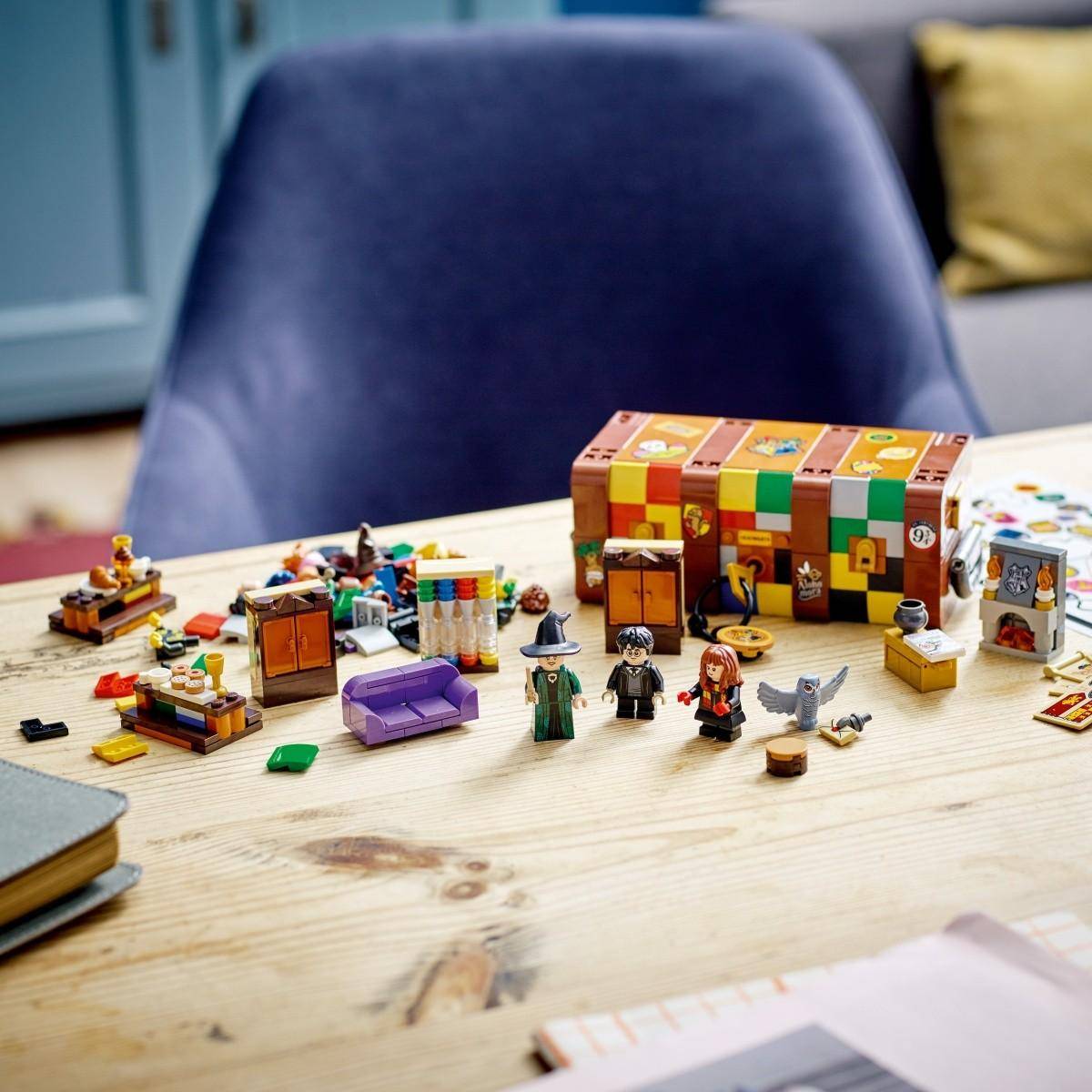 ● CHARACTER MINIFIGURES.
Your roleplaying or movie making wouldn't be complete without Minifigures to go with it. Thankfully this Lego set offers you that as well. Take your Lego Hogwart magic trunk building to the next level by strategical position your set Minifigures to perfectly reenact scenes from the harry potter movie. If you are looking for something to help keep your kids entertained for a long time. So no need to look for a toy to help keep your kids engaged. This Lego set has all the cool features you need.
● LOTS OF COOL ACCESSORIES.
This set does not just leave you with an empty trunk. The set also comes with a fun, buildable accessories. Each of these details helps add to the overall building experience of this Lego set. You could reconfigure the accessories magically to help suit your child's needs. Some of these accessories include the potion, sorting hat, and cauldron. These are just a few of this Lego set's buildable accessories. So feel free to encourage creativity when your kids work with this set. Help them get the most out of it by walking hand in hand.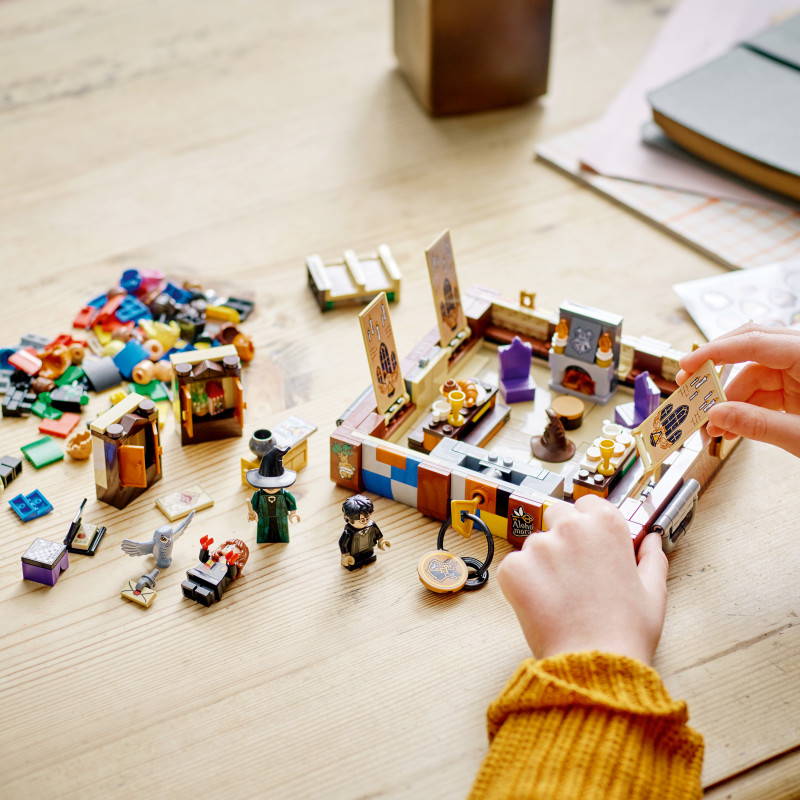 ● MADE WITH QUALITY MATERIAL.
Yes, this Lego set is made with sustainable material. Each brick piece is tested to meet the Lego company's high standards. The sets are also tested to ensure they are safe and can be used by both kids and adults. So you don't need to worry when building this set with your kid's present. The only time you would need to exercise a bit of caution would be if you have kids younger than age 8. Such ones would need to be monitored closely no ensure non of the pieces escapes into their mouths.
● SET SIZE.
The Hogwarts magic trunk set could be regarded as a small set. This is because it was majorly designed to appeal to younger kids. The set comes with a total of 603 pieces. Because of this set's size, it serves as a collectors display artifact. This is because of the sets ratio. This Lego set measures 2.5 inches high, 6.5 inches wide, and 2.5 in dimension. Looking at the set, you would notice that it is a perfect triangle, just like the real-life Hogwart magic trunk.
Purchasing this Lego set for your kids shouldn't be that difficult. Just find out what Lego stores are around your area or closest to you. You can accomplish this by turning on your google location when you search. But if for some strange reason, you can not locate a store in your region, you could then consider using the Lego website directly. You place an order and have the set delivered quickly and with no stress. The only downside would be waiting for your set to be delivered within a week. This set is sold for about 59.99 dollars, give or take. You could also add special light kit features to your set to make it look more brilliant. How does that work? Let's find out!

MAKE YOUR LEGO HOGWARTS MAGIC TRUNK EVEN MORE MAGNIFICENT WITH OUR SPECIAL LIGHT KITS.
Improve the quality of your Lego set with the help of our special light kit. Our kits are designed and customized to work with different Lego sets. You need to select the suitable light kits designed just for your set. Picking the fitting light kit is just the first step in your light kit journey. What comes next? You may wonder. Well, you would need to install your light equipment as well. If you are new to our light kits, you do not need to worry. If you follow these three steps, you will be fine.
1. Inspect the light kits before use.

Before you rush in to install your light kits, scrutinize them. This step is essential because it is common for light kits to get badly damaged during shipment. So check out for signs of damage, and if any, request a replacement immediately using your 30days warranty card. Once your replacements have arrived, inspect them as well, and if they look good, you can then move on to installation.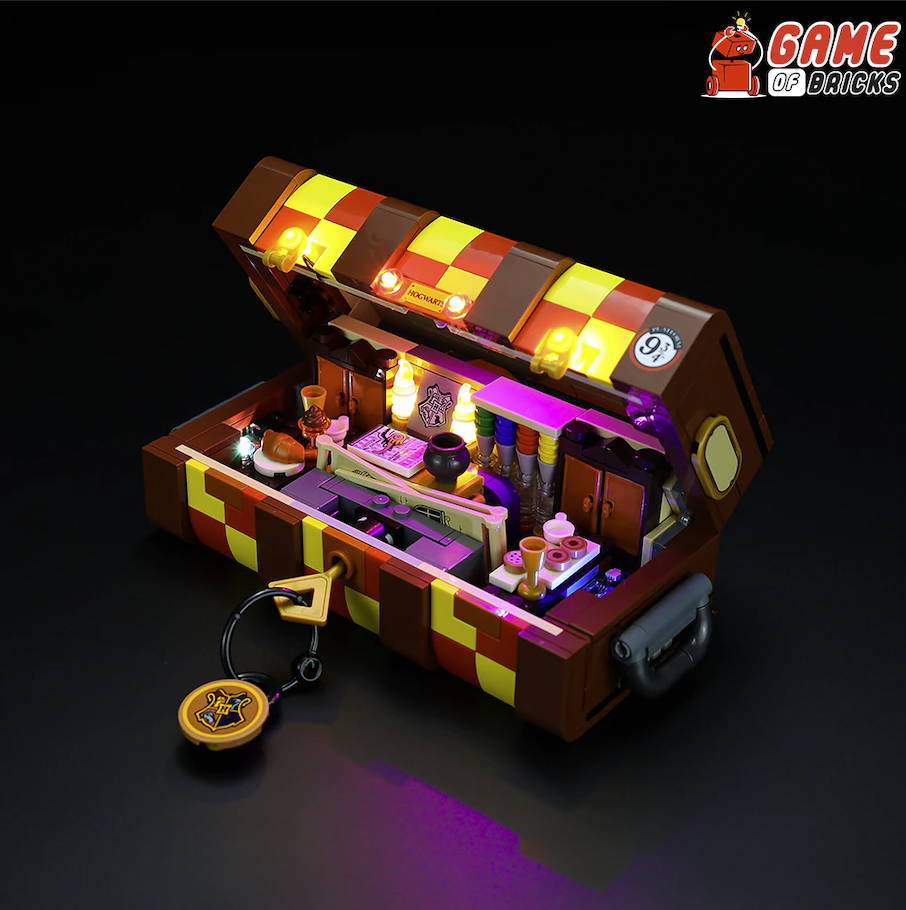 2. Installation process.
The installation process for our Lego light kits could be a walk in the park if you follow the manual the kit provides. The manual is clear and would make your installation fun and engaging. Just a little word of advice; take your time installing your light kit. Your light kits are very delicate and could easily get damaged if not handled with care.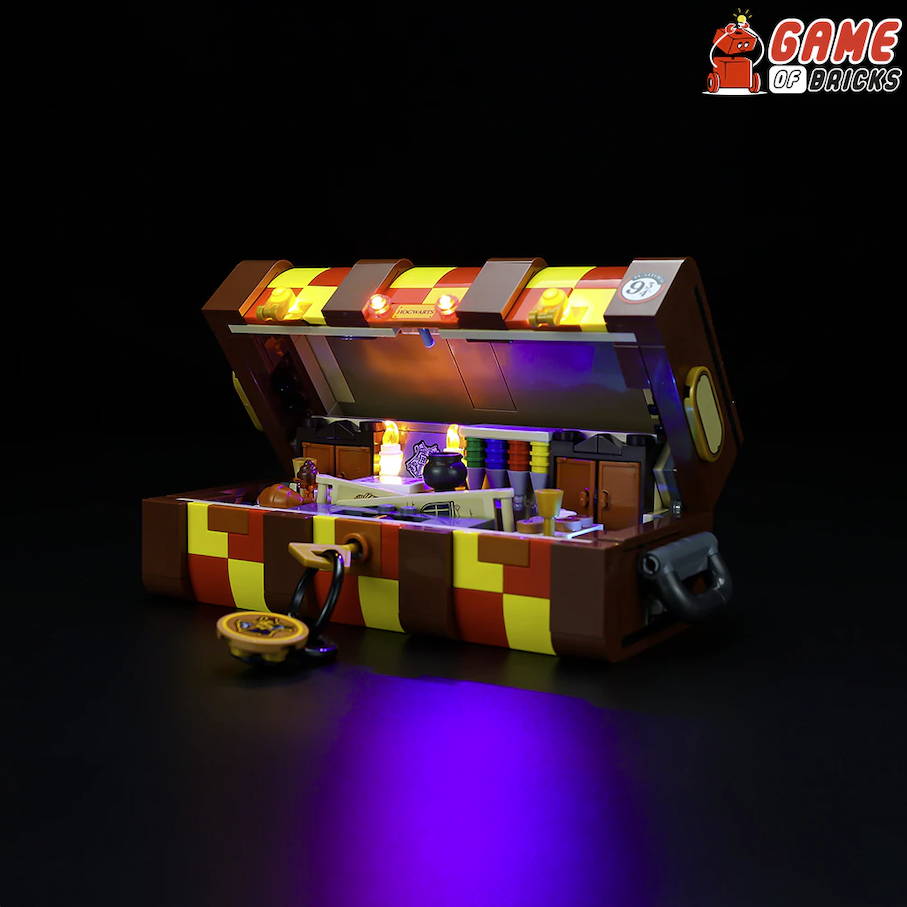 3. Test all installed light
Once you are done installing your Lego light kit, the next thing you should do is inspect them. Your goal is to make sure your light kit is safe for use. Anything like sparks or short-circuiting is a bad sign and could prove that something is wrong. Once you are done inspecting and everything looks good. Put your Lego Hogwarts magic trunk on display for all to see!
---