LEGO Heartlake City Resort 41347: A Whimsical Journey Into LEGO's City of Dreams
By

Eve Alessa Arevalo
/
June 05, 2023
The LEGO Heartlake City Resort 41347 is a playful and imaginative toy set that takes the creativity of LEGO design to a new level. As part of the popular LEGO Friends series, this LEGO set takes us on a vivid journey to the fictional Heartlake City, known for its vibrant atmosphere and cheerful characters. This review will dissect the details of the set, providing an in-depth examination of its design, building experience, playability, and overall value

Design and Features
Main Components or Areas
The set comes with an impressive 1017 pieces, constituting various areas within the resort: a hotel with a lobby, restaurant, juice bar, and two bedrooms, a monorail with a stop, a water park with two slides, a hot air balloon, and even a DJ stand. This provides plenty of versatility and room for imaginative play. The design is colourful, rich in detail and very appealing, capturing the exciting ambiance of a holiday resort.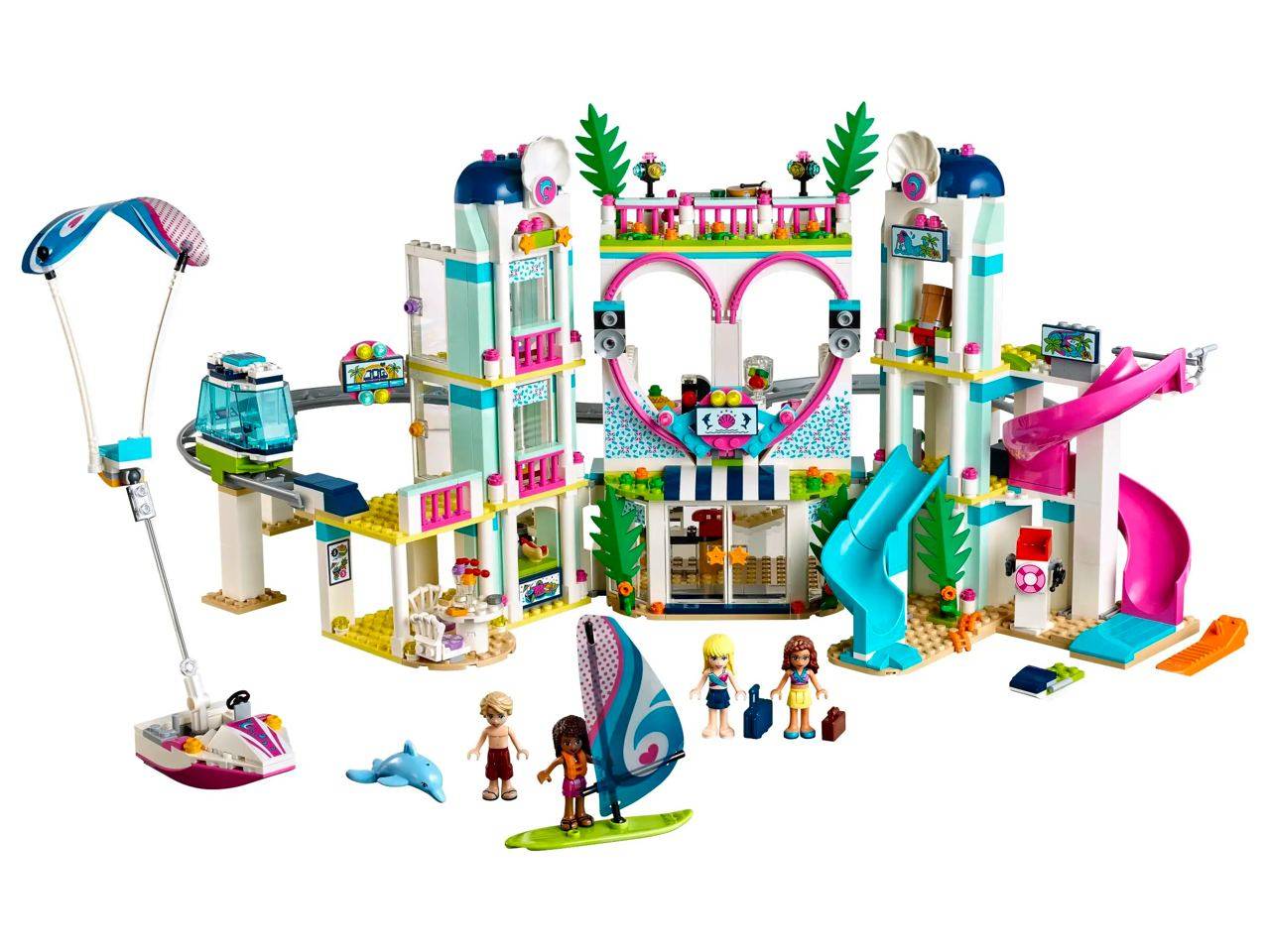 Minifigures

The Heartlake City Resort set includes four mini-doll figures: Stephanie, Andrea, Olivia, and Mason, along with a dolphin figure, each with their unique outfits corresponding to the resort theme. This ensures a diverse cast of characters to role-play with, enhancing the interactive experience.
Accessories and Decorations
There is a plethora of accessories and decorations that come with the set. These include luggage, key, hot dog, watermelon, apple, cup, sunscreen, binoculars, and even a fish. Additionally, the set features various decorative stickers to accentuate the resort's festive theme. These accessories add depth and realism to the play scenarios.
Building Experience
Complexity and Engagement
Despite its seemingly complex appearance, the Heartlake City Resort set strikes a good balance between challenging and engaging. With its high piece count, it provides a satisfying building experience for both young and older LEGO fans. It's a great set to promote problem-solving skills, patience, and creativity.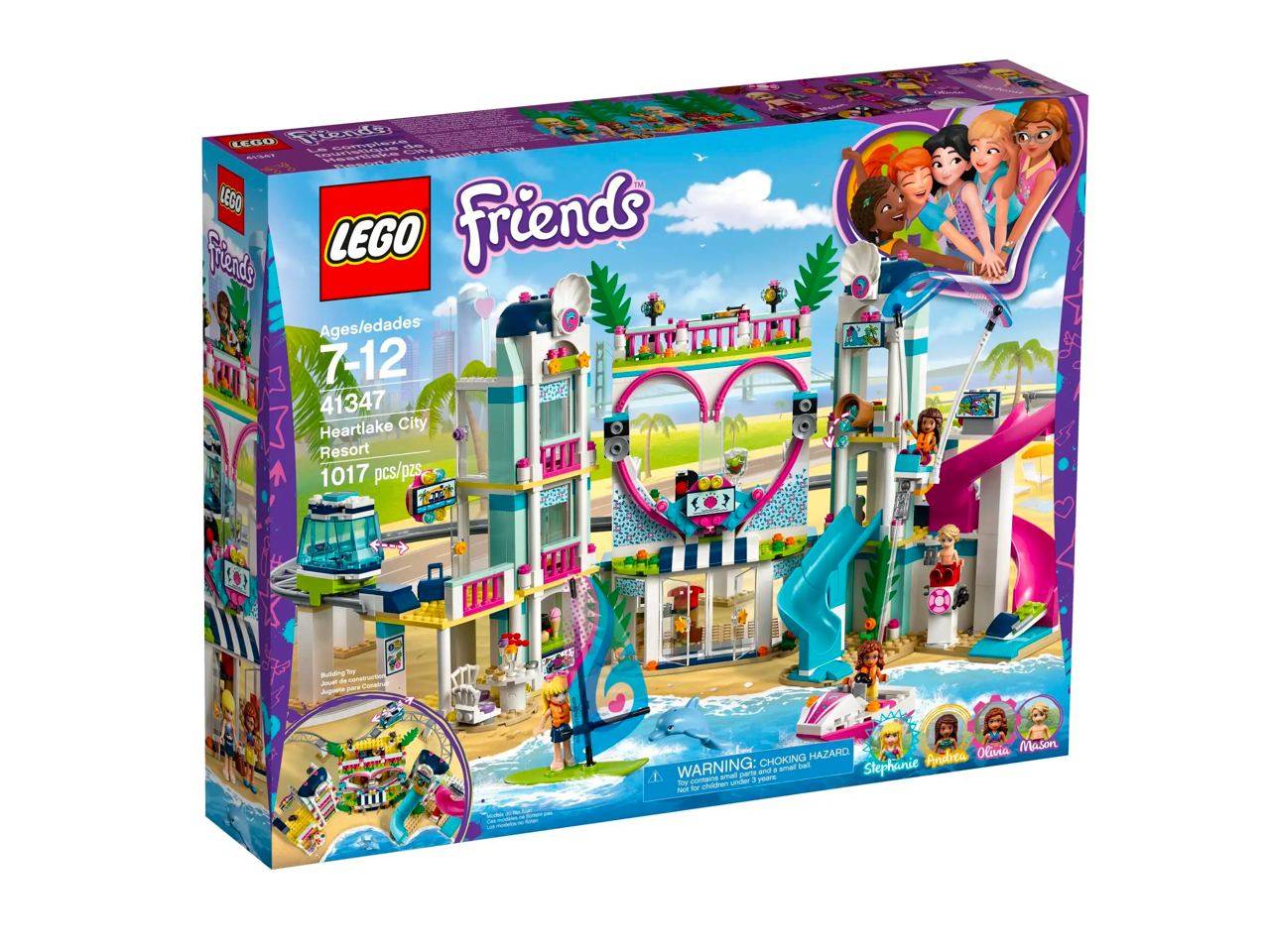 Instruction Manual and Building Process
The building instructions are clear and easy to follow, adhering to LEGO's high standards for its manuals. The steps are arranged in an organized way to ensure a smooth building process, making it an enjoyable experience for builders of various skill levels.
Playability and Entertainment Value
Interactive Features
This set is brimming with interactive features. The monorail and slides allow for dynamic play, while the different areas in the resort stimulate diverse scenarios. The hot air balloon is a fun addition, and the DJ booth makes for exciting party scenarios.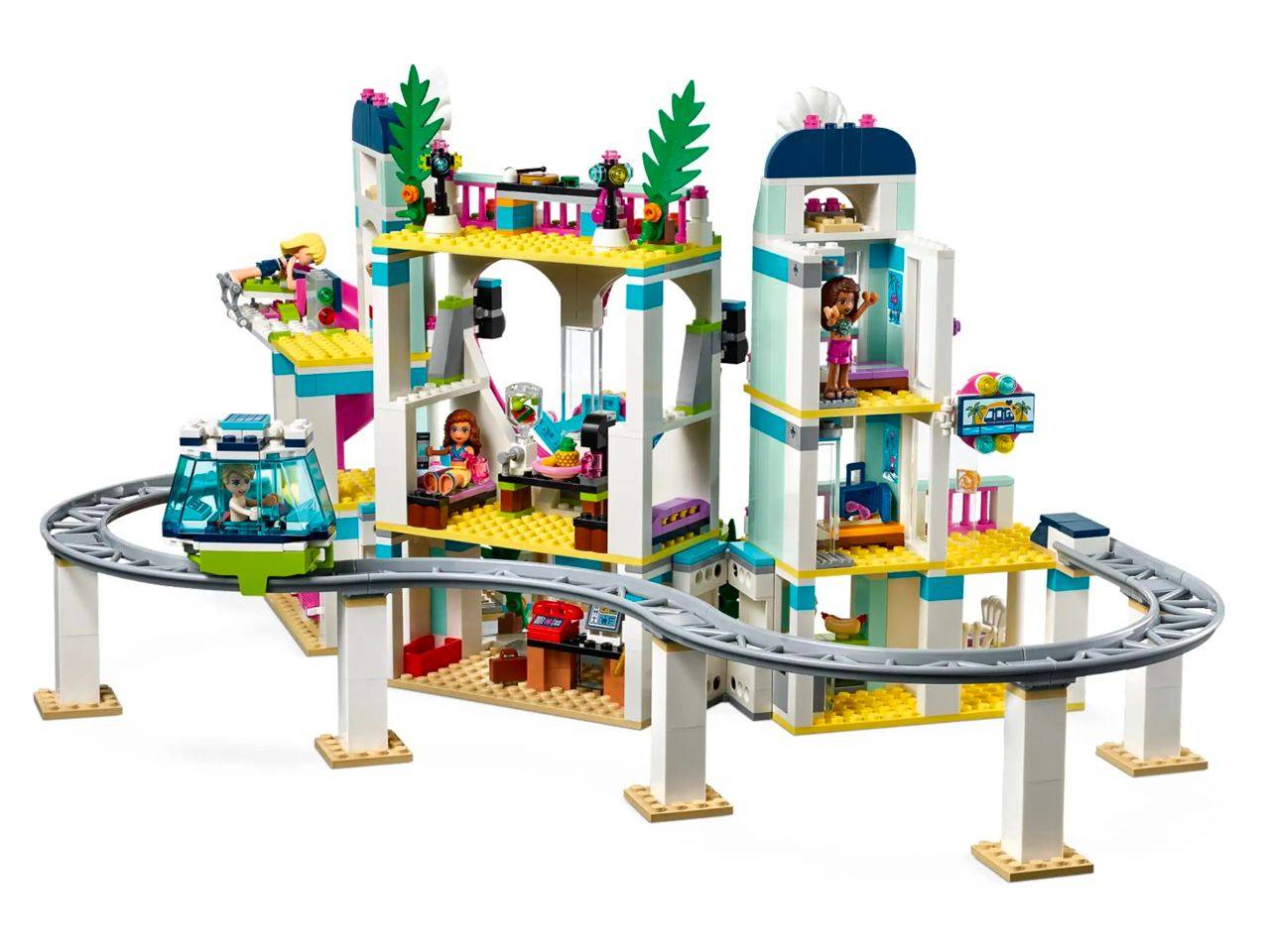 Value for Money
Number of Pieces and Design
With over 1000 pieces and the depth of design in the Heartlake City Resort set, it provides considerable value for its price point. The multiple features and versatile design justify the cost, as it promises hours of constructive and imaginative play.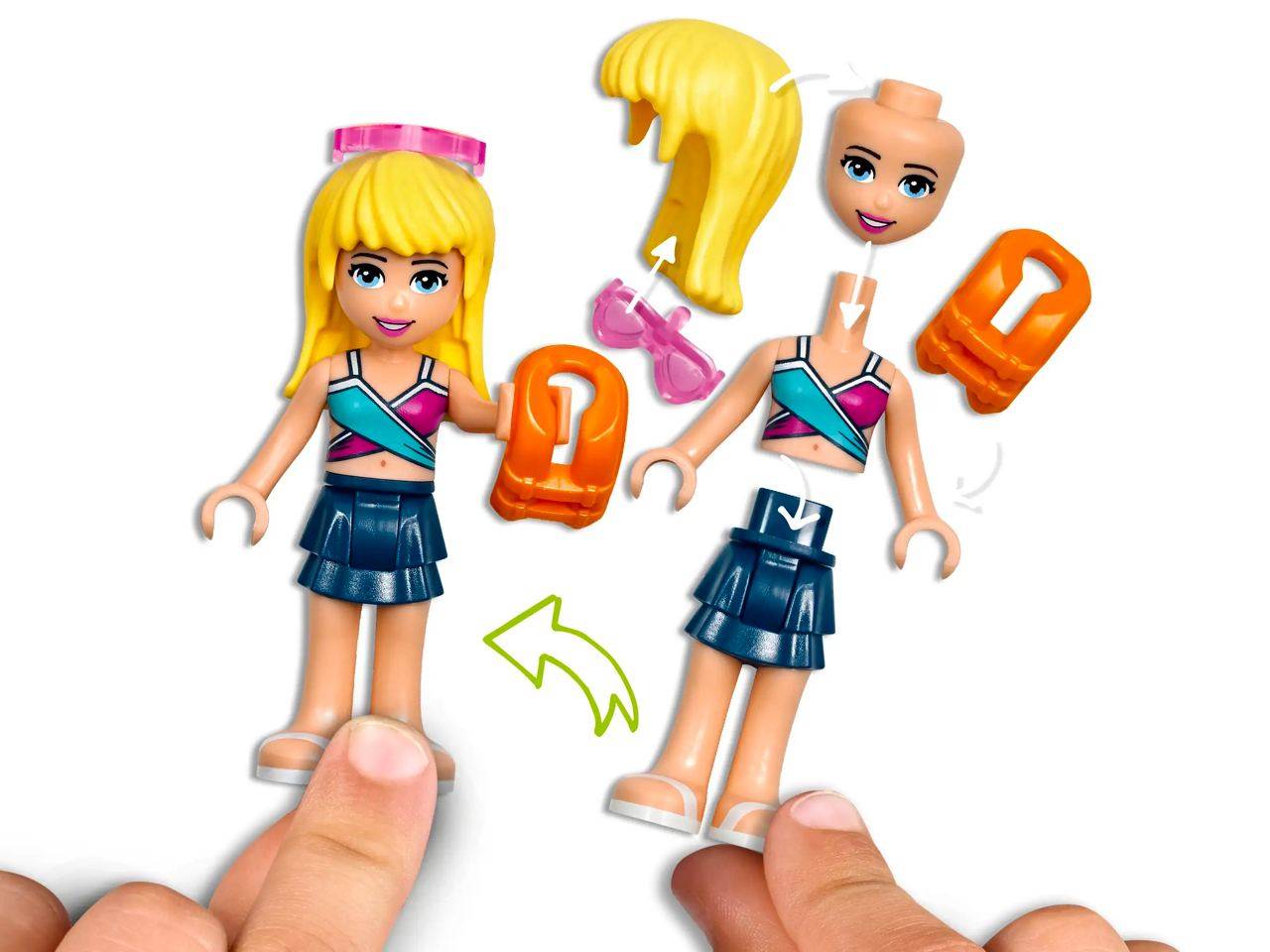 Compatibility with Other LEGO Sets and Themes
This set is highly compatible with other LEGO Friends sets, allowing for expanded storytelling opportunities. However, it may not be as integrable with other LEGO themes due to the unique nature of the mini-doll figures and the specific aesthetic of the Friends series.
Pros and Cons
Pros:
The Heartlake City Resort set is feature-rich, providing a diverse range of play scenarios. The colourful design and detailed areas add to its charm. Its building experience is enjoyable, providing a balance between challenge and engagement.
Cons:
However, some may find the use of stickers for decorations less appealing, preferring more printed pieces. Furthermore, the set's compatibility with other LEGO themes could be better, considering the distinct Friends theme.
Final Thoughts and Recommendations
Summary of the Set's Appeal
The LEGO Heartlake City Resort 41347 shines in its design and playability. It provides a detailed, colourful, and fun-filled representation of a holiday resort that is certain to capture the imagination of builders and players alike. The set is immersive, offering countless hours of entertainment.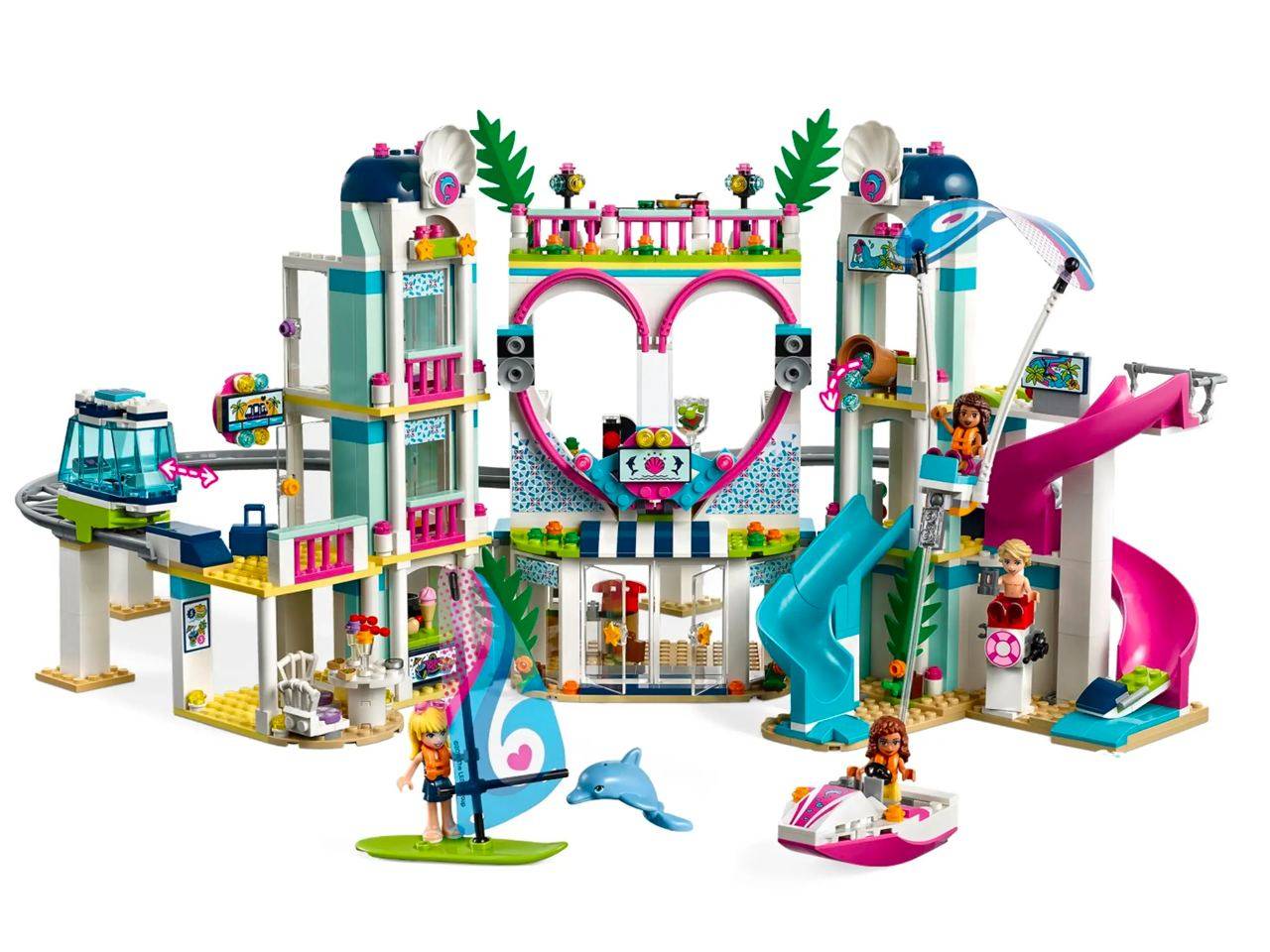 Target Audience and Overall Value
While the Heartlake City Resort is marketed mainly towards young girls, its appeal is universal, offering enjoyment for any LEGO enthusiast, regardless of age or gender. Despite a few minor drawbacks, the set offers excellent value for money, given the sheer number of pieces, the detailed design, and the limitless play opportunities it provides.
In conclusion, the LEGO Heartlake City Resort 41347 is a worthy addition to any LEGO collection. It promises a memorable and engaging building experience, coupled with expansive play opportunities. This set is sure to offer any builder a fantastic voyage into the vibrant world of Heartlake City.
Illuminate Your LEGO Experience with the Game of Bricks Light Kit for Heart lake City Resort 41347
Venturing into the world of LEGO, one often searches for ways to upgrade the static architectural marvels into dynamic, lifelike structures. Game of Bricks' Light Kit for Heartlake City Resort 41347 serves exactly this purpose. The kit, designed exclusively for LEGO's Friends Heartlake City Resort, reimagines this colorful beachfront resort in a vibrant new light, quite literally.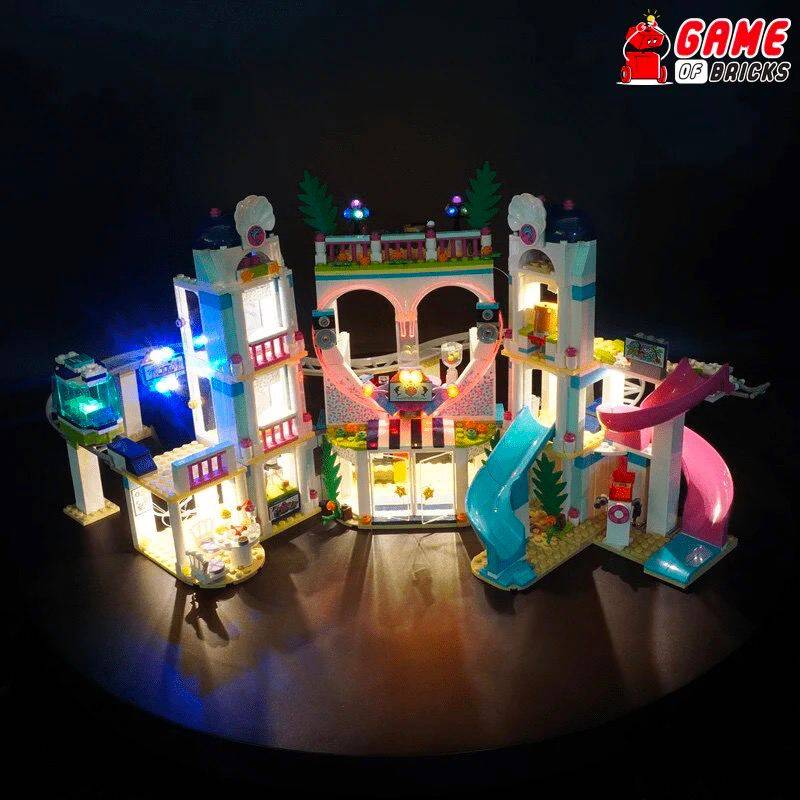 Easy Installation
One of the main perks of this light kit is its ease of installation. Even for a novice builder, the comprehensive instruction manual lays down a clear, step-by-step guide on how to properly integrate the lights into your LEGO model. The wires are thin and flexible, fitting neatly within the LEGO bricks, maintaining the aesthetic appeal while avoiding any unsightly tangle. No previous electronics knowledge is needed, making the light kit accessible to a wide age group of LEGO enthusiasts.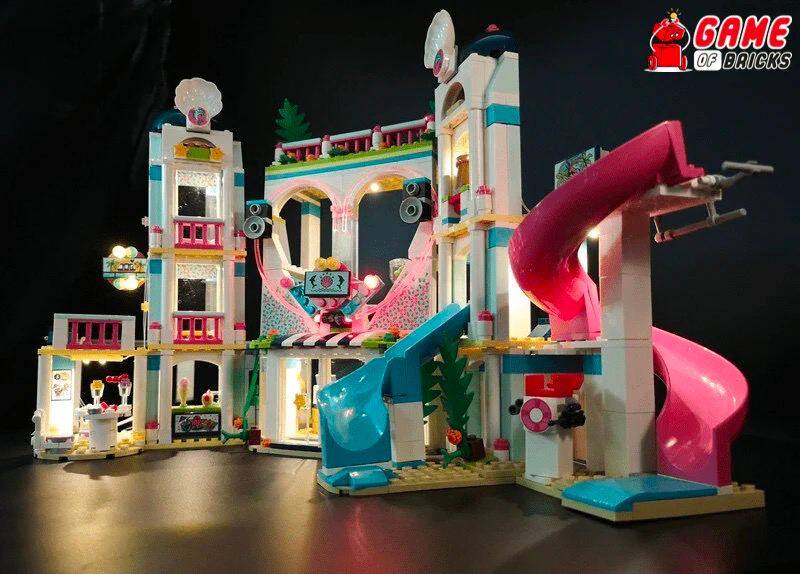 Enhanced Details
With the Light Kit for Heartlake City Resort, every detail of the LEGO structure gets a chance to shine. Each room in the resort, the monorail, the water park, and even the beachfront are brilliantly illuminated, breathing life into the model. The LED lights, specifically designed for each section, magnify the finer aspects, creating an eye-catching display, especially when viewed in low light. The vibrant colors of the LEGO set are further highlighted, resulting in a spectacular, radiant model that truly stands out.
Customizable
Another major advantage of this light kit is its customizable nature. The kit comes with various types of lights, from warm whites to multicolor LEDs, allowing users to creatively customize their model. Whether you want a calm, warm light bathing the beachfront or a lively, colorful disco effect in the resort's dance floor, the choice is yours. This degree of personalization enriches the LEGO building experience, making it truly unique to each builder.

Durability
The Game of Bricks Light Kit doesn't just deliver in terms of aesthetics but also promises longevity. The high-quality LEDs are built to last, enduring prolonged use without dimming or burning out. The wires, while thin and flexible, are surprisingly durable, standing up to the inevitable twists and turns during installation. Additionally, the USB-powered system ensures a steady power source, offering consistent illumination for your Heartlake City Resort.
Minor Downsides
While the light kit does bring a new dimension to the LEGO set, it is not without minor drawbacks. For one, the setup process, though simplified with the manual, is still time-consuming. Also, while the thin wires are a boon for blending into the LEGO structure, they may be somewhat delicate for younger builders or those with a heavy hand. Despite these small inconveniences, the overall experience and end result are well worth the effort and care needed.
Conclusion
The Game of Bricks Light Kit for Heartlake City Resort 41347 is a valuable addition for any LEGO builder looking to enhance their display, adding an additional layer of realism and charm. Despite some minor downsides, the kit offers easy installation, customization options, and durability, ensuring that your Heartlake City Resort remains brightly illuminated for a long time to come. The delight of seeing the LEGO set glowing with life is truly unparalleled, and for this, the light kit from Game of Bricks comes highly recommended.