Enjoy epic adventures with the LEGO Harry Potter Hogwarts Moments: Potion Class 76383 Set.
By

Mark Gini
/
June 27, 2022
Are you a fan of the Harry Potter movie franchise? Then you would love this new Lego Set. This new Lego Set design is taken from the scene of Harry and the crew in the Hogwarts potion class. The Set has many authentic details, making it successfully replicate details from the movie. The Set could be a perfect present for any Lego Harry Potter fanatic, so if you have a kid who is a fan of the Harry Potter movie. The Set comes with not only beautiful-looking scenes but also impressive Minifigures.

One more cool thing that makes this Lego Set fun to build is the challenge and delight the Set gives. Are you ready to feed your imagination? If yes, then this Lego Set is just suitable for you. This Lego Set is also very portable and can easily be carried from one location to another. Despite the Set's portable size, it's packed with many unique details that would keep you engaged for hours. Do you have kids with a wild imagination? Then you can get this Lego Set. This amazing Lego Set also has an excellent building experience for kids and adults. Let's now look at all you are to expect from this Sets building experience.
BUILDING EXPERIENCE FOR THE LEGO HARRY POTTER HOGWARTS MOMENTS: POTION CLASS 76383 SET.
There is much you stand to gain while building this Lego Set. The Set has lots of cool features, which would be fun for kids and adults. The Set is designed like a little suitcase. Inside this box, like Set, are fantastic moments from the Hogwarts Potions class. This Set is designed to be as straightforward as possible. Some people claim that this Lego set has many things going on. But the truth remains that Lego tried their best to ensure each scene was well represented and looked as realistic as possible. You even have fantastic Lego elements representing the potions used to create potions for spells and other magical things; you also get several different floors inside the Set representing different moments from the Harry Potter potions class. The Set was exceptionally designed to help you relive your favorite moments from the movie: many claims it met that expectation quite OK. Then the help make your moment creation complete, Lego went a step further to add minifigures to help bring more life to the scene.
The workload for this Set is not that large. This means that if you are a fast and experienced Lego builder, you could recreate this Lego Set in an hour or two. This Set is also a new way for people new to Lego. It could be an excellent place to start and gain experience. This Lego Set could be a good bonding tool for you and your children. One more thing that makes this Lego Set so special is its unique instruction manual. The manual is colorful and contains precise details about how you should assemble the Set. This manual has been well formatted so that you don't get bored while looking through it. Overall, whether you are single, married, engaged, old, or have a kid, you are sure to get a mind-blowing by the sets building experience. So whether it's for your kid or you, getting this Set should be at the top of your waiting list. But, if you need a bit more convincing, let's find out what the features of this Lego Set are.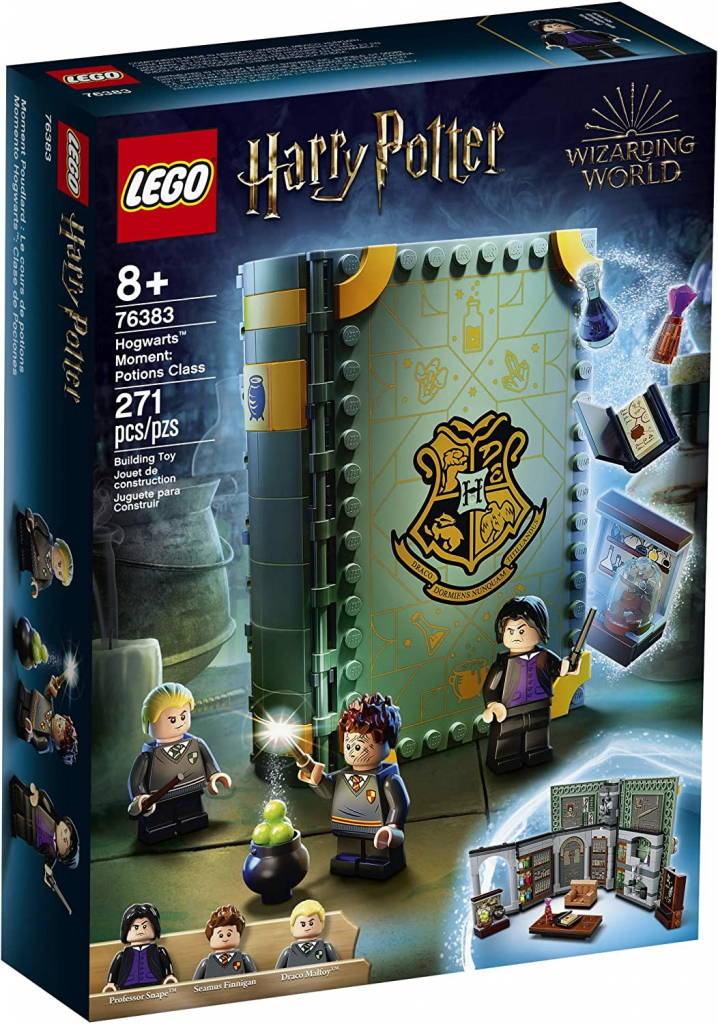 FEATURES OF THE LEGO HARRY POTTER: MOMENTS POTION CALL 76389 SET.
● COOL SET MINIFIGURES.
To make roleplaying much fun, this Lego Set comes with three minifigures of characters from the Harry Potter movie. The Minifigures all have two faces. There is also an exclusive Minifigure to this which is Seamus Finnigan. He comes with two faces, one where he smiles in happiness and the other when a potion explodes on his face. Seamus is also designed with a potion book in his right hand. In addition to the Seamus Minifigure, we also have Draco Malfoy and Professor Snape Minifigures. Of course, these additional minifigures also come with two interchangeable faces. These features make this set a whole lot fun to play with.
● COMPACT BUILD.
The Lego Set has many details that make it look as close as possible to the Potion Class at Hogwarts. Some of these features include 3 Minifigures, a table, and Couch. You also get the cool detailing of a potions shelf and other cool boxes. All these details and features help complete the potions class Set. The fun part about this Lego set is that all these incredible details are compact and can be arranged to fit perfectly inside the storybook-looking Set. Enjoy building and then packaging this Set, not needing to dismantle it when you have to transport it.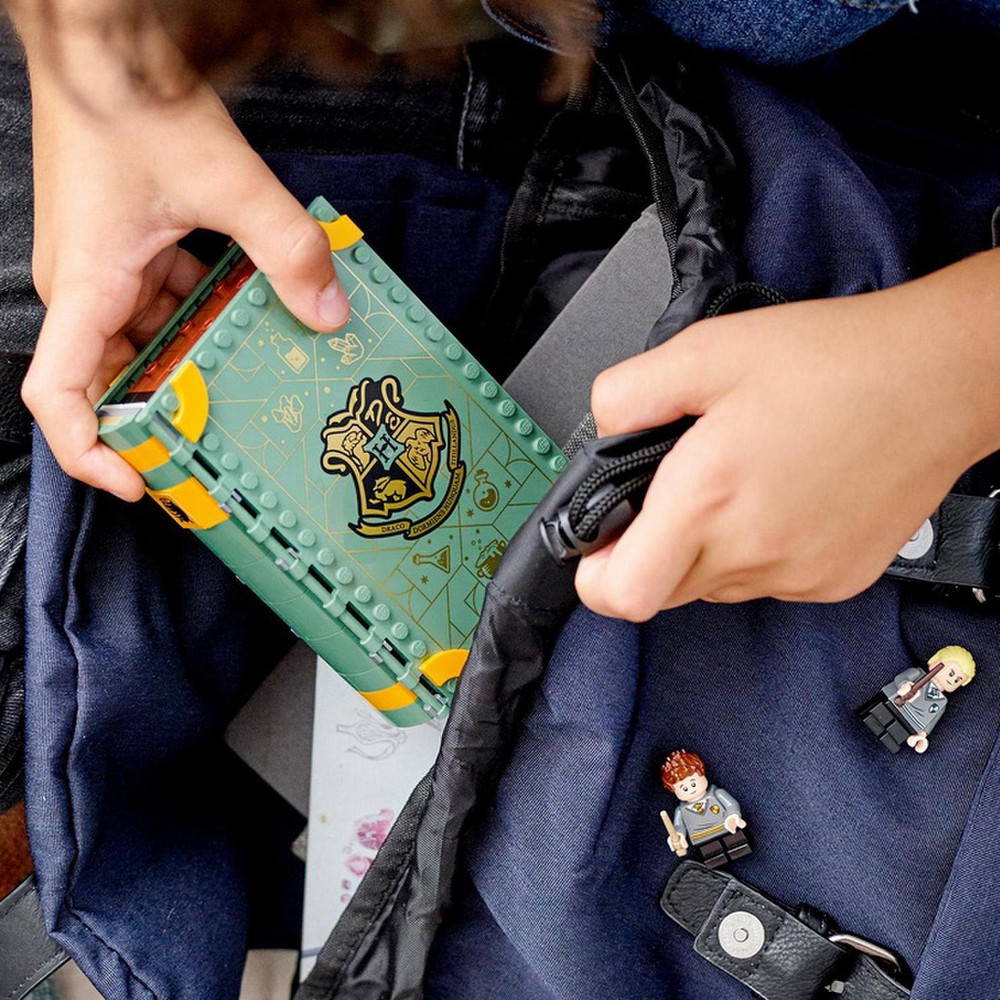 ● PORTABLE SIZE.
The Lego Harry Potter Moments Potion class set is a very portable set you can put together in an hour or two. The Lego Set comes with a total of about 271 pieces and three Set Minifigures. The set measures about 5 inches high, 3 inches wide, and 1.5 inches deep when completely put together. This fantastic set size makes this Lego Set highly compatible and easy to transport.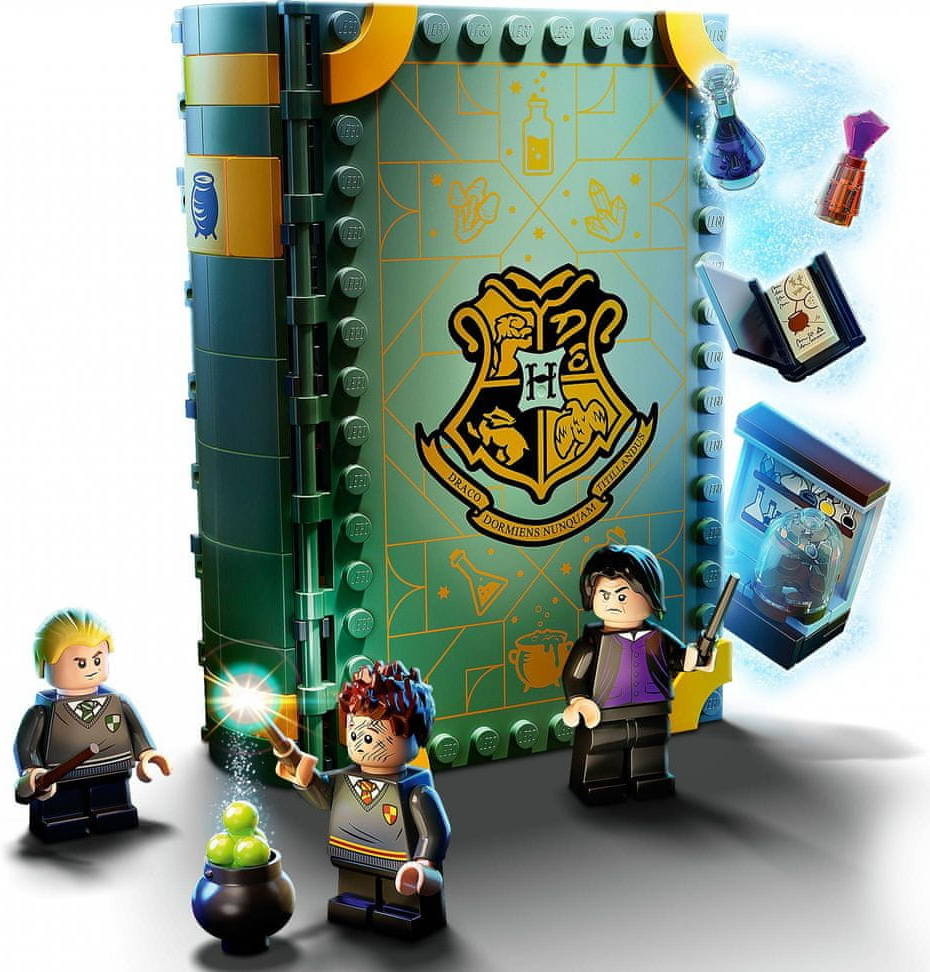 ● PART OF A SERIES.
This Lego set is part of a series of Hogwarts moments Set. Are you a fan of the Lego Harry Potter series? If so, then you are surely going to love these Sets. You could even collect and combine these sets for a better building experience. These Sets all come in different book colors and would look lovely as a display Set.

You can now purchase the Lego Harry Potter Hogwarts Moments Potion Class Set directly from Lego stores in the US and UK. The Lego Set is affordable but could be very cheap or expensive, depending on your location. You could purchase the Lego Harry Potter Hogwarts Moments Potion Class Set from Lego stores and the Lego website for about 29,99 dollars. This makes this Lego set highly affordable. After you have purchased this Lego Set and put it together, there is one more thing you need to do. Install our amazing Lego lights to make your Set stand out. How do you do that? Let's find out.
MAKE YOUR LEGO HARRY POTTER MOMENTS POTION CLASS MORE AWESOME WITH OUR AMAZING LEGO LIGHT KITS.
Our Lego lights are designed to ensure they are highly compatible with Lego Sets. All Lego Sets have Lego lights perfectly designed to help them feel more classy and lovely. Your Lego Harry Potter Set is no exception. But what do you have to do to make your Lego Set even more amazing? Let's look at some steps you can take.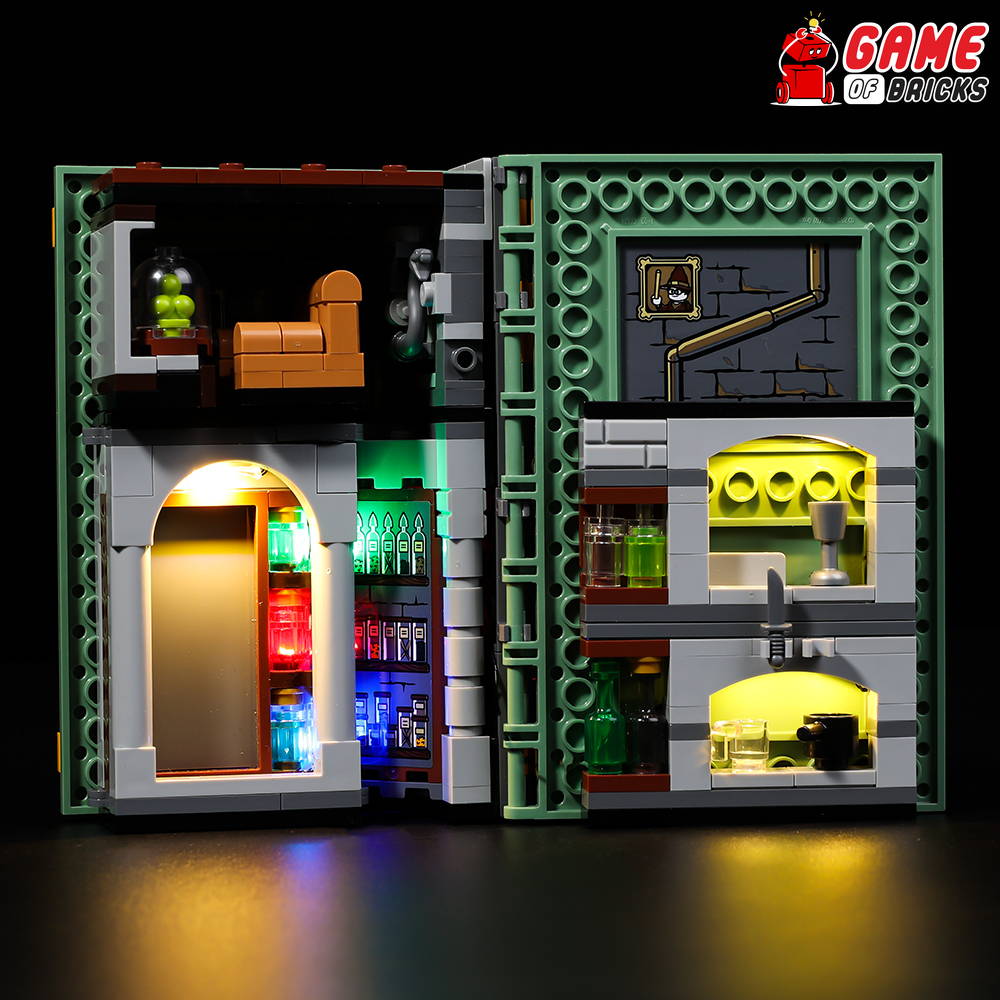 1. INSPECTION.
Once your Lego light kits and accessories arrive, you first need to inspect them for damages. This inspection shouldn't take long. All you need to look for are any cut wires or broken bulbs. If you notice any of those problems, be sure to return the Lego Set right away. You could even ask for a replacement using your 30days warranty card. Once you have carefully inspected your light kits and all looks good, it is now time to install your light kits.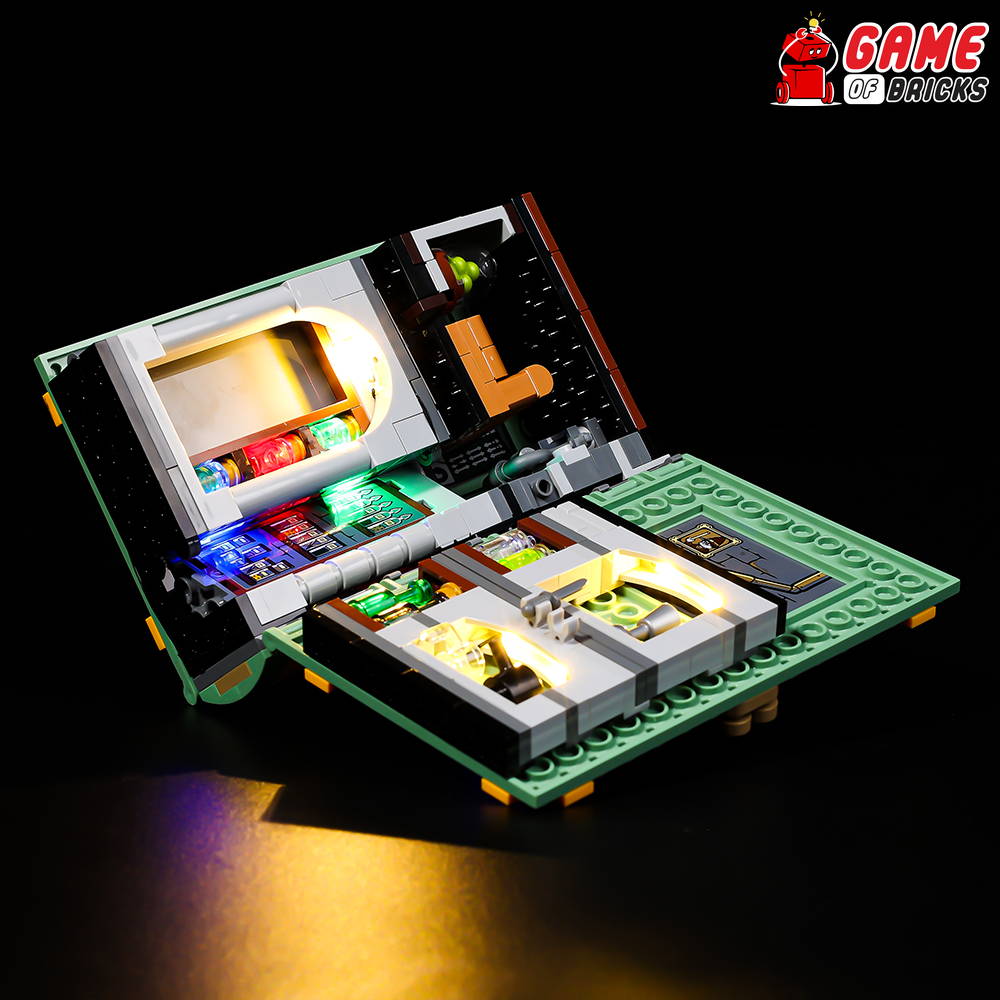 2. INSTALLATION.
Whether it's your first installation or not, it is always good to seek the light kit instruction manual before installing it. The truth is that no two sets are the same, and the process for establishing one light kit on one Set would completely differ from the instructions on another. So to ensure you are doing the right thing and ready to get the best out of your installation process. Also, be sure to handle your light kit with care. Your light kits could easily get damaged, so be very careful. If you carefully follow the instructions in the manual, you will surely succeed.
3. TEST RUN.
Once you install your Lego lights, it would be wise to test-run it first. This would help you ensure that everything is working correctly and that there are no mistakes. So as you inspect, search for signs of short-circuiting, as this could help you quickly trace the problem. Once you can spot a concern, be sure to fix it. Once you have successfully fixed the problem, this Set is on display for all to see.