Travel around the world by building the LEGO Globe 21332 Set.
By

Mark Gini
/
March 10, 2022
The world is a beautiful place, with so much to explore. If you were given a lifetime to explore through all the fantastic places the earth has to offer, it would take a lifetime, and you still wouldn't get enough. And even if you could, it would take a whole lot of money and little time to savour every moment. Are you a fan of geographical territory? Do you desire to know every location on earth? Well, then you probably have a globe in your house. Has it been helpful? Probably not.

This is because it possesses no unique feature. There is nothing to spark excitement and keep you engaged for hours studying and learning from your globe. And now you may feel like it was a total waste of money to get yourself one. Well, all this could change, and you could finally get a way to learn about all the beautiful places around the world and have fun doing it. How? By building the Lego Technic Globe 21332 set. Now before you shoot down this offer with the thought of the expression "Globe", note that this is a LEGO set. This means you get to build the globe, which represents the whole world, from scratch, using bricks. Yes! Build and own your globe with the world at your fingertips. But what makes building this globe so rewarding? Let's find out.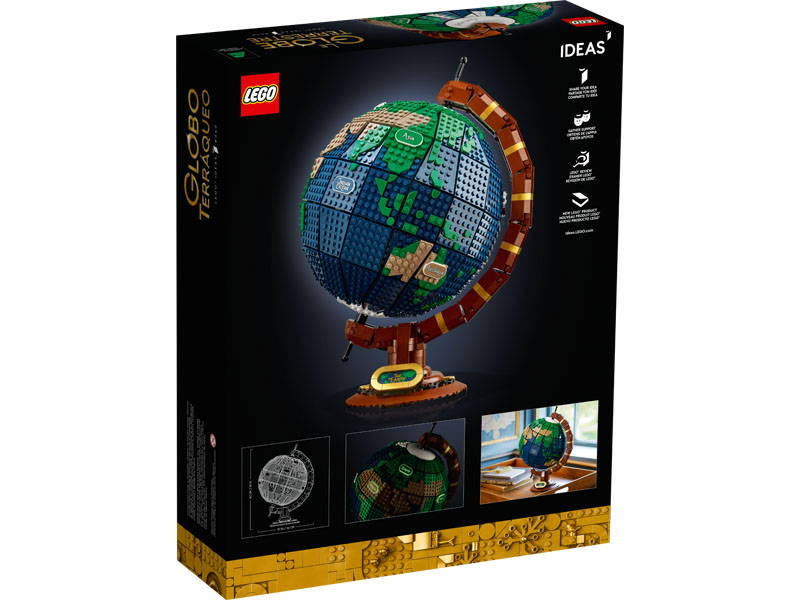 BUILDING EXPERIENCE FOR THE LEGO GLOBE 21332 SET.
Unlike a regular, dull globe, Lego has designed a globe you can build from scratch. You alone get to decide which content should be built first and close off with. The set also comes with a unique and very self-explanatory manual. This manual contains diagrams and images to help you get a clear picture of what you are looking for. The set could be spun around like a regular globe and is a joy to watch. Once you are done, you could also face the globe on the area you would like to visit with your friends/family during the holiday.
The Lego globe set could also be built with your family. Why not try making it your family's next big project? Anyone who participated in bringing this set to life would be so satisfied that they had such a fantastic privilege to bring this set to life. The Lego globe set could be a fantastic centrepiece and put on display. The set also has an inbuilt light feature which allows you to have a clear view of the globe even at night. This alone opens you to a world of endless engagement all day long. Overall, the Lego globe set is fun to build, with lovely simple but elegant details. It also comes with a unique colour combination that looks close to the actual earth. It comes with a friendly, easy-to-read manual and can be excellent as a display set. But there are still some additional features to this beautiful set. What are they? Let's find out in the next section.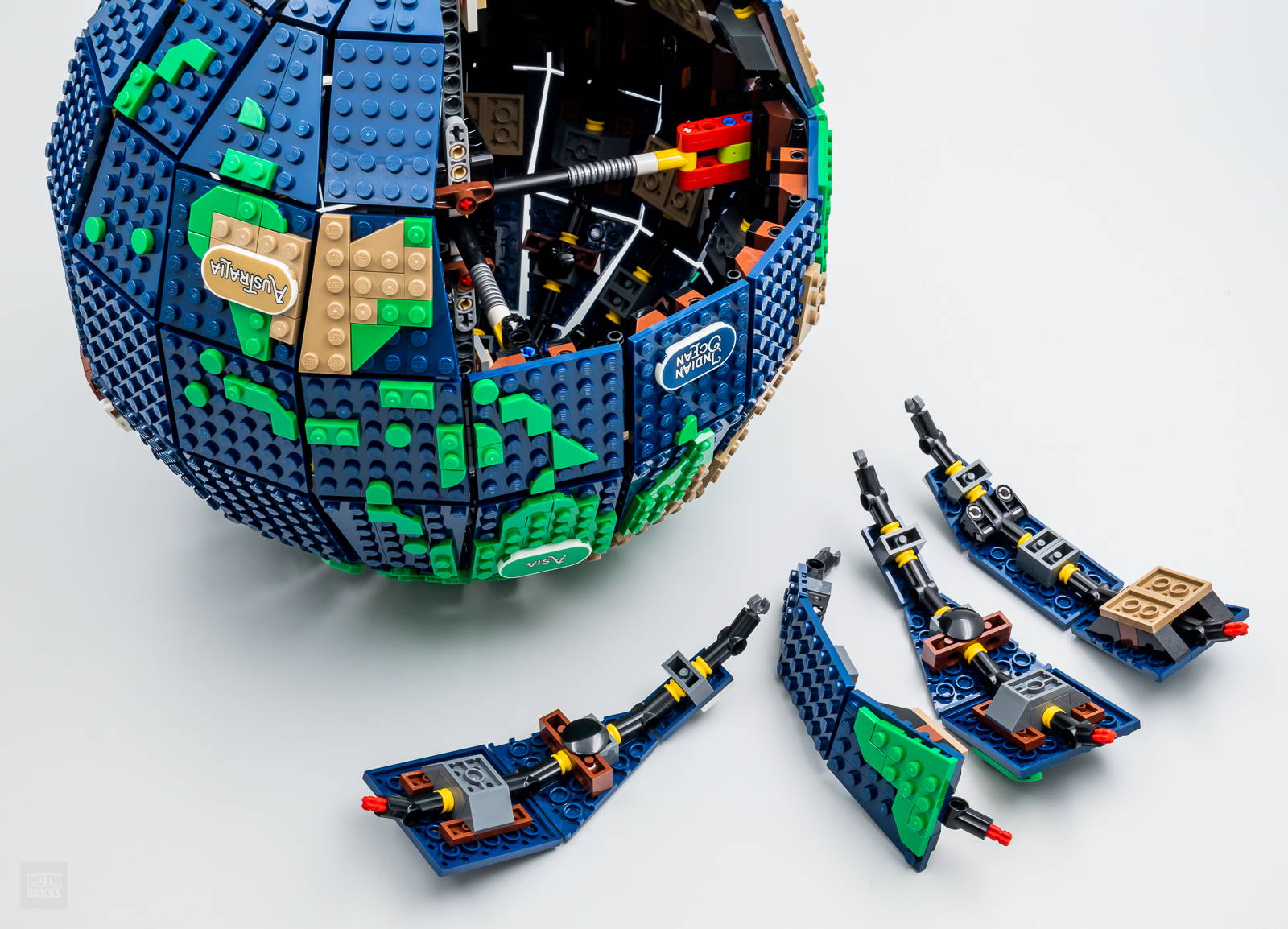 SOME AUTHENTIC FEATURES OF THE LEGO GLOBE 21332 SET.
The Lego globe set comes with some features that help complete its look. This section will focus on some of those fantastic features which make this set an excellent fit for your Lego collection This year.
• MADE WITH THE BEST MATERIALS.
Lego Technic team try as much as possible to provide sets that meet the standard and expectations of all customers. Lots of things are brought into consideration to ensure you have a unique and durable set. But Lego does not stop there. Lego has taken it a step further by ensuring that it is safe and can be used by people of all age groups. Each brick piece goes under extreme scrutiny to ensure safe and meets Lego's high standards. So if you have kids playing around while you build, you do not need to worry. Just keep a close watch to ensure they do not chew or swallow any of the pieces.
• SET SIZE.
The Lego globe could be considered a vast Lego project. It comes with more than 2000 pieces and would be best built as a team. Thanks to its prominent display ratio, the Lego globe would make a good display set. The set is about 16 inches high, 12 inches wide, and 11 inches In dimension. It is just as Large as an actual globe. It also accompanied with a stand that makes display so much easier. All this adds to the satisfaction you get after bringing to life a set with a total of 2585 pieces.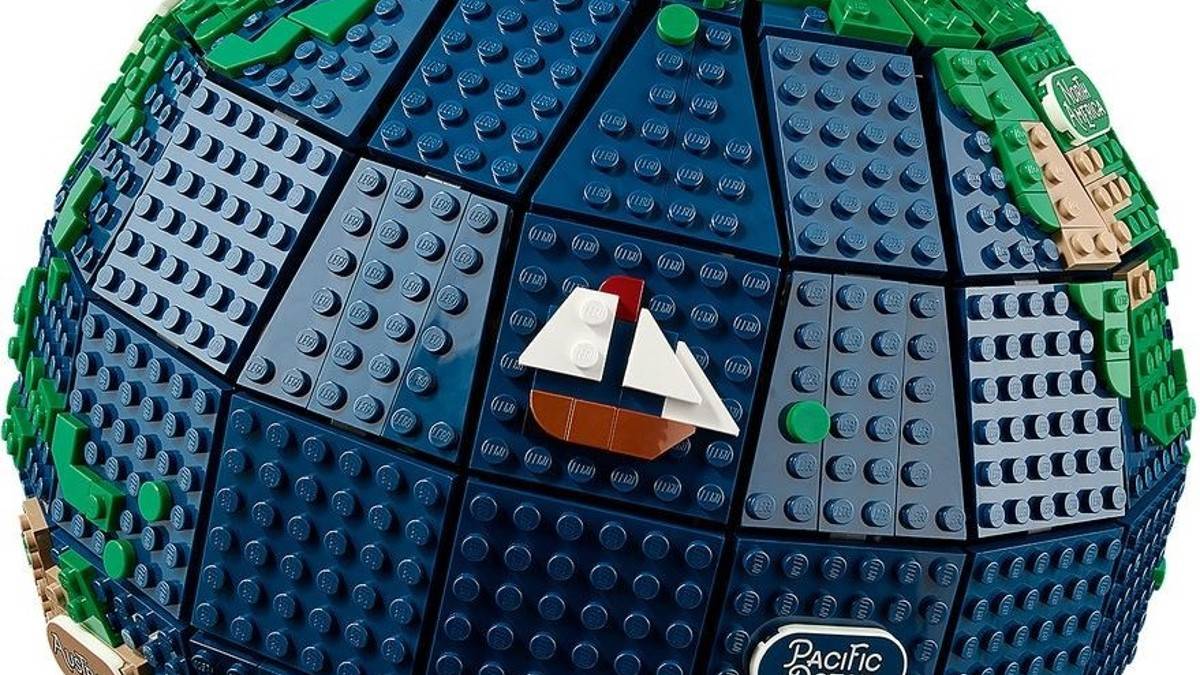 • ADDITIONAL FEATURES.
This Lego set comes with a built-in light, which helps the set stay visible at night. It also comes with a buildable compass and ship Icon, quickly building you. Also, you have the initials " The Earth" at the globe, which helps add to its overall display quality. Then to rap it all up, you get a spinning feature, which allows you to spin the globe in any direction and get the best of both worlds. With these incredible features, you can't just help but stop when you pass by the fantastic globe.
The Lego globe could be bought at Lego stores in the US and other parts of Europe. You may also purchase the set direct from the Lego online store. If the set goes out of stock, you consider checking other stores. Amazon.com could be an excellent place to also check for the set. Just expect to pay a higher amount of money for it. The Lego globe 21332 sets could be purchased at about 299.99 dollars. This is approximately 300 dollars. If the set goes out of stock, expect to pay even higher for it. You could add another cool feature to make this set look even more realistic and shiny. These are our special light kits. How does it work? Let's find out.

MAKE YOUR LEGO GLOBE 21332 SET LOOK EVEN MORE BEAUTIFUL WITH OUR SPECIAL LIGHT KIT.
The Lego globe is as realistic as looking at the earth from outer space. It can be made to look even more realistic and beautiful with the use of our special light kit. These light kits are made from top-quality material and would be an excellent additional accessory. But note that the light kit does not come with the set and should be bought separately. You can purchase this set at www.gameofbricks.com. On the website, you have multiple options of light kits to choose from, each with its unique style and look. If you are not familar to our Lego light kits, it would be best you purchase the basics. The primary light kit is much easier to use and maintain. Ensure you only move to install this light kit after building your Lego globe set. After you have purchased the light kits, make sure to run checks on each of the light kits to ensure no damages. Once you are done, you can move over to the installation of your light kit. How can that be accomplished? Let's see just how.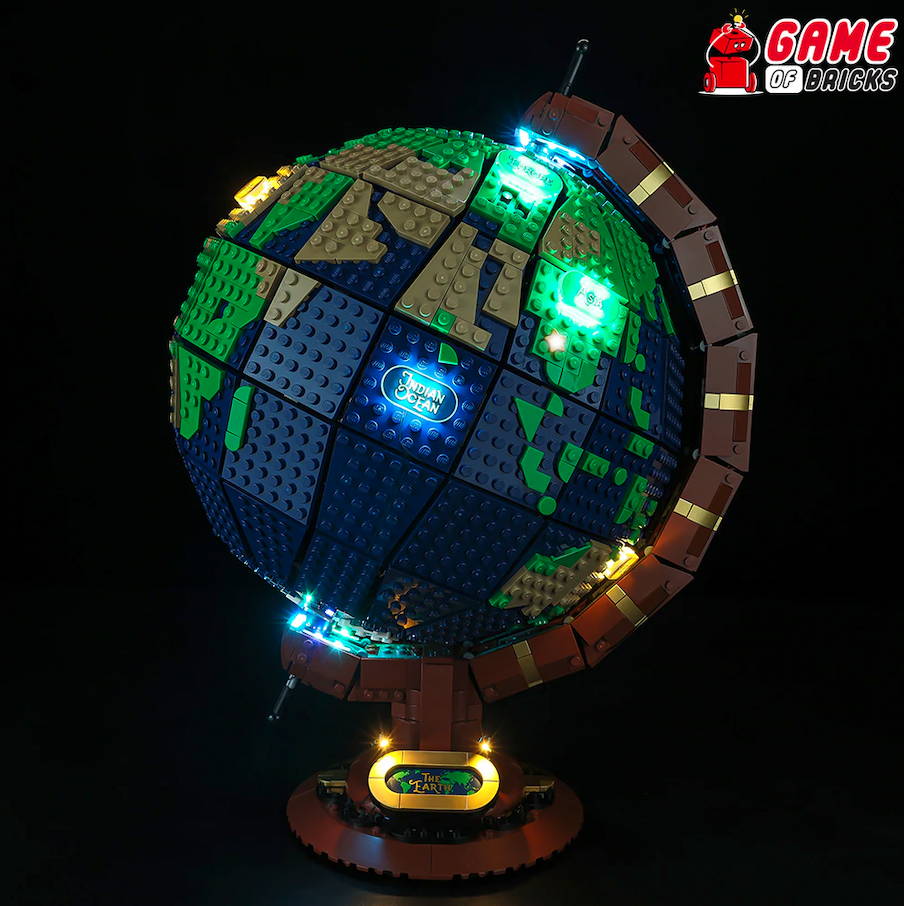 • HOW TO INSTALL.
Installing your light kit on your own could be challenging, especially if you are new to our installation process. That is why game of bricks has gone out of its way to provide clear installation manuals that would make it a whole lot easier to get the job done. This installation manual contains diagrams that adequately illustrate what should be done step by step. Make sure to follow this instruction for maximum success.
• HANDLE YOUR KITS WITH CARE.
Make sure to handle each light kit and accessory with care. This is very important because of how fragile our light kits are. Any slight rough handling could cause many complications and even damage your light kit altogether. So make sure not to force your light kit through the bricks as you install. Ensure to arrange your light kits as neatly as possible, as it would add to the overall beauty of your finish once you are done installing.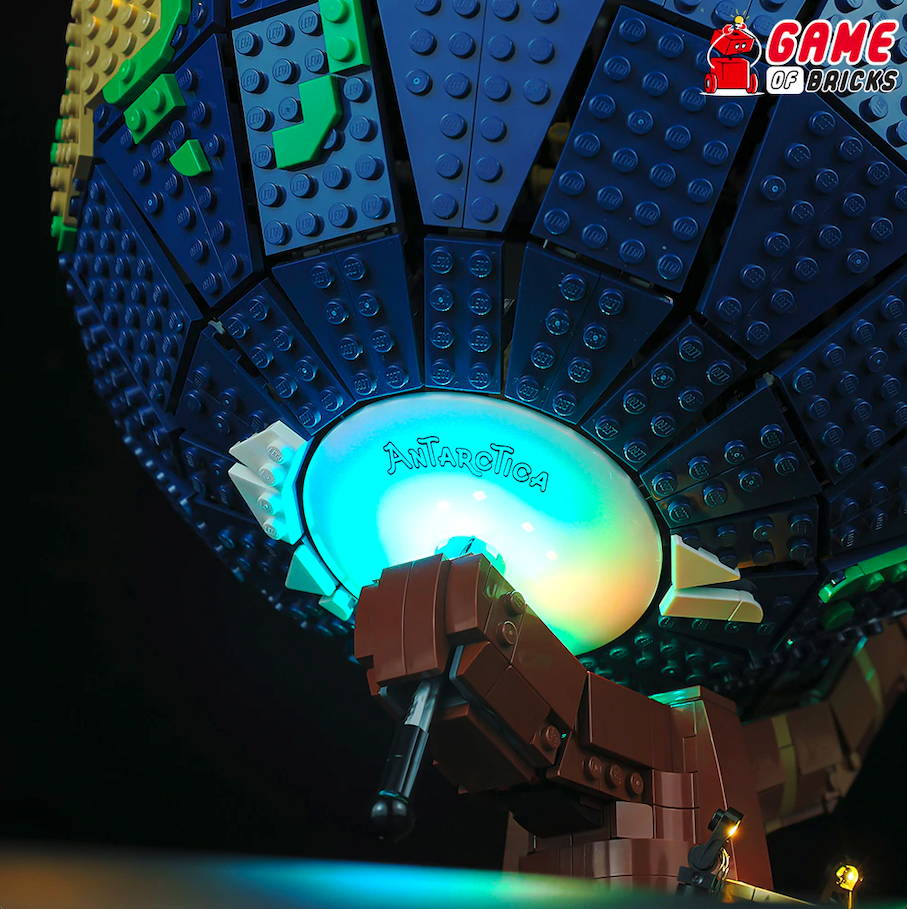 • INSPECT ALL INSTALLED LIGHT KITS.
As soon as you install all light kits and accessories, it will help to inspect them. This process should be taken as seriously as the installation process itself. The primary purpose is to ensure that all light kits are safe and ready for use. Check out for signs of sparks, short-circuiting, and the overall load of the battery. As soon as everything functions properly, you can then put this set on display for all to stare at is awesomeness.