Become the master of the galactic space when you build the LEGO Death Star Trench Run Diorama 75329 Set.
By

Eve Alessa Arevalo
/
November 07, 2022
The Death Star trench run at the diorama was one of the most epic and controversial scenes in the Star Wars movie. Many say they were probably an easier way to destroy the Death Star than driving right through it. This may be true, but that does not forfeit that the scene was truly epic. It also does not change the fact that the scene was exceptional and that, despite how complicated their plan might have seemed, it all worked out in the end. This amazing and mind blowing scene we are writing about today is taken from the Star Wars, A New Hope movie. This movie was packed with lots of cool features and amazing scenes that helped keep viewers captivated. Were you among the millions Star Wars fans who greatly enjoyed watching this amazing movie? What was your favorite scene from the Star Wars movie? Could it probably be this amazing scene from inside the Death Star? The scene where Luke Skywalker runs away from his enemies while hatching a plan to destroy the Death Star?

How would you feel if we told you that you could have scenes from that very moment displayed at your living room center table or on top of your shelf? How would that make you feel? Excited, right? Well, you could make this possible thanks to the new Lego set, the Death Star Trench Run Diorama 75329 set. This amazing Lego set allows you to relive that epic scene from the Star Wars, A New Hope movie perfectly replicated in full detail and color with this amazing Lego set. This makes this set of amazing display masterpieces worthy of a place on your shelves this year. Another truly satisfying thing about this set display is that you recreate this amazing scene using Lego bricks. The set has many cool features and a nice building experience, which this post will expatiate. So please don't go anywhere. Let's start our journey with the Lego sets-building experience. So what can you expect? Let us find out.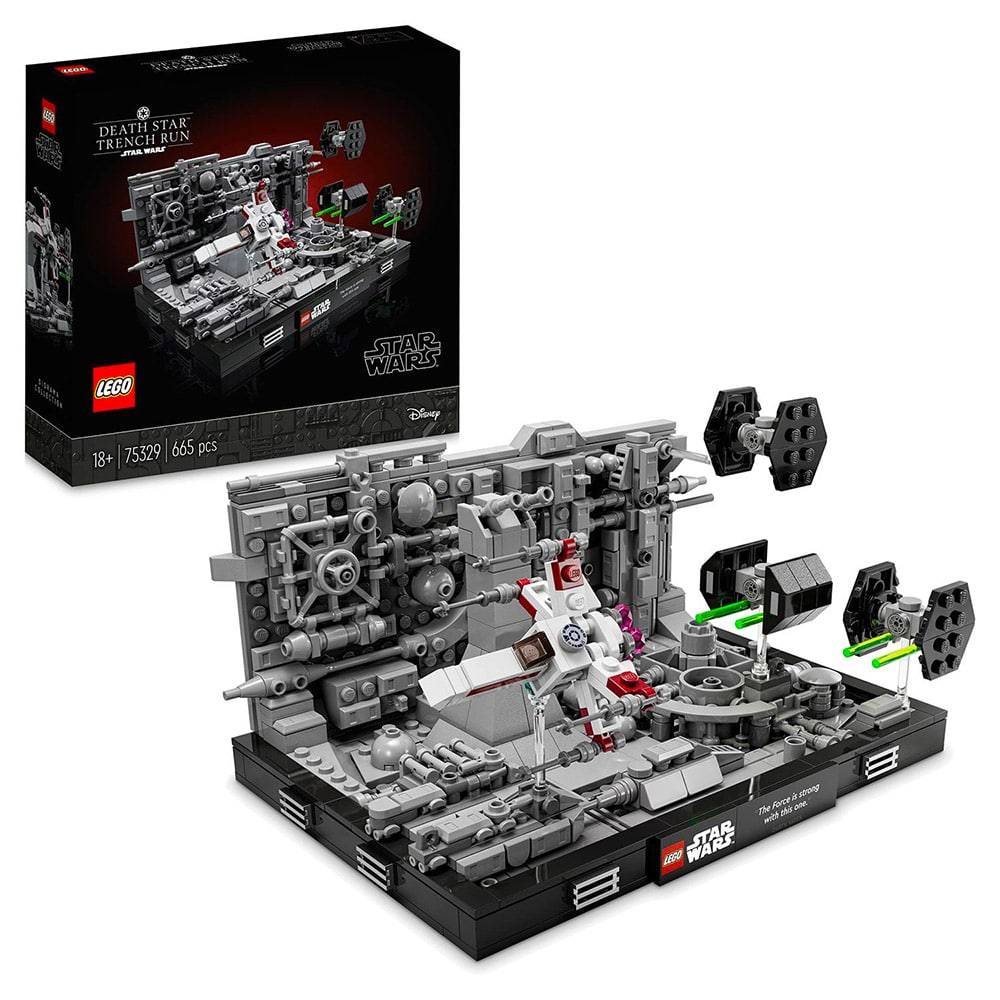 AN AMAZING BUILDING EXPERIENCE FOR THE LEGO DEATH STAR TRENCH RUN DIORAMA 75329 SET.
The lego Death Star Trench Run Diorama set comes with an engaging building experience that will keep viewers captivated for hours. It comes in many brick bags containing pieces you will use to bring this Lego set to life. Among the amazing building features this Lego set has, the most awesome of them all is the set's diversity in technics. This Lego set has many things going on, and you must ensure all that features are well arranged and reflexed the way they were in the actual movie. With this, you will recreate the Death Star trench. Invaders will also include Luke Skywalkers' craft as he is chased through the Trench. Once you have completed the building of this Lego set, you will immediately notice how beautiful the Lego set is. You will also have the opportunity to put the set on display for all to see.
But the Lego set could be a bit difficult to put together by both old and new Lego builders. This is why it is advisable to take time and read through the instruction manual the Lego set provides. Inside this manual are instructions useful for building the set. The manual breaks down its steps to correspond to the sets of numbered bags. The set also uses images or diagrams to help give you a mental picture of what to expect at the end of each building. So if you what to get the best out of this Lego set, you will need to go through the manual and follow the instructions to the letter. And if, after all the information the manual provides you, you still face challenges, there are videos on the internet, YouTube to be precise, to do more research. Aside from an amazing building experience, the Lego set also includes features that help it stand out in a crowd of Lego sets. Let's consider some of those features.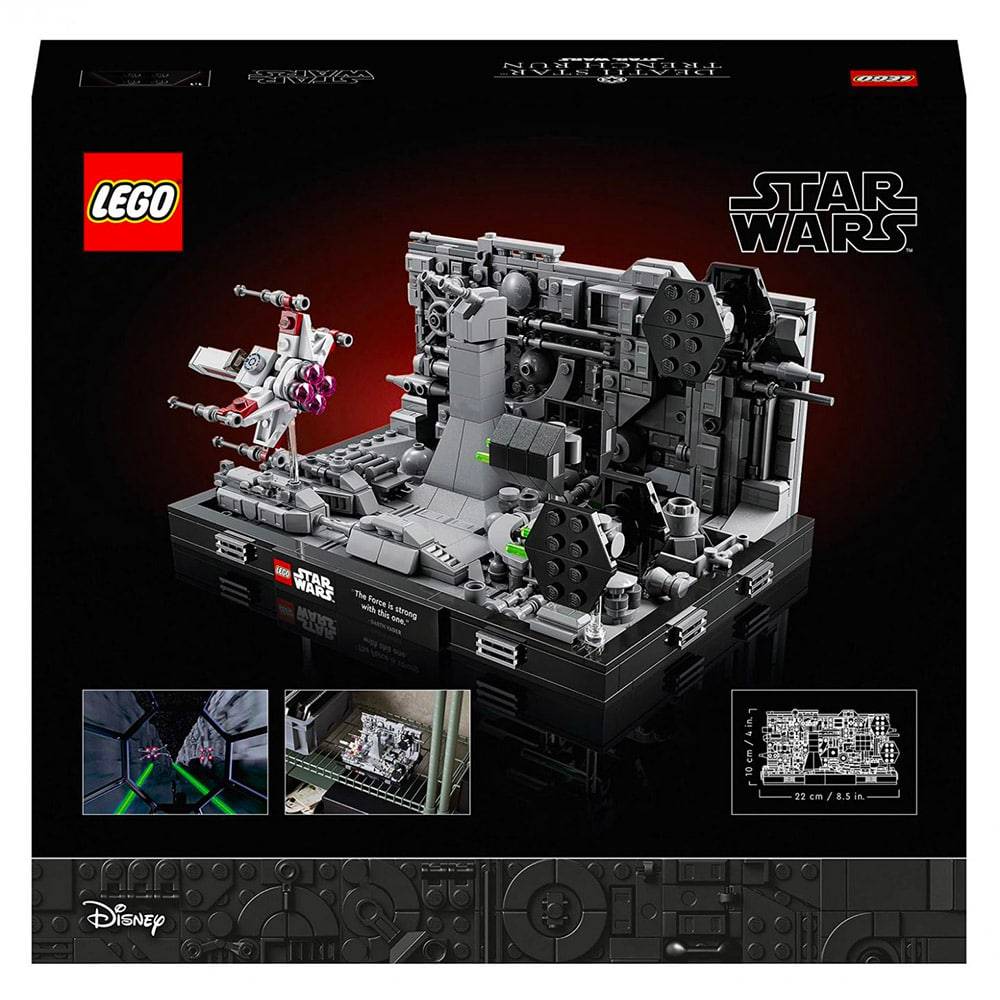 AMAZING FEATURES FOR THE LEGO DEATH STAR TRENCH RUN DIORAMA 75329 SET.
ENJOY GREAT DETAILS.
The first thing that any experienced Lego builder will notice about this set is that it offers a very satisfying. Detail. Critical attention is given to even the ser's smallest and seemingly important aspects. The Lego sets bodywork is truly extraordinary. These amazing details all add to this set being so amazing to work with. These details also contribute to why building this Lego set is so satisfying. So if you are in search of a set with lots of details that will help keep you engaged and satisfied, this Lego set is just what you need.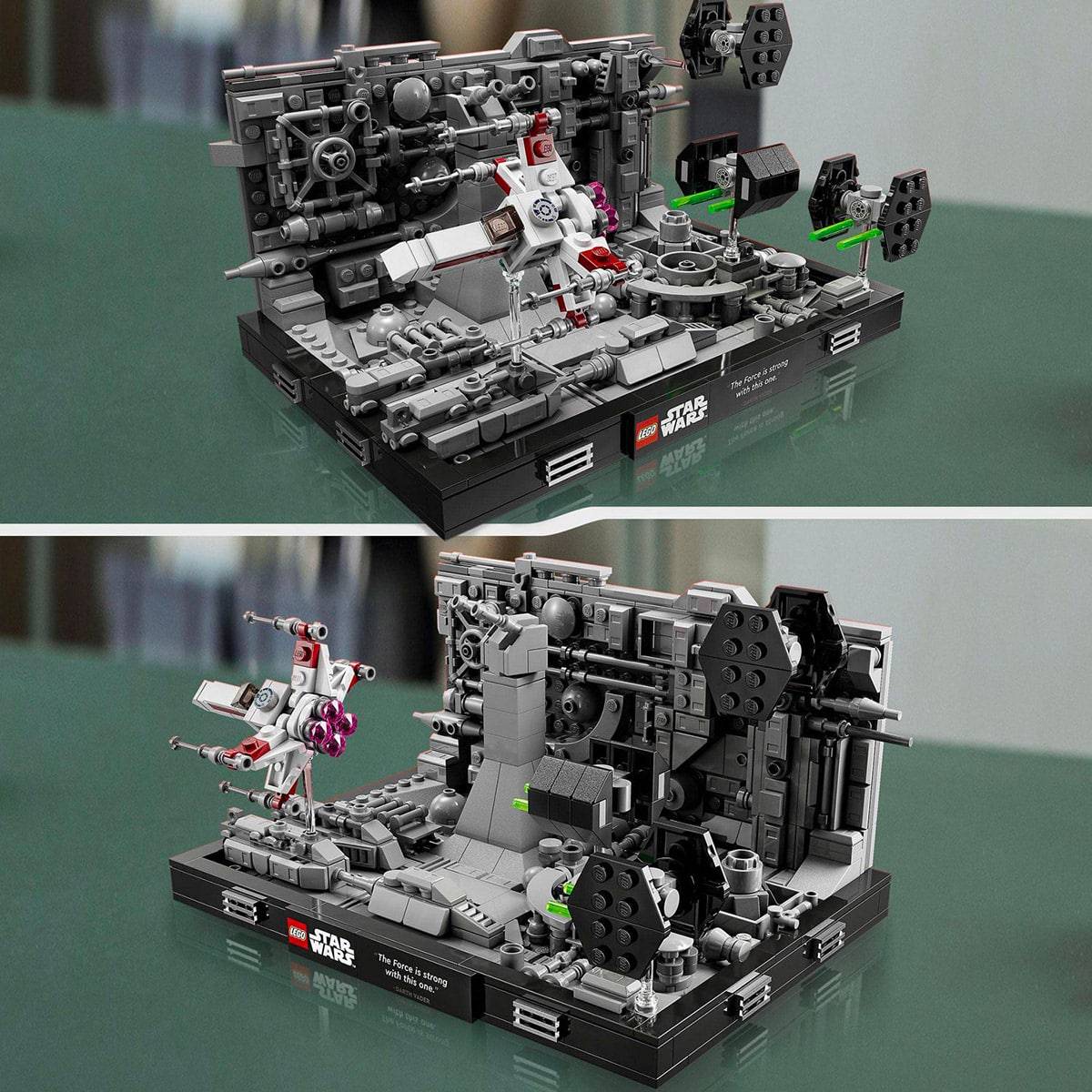 AN AMAZING DISPLAY.
Aside from offering builders amazing details, this set also offers builders an amazing display. The set is portable and can be displayed on your living room table or shelf. Are you a constant collector of Star Wars sets and artifacts? If so, you could also display these sets alongside other Star Wars sets to help give an even more unique and immersive display experience.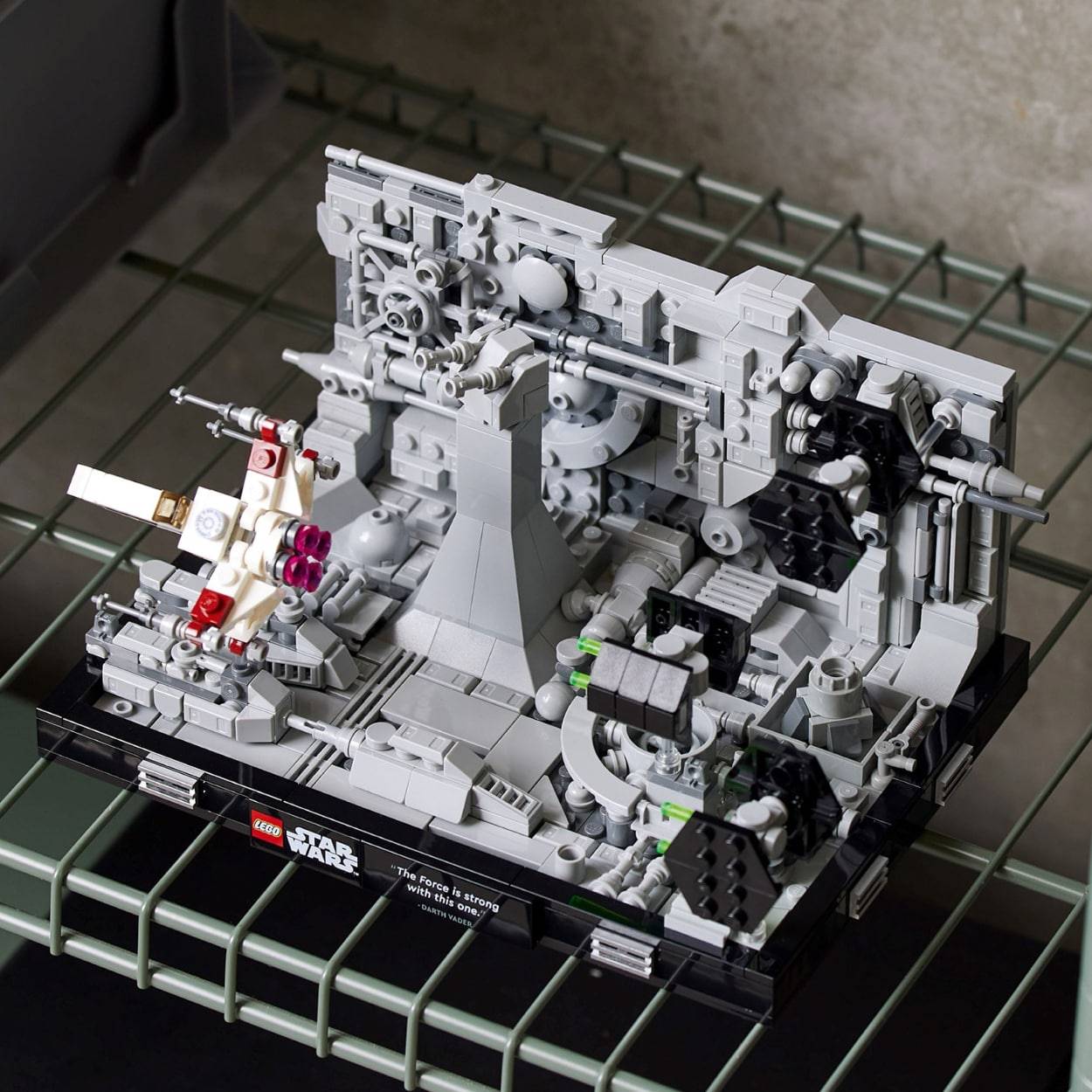 TOP QUALITY MATERIALS.
The Lego Death Star Trench Run Diorama set is designed with the best Lego materials. Once all the Lego Sets have been produced, they all pass through thorough checks to help make sure it of the best quality. The sets are also being tested for durability and safety. And the reason behind this is to ensure that this Lego set is completely safe and can be built with children. The only area of caution is that the set features tiny brick pieces that kids could easily swallow. So you will need to build the set on an elevated table to help keep kids safe. Aside from this, the Lego set is beautiful and will cause no issues.
SET SIZE.
The Lego Death Star Trench Run Diorama set can be medium-sized. The set is a small building project with about 665 brick pieces. The Lego set can measure about 4 inches high, 8.5 inches wide, and 6 inches deep when completely built. This size makes the set easily noticeable in a crowd of other Lego sets. And because of the set's amazing details, it will surely stand out.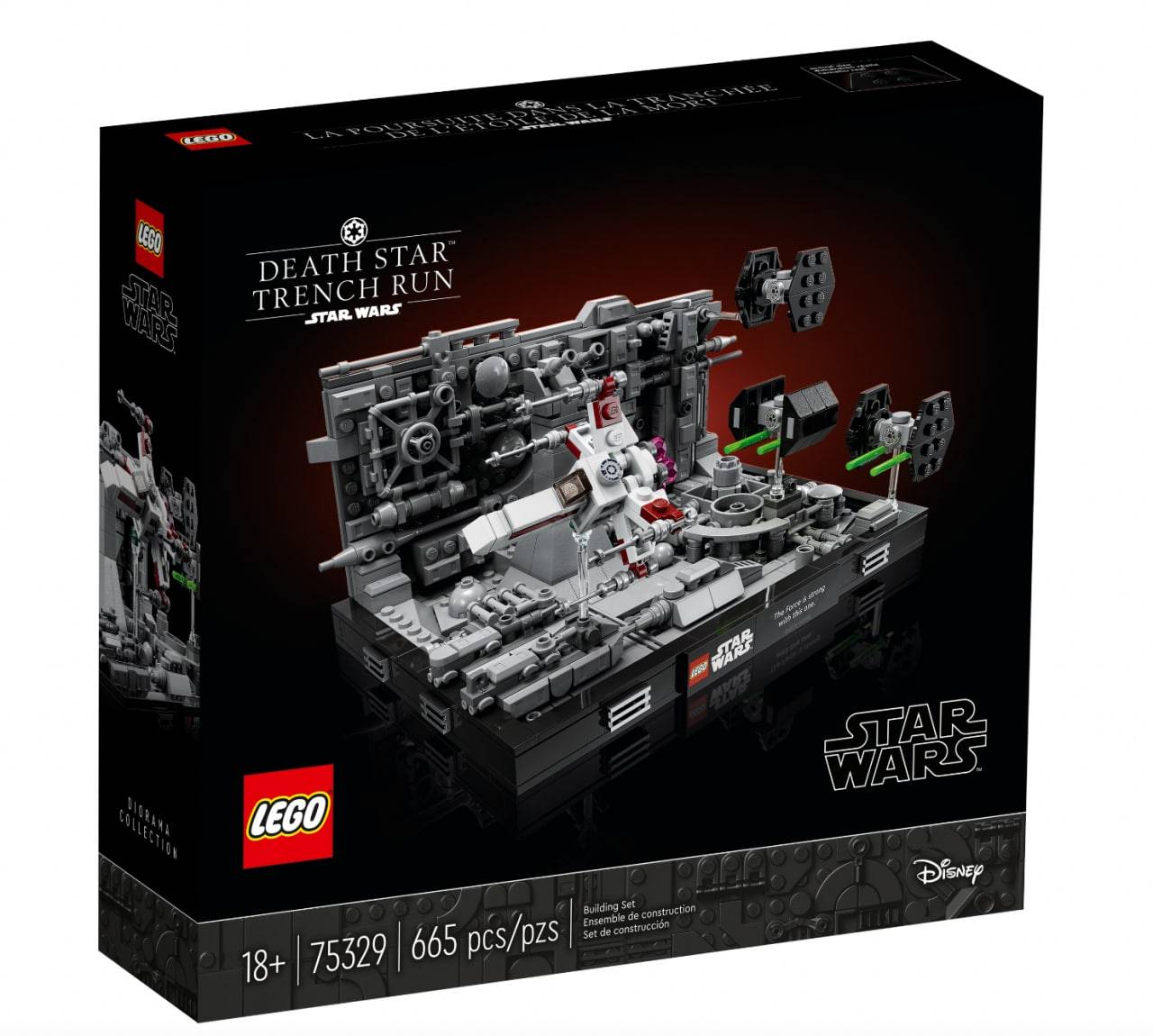 SET PRICE.
You can purchase the Lego Death Star Trench Run diorama set from any Lego store where you live. You could also purchase the set directly from the Lego website. The Lego set is not that expensive and can be bought at about 70 US dollars. The Lego set could cost more if you live in Australia or some parts of Europe. Once you have gotten your hands on this Lego set, it will be advisable you get your hands on our light kits. Why? Let's find out.

BRING INTO THE LIGHT EVERY CORNER OF YOUR LEGO DEATH STAR TRENCH RUN DIORAMA SET WITH OUR AMAZING LIGHT KITS.
The Lego Death Star Trench Run Diorama set already comes with an awesome look that makes it stand out as an amazing Lego set. Just imagine how awesome this Lego set would be if you attached our Lego lights to it. Our Lego lights are well-designed to fit perfectly with the Lego set they are designed for. To get the Lego lights designed for your set, it will be best you visit our Light Kit page here on our website. A page will pop up with information on all the lights available and all thre steps you need to take to own one of our products. But what happens after you have ordered your set and it arrives? Well, here are a few things to keep in mind.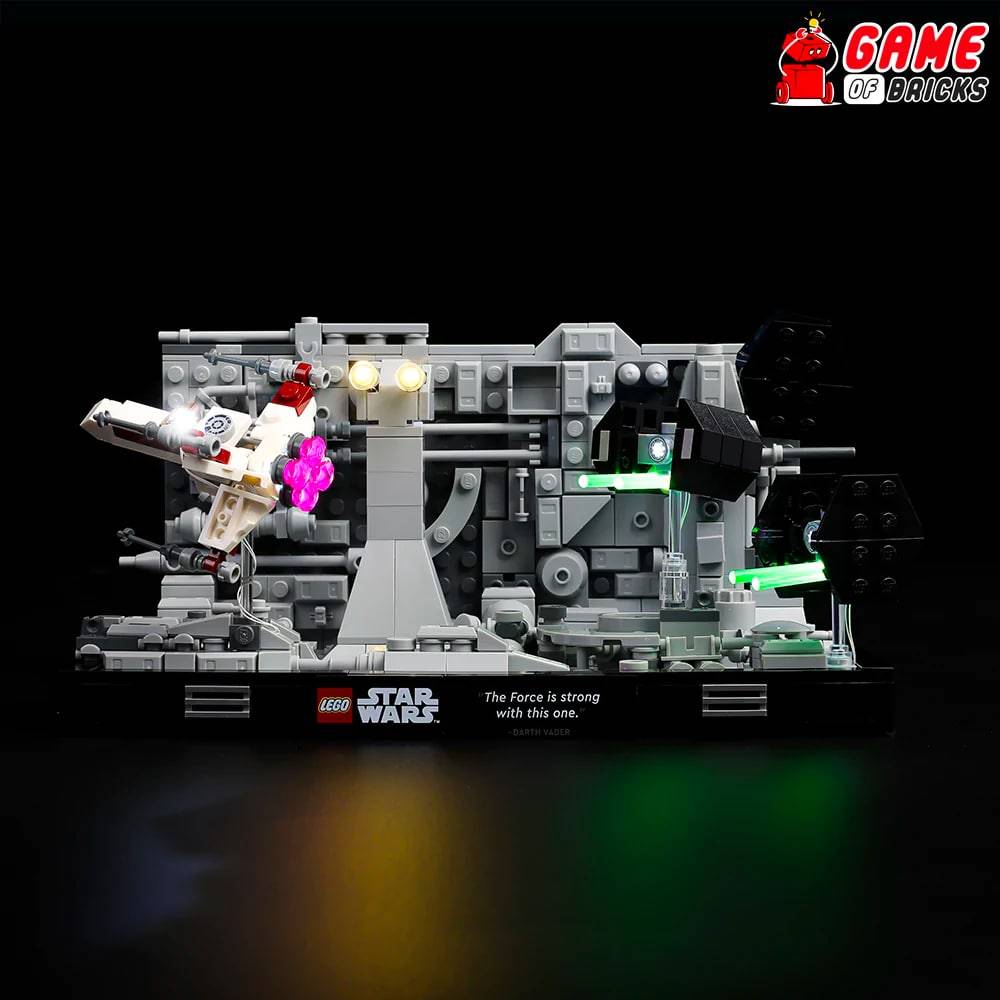 INSPECTION.
As soon as your Lego lights arrive, it would be safe for you to take a few minutes to inspect them. This ensures that all shipped lights and accessories look and are in perfect condition. It is not unusual for light kits to sustain damages during shipping. This is because our lights are very fragile. So to ensure you get premium quality Lego lights, make sure you inspect your package. If you notice any damages during the inspection, request a replacement using your 30days warranty card.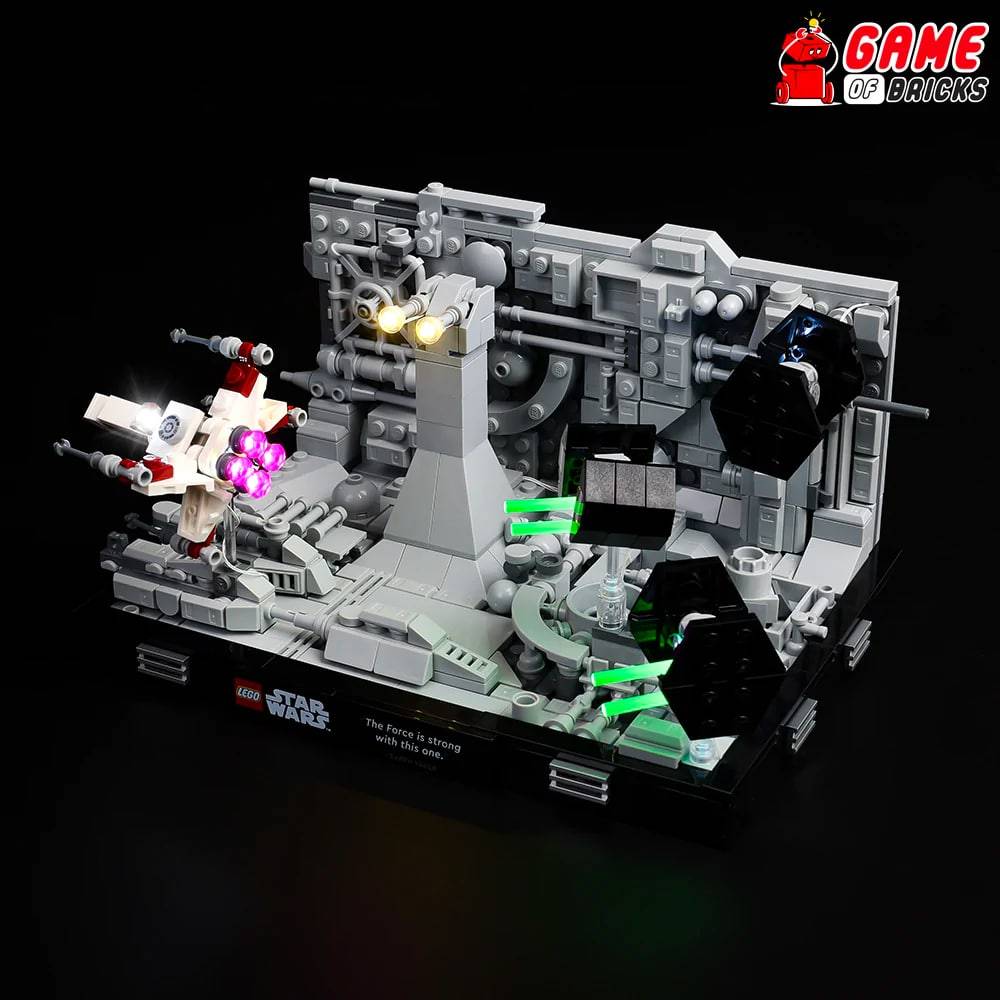 INSTALLATION.
Well, if you are new to our Lego lights and don't know how to go about it, we have covered you. We have included a manual as part of the light kit. This manual is well-detailed and will help you get the most out of your installation process. As you work with our lights, remember that they are fragile. So ensure to handle them with care.

TEST RUN.
Once you have successfully installed your Lego lights, it's time to find out if you have done a good job and if your light kit works. To do this, try putting on and off your lights using your remote. Also, try living it on for some time to check the stability of the lights. If the lights are not stable, find out through the manual if that's part of the features. If not, find out why the lights are not stable. It could be a connection issue. Once you notice any issues with your light kits, try and fix them. If not, put your Lego Death Star Trench Run Diorama set on display for all to see.