G Blender a world of darkness with the LEGO Dark Trooper Helmet 75343 Set.
By

Mark Gini
/
May 17, 2022
Here's another awesome Star Wars Lego set fans would die for! Yes, fans of the Star Wars movie franchise would kill to have their hands on one of these Lego sets. But why would Star Wars fans die to have this set? As a fan, you must know the answer to that question. The dark trooper helmet was worn by powerful battle droids used during the world war in the star wars movie. These battle droids were designed to be effective in combat. One of the most intriguing parts of these battle droids was their helmet. This helmet was designed to look fierce and give them an edge against their enemies.

Do you love the dark trooper helmet? If you do, recreating it would be a lot of fun. With the Lego dark trooper helmet set, you have the opportunity to bring this fierce helmet to life. The set offers impressive details and intricate designs. All this you can have at your fingertips when you buy one of these sets. The set also provides a building experience that would excite any Lego enthusiast. But what makes this sets building experience so amazing? Let's find out.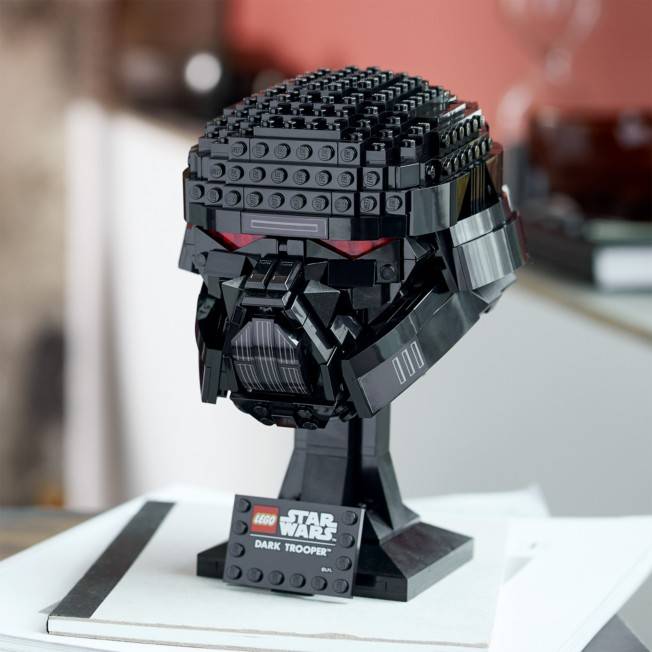 A REALISTIC BUILDING EXPERIENCE FOR THE LEGO DARK TROOPER HELMET 75343 SET.
Building the Lego dark trooper helmet would be fun for any Lego enthusiast. The set offers terrific details that require excellent technic to bring to life. The set is designed to look close to its movie counterpart. The set also comes in black, fitting because it is a dark trooper helmet. The replicating details of this set are so authentic that they could motivate your mind. Yes, you could gain inspiration to recreate your favorite scenes when you see all the terrific-looking details come to life. The Lego set comes with easy-to-use building material, so you can expect your building experience to be as smooth as possible. Because of the number of details, the set comes with would be a bit challenging for new Lego users. Regardless, if you desire to build this set, you still could.
This is thanks to the step-by-step instruction that comes with this set. The instructions are simple and easy to use for any Lego builder, whether old or new. So no need to get discouraged. Just follow the simple instructions from the sets manual, and you will be okay. You could also spice up the mood around your installation site by playing the Star Wars theme song in the background. Doing this has proven to inspire other Lego users, and it can inspire you too. You could also decide to build this set with other Star Wars fanatics. Doing so will make your experience a lot more fun and effortless. Building the Lego dark trooper helmet could be a good stress reliever. Feel empowered as you relive epic scenes from the star wars Mandalorian season 2. Once you bring this set to life with other Star Wars enthusiasts, you could also decide to put this Lego set on display for all to see. In the next section, let's now look at some fantastic features this Lego set is gifted with.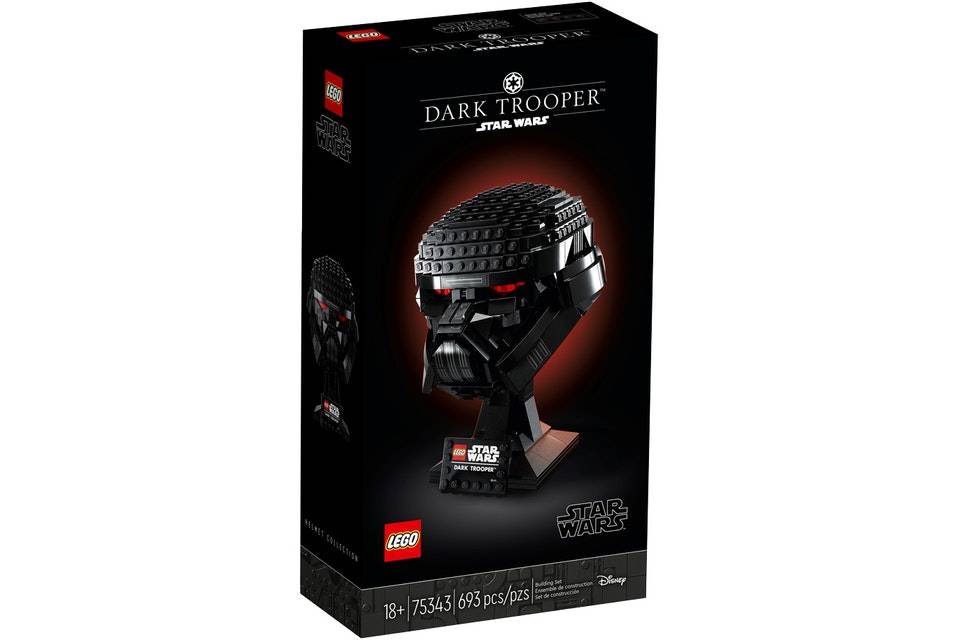 WELL-DETAILED FEATURES FOR THE LEGO DARK TROOPER HELMET 75343 SET.
The features on the dark trooper helmet were defined and fiercely looking. This helmet design gave the dark troopers an advantage over their enemies. And coupled with the programming and skills they possed, they were indeed soldiers to fear. Put your building technic to recreate the sinister look of a dark trooper. Combine both the translucent red brick elements with the Lego white bricks underneath it to achieve the glowing red eye of a dark trooper. The Lego ideas team captured all these helmet details. Go a step further by making the set sit nicely on your living room center table by adding the stand with the name " STAR WARS Dark Trooper " on it.
● A BUILDING SET FOR ADULTS.
This Lego set is designed for a much more mature set of builders. This is why the set is packed with so many details. So make sure to set out enough time before venturing into building this set. Though the set comes with a little above 600 pieces, it would require enough concentration to pull off. If you set out enough time for this Lego set, you are sure to get the result you so desire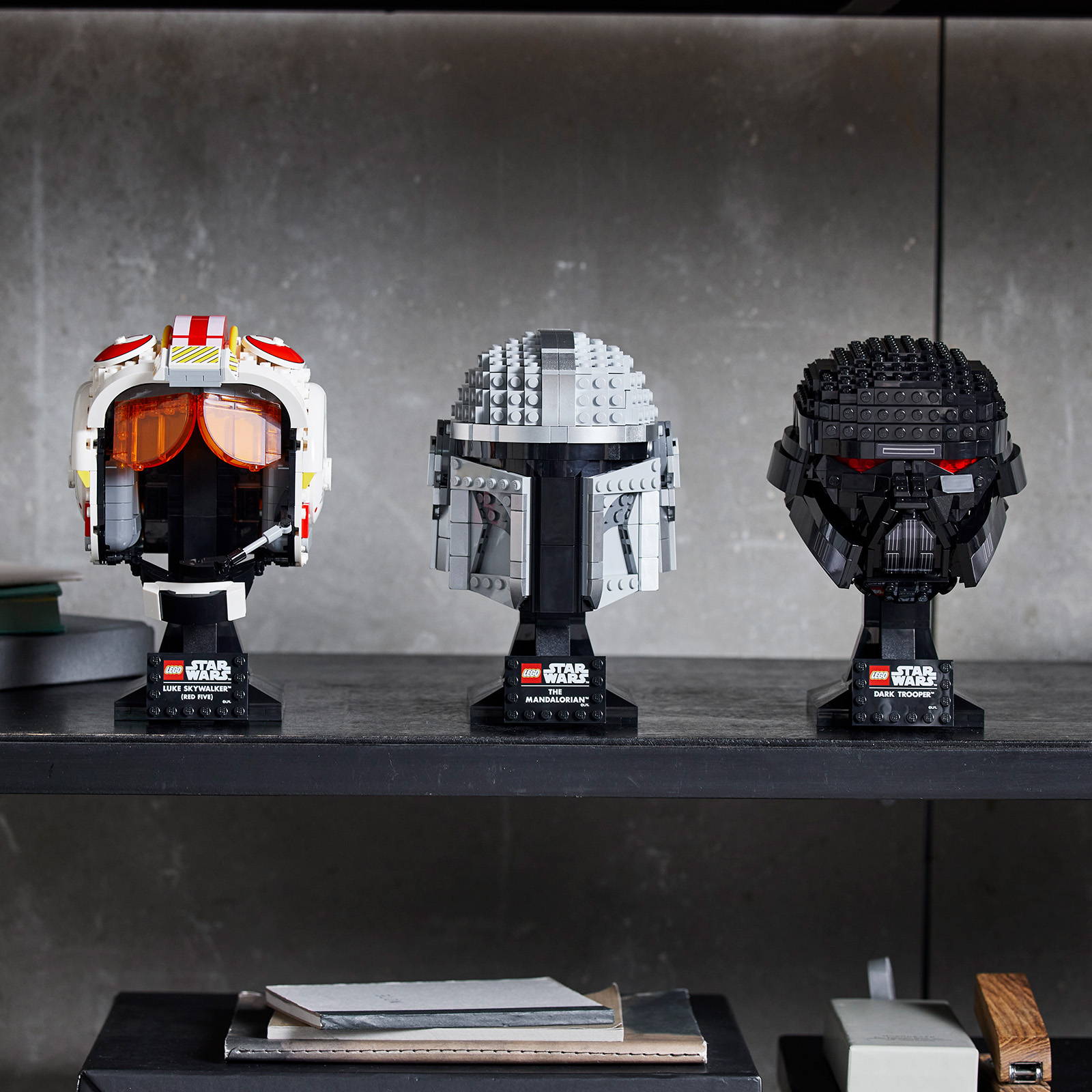 ● MADE FROM QUALITY MATERIALS.
The Lego dark trooper helmet 75343 sets are made with high-quality materials. All materials for this Lego set are well tested to meet company standards. They are also tested to ensure they are easy to work with and compatible. This means that all brick pieces will attach and detach with ease. With such high quality, you could easily dismantle your Lego set if you wish to move it from one place to another. The Lego sets are also tested for safety. This is very important because protection equals life preservation. So the Lego group takes security very seriously. So you can be sure that these Lego sets and all other Lego sets in the industry are safe and user-friendly.
● SET SIZE.
The Lego dark trooper helmet set could be classified as a medium-size set. It is designed to be a display set or collector's item. It comes with a total of 693 brick pieces. It also has an excellent display ratio. This Lego set is about 7 inches high, 4.5 inches wide, and 6 inches deep when fully put together.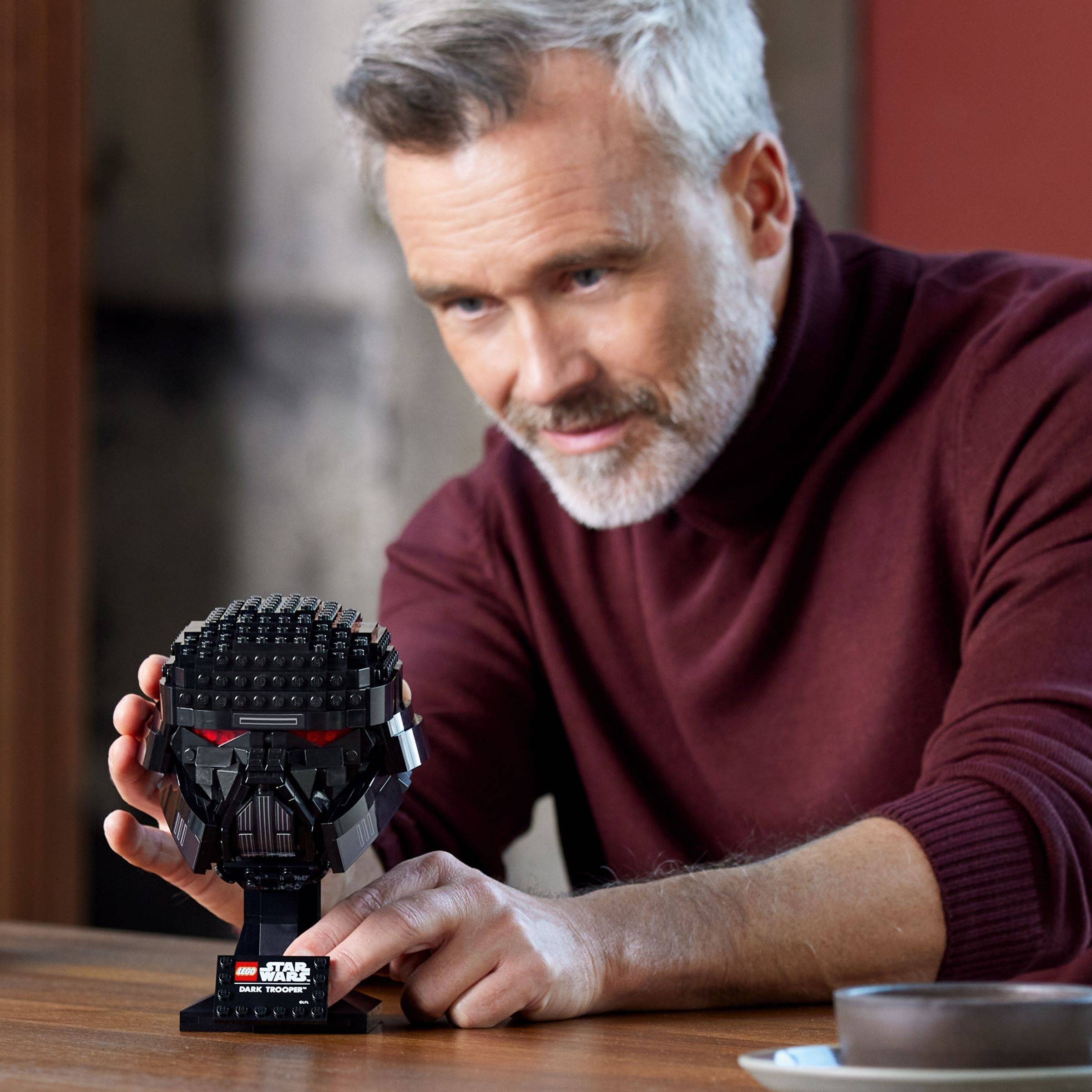 Get the Lego dark trooper helmet directly from our website, www.lego.com. It would only take a weak to get to you when you order the set. If you are so excited and can't wait, you can get the set from any Lego or toy store in your area. Just know that prices in those stores are not consistent and could change due to the availability of the set in your region. However, the set is sold at a guaranteed fixed price of 59.99 dollars. Once you are done building your set, how could you make it look more beautiful; how? Let's find out. It
LIGHT UP YOUR DARK TROOPER HELMET SET WITH OUR SPECIAL LIGHT KITS.
There is no set more fiercely looking than the Lego dark trooper helmet. But you could make this set more fiercely looking with shinner eyes by adding our cool light kit feature. Though our special light kits do not come with your Lego set, you can be sure to find a light kit perfect for your set. Visit our website www.gameofbricks.com, to get a light kit that works. So what exactly do you do next once your light kits arrive? Follow these simple steps, and you are sure to gain success.

1. Inspect all light kits.
Once your light kits have successfully arrived, you must thoroughly inspect them. You are doing this to ensure that all light kits and accessories are delivered in perfect condition. Light kits are very delicate, so they are common to be provided with one or two damages. So if you discover anything off about the light kit delivered to you, request a change. Don't be afraid to do this because all light kits come with a 30days warranty card. Once your light kits have been inspected and look good, you can install them.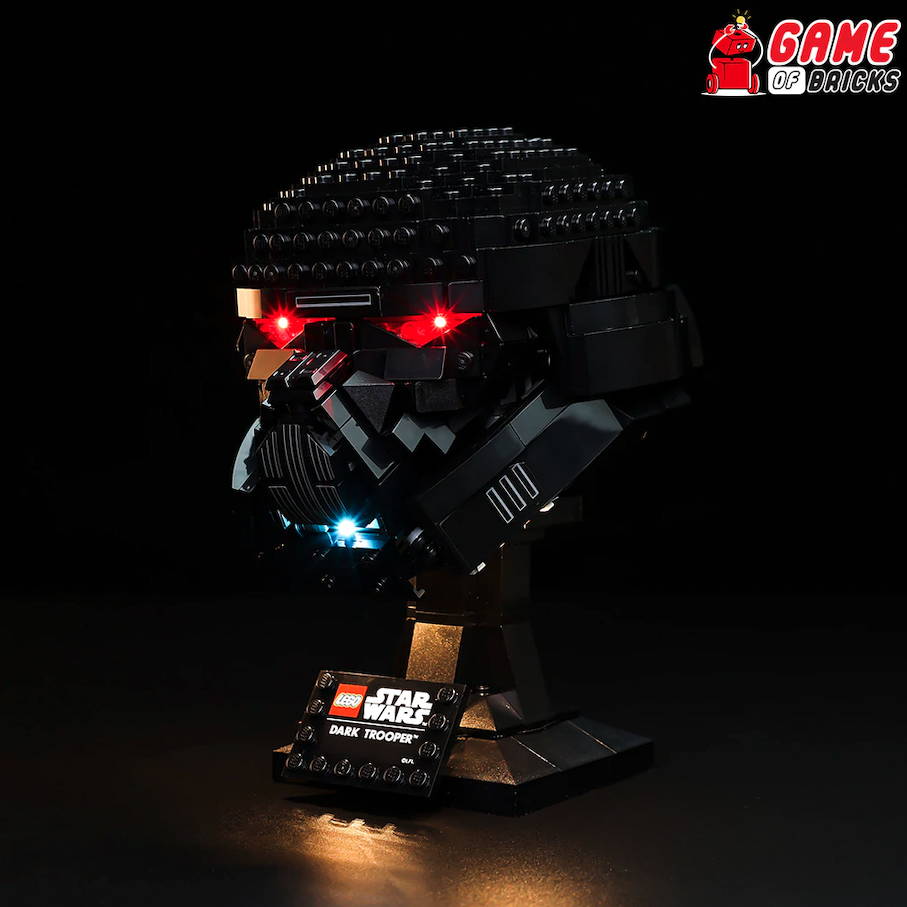 2. Install your light kit.
As someone new to how our light kits function, it would be best if you use the building instructions this Lego set comes with, the instructions are clear and straight to the point. It also comes with digrams that help illustrate what you have to do. So make sure you apply all the instructions from the manual, and you are sure to gain success. Also, keep in mind that your light kits are very delicate. So handle them with care, and you will be just fine.
3. Test all installed light kits.
Once you are done installing your light kit, it would be wise to test it out first. Your purpose is to make sure it is as safe as possible for use. So check out for sparks and short-circuiting, as these signs are harmful and could pose a danger. If you notice any of those alarming signs, see that the problem is resolved. As soon as everything looks good, show off your Lego dark trooper helmet to the world.