LEGO Creator Roses (40460) and Tulips (40461)
Some days ago, we all heard about some Lego creator sets which would add to the beautiful touch that one could use when they want to attend any special occasion. The photos that wereshared at that time were not good enough to showcase what was going to happen. Luckily, with help from LEGO Shop@Home, we all can now get greater looks at what Lego Tulips (40461) and Creator Roses (40460) can give to us.Apart from that, this piece would also show you the features and properties that this Lego set has. So keep your eyes open or you'll miss the part where the piece stated the Lego roses set has adjustable stems and theyfit perfectly in vases.

If you want these to be gifts on their own or for them to be a set used for expansion to the Lego Botanical Creator Expert Collection Flower Bouquet (10280), which is coming soon, theylook very beautiful. As this post is being released, it is still labeled as a Lego set which would soon be released at LEGO Shop@Home based in the United States. They are already showing up on Lego websites all around theworld. So we fully expect these to get rolled out internationally soon. You could look at the descriptions of these profits and their images through the internet. There are affiliate links for people that can't waitto have them and for those that want to add them to their wish list so when this Lego set is released, they would be one of the first people to have it. Now let's give you a break down of both of these Lego sets. Thefirst one is LEGO Creator Roses (40460) and the second one is Lego Tulips (40461). We would be giving brief explanations on both of them for you to be familiar with the soon to be released Lego set. With these Lego sets, whereveryou put them, you'll be comfortable and glad for yourself they are there. They aid and help in making your surrounding area beautiful and lovely. So here we go.

Brief Explanations on LEGO Creator Roses (40460) and Tulips (40461)
1. LEGO Creator Roses (40460)
This Lego set has a hundred and twenty pieces. It would be sold for twelve dollars ninety-nine cents and it would probably get released next month, which is the first month of the year2021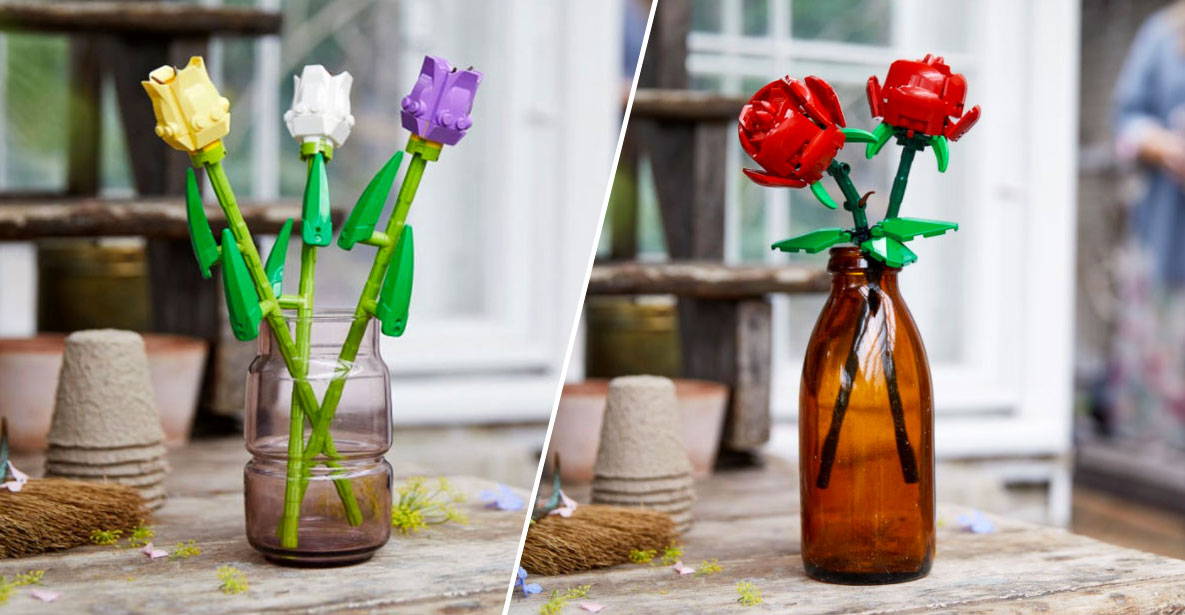 What this Lego set can do?
You can help yourself by marking a great special festivity using these beautiful Lego Roses (40460). It serves as great gifts which you could give others during days like Valentine.It also works well on days like Mother's Day or Father's day. It is simply available to show someone you cherish them with so much love. It has a lot of beautiful colors, especially when after you finish organizingit, it is put and displayed in a vase that matches its colors. It is very simple to assemble. It has stems that can be adjusted, leaves that are green in color, and double blooms (two in number), and the color red. You cancombine these using Lego Tulips, this would help add more color to the bouquet of this brick-built bunch of roses. This Lego set is highly compatible with the Flower Lego Bouquet (10280)
You can make use of this Lego set to show someone a lot of love. Show them they are special to you and they have a great place in your heart.
This has adjustable stems and two red roses that are 
built able. Each of it's stems measures more than twenty-six cm. It looks wonderful when you put it in a vase.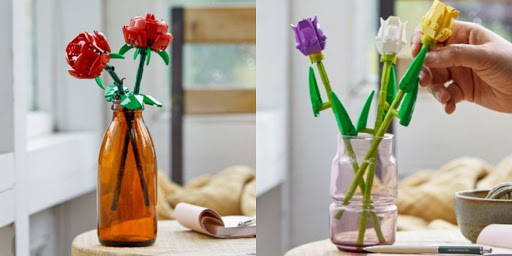 2. LEGO Creator Tulips (40461)
This Lego set has a hundred and eleven pieces. It would be sold for nine dollars ninety-nine cents. It would be released next month probably. This would be the first month of the year2021. 
You get to enjoy all the great occasions and spring using this beautiful Lego set. These are great gifts for Mother's day or the birthdays of your loved ones. This Lego set is veryeasy to assemble. It has a yellow, a purple and a white bloom. Which makes it have three blooms completely. It has leaves that are colored bright green. These show and symbolize the great new fresh life which spring brings.It has stems which one can easily adjust. These could get displayed in any type of case. This Lego set is highly compatible with Lego Roses (40460) and the Lego Bouquet For Flowers (10280).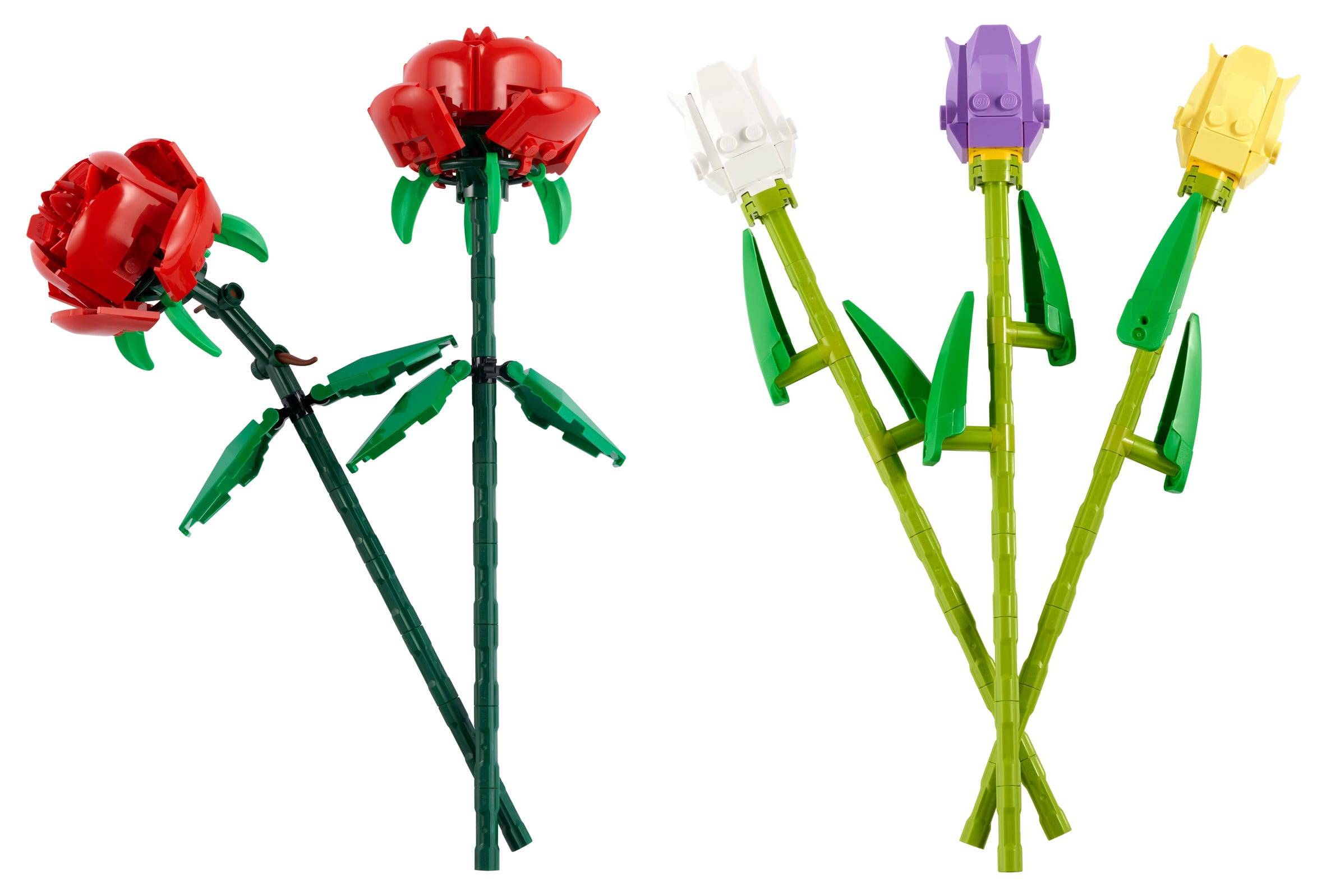 You can always show someone close to you some love using this Lego set. You can settle down, order it, get it and then put it in the place your loved one is going to see it and thiswould make them excited.
This Lego set has three tulips that are buildable. They also have stems that can get adjusted whenever you might like. This tulip stems measure over 24cm. They are great for usage whenyou want to display them in a case.
So there we have it. You have full details and information on both the LEGO Creator Roses (40460) and Tulips (40461). You might ask, when would this Lego set be out fully and for sure?This piece does not have the answer to that question just yet, the only thing we have to tell you is to be patient and trust that soon, in time, this blog is going to have the answers to all your questions. But for now, youshould check out all the other parts of this blog to catch up more on what the Lego universe has in store for you. It is simple! It is easy!. All you need to do is scroll down and touch the links. You get to see several differentnew reveals and other Lego sets that are similar to this Lego Rose Lego set.
---