Enjoy a ride around the city with LEGO City High-Speed Passenger Train 60051 Set.
By

Mark Gini
/
May 30, 2022
Train transportation has been classified as one of the smoothest modes of transportation. This mode of transportation offers its users little or no hassle at all. Users of the rain could rest assured that they would arrive at their destination right on time. The only downside about the train of those days was the speed. Passengers looking to get from to a destination urgently could not rely on this mode of transportation. That problem came to its end in 1946, when the first high-speed train, or " bullet train, " was invented and started operation. Since then, newer, faster models of this particular train have been designed and have spread throughout the continent. These trains have speed in the bag and a beautiful design conducive to passengers.

Have you ever been on one of these iconic high-speed trains? Or perhaps you are an engineer whose dream is to assist in the building or upgrade one of these trains? Though these dreams are big, you can start hitting your mark now by building the Lego city high-speed passenger train 60051. This Lego set comes with all the looks and designs of the real-life high-speed train. So you will feel like an engineer bringing this set to life. Do you have a friend or kid who is a sucker for trains, by any chance? Then you could gift them this amazing-looking Lego set. Another reason why you should buy this Lego set is because of its excellent and satisfying building experience. Well, you must be wondering what that is about. Let's find out in the next section.
BUILDING EXPERIENCE FOR THE LEGO CITY HIGH-SPEED PASSENGER TRAIN 60051 SET.
When Lego adapts to an actual life set, most people go crazy for realism and authenticity. Are you that type of person? Then you would also go crazy for this Lego set. This is because this set comes with lots of authentic details that help add to the overall look of this Lego set. Are you a fan of technical Lego sets, then you would love to work with this set. This set features two main parts that help make this set complete. You would have to build both the set and the railway where your high-speed train would ride upon. This Lego set is part of the Lego city set, so creating this set would be part of improving your Lego city. Improve the look of your Lego city by including this Lego set in your collection today.
Though this sets, building experience could seem challenging. You could see it through with ease. This is all thanks to the sharp build instructions this fantastic Lego set comes with. The instruction manual has been perfectly designed to make building easy. You get clear, easy-to-understand diagrams that help explain what you have to do. The instruction also comes with written instructions. So whether you know instructions better with diagrams or clear images, you have all the support for your building process. If, even after all these terrific features, you feel your experience is not as you imagined, invite other high-speed train enthusiasts to help with the project. Overall, you can expect to enjoy your Lego high-speed passenger train building significantly. But now the question, what cool features would you be putting together? Let's find out.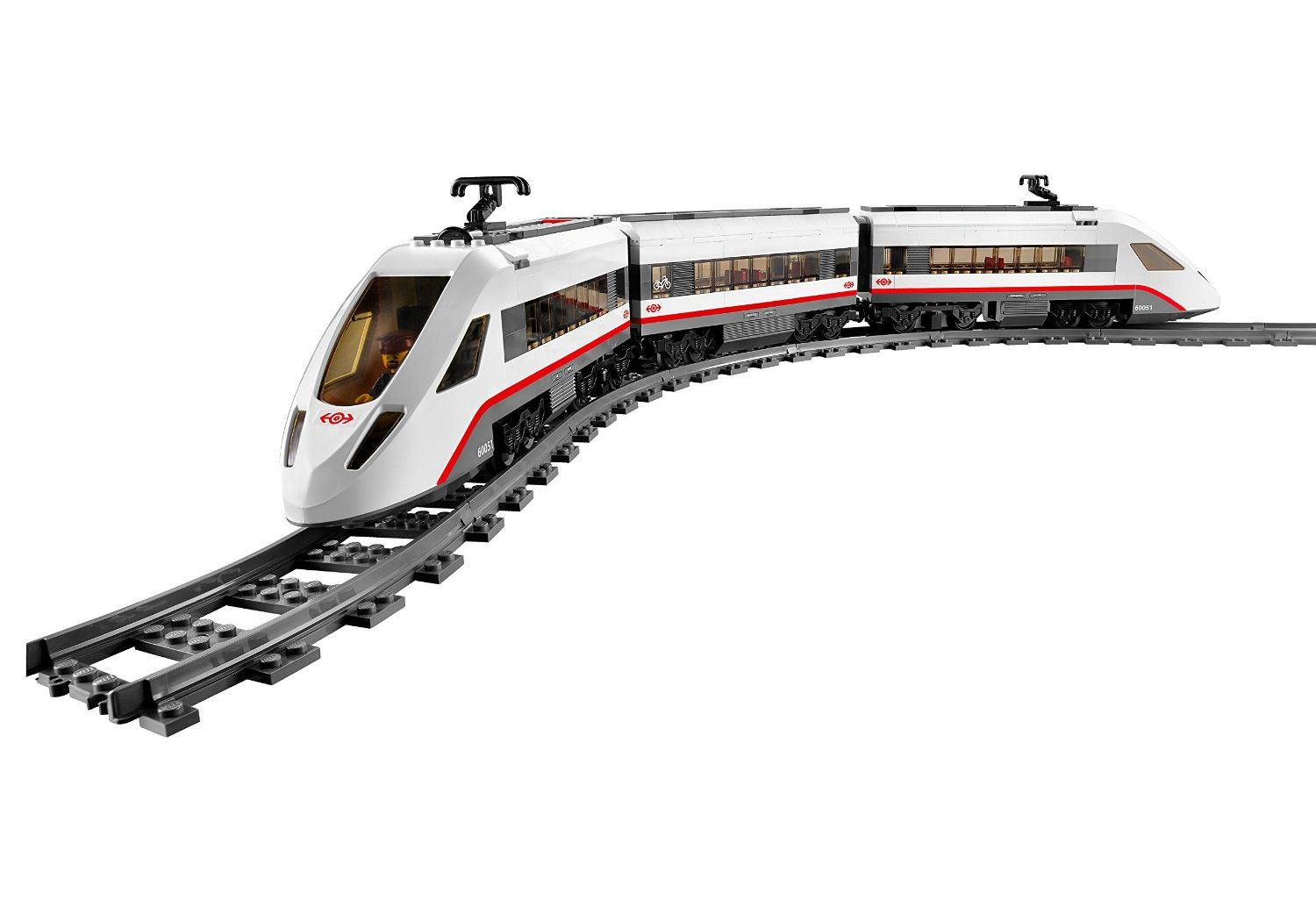 AUTHENTIC FEATURES FOR THE LEGO HIGH-SPEED PASSENGER TRAIN 60051 SET.
● AN INTRICATE DESIGN.
All Lego builders would enjoy bringing this set to life, and you are no exception. The set offers a design and Lego elements that help complete its look. Among the features to die for are a seven-speed inferred remote control, a removable locomotive with eight channels, and cars, among other things. And Not to mention a realistic-looking bodywork and shape of a real high-speed train. These are not all features, but with this alone, you will be delighted with the set's overall look with this alone. So make sure to do justice to the building of this fantastic Lego set.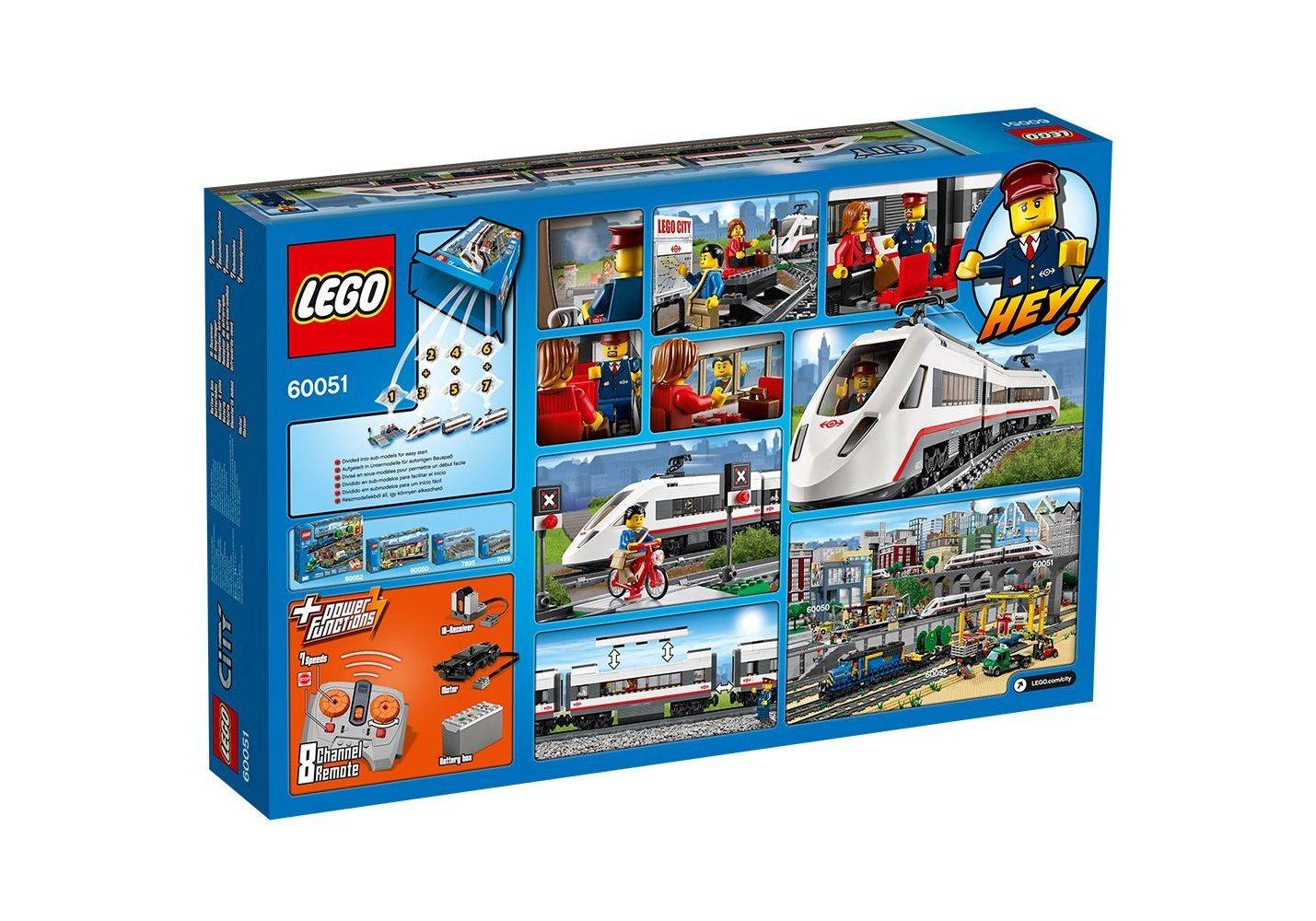 ● ADDITIONAL BONUSES.
This Lego set does not stop at looking realistic. It also adds additional features to help you enjoy your set overall. Some of the extra features this Lego set includes are [1] a map of train service, [ 2] warning signs, [ 3] light and a crossing, and [ 4] a small platform with two seats. With these extra features, you can engage in roleplay, probably driving through your Lego city in search of passengers to board your train. Take thorough advantage of this fantastic feature from Lego because it would be truly worth your while.
● TOP-QUALITY LEGO MATERIALS.
Put your heart into this Lego set and reap the reward. Yes, Lego has provided all you need for a successful building experience. All materials used in the production of this set have been tested to ensure they meet strict company standards. All sets have also been tested to ensure safe and can be used. And for what it's worth, this Lego set is highly compatible with all Lego construction sets. So now you can get as involved as you want to be with this Lego set, customizing it to suit your preference.

● A RAILWAY.
A train set would not be complete without a nice rail track. Lego knows this and has offered a railway as a finishing detail. Building this railway or route could be done before or after you are done with your train. It only depends on how you decide to develop. There is no need for you to panic because building this railway is the easiest thing you would ever do. And at the end, once you are done building your railway, you can enjoy driving your train around the track.
● MINIFIGURES.
This Lego set also comes with three beautiful-looking Minifigures to help complete the look. These Minifigures include a driver, passenger, and cyclist. All are dressed to help you separate one from the other. These mini-figures also open new roleplaying options for you and your Lego set.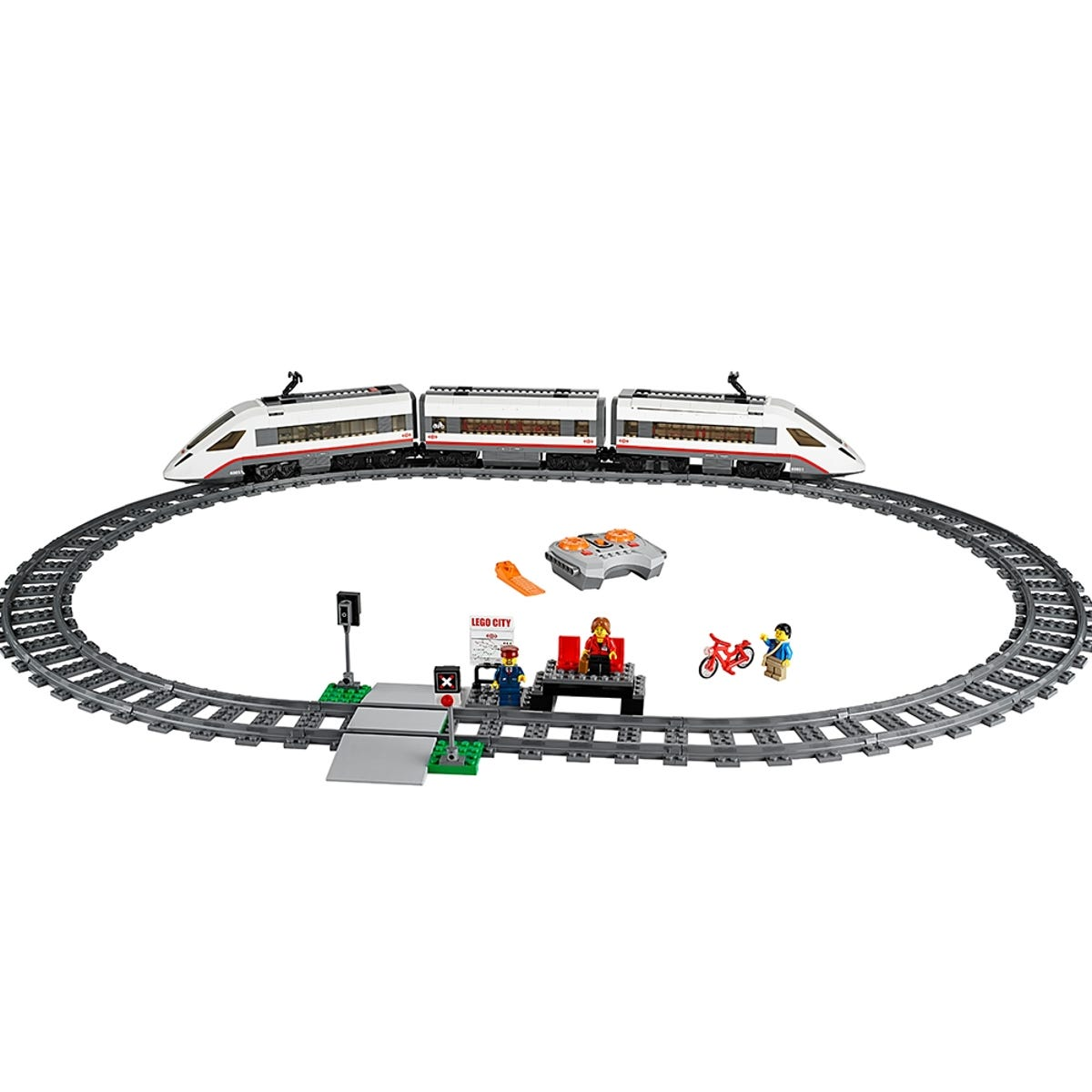 ● SET SIZE.
This Lego set is a big project and shouldn't be taken likely. A total of 610 Lego bricks are responsible for the birth of this Lego set. The Lego high-speed train, track, and cars all have different ratios. The Lego high-speed passenger train measures over 4 inches high, 30 inches long, and 1 inch wide. As for the cars, the front measures over 4 inches high, 10 inches long, and 1 inch wide. The middle car measures over 3 inches high, 8 inches long, and 1 inch wide. Then for the railway, its curved track measures over 2 inches wide and 5 inches long. The straight track measures over 5 inches long and 2 inches wide. And finally, the way station measures over 7 inches wide, 2 inches high, and 5 inches in dimension.
Buy this Lego set directly from the Lego store. But if this set is out of stock, you could get it from Amazon or other online stores by the time you get there. If you are not a fine of online stores, get this set from any Lego store in your area. The set costs a total of 299.99 dollars a the Lego online store. Make this set even shinier with our special light kit.
BLOW ONLOOKERS AWAY BY UPGRADING YOUR SET AWESOMENESS WITH OUR SPECIAL LIGHT KITS.
Yes, make onlookers go crazy when they see your Lego set by adding our special Lego light features to your set. Take the first set by purchasing this set directly from our website, game of bricks. Once your light kits arrive, be sure to inspect them. If it all looks good, you could finally install it. But what's the best way to do this for beginners? Follow these two basic rules, and you will be okay.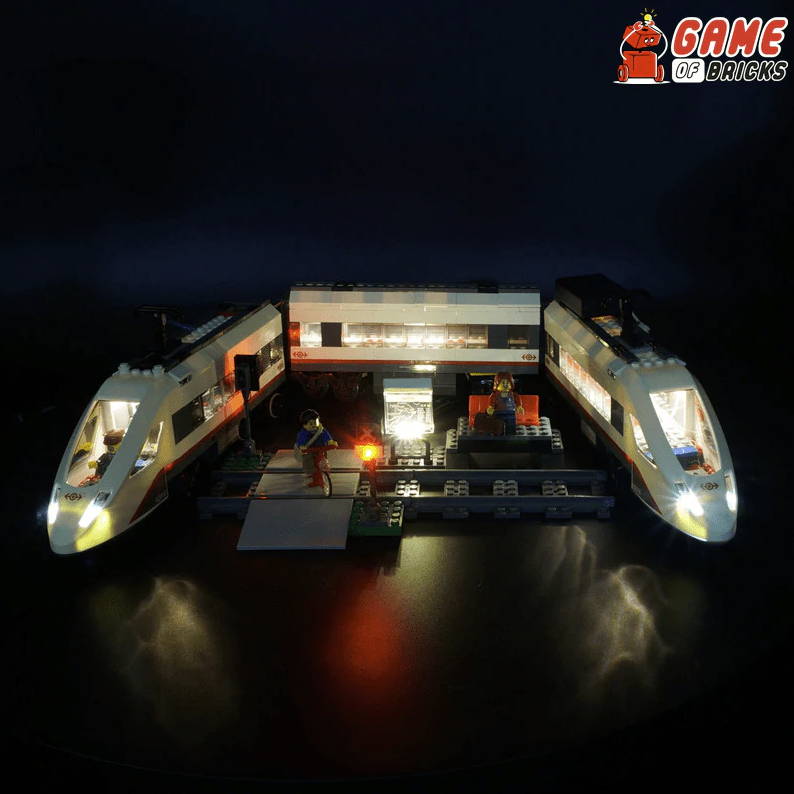 1. Use the manual.
If you are a beginner, using the installation manual would be your best chance for success. Everything has been clearly outlined in the manual to make your work easy. Use the manual diligently, and you will succeed. Also, make sure you handle your light kit with care. Failure to do so could damage your kit and thus make your installation process unbearable. Avoid this stress by gently working with your lego lights.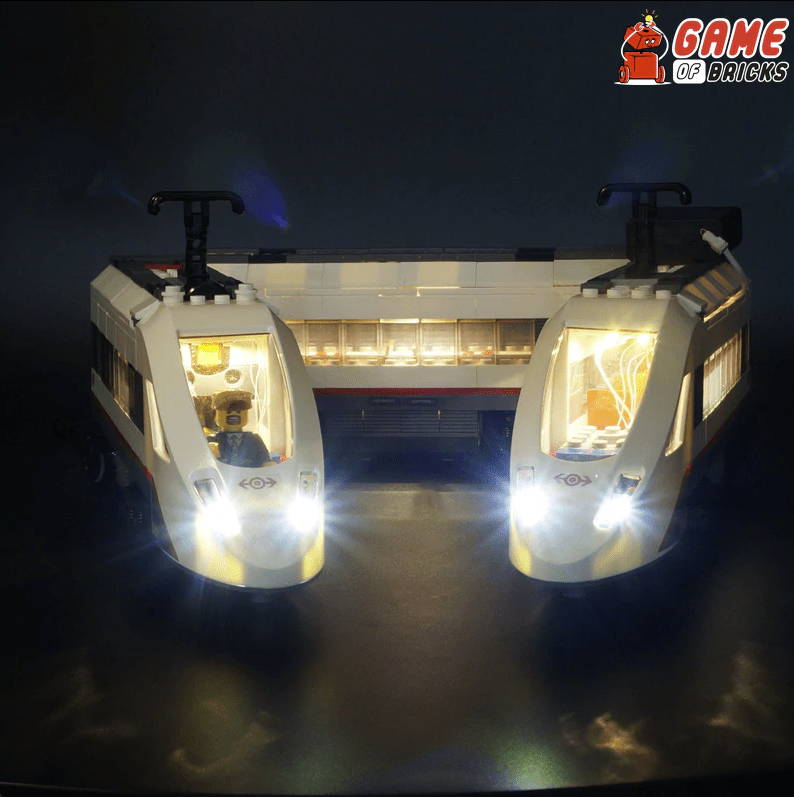 2. Inspect all installed kits.
Once you are done installing your light kit, you need to test them. The testing aims to ensure that your light kits are safe for use and are also very durable. You should take these checks very seriously to determine if your lights kit will function appropriately in the long run. Check out for signs of sparks or short-circuiting, as it could help identify the source of the problem. Once you have identified the fault, be quick to fix it. Once you have done that successfully and all looks good, put your Lego high-speed passenger train on display for all to see!