Reach the finish line first with the LEGO Chevrolet Corvette C8 R and 1968 Chevrolet Corvette 76903 Set.
By

Mark Gini
/
January 11, 2022
If you love cars and are a fan of race cars, then the Chevrolet Corvette C8 R and 1968 Chevrolet Corvette would definitely be among your favourites. These unique race cars are known not only for their speed but for their reliance on the race track. These fantastic cars are designed and manufactured by the Chevrolet car companies, and the 1968 Chevrolet Corvette was among their first successful race cars. Though the Chevrolet Corvette C8 R and 1968 Chevrolet Corvette are from different times, they are both from a strong line of racing cars. Today, the Chevrolet Corvette is widely recognized as the United States race car.

Would you love the opportunity to race both the past and the present? Well, with the Lego Chevrolet Corvette C8 R and 1968 Chevrolet Corvette, you get the chance to do that and more. With this fantastic set, you get the opportunity to recreate both vehicles with their authentic details. Then you also have the option of either putting the set on display or racing your way to victory. Are you in search of a set for your race car fanatic this festive season? Then the Lego Chevrolet Corvette C8 R and 1968 Chevrolet Corvette 76903 set. But what do young builders excited with budding this set stand to experience? Well, let's find out as we progress.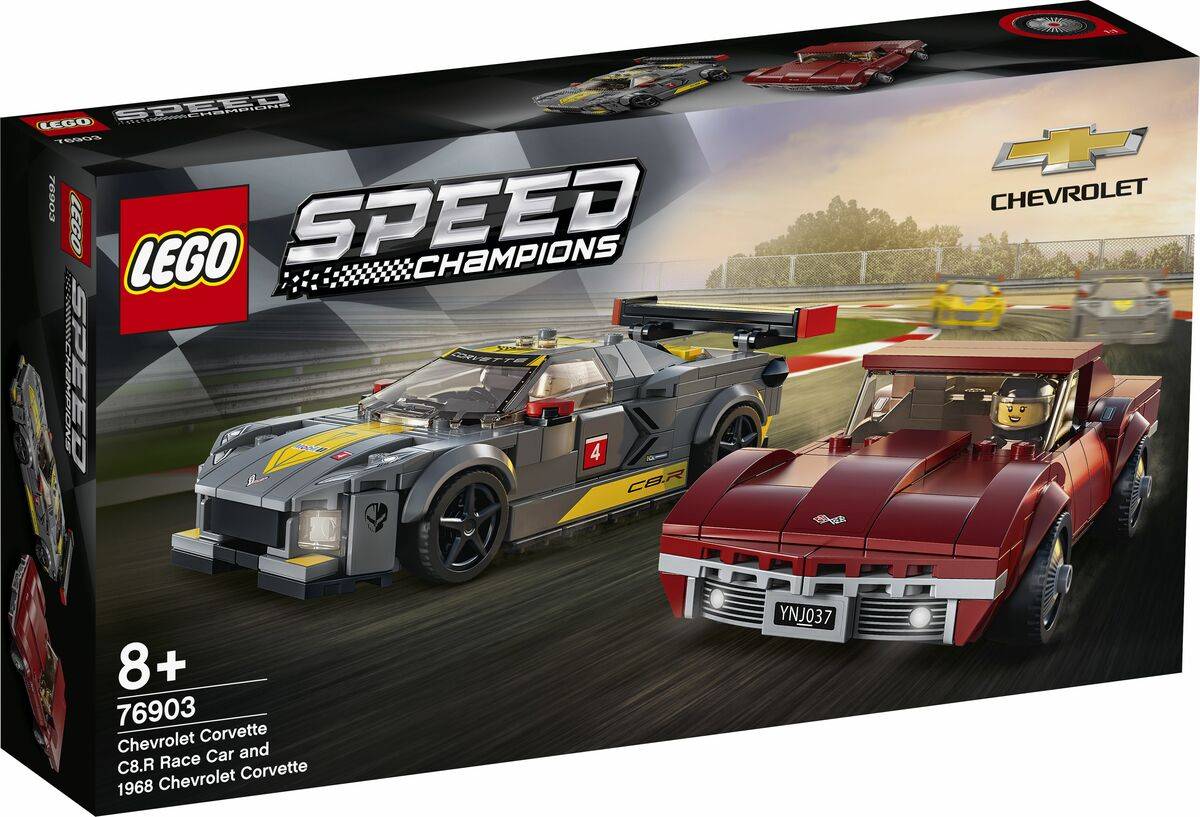 BUILDING EXPERIENCE FOR THE LEGO CHEVROLET CORVETTE AND 1968 CHEVROLET CORVETTE 76903 SET.
This fantastic Lego set is designed to replicate an actual Chevrolet Corvette automobile, both old and new. As a result, the set is packed with lots of authentic details. First, the Chevrolet Corvette car model is a Two passenger/ doors car. This is perfectly replicated by this fantastic Lego set. The set is over 500 pieces of pure brick and is designed to replicate both the 2020 and 1968 Chevrolet Corvette car models. If you are new to Lego, this set is a perfect place to start. And if you get even the slightest bit confused, this set offers a clear, easy-to-understand building experience that would help make your experience a lot easier.
This set also comes with two Lego Minifigures suited and ready for a race. This helps make building with this set a whole lot more engaging. The bricks used in the making of this set are also designed by Lego to be very compatible and easy to build. Its brick pieces are of the highest quality and are easily attachable and detachable. It has also been tested to ensure that it is safe for children to play with. So no need to fret about your children getting hurt by this set. This set is perfectly safe for your kids to play with. Overall, this fantastic Lego set provides a building experience that is both engaging and satisfying. And as a plus, the Lego Chevrolet Corvette C8 R and 1968 Chevrolet Corvette are superb as a display set.

INCREDIBLE FEATURES FOR THE LEGO CHEVROLET CORVETTE C8 R AND 1️968 CHEVROLET CORVETTE 76903 SET.
The Lego Chevrolet Corvette C8.R and 1968 Chevrolet Corvette is a set packed with lots of incredible details which make it look realistic. These details include a sophisticated build with flashy colors, the iconic two-door entrance with access to only two passenger seats, and more. So you get to feel like an engineer bringing this fantastic Lego set to life. Let's look at other excellent set details.
• BUILD BOTH THE PAST AND THE PRESENT.
The Lego Chevrolet Corvette C8 R and 1968 Chevrolet Corvette gives you a two-set build. You get the opportunity to build two fantastic care from the same company but from different timelines. Build the 1968 Chevrolet Corvette first. Carefully insert all its pieces and features, then build the Chevrolet Corvette C8 R 2020 second. As you create, not the differences between the two sets and observe just how far Chevrolet as a company has grown. And for engaging roleplaying, test both sets on the track to see which comes out on top.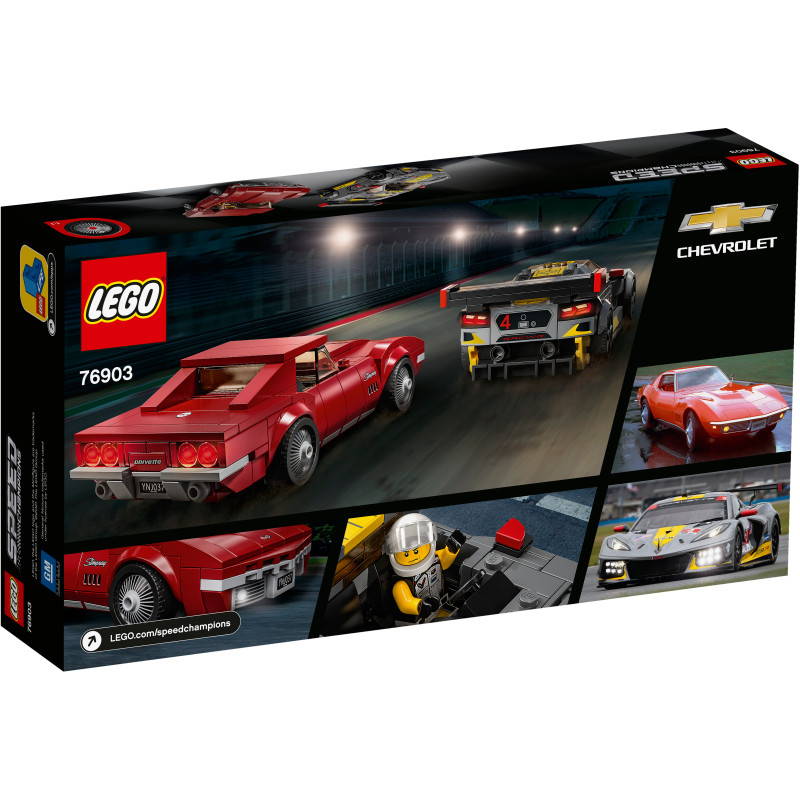 • TWO SET MINIFIGURES.
This Lego set does not stop at providing cool features for builders to work with. It goes a step further to support more interactive roleplaying. It does this job effectively by giving both cars portable Minifigures, which fit perfectly within each set. This helps make it easier for children to engage more with the set. This also makes it an excellent gift for young kids racing car fanatics. Go on endless races with the Lego Chevrolet Corvette C8 R and 1968 Chevrolet Corvette set. Never lose a race with a car tested and fit for the job.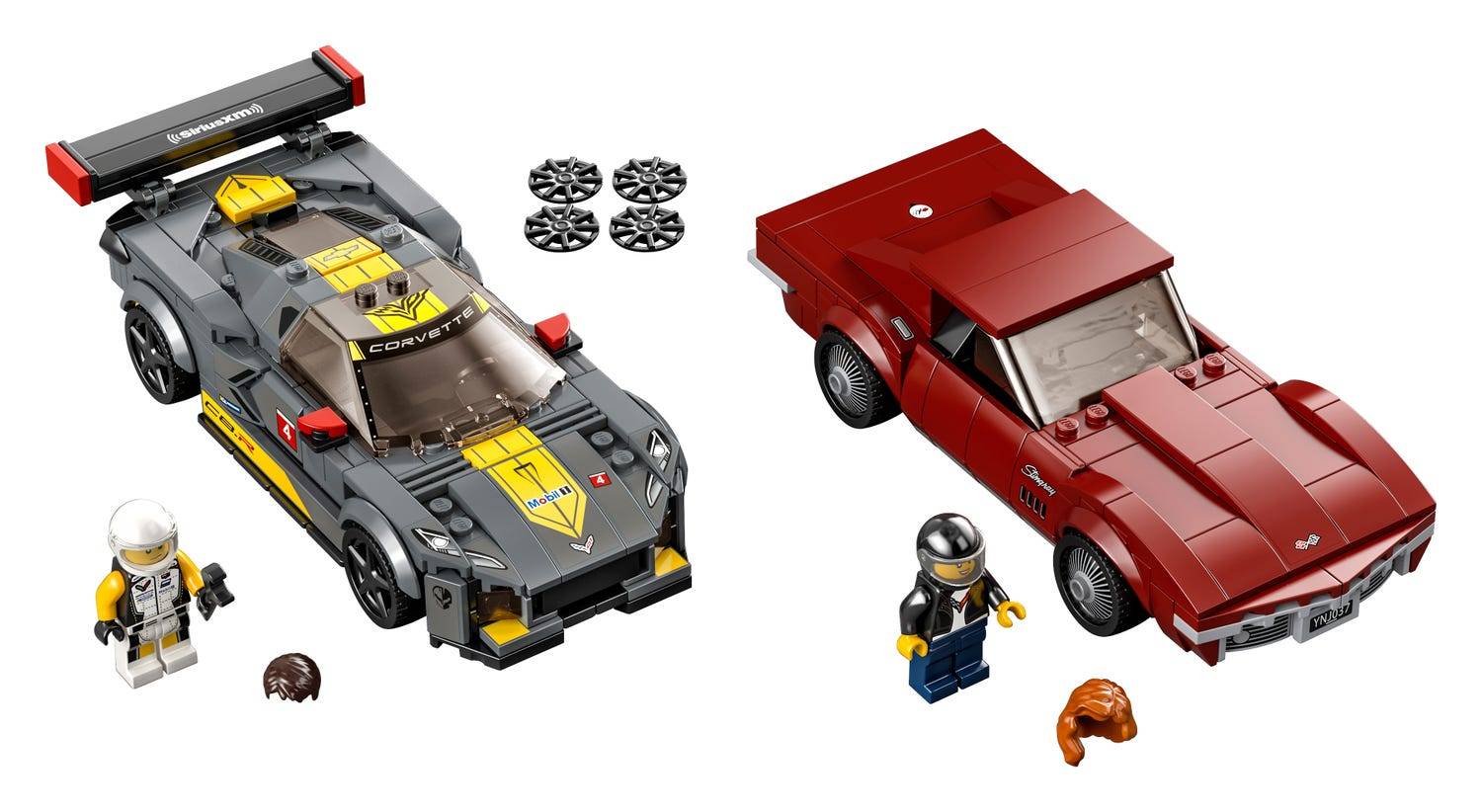 • TRUSTWORTHY DESIGNS.
The Lego Chevrolet Corvette CR 8 and 1968 Chevrolet Corvette set is a part of the Lego speed Champion sets. This particular Lego collection has made it a duty to produce trustworthy replicas of various race cars. And if you are a lover of the Lego Speed Champions set collection, you probably have a car or two. This opens a wide door of activities for you. With unique race cars from this collection, you get the chance to build your legacy and race for the right to rule the track.
• SET SIZE.
The Lego Chevrolet Corvette CR 8 and 1968 Chevrolet Corvette set is put together with 512 pieces. And since both cars are not so different when fully coupled, the Lego Chevrolet Corvette CR 8 is about 1.5 inches high, 6.5 inches long, and 2.5 inches wide. This is not so different from the 1968 Chevrolet Corvette set. This set size makes the set very portable and suitable as a display piece. Place both cars side by side for a more awesome display feature.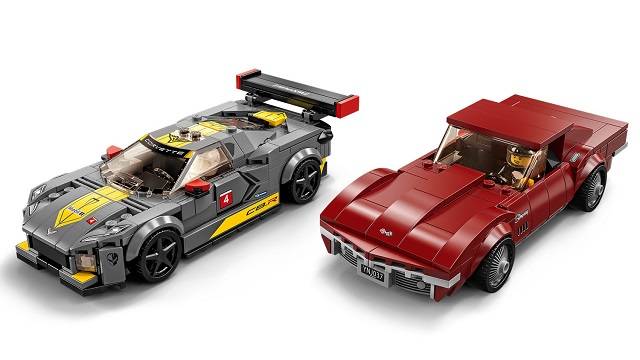 Well, by now, you must be wondering just how to get your hands on this Lego set. Well, if that's your desire, it is highly recommended that you get this set either from lego.com or Lego stores in your country. And since this set's design is centered toward a younger generation, it's been set at an affordable price. Get this Lego set for your kids for only 29.99 dollars this festive season. If you desire a set perfect for your kids this festive season, then this is the set for you.
MAKE YOUR SET EVEN MORE GLORIOUS WITH OUR AMAZING GAME OF BRICKS LIGHT KITS.
Well, if you thought the Lego Chevrolet Corvette CR 8 and 1968 Chevrolet Corvette set was fun and inspiring, well, you haven't seen anything yet. With our Lego Light kits, you can make this set stand out even more. And if you are wondering how to achieve such perfection to your set, then you are definitely in the right place. The first thing is to ensure your set is well built and lacks no piece or needed feature. A complete set will help give our installed light kit more life to your set. Once your light kits arrive after shipment, ensure to inspect them. Light kits could easily get damaged during shipment, so inspect thoroughly. If after all of that has been done, " what next?! " you may wonder. Well, let's find out...
1. INSTALL YOUR LIGHT KIT.
Installing our light kits is no easy task for a beginner. But it has been made much more easy with an instruction manual for each purchased light kit. Lego light kits creators, " Game of bricks", have worked hard over the years to ensure the instruction manuals accompanying the list are simple and easy to understand. As you use the manual, remember that our light kits are delicate, unlike your Lego brick sets. So, as you install them, passing it through each brick, ensure you handle it with care to not damage the light kit. If you follow the instruction manuals correctly and control the light kit with respect, you are guaranteed to succeed with your light kit installation.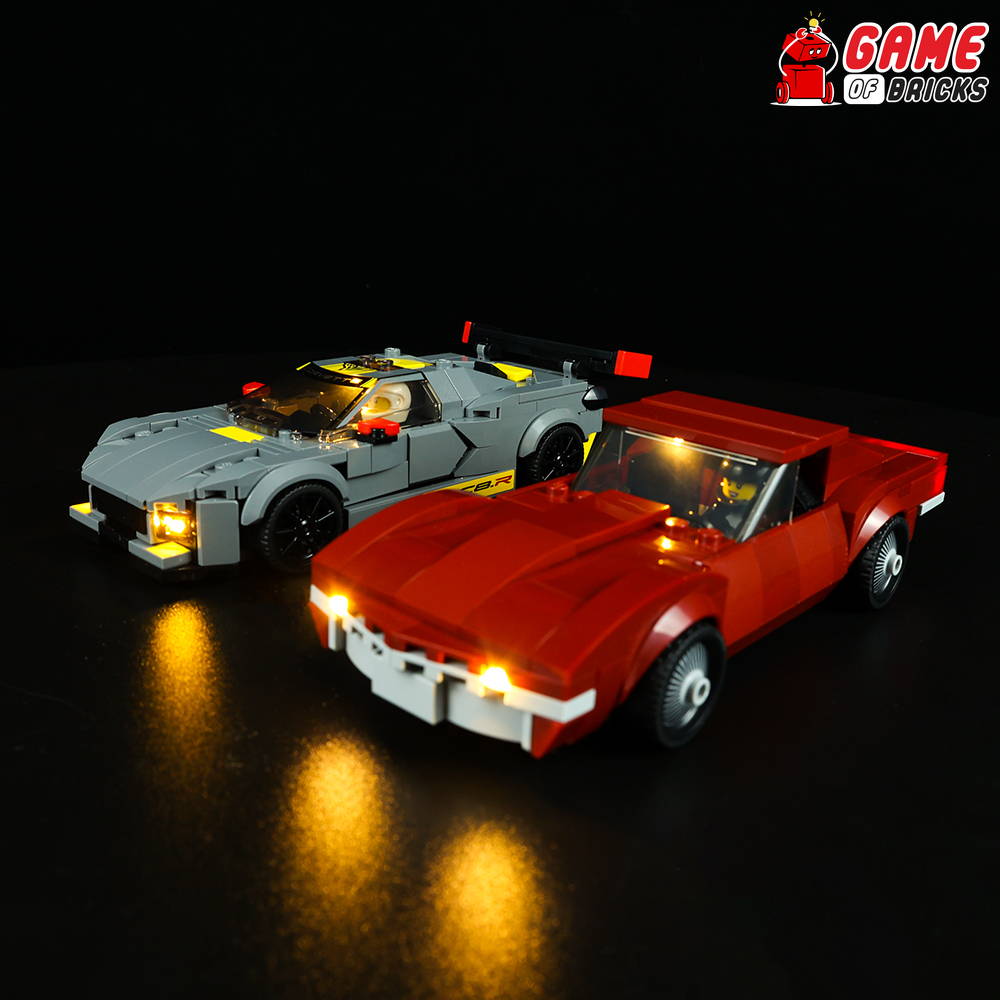 2. INSPECT NEWLEY INSTALLED LIGHT KITS.
Once you are done installing our Lego light kits, it's recommended that you take your time to install each piece of light equipment and accessories. This inspection is essential to help ensure that every installed light kit is safe and okay for your kids to play with. While inspecting, watch out for signs of short-circuiting and sparks. Those signs could help you detect the problem, if any. It is also advisable that you inspect the battery capacity to ensure it is strong enough to carry the load from your light kit. A strong battery equals a long-lasting and functional light kit. Once all checks have been done, it's safe to put your set on display to impress friends and family.