Feel like you are on a getaway when you build the LEGO Beach Glamping 41700 Set.
By

Mark Gini
/
July 13, 2022
Imagine yourself in the fantastic summertime chilling on the beach, relaxing, with a bottle of coconut juice in your hand. The breeze is blowing, and the sun is in just the proper condition to give you a nice sun bath. Do you love the scene? Do you wish you could have some of that in your life? With summertime getting near, you may be well on your way to enjoying this luxury. But before that time, wouldn't you love to have something to get you prepped and ready for the summer?

If you do, you would like Lego's new addition - the Beach Glamping Set. this Set comes with many authentic details, making it look as close as possible to a natural life beach. The realistic scenes of this Set would increase your appreciation for the beach. Do you have kids who can shoot up about the beach? Why not get them this Lego Set as a lovely gift? It would shortly make their day a whole lot better. Aside from beauty, this Set also has a fantastic building experience. What do you stand to benefit from building this Lego Set? Let's find out in the next section.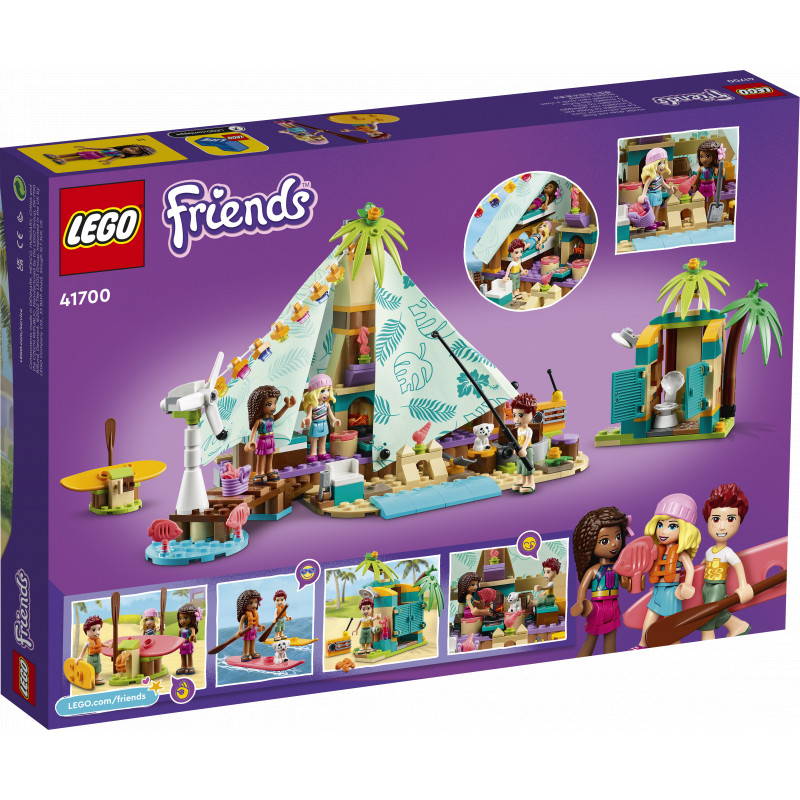 BUILDING EXPERIENCE FOR THE LEGO BEACH GLAMPING 41700 SET.
Are you looking for a fun Set to build? This Lego set has all the excellent makings of one. These, though simple in design, come with many unique details. The first thing you would be building is the base of the beach house. Followed by the beach itself and the adaptation of the Ocean. The replicating of these beautiful details is found in numbered plastic brick bags. Like other Lego bags, the bags are numbered to make it easy to know which brick pieces are for what stage or section. The building of thisSett is fun and capable of keeping kids and adults engaged for a while. If you are unfamiliar with Lego, this Set would be an excellent place to start your building. The Sets building steps are simple and easy to understand.
AUTHENTIC BUILDING EXPERIENCE FOR THE LEGO BEACH GLAMPING 41700 SET.
● BEACH ACCESSORIES.
Aside from theSett adapting a beach theme, the Set also contains cool accessories that help make the scene as realistic as possible. Some of these accessories include two small beach boats with a paddle. This you could use to paddle across the Ocean while you hunt for fish. You also have a stove you could use to cook what you catch. You also have a small rest room where you could relieve yourself. The Lego set also uses Lego elements to recreate palm trees you would find around the beach. These fabulous accessories add to the overall beauty and realism of these.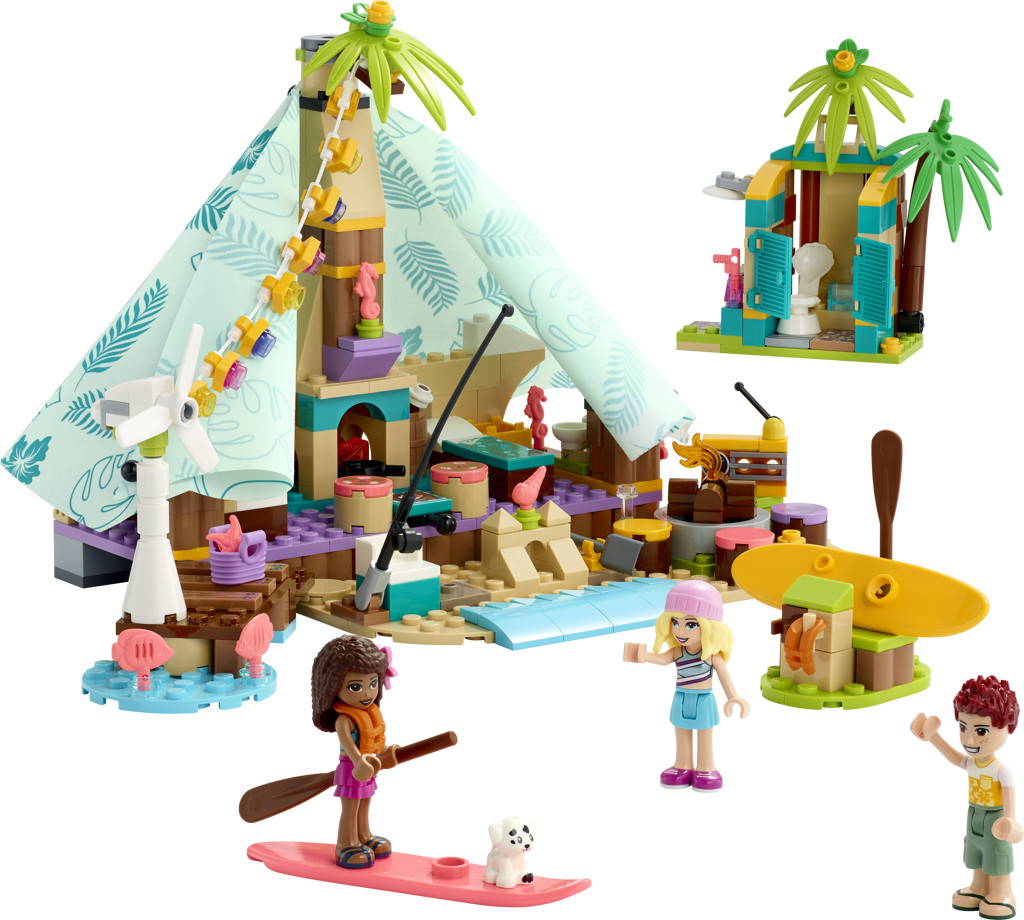 ● THREE MINIFIGURES.
If you are a fan of the Lego Minifigure, you would be glad to know that this Lego set comes with three. Two female minifigures and a male. Do you have children with a wild imagination? You could use this Lego Set feature to keep them engaged for hours. Then you could finally have that free time you have been dreaming about. The minifigures are all dressed in nice beach outfits and are just the right size to fit into the canoe accessory.
● DIGITAL MANUAL.
Aside from the physical manual this Lego set provides, you also have access to a digital one. You can access this manual through the Lego building app. The app gives you access to more features, including a 3D blueprint, zoom, and rotate options. You also have access to videos which would make the process a lot easier.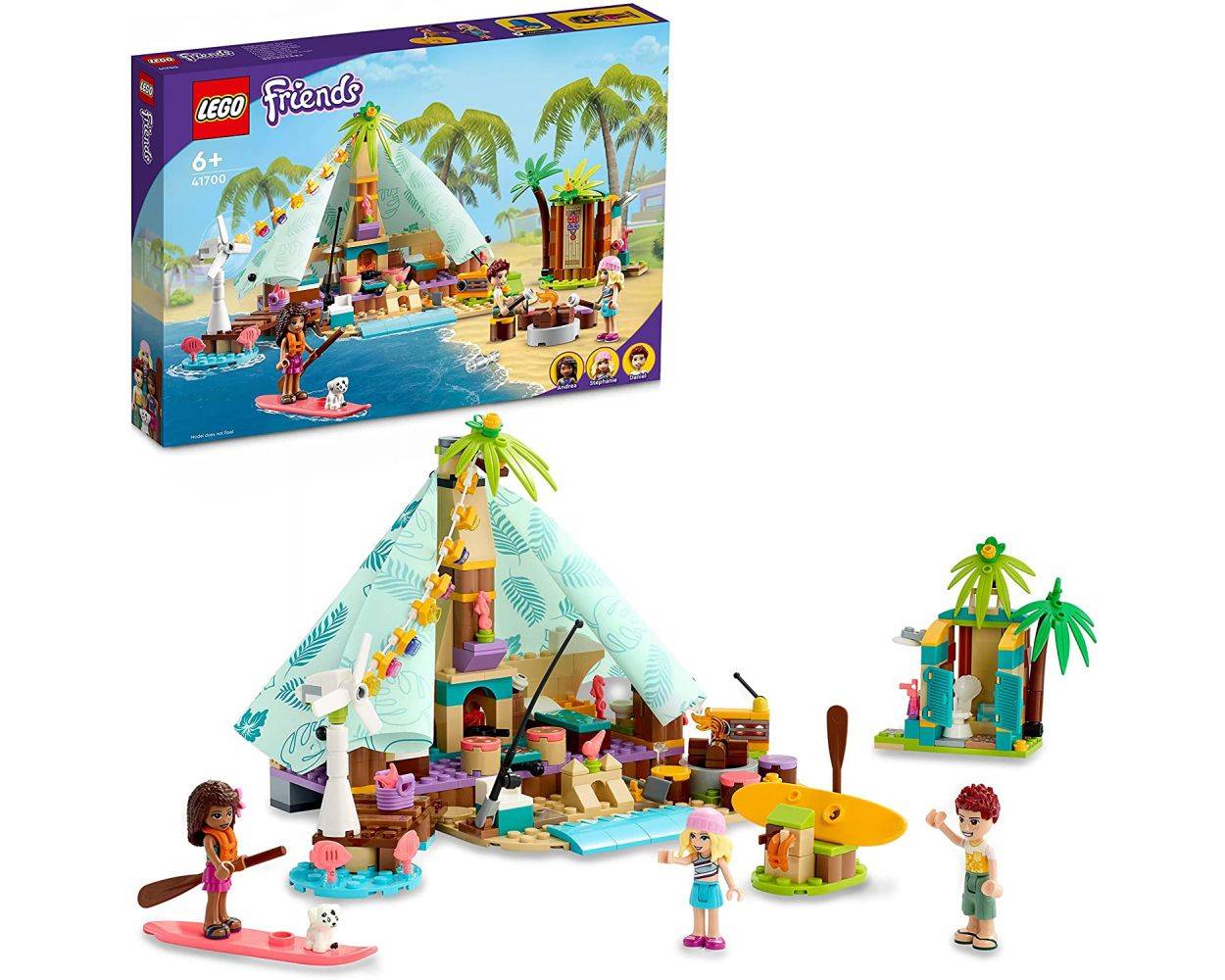 ● TOP-QUALITY MATERIALS.
The use of top-quality materials makes this set a fun and easy to build. Lego, as always, put a lot of time and effort into selecting materials that would be easy to work with and durable. Lego also sets a lot of consideration into safety and makes sure that the instruction manual also contains signs of caution to help the user know exactly what not to do with these. before any of the Sets are shipped out, Lego makes sure to carry out quality assurance checks on them. These checks are to ensure that all sets meet company standards.
● SIZE.
The Lego Beach Glamping set could be considered a small Lego project. It comes with over 300 pieces, with a total of 380 articles. With these brick pieces, you would build a cozy beach tent, a small Toilet, and a beach. The Lego Set would measure about 6 inches high and 10 inches wide when entirely made. This site is just perfect for display on your living room center table.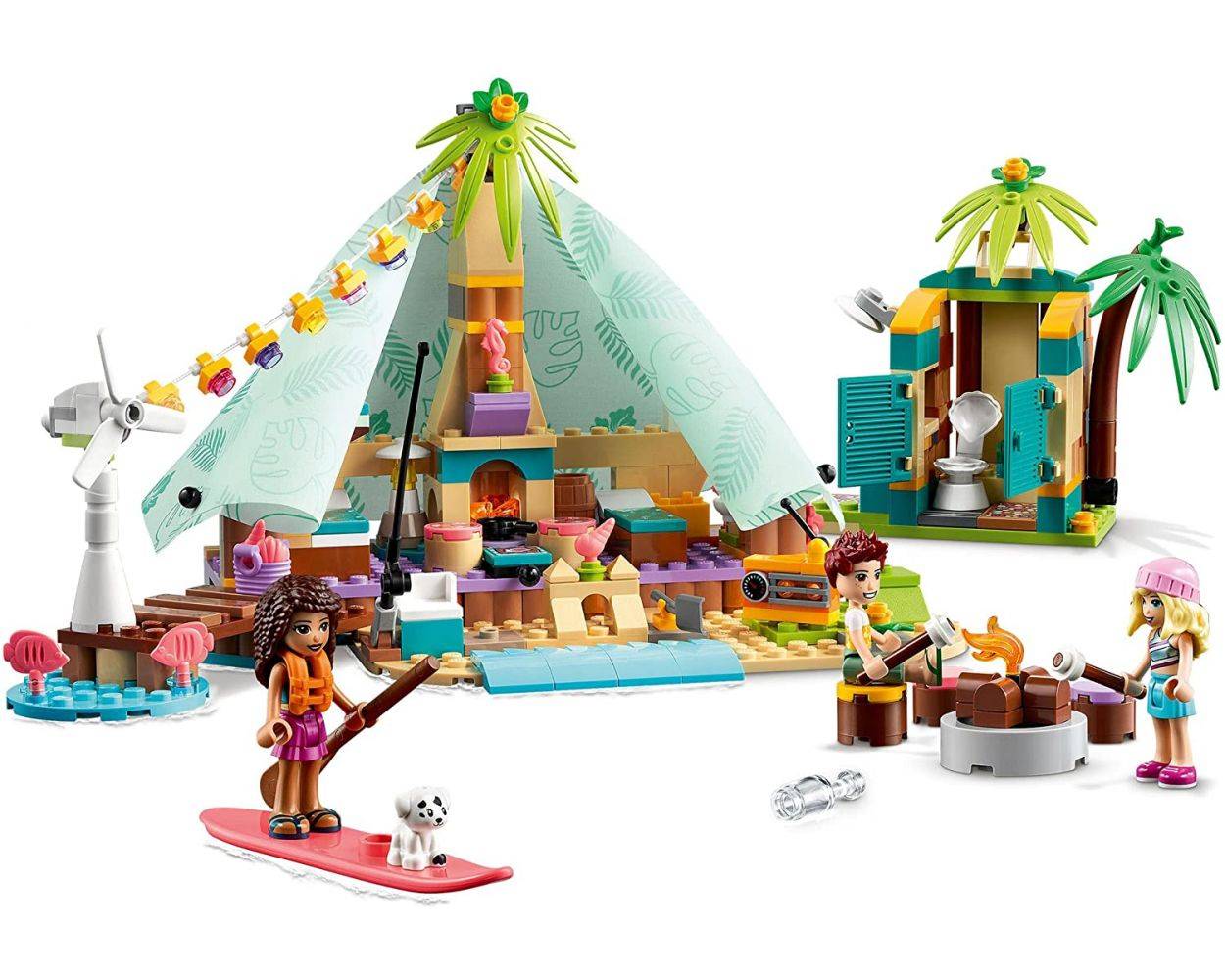 You could find the Lego Beach Glamping set under the kid's category, which makes it very affordable. You could purchase this Set from the Lego website or Lego stores in your area. The price of this Lego set could vary depending on your location and currency value. If you want to relieve yourself from the trouble of figuring out how much the set costs in your country, it would be best to purchase it directly from the Lego website. Depending on your location and the shipping price, you could expect to get this Set anywhere from 39 to 41.99 dollars. This is affordable compared to the number of features you would have access to. But to truly complete your Set look, here is another cool feature you need to include.

MAKE YOUR LEGO BEACH GLAMPING SET LOOK EVEN MORE FABULOUS WITH OUR SPECIAL LIGHT KIT.
Our light kits are exceptional because they are designed to beautify Lego sets. There is almost a light kit for every Lego set currently in production, and your Lego Beach Glamping set is no exception. You could only use light kits on Lego sets that are entirely built, just as lights could only be installed in a complete building as part of the finishing details. How do you successfully install our Lego lights? These two steps could help.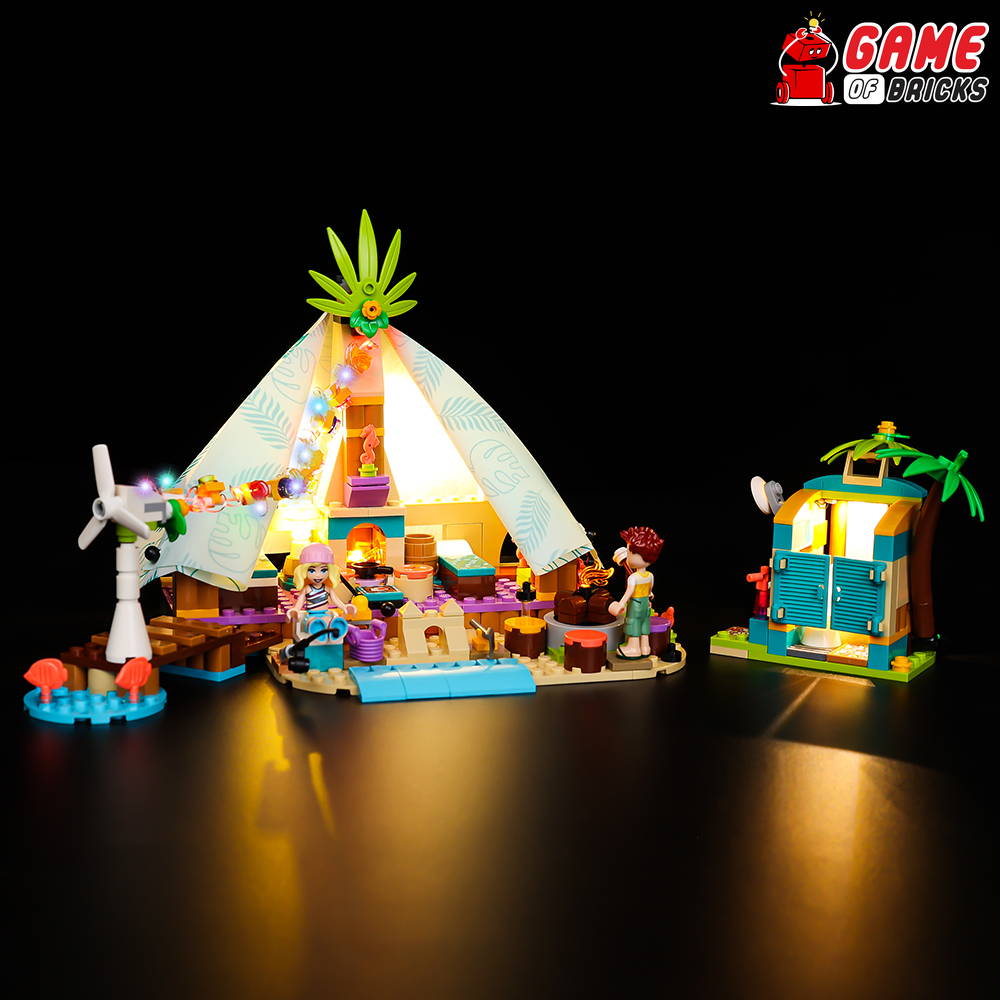 1. INSTALL WITH THE MANUAL.
Once your light kits get to you, it would be best to get to work at once. It would help if you started this by first inspecting your light kits. Check the shipped-in light kits and accessories, and all looks good. You can now install it. To successfully do this, you would need to take time to study the instruction manual carefully. This manual contains step-by-step stages you would need to follow to succeed. Ensure you install the lights at the right part of the Set as the manual instructs. Also, ensure you have all the necessary materials to ensure everything is successful. Following the manual would be the only way to guarantee your success.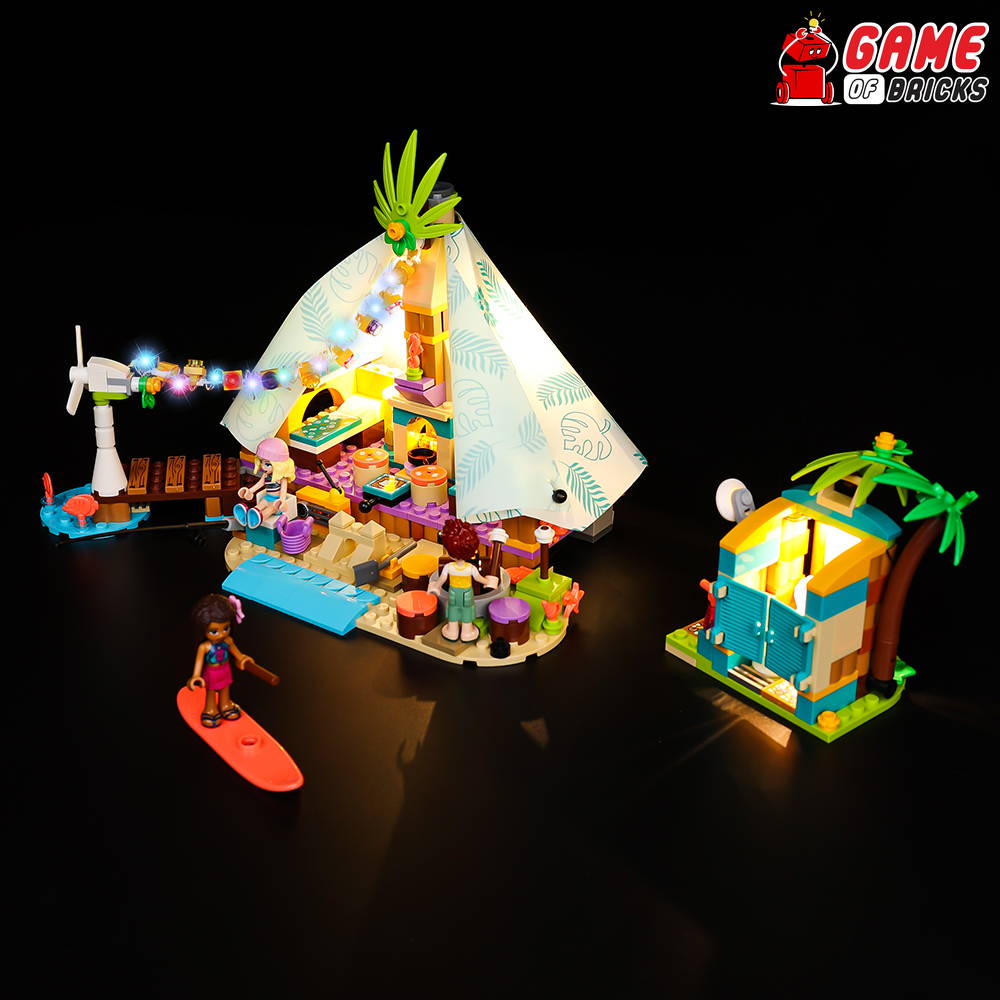 2. INSPECTION.
Once you have fixed your light kits, set a time to inspect them. The inspection should include checking the batteries, wires, and power capacity. You would also need to look out for signs of short-circuiting. If you notice any issues with your light kits, make the necessary changes. Once you have successfully installed your light equipment, have fun with this Lego set as you await a delightful summer vacation at the beach!