A Defensive upgrade for the Batmobile Tumbler Scarecrow Showdown 76239 Set.
There have not been more superhero war machines more famous than the batmobile. Even Ironmans suit will come in second place when referring to the popularity of the war machine. One of the most popular and iconic vigilantes of the DC universe, Batman, was this famous war machine. This famous war machine gained recognition when the Darknight movie hit the cinemas. Seeing how Batman used this automobile to swipe through his enemies and conquer the evil of the joker and his goons were more than exhilarating. Ever since then, this exceptional automobile, later known as the Batmobile, became a constant feature in all of the Batman movies ever produced, as his signature ride.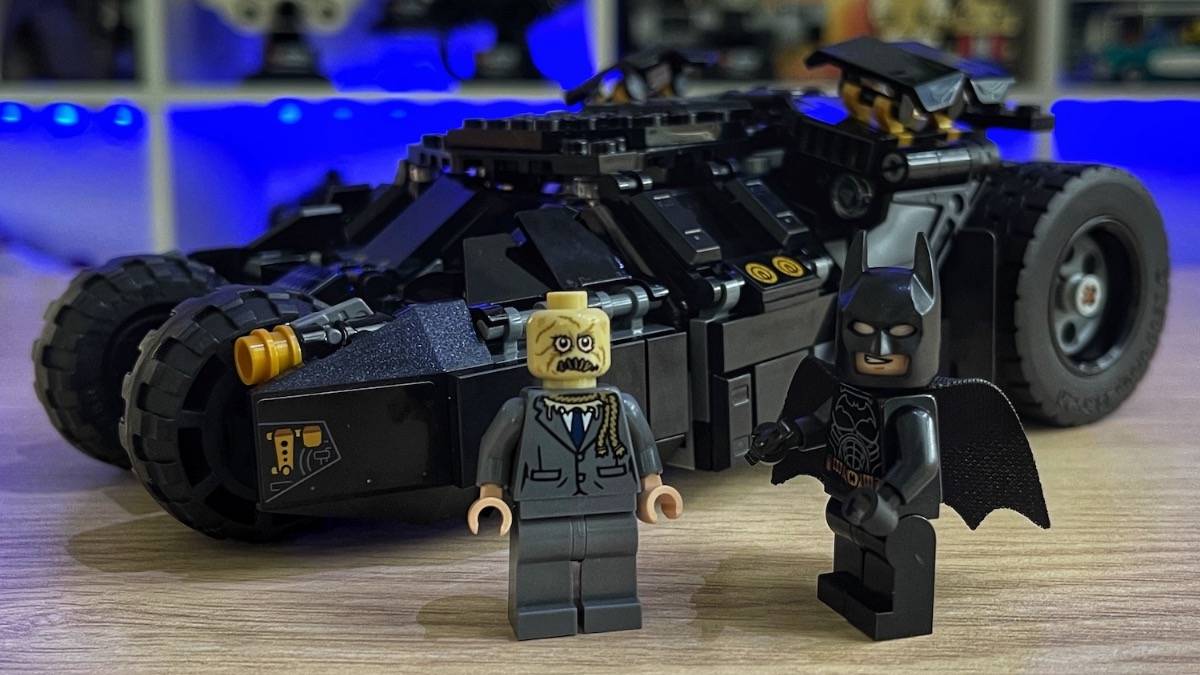 Are you a Batman movie or comics enthusiast? How is would you feel if you were Batman, even if it was just for a day? Well, if you have been wondering how that would be, then maybe you might get your chance to experience the thrill of crime-fighting like Batman, with the Lego Batmobile Tumbler scarecrow showdown set. With this set, you not only stand a chance to relive iconic scenes from the Batman movie, but you also stand a chance to recreate one of the most famous war machines ever to exist on television, the Batmobile. Engage in an immersive world of role-playing when you bring this fantastic Lego set to life. Be the hero of your Batman or woman story by creating new scenes and altering already created scenes. There is nothing you can't accomplish with this wonderful Lego set. But what else makes the building of this set so much fun? Let's find out.

BUILDING EXPERIENCE FOR THE LEGO BATMOBILE TUMBLER SCARECROW SHOWDOWN 76239 SET.
The Lego Batmobile Tumbler scarecrow showdown set gives builders a world of fun while building this set. To make this set much more effortless, Lego has ensured that each set is a product of top-quality bricks. With a mechanism that enables builders to get the best out of their build. The set is easy to attach and also relatively easy to detach as well. This makes it easy for builders to build with confidence, knowing that though they might make mistakes along the way, it could be easily fixed thanks to the easy attach and detach feature. This set also has a more satisfying build, seeing that it is an ideal replica of its movie counterpart.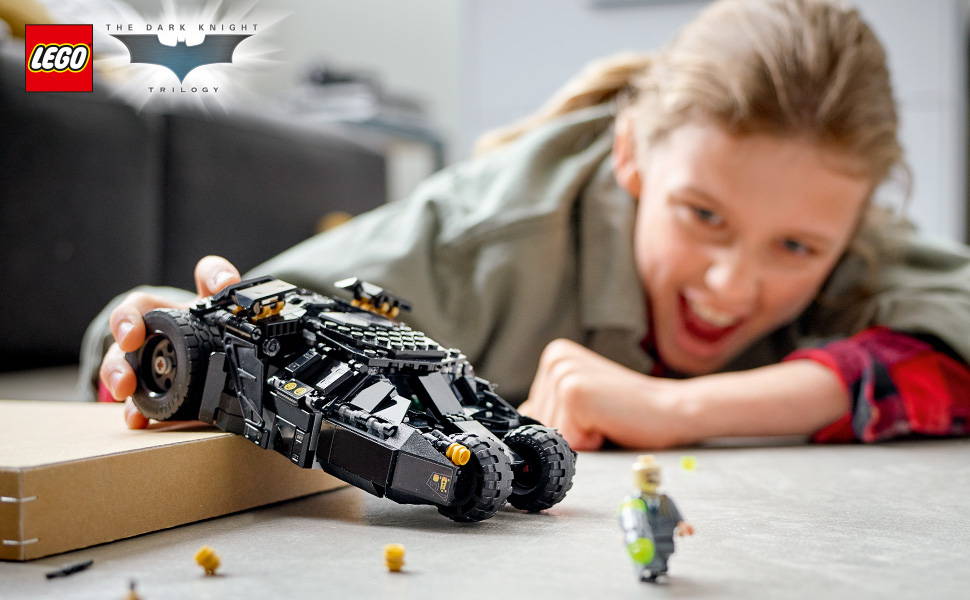 The set comes with the iconic black and touches of gray found in the original Batmobile. You also get to replicate its famous enormous back tires, which help lift the back end of the set, and the much smaller front tires, which help give the car a much more unique look. This set also comes with amazing features which add to the overall look of the set. Though this set is packed with details, it could be efficiently completed by experience Lego builders. This allows time for more advanced role-playing for those who love to exercise their imaginations. To make this set even more satisfying is that it can also look good as a display piece. Get incredible reactions from friends and Lego fans alike as you put this set on display for all to see. But what though are the remarkable features of this set that would get any Batman fan excited? Well, let's find out.
AMAZING FEATURES OF THE LEGO BATMOBILE TUMBLER SCARECROW SHOWDOWN 76239 SET.
This fantastic Lego set comes with many unique features, which helps it stand out in a world of impressive Lego sets. This section will focus on some of those cool features. Starting from the build, the iconic look of the ride, and even the set size. Well, let's get right to it then.
• SET BUILD.
The Lego Batmobile Tumbler scarecrow showdown set comes with a unique and authentic build. It is designed not only to replicate the look of its movie counterpart but also to be strong enough to remain for a long time. A lot of unique features were added to the build of this set. From 2 stud shooters, which are made to fit perfectly at the front of the Batmobile, with space created to accommodate the Batarang of Batman. The set also features an open roof, allowing access to the passenger and driver seat and the Batmobile controls panel.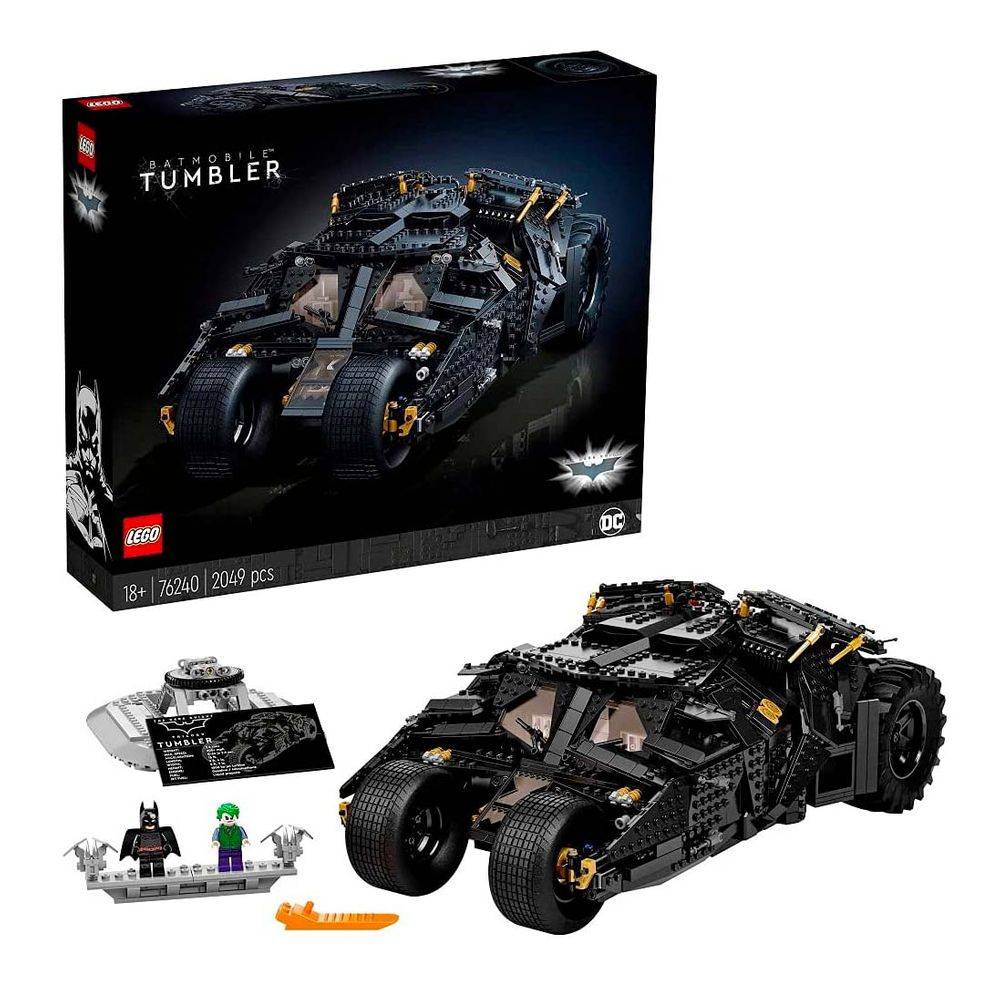 • TWO MINIFIGURES.
The Lego Batmobile Tumbler scarecrow showdown set comes with two Minifigures, making role-play a lot more fun and even more effortless. We have a Minifigure representing Batman, with another for the Scarecrow. Both minifigures are packed with lots of cool weapons, which helps aid them in combat. For Batman, he comes with a Batarang, a grapple gun, and a nightmare head. At the same time, Scarecrow comes with a stud shooter and toxic fear gas canister. Put Batman to good use by utilizing his weapons in the taking down of Scarecrow, do it in style with the aid of the Batmobile.
• SET SIZE.
The Lego Batmobile Tumbler scarecrow showdown set is not significant. Thus it should be easily assembled by an experienced Lego builder in no time at all. The set comes with a little over 400 pieces, about 422 pieces, to be precise. This Lego set also comes with only two Minifigures. Overall, this set is about 3 inches high, 5 inches wide, and 8 inches In dimension. Regardless of the set size, it is a realistic and fun set to put together.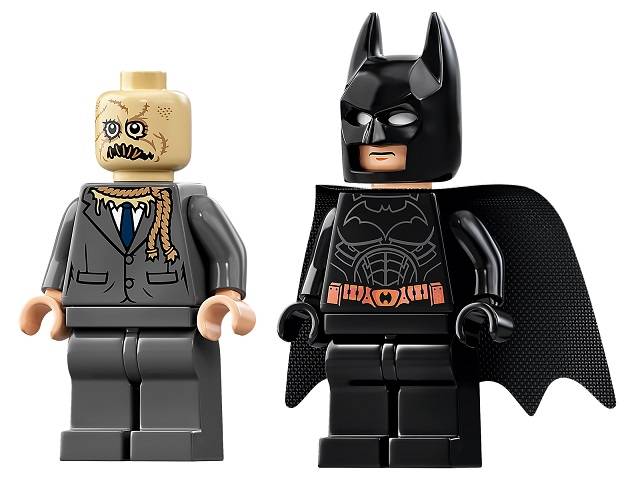 Like most Lego sets, the Lego Batmobile Tumbler scarecrow showdown set price is greatly affected by the availability of the set in whatever country you are purchasing the set from. The value of your countries currency also plays a huge role. This means that the price of a set in a particular country may seem to be either cheaper or more expensive. That is why it is more realistic to purchase this set directly from lego.com. This will help save you the stress of figuring out how much the set would cost in your country's currency. The price of this set on lego.com and Lego stores in the US is about 39.99 dollars. So no matter your country, if you choose to buy from lego.com, this is the price the set will be sold.
MAKE THIS SET LOOK EVEN MORE DOMINATING WITH THE ADDITION OF OUR LEGO LIGHT KITS.
To help finish off the look of your Lego Batmobile Tumbler scarecrow showdown set, you could include our special light kit to help enhance its overall look. Our light kit helps bring out the hidden beauty of each Lego set. The same is true for the Lego Batmobile Tumbler scarecrow showdown set. Are you new to our light kit? This section will focus on some universal tips that can be helpful in the successful installation of our amazing Lego lights.
1. BUILD AN AMAZING SET FIRST.
If you wish to get the best out of our special light kit, you must first ensure that your Lego Batmobile Tumbler scarecrow showdown set was built to absolute perfection. If you can build an amazing-looking set, you have made the first step to ensuring that your light kit is successful. As soon as you are done building this fantastic Lego set, you can move over to the next stage of your light kit installation.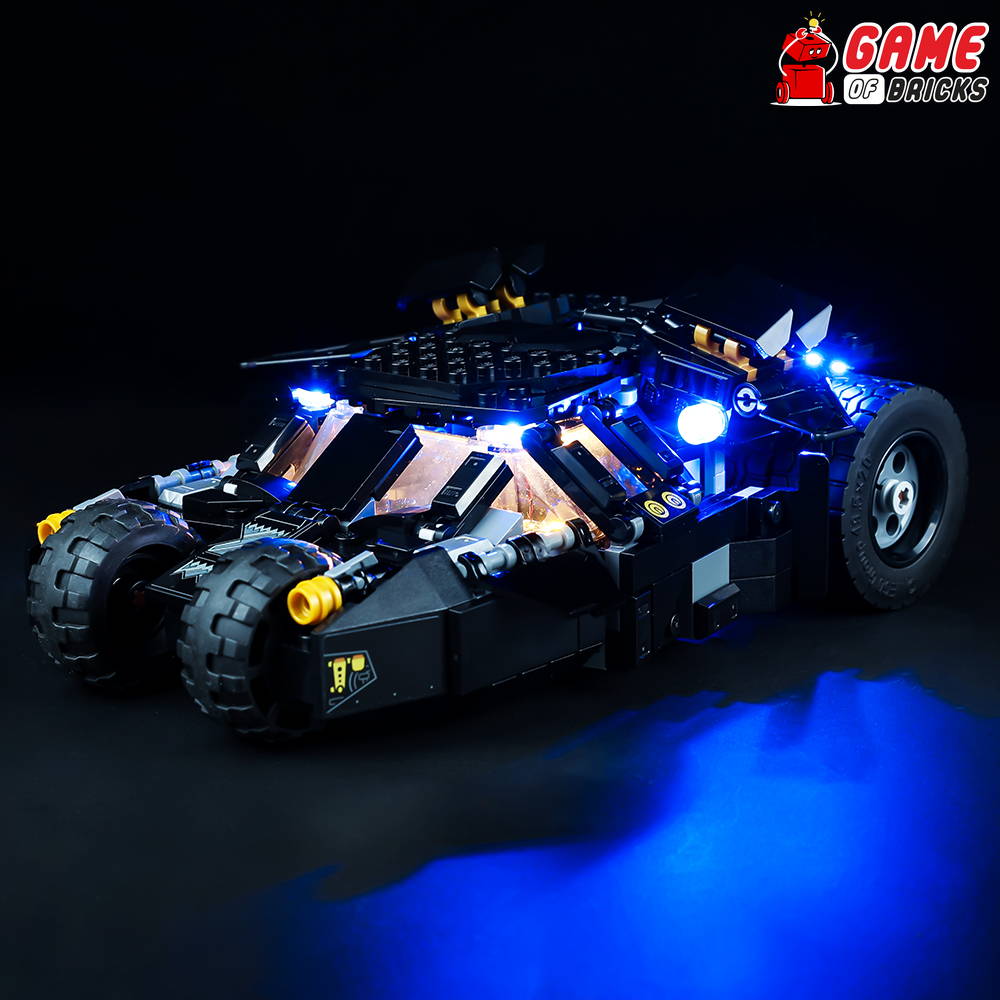 2. THOROUGHLY INSPECT ALL LIGHT KITS.
By now, your special light kit must have arrived. Now before you jump right into installing your light kit, you should stop and do a thorough inspection of each light kit and accessories. This is very important because the transfer from hands to hands during the shipping process makes it familiar for light kits and accessories to get damaged. The sooner you spot a hiccup in your light kit, the better chances you have of replacing it. So take your time to inspect, search out for signs of cut wires or broken accessories, as that is the most common type of damage caused during shipping.

3. INSTALL YOUR LEGO LIGHT KIT.
Now it is time to install your Lego light kit. This has been made easier with the inclusion of an instruction manual for each light kit purchased. This manual features clear instructions on how to install your light kit properly. The instructions are clear and easy to understand. It also contains pictures to make it more understandable to new light kit users. Ensure to take your time and be gentle when working with Lego light kits, for they are very delicate. 
4. TEST RUN YOUR LIGHT KIT.
By now, you should have installed, successfully your light kit using the instruction manual. But the big question is, " does it work"? Well, the only to be sure is by test running your light kit. As you do this, watch out for signs of short-circuiting, for it could help signal a problem. Once you are done testing your light kit and everything looks good, put your Lego Batmobile Tumbler scarecrow showdown set on display for all to see.
---