Engage In a more challenging build with the LEGO Assembly Square 10255 Set
There has never been a better example ofthe saying, " Two heads are better than one," until the decision toproduce this set. The Lego assembly square 10255 set is part of a series ofLego sets designed to tackle a much older audience. The first request for a setlike this one was in late 2006. But it was not until 2007 when Lego finally tookan interest in such an offer. Before then, Lego sets were designed to appeal toa much younger audience, from little kids to young children. But there was aneed for change, audience change to help draw in more mature minds.

As a result of this thought, accompanied by the thousands of suggestions dropped by both teenage and adult Lego community fans, the decision to produce such a set was finally approved. Then in 2007, the first official set from the series was released. A set with a much more precise structure, a much better color pattern, and a much more challenging build. The release of this set immediately got its five-star review, which helped kick start the set renewal annually.
This helped Lego teenage and adult fans to have something to always look forward to. Are you a fan of this series? Would you like to know what this new Lego assembly square set has to offer? Then wait till the end of this set, as we discuss the building experience of this fantastic set from the series, but we will go a step further to decide the features of this fantastic Lego set.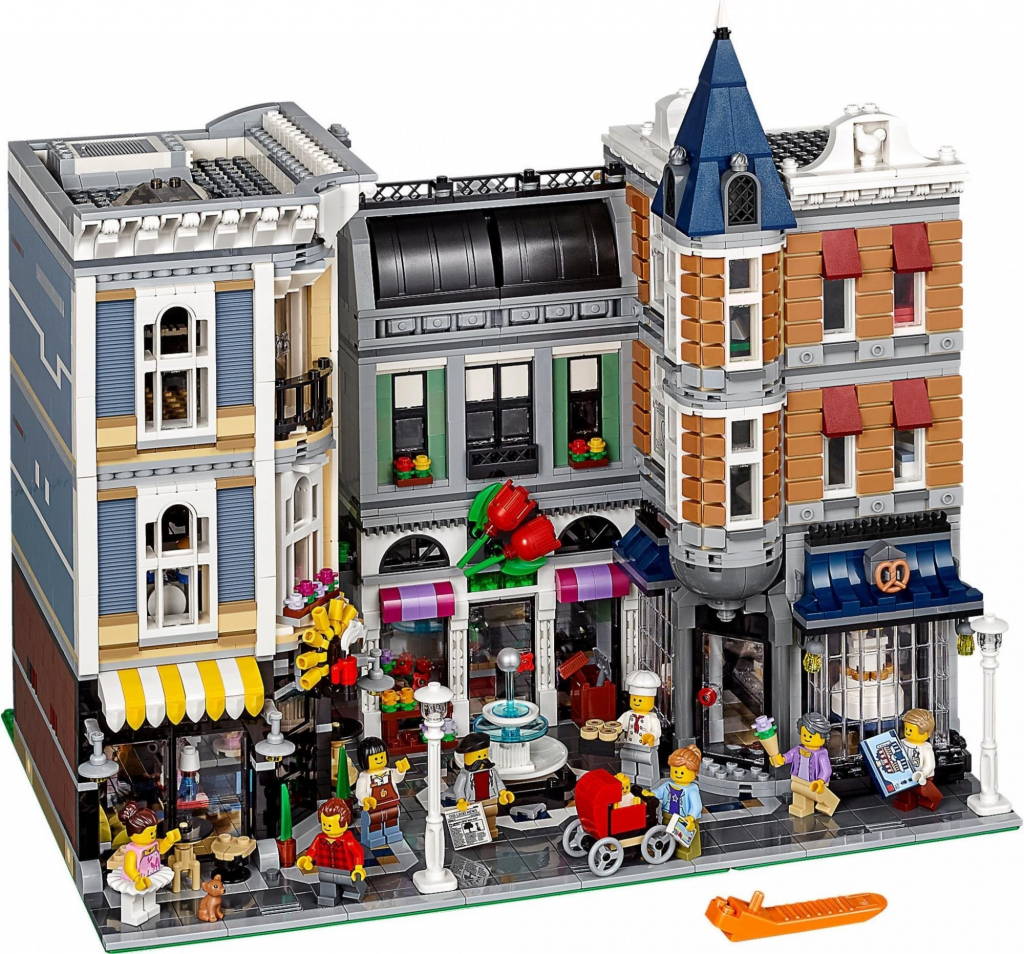 BUILDING EXPERIENCE FOR THE LEGO ASSEMBLY SQUARE 10255 SET.

The Lego assembly square 10255 set, like all sets before it in the series, does not seem to be lacking when looking at its overall build. If you are already a Lego fan following this series, you know that this set is not a hit-and-run situation. It is even highly recommended that two or more experienced builders put their hands and brains to work if they desire to build in a shorter time, plus reducing the workload altogether.
If you are new to Lego sets, this is probably not a good place to start your building. You can start from a much more manageable set, and when you feel you are ready, you can walk your way to this fantastic set. To give you an idea of the workload, let's at just a few things you would need to achieve before the set can be tagged completely. First, you would be working with a set of over 4000 pieces of bricks. This Lego set consists of three flaws, which you would be required to complete. Not only the inside but also the outside. The set, though, comes with a blueprint to help make your job a whole lot easier. Overall, this is a fantastic set, with lots of authentic details which will help it stand out in your wall to unique Lego sets.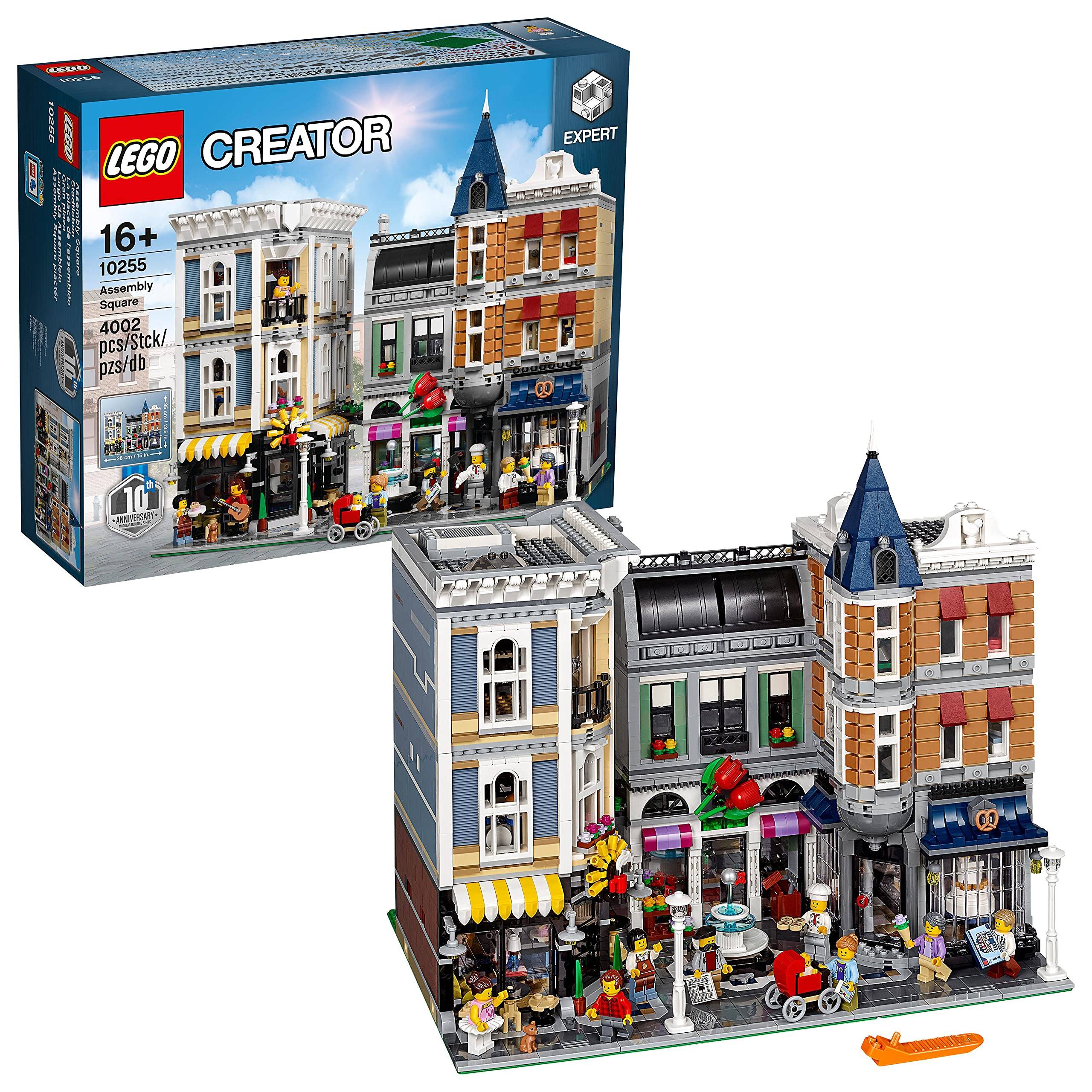 FEATURES OF THE LEGO ASSEMBLY SQUARE 10255 SET. 
Apart from the challenge of building this Lego set, it also comes with unique features, which helped give its five-star ratings. Another cool thing about sets in this series is that the present is always much better than the former. This means that each year, Lego strives to improve this magical set. So with all said and done, let's now look at some great details which help elevate this set above its contemporaries.
• SIZE.
As far as Lego sets go, this set ranks among the largest. It is endowed with over 4000 pieces of authentic details, about 4002 to be precise. This set features about three floors or two stories, a busy business plaza, divided into offices. It also has minifigures on each floor to help make the overall scene look more realistic. Children can engage in a world of role-playing with this fantastic set. Overall, this set is about 22 inches high, 6 inches wide, and 18 inches deep.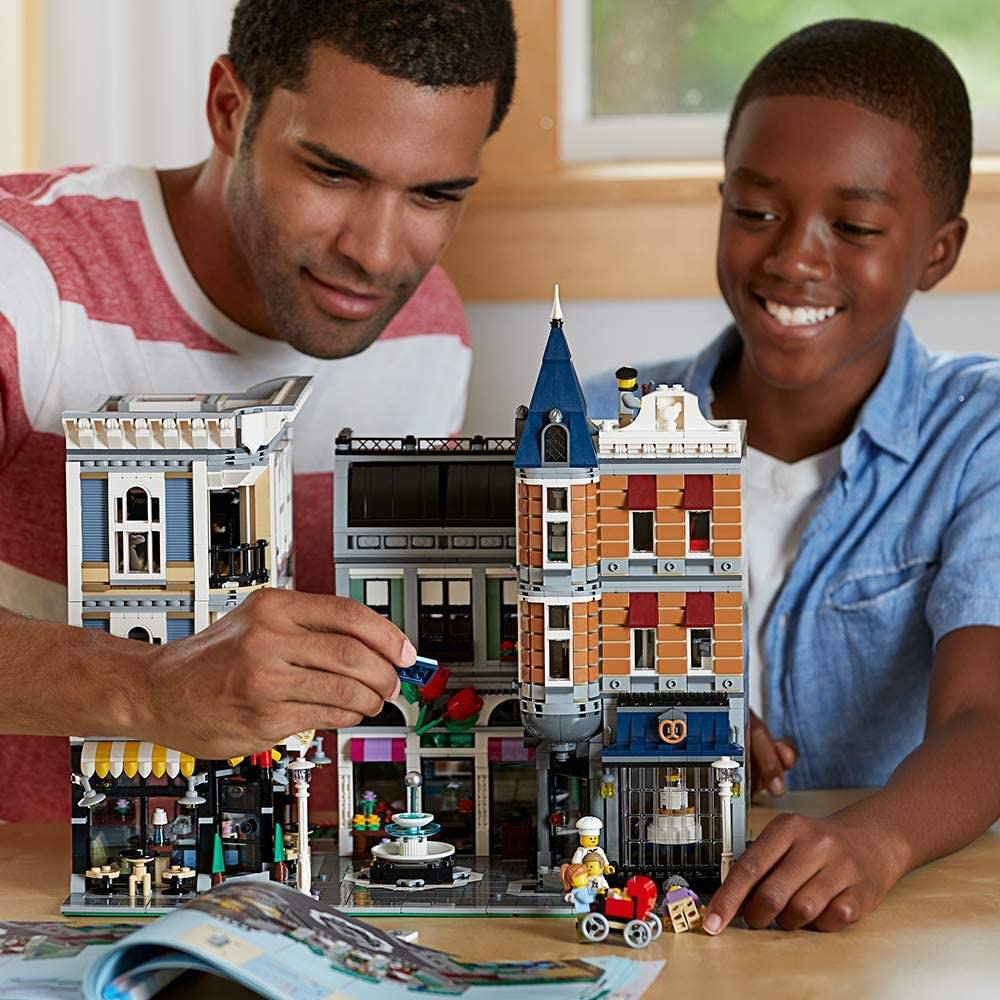 • AUTHENTIC DETAILS.
The Lego assembly square set is large and features authentic details, making it stand out in a world of Lego sets. Some of these details include a café and bakery on the down floor, a music photo studio on the middle floor, and an apartment building on the top floor. The set also features a rooftop barbeque joint.
This set allows each builder to design not only the inside of the set but also the outside. That is why the set has a section that can be detached to give builders access to the interior of the Lego set.

• A CHALLENGING BUILD, PART OF A SERIES.
The Lego assembly square set is part of a series of unique Lego sets. This gives you the ability to create your unique city from the unique sets from this collection. This series keeps becoming more challenging, making builders much more experienced with complex Lego building plans and instructions.
Be an advanced Lego builder, and engage in even more challenging Lego sets in the future. With this set, you can not get bored.

This set, like other Lego sets before it, can vary in size depending on several factors. Some of these factors include location, store, currency value, and availability. This set is best purchased at lego.com and Lego stores. But you may also choose to purchase this set on Amazon depending on what's more convenient for you.
The official price of this set is about 279.99 dollars on Lego stores and lego.com. If you choose to purchase your set from lego.com, rest easy that your set will be delivered to you no matter the country, within a week, and if you have any problems with the set within one month, then you can safely ask for a change of set. If you decide to buy this set, you most definitely will not regret it. But how can you make this Lego set even more magnificent than it already is? Let's found out in the next section.
MAKE YOUR LEGO ASSEMBLY SQUARE SET EVEN MORE CAPTIVATING WITH OUR AMAZING GAME OF BRICKS LIGHTS.
Do you love to make your set even more eye-catching, standing out In your line of unique Lego sets? Well, you can achieve this without a doubt with our unique Lego light kits. Are you new to our Amazing light kits? Do you wish to use them but don't know how? The game of bricks provides a step-by-step instruction manual for those new to our light kits, which will help those new to our light kits have an excellent, smooth, and successful first experience. But to make your experience even more successful, let's look at a few universal rules which you must keep at the back of your mind as you install our special light kits.
1. COMPLETE YOUR LEGO ASSEMBLY SQUARE SET FIRST.
Well, this is the essential recipe for success in the installation of your light kit. Just as you can not wire a nonexistent house, you can not install our light kit without a set. So make sure to build your set. Do not rush, but take your time to ensure that every detail of the set is top-notch. Only when you feel satisfied with the look of your Lego assembly square set, only then can you move forward in your installation process.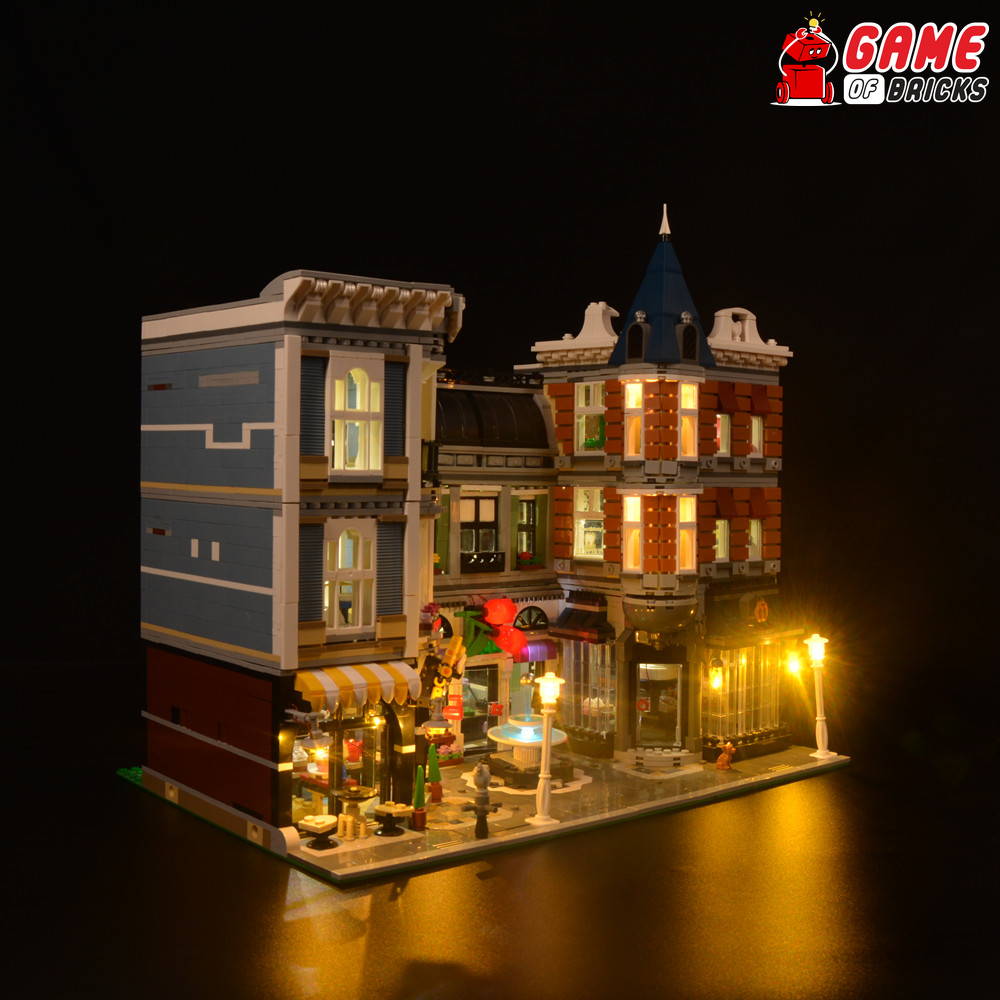 2. CROSS-CHECK AND INSTALL OUR SPECIAL LIGHT KIT.
Before you rush to installing your light kit, it would also be wise if you took your time to inspect each light kit and accessories. This is a very important step to take. Why? Because it is prevalent for light kits and accessories to get damaged during shipment. So early inspection will help you quickly detect any faults caused by shipment. Noticing this on time will save you both time and energy.
Once you have run these checks and everything looks good, you can then r light kit. As you do this, make sure to follow the instructions listed in your light kit manual effectively. Also remember t, that each light kit wire is to pass through its assigned brick. All light lists must neatly pass through the bricks, leaving only your light bulbs visible.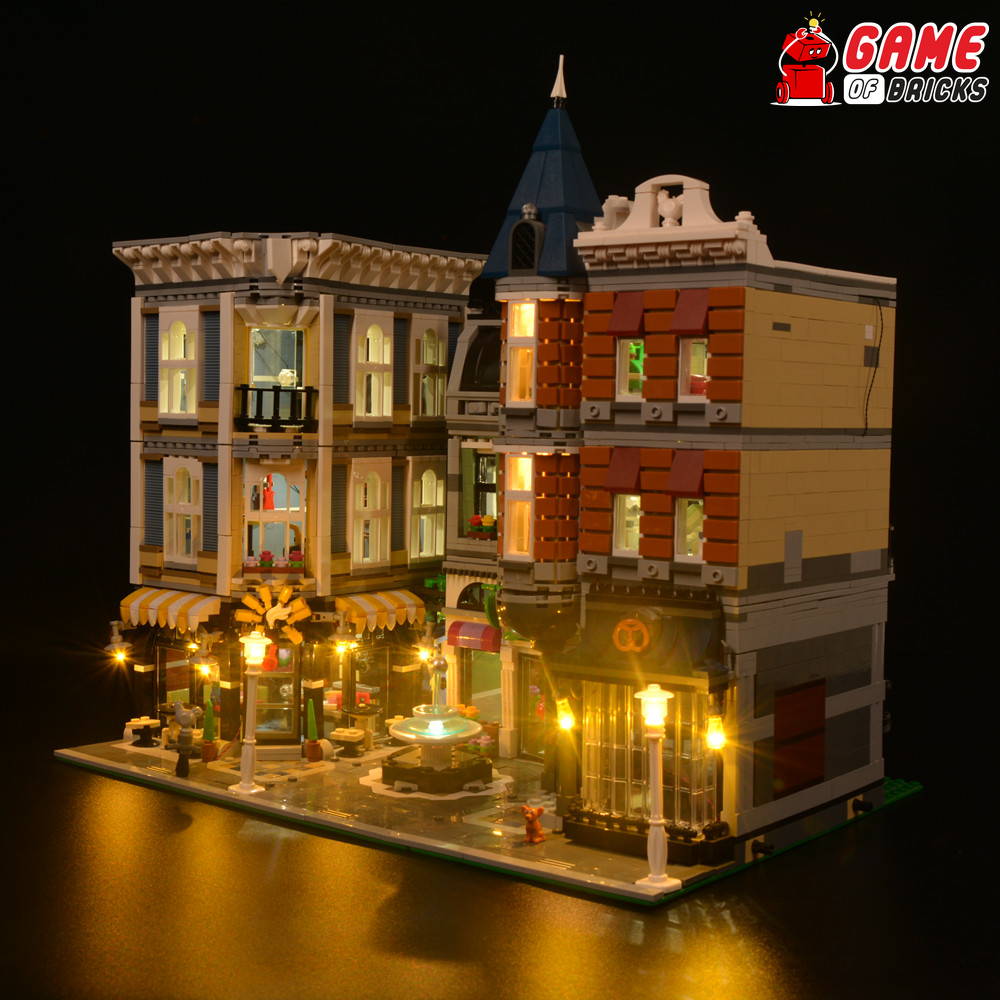 3. TEST YOUR LIGHT KIT.
By now, you should have installed your light kit successfully. Wasn't so stressful, was it? Before you celebrate, make sure you test your run your light kit to ensure it works properly and is safe. Once you have done this test and everything looks good, you can show off your set's magnificence for all to see!!!
---