LEGO 71742 Overlord Dragon Review
This Lego set is part of the many which have been released in the year 2021. It is so nice to see the LEGO Group hard at work for the fans of Lego Ninjago. I'm an epic fan of LegoNinjago and I love Lego sets. I try my best to follow the series from the movies to the series and this particular Lego set is the type that is used by the Overlord himself to stress our epic superheroes.
Some several different vehicles and characters have been brought back using the Legacy range. These have all integrated brand new elements and methods to these designs. 71742 OverlordDragon is truly unique. It depicts something from the series that is animated without representation from previously associated sets.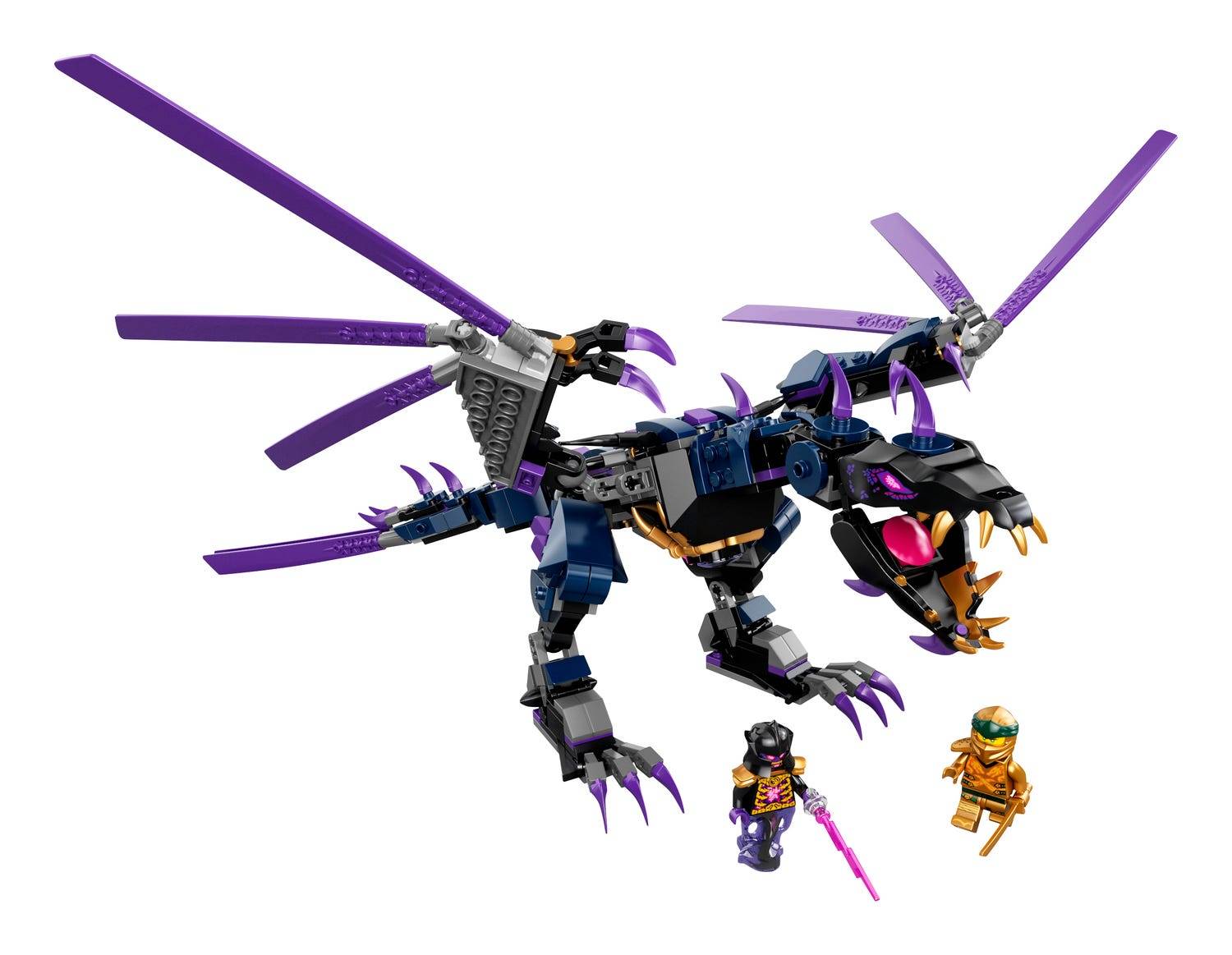 Lego Ninjago has gotten several different excellent dragons. There are several different opportunities which makes them all perhaps a little bit different and quite scarce. The creaturesgotten from here matches the scale of different dragons previously. The color scheme and the jagged appearance of its teeth look different. These features correspond with designs that are animated too.
The jagged appearance of this dragon is quite necessary. If you have seen Overlord stress the town with this dragon, you would know that the teeth of this dragon are supposed to looklike this. It is not supposed to look fine or beautiful. That would just be completely off from its animated counterpart.
Different Lloyd Garmadon versions have appeared more than once during recent years and this Minifigure shares more components with the types it succeeded. Though this specific designis unique just like the pearl gold head which got replaced using standard yellow element. Nevertheless, the legendary Golden Ninja looks quite impressive. It features gold dragon designs that appear on the torso.
You would love the dark green highlights that represent the traditional color of Lloyd. Though the band around this hood markedly is different from the real Minifigure. The yellow headbeneath this that's available all through the Ninjago range would welcome another different variant for sure. Lloyd is truly happy and he had facial expressions that are determined to make him look great. He also hasdistinctive eyes that are beautifully green.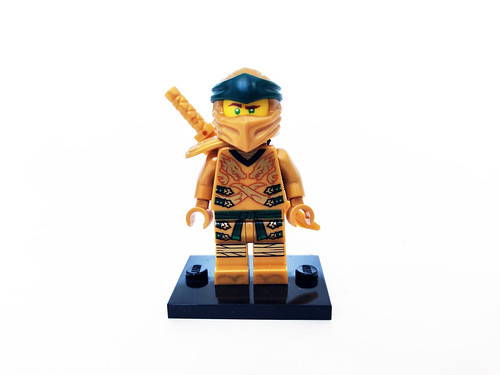 Let's not forget about Overlord and how malevolent he could be or how he looks like. He has made about two new appearances previously using the Legacy range. The latest designis available here exclusively. Unlike depictions recently, this figure is inspired by Rebooted. Some features have a different helmet and two arms that fit accurately to television series. The head was also updated and itappears phenomenally menacing. One would hope so of course.
The torso available here now has its metallic gold ribs that have a purple core that glows. This design combines several aspects from the original Overlord Minifigure to the more recentLegacy version that has epic results. You would love the spectral element that accompanies the golden shoulder armor that appeared earlier in 80012 Monkey King Warrior Mech.
This Lego Minifigure is truly impressive. One would truly be surprised that this even had been changed or if the changes were in any way necessary. This depiction from the Overlord originatedfrom the season after his dragon form was included. These two together were both odd. Nevertheless, the character looks epic, it wields a trans-pink lighting bolt and Lloyd has his golden katana.
The model after it completed
These dragons that are villainous are truly not common comparatively all across the LEGO Ninjago theme. They all confer opportunities across the NINJAGO theme. These present ways forthe model to look different from others. In several different regards, the dragon impresses everyone because it has a black, purple, and dark blue color scheme. This is not usual and it has a length of forty-six cm. When thisextends fully, it becomes quite substantial. Even after this, you would think that the Overlord's dragon could have gotten justified for a set that's quite larger.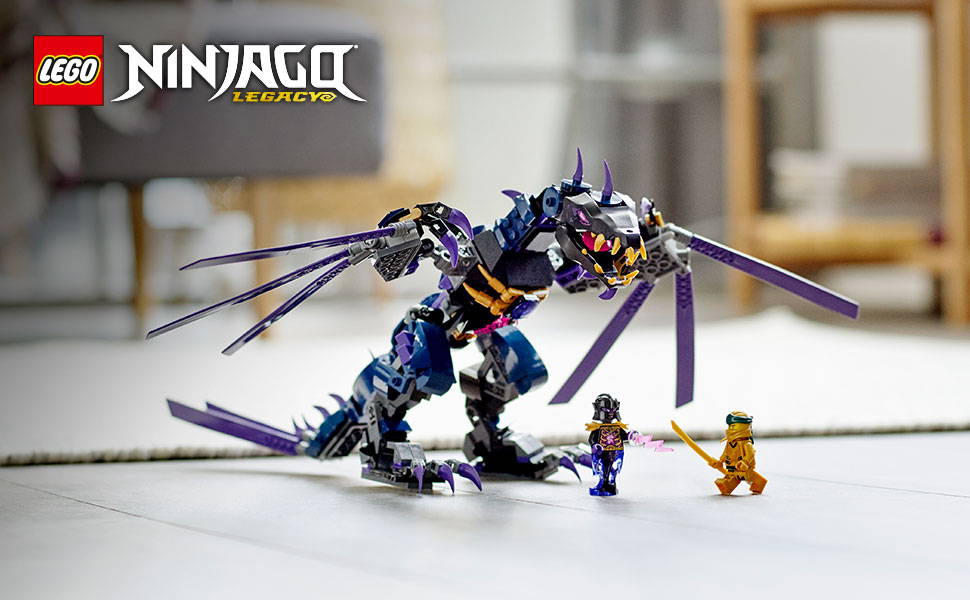 These days, we have modern dragons that have included marvelous brick-built heads even though they don't look like others variably. An example of this would make you think of oneof the first Lego Ninjago sets which comprised of dragons. This included two components identically available that got connected making use of battle Droid arms. One would have truly preferred a brick built design. These boldcolors and detail that's molded especially that which concerned the jagged teeth which could get interlocked cleverly.
These teeth look more intimidating after opening the jaws. They reveal a magenta 2x2 slide which creates the tongue inside. The eyes which got printed include their epic detail. Youwould love how these purple spines have gotten distributed all through the entire length of the creature that's menacing. Sadly, there isn't enough space for the Overlord to capture Lloyd inside its mouth as it doesin the show.
A new difference from the animated dragon is that you wouldn't find tendrils that extend from the head. These are some of the features that you can easily notice visually. Thoughthe head looks great and it offers articulation extensively as the next incorporates this into two ball separate joints.

The body shaping looks reminiscent of the other previous dragons. These combine several different multiple curved slopes and mudguard elements which are quite effective. These tendrilsthat cover the connection between the wings and the body looks great and you would appreciate the fact that these two studs that are vacant can accommodate Overlord. Overlord transforms into this dragon all through the TVseries.
A consistent part of the dragon counterpart and the Overlord Minifigure is that there's something apparent as you look at this creature from beneath. The golden tips would get adornedand then there's the aforementioned Minifigure which would be recognized here. It would get combined with a Trans purple 2x2 slider. These parts when you look at the dragon, truly stand.
This also corresponds with the source material. The dragon has enormous feet and two legs which provide great support to the model. These thighs appear powerful and organic. The anklestoo are constructed nearly making use of clips and hinges.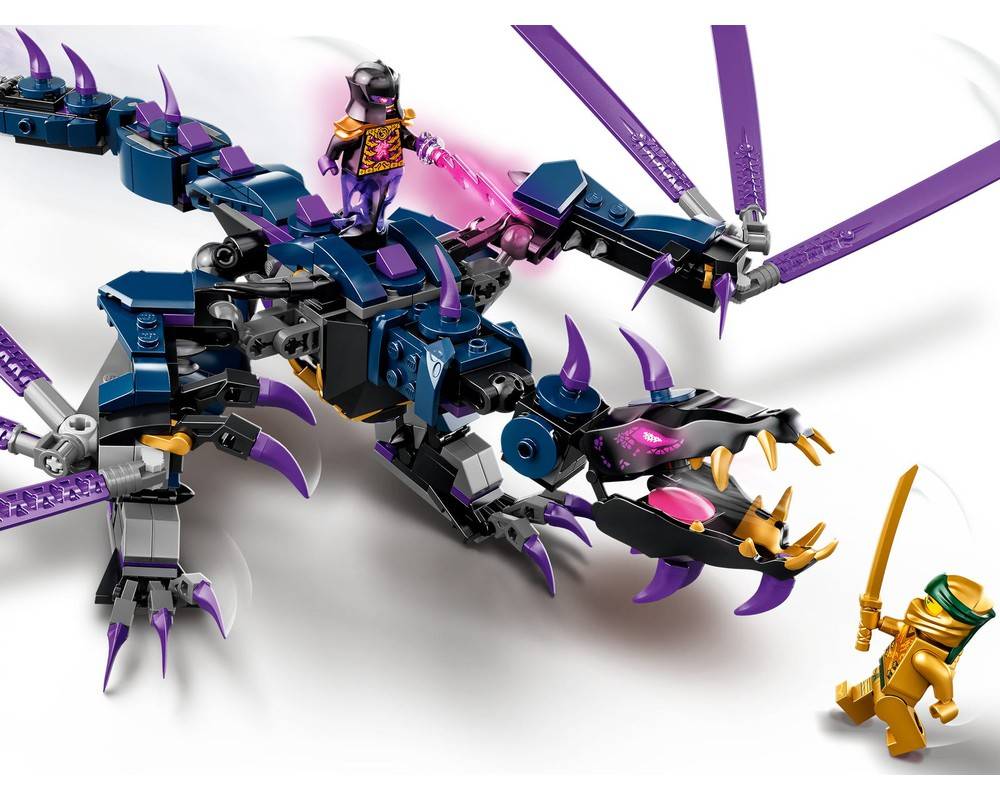 The joints at the ankles and hips provide an appealing range of motions. Though there are lateral movements of the feet that are quite lacking.

Sadly, one of the least aspects of this that one would not like would be the wings. These are all quite simple. The proportional size looks great. They look like blades that create dactylsthough these are just the outermost dactyl that gets articulated on each wing. Though there aren't membrane stretches between these. These all make skeletal beautiful parts which are quite essential to the completed model.
The tail which swings are all simple reasonably. They comprise segments that are very important and without them the dragon wouldn't be complete. These important and essential segmentsare merged using ball joints and low friction. These clips help the tail to swing around. This helps in offering some play opportunities and it also limits display options. However, one would love how these purple blades wouldget integrated. The instruction manual suggests several different ways in which these blades could get placed together. You could also split them and create a forked tail that is not common.

Creating something that is impaired by a season of NINJAGO that's quite early is not an easy thing to do. This was overlooked with products after they got released originally. Itseems like a great celebration of this range. The 71742 Overlord Dragon without a doubt captures the appearance of the menacing dragon. It also has what the animated counterpart has comprehensively incorporated its articulationwhich is all necessary for display properly.
One could think that there was more than enough potential to design a dragon that's larger and more impressive to fully represent the Overlord. It has villainy spanned for abouttwo seasons. The wings look a little bit disappointing. They do not have enough details when one compares them to other dragons. Apart from these issues, the cost remains $29.99 or £27.99 which both represent great valueand one would be pleased that this lovely design is this affordable.
You can check out reviews of these other Lego Ninjago sets listed as follows from the year 2021;
1. 71741 NINJAGO City Gardens (Part 3)
2. 71741 NINJAGO City Gardens (Part 1)
3. 71738 Zane's Titan Mech Battle
4. 71741 NINJAGO City Gardens (Part 2)
5. 71735 Tournament of Elements
6. 71737 X-1 Ninja Charger
7. 71736 Boulder Blaster
These Lego sets have been provided to get reviewed by the LEGO Group. All the thoughts expressed here are nothing more than my very own expressions and my thoughts on what people haveto say about this awesome Lego set.
For all the Overlord's out there, your dragon is available. Go get it from Lego stores as soon as you can.
---