Feel like a motorcycle legend when you build the Harley Davidson Fat Boy 10269 Set.
By

Eve Alessa Arevalo
/
February 19, 2023
There are a lot of cool motorcycles created in both the old and modern world. But as far as Badboy Motorcycles ranged, the Fat Boy stands out as a true Badboy Machine. This monstrous-looking Motorcycle is a software V-twin Cruser Motorcycle with a solid cast disc wheel. This incredible machine like Motorcycle was designed by Willie G Davidson and Louie Netz. This Motorcycle Fat Boy was produced By Harley Davidson for a Daytona Beach Bike Week Rally which took place from 1988, through to 1989. Since then, the Fat Boys' popularity grew, so new Bike models were produced from the 1990s to 2018. These Bikes were called the FLSTF, FLSB, and, FLSBS. The build and look of this Motorcycle have changed over the years to meet the taste standards of modern men. For example, the tires on this vehicle used to be enormous, but in 2005 on the 15th anniversary of this set, a version of the set was sold with a " Screamin Eagle" engine, a special paint, and smaller wheels. And ever since then, new improvements have been made to the set to help ensure it not only looks great but also performs well. And boy does this Motorcycle deliver in terms of performance.

The Fat Boy Motorcycle in recent years only comes with a Milwaukee-Eight 114 engine, which is way more powerful than the 1,690 ccs (103 cu in) Twin Cam engine it previously had. This is a big upgrade and helps ensures the bike performs to the best of its abilities. And thanks to the sets of scaled-down tires, you could have more balance and stability while you drive at maximum speeds. One thing though that has been perfect for this Motorcycle and thankfully still looks pretty much the same is the Bikes bodybuild. Thanks to the Motorcycle team sticking to the original design, the Bike still maintains the old and unique aura which drew millions to the bike in the first place. If you are a fan of the Harley Davidson Fat Boy Motorcycle, you would be pleased to know that the Lego team has produced its replica. In this post, we will cover all the features of this set, and purchasing it would be one of the best decisions you would ever make.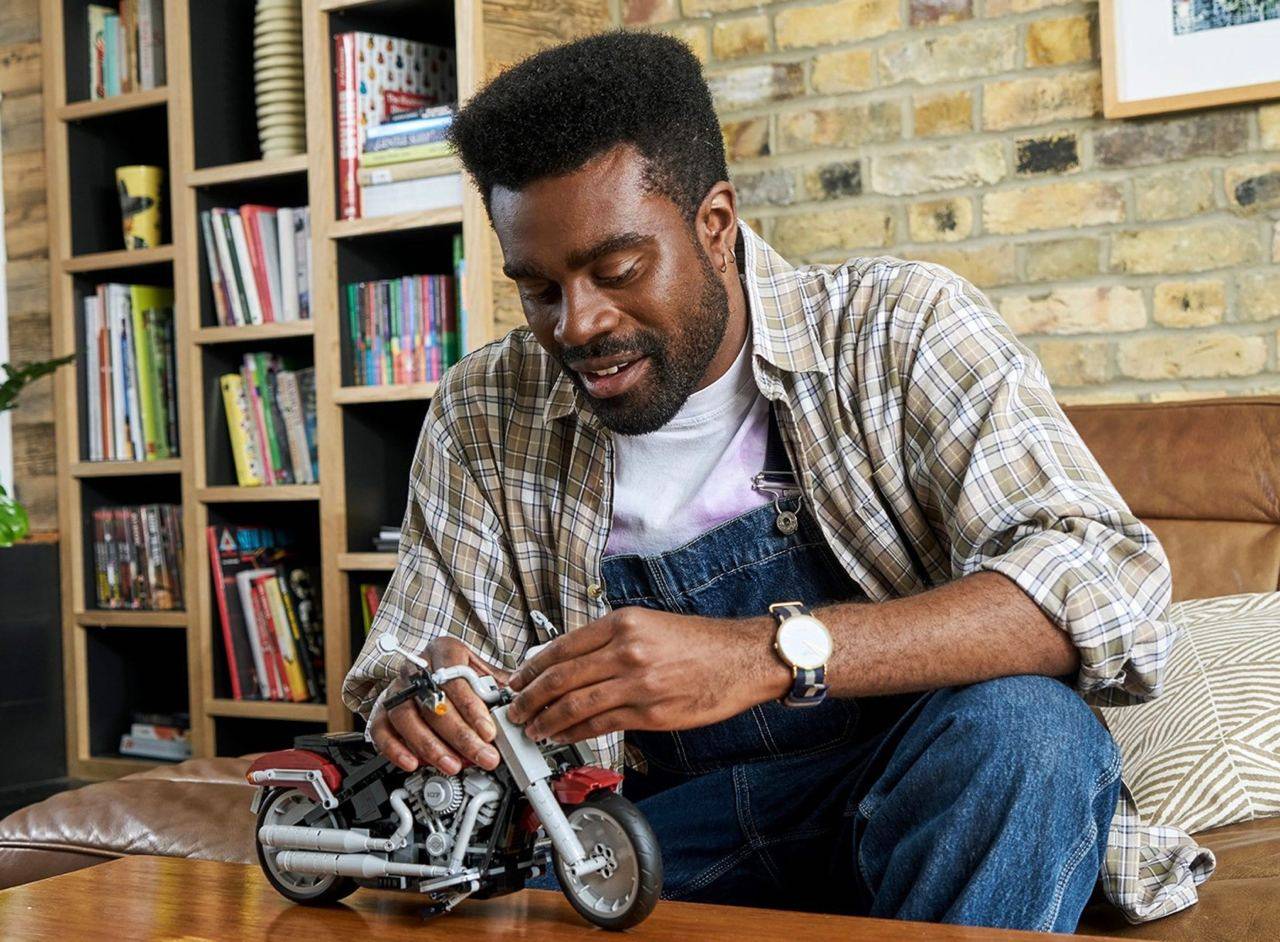 AN AMAZING BUILDING EXPERIENCE FOR THE LEGO HARLEY DAVIDSON FAT BOY 10269 SET.
The Lego Harley Davidson Fat Boy Motorcycle set is a very impressive set with lots of very cool details. The Lego set comes with a total of 1023 brick pieces which are shared into transparent numbered bags. The reason why the Lego team included this set in numbered bags is to help ensure your building experience is as straightforward as possible. This cool feature also helps you easily track what building stage you are in. Another cool thing about this Lego set is that it uses nice and fun technics to overcome some building obstacles. This set truly makes you feel like an engineer, seeing that you would be building a replica of the Milwaukee Eight Engines with moving pistons. The set also has other fun features which you would be happy building and seeing come to life.
The Lego Harley Davidson Fat Boy set also comes with a very clear instruction manual which is designed to help make your building process easy. The manual contains diagrams and images which makes it easy for you to know where you are in your installation process. The Lego set also comes with a nice License Plate on the back to help add a little more detail to your Lego set. Overall, the Lego Harley Davidson Fat Boy set offers builders not only a well-detailed set but also one with a lot of cool features. All these features help makes this sets building experience an unforgettable one. The only thing we advise is that you set out enough time for the building of this Lego set. Aside from a nice Lego building experience, the Lego set also comes with nice features. Let's find out what these features are.
AMAZING FEATURES FOR THE LEGO HARLEY DAVIDSON FAT BOY 10269 SET.
AMAZING DETAILS.
The Lego Harley Davidson Fat Boy set comes with lots of amazing and authentic details. These details include a replica of the Milwaukee 8 engine, with a moving piston. The set also contains a flip-down kick stand for easy display, detailed suspensions and a handlebar, solid disc wheels with big muscular tires, and a fuel tank and speedometer. All these details add a special spice to the set and make it even more authentic looking. All these details also help real fans of this Motorcycle appreciate the effort of the Lego team in making the set as authentic as possible. Once you build and display this Lego set, you are bound to see lots of details.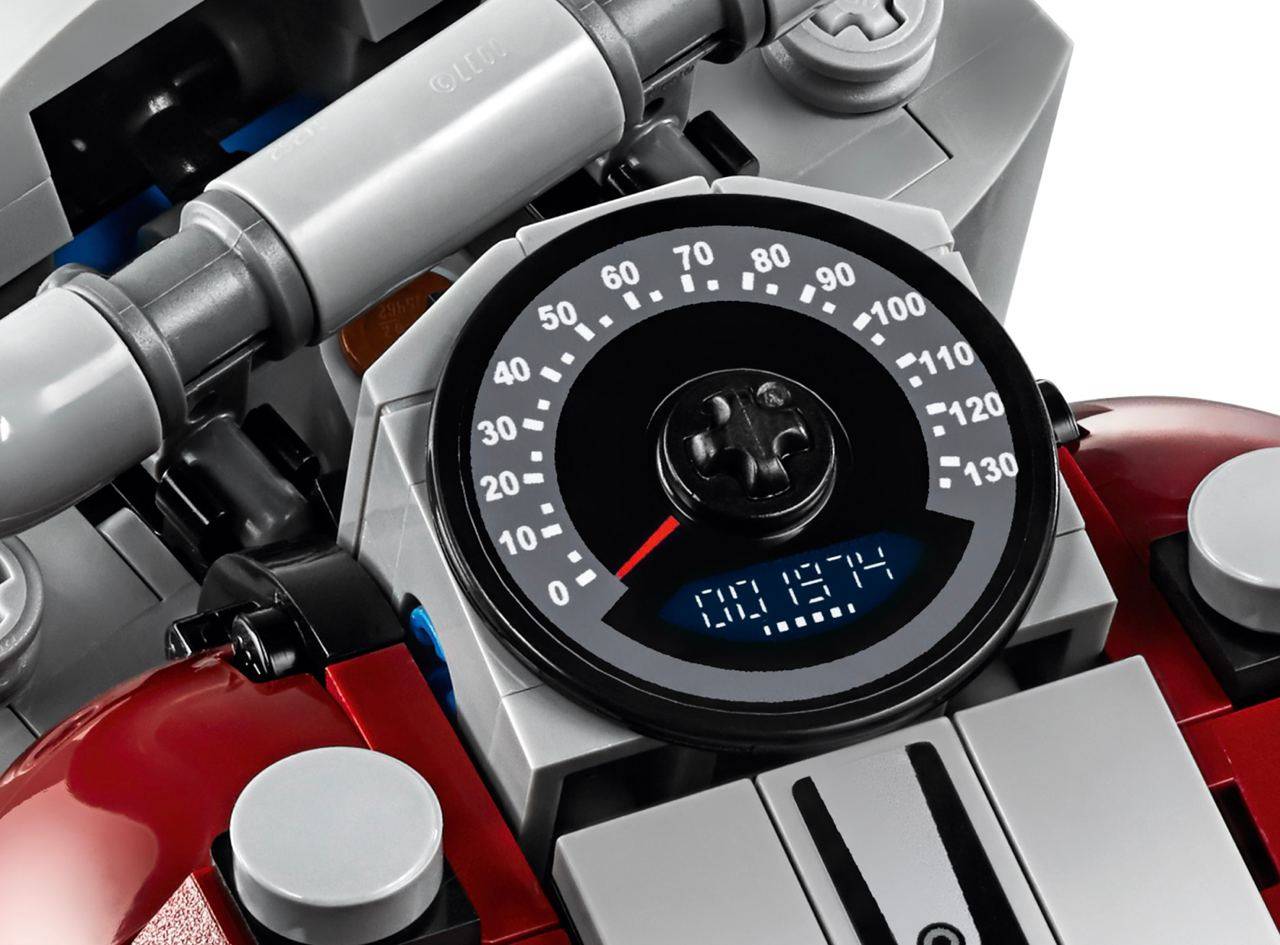 TOP QUALITY MATERIALS.
The Lego Harley Davidson Fat Boy set is also built from the best quality materials. This means you can expect a set that would not only be beautiful looking but can stand the test of time. All brick materials used for this Lego set have been tested to ensure they all meat the Lego company's high standards for durability and user-friendliness. This is why working with this Lego set is so amazing and easy. You are also guaranteed a set strong enough to stand the test of time. This means you could own this set for many years. The set has also been tested for safety, and so we can ensure that it is safe to build this set, even with kids around. The only thing we recommend is building this set on an elevated surface. This will help ensure you don't step on any pieces, keeping you and your set safe.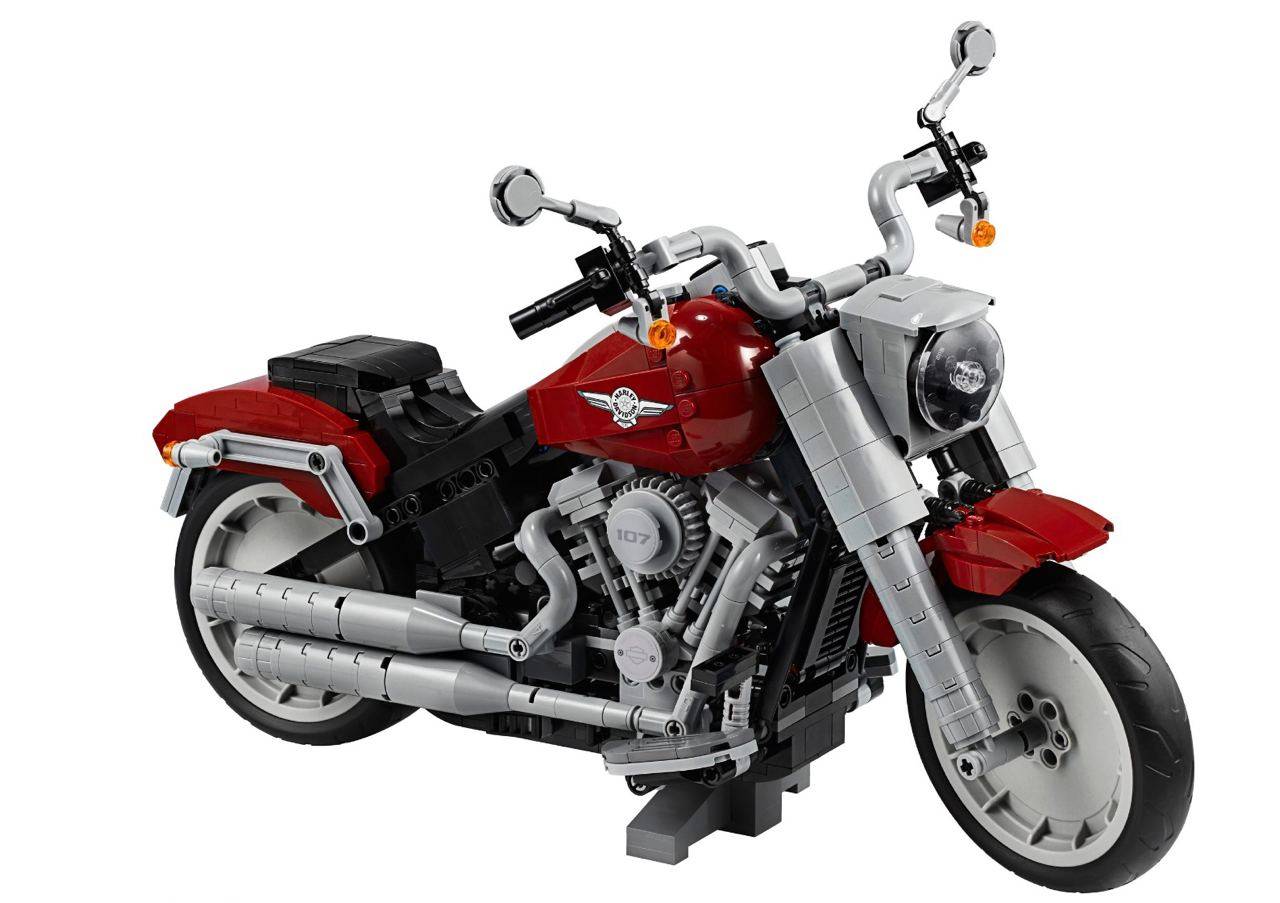 SET SIZE AND PRICE.
The Lego Harley Davidson Fat Boy is a set with a total of 1023 pieces. When fully built, the Lego Harley Davidson Fat Boy has an amazing display ratio of about 7 inches high, 7 inches wide, and 12 inches deep. The set also includes a unique rear rim with huge tires, which are exclusive to this set. The Lego set though retired could be purchased directly from our Lego stores for about 99.99 US Dollars, or 159.99 Australian Dollars. The set cost more in Australia due to the due their economy, and scarcity of the set there. But we think the price you would be purchasing this is fair due to the number of details and authenticity you would be getting. And thanks to the set being not so expensive, you could also purchase our amazing lights as a veneer. Why? Let us find out.


MAKE YOUR LEGO HARLEY DAVIDSON FAT BOY FEEL MORE AUTHENTIC WITH OUR AMAZING LIGHT KIT FEATURE INSTALLED.
The Lego Harley Davidson Fat Boy set already looks so incredible thanks to the number of details it contains, But the set could be a lot more enhanced if you like. This is all thanks to our amazing Led lights which are designed to bring to the lamplight even the most hidden details. This alone makes your set ten times more beautiful and authentic and adds more value to the overall look of your set. If you are interested in owning one of our light kits, perhaps the one for this set, simply head over to our light kit page and type the name of the set you wish to purchase a light kit for. Once it comes out you have the option of either purchasing a basic or standard light kit. Let's now look at a few things to keep in mind for a successful installation process.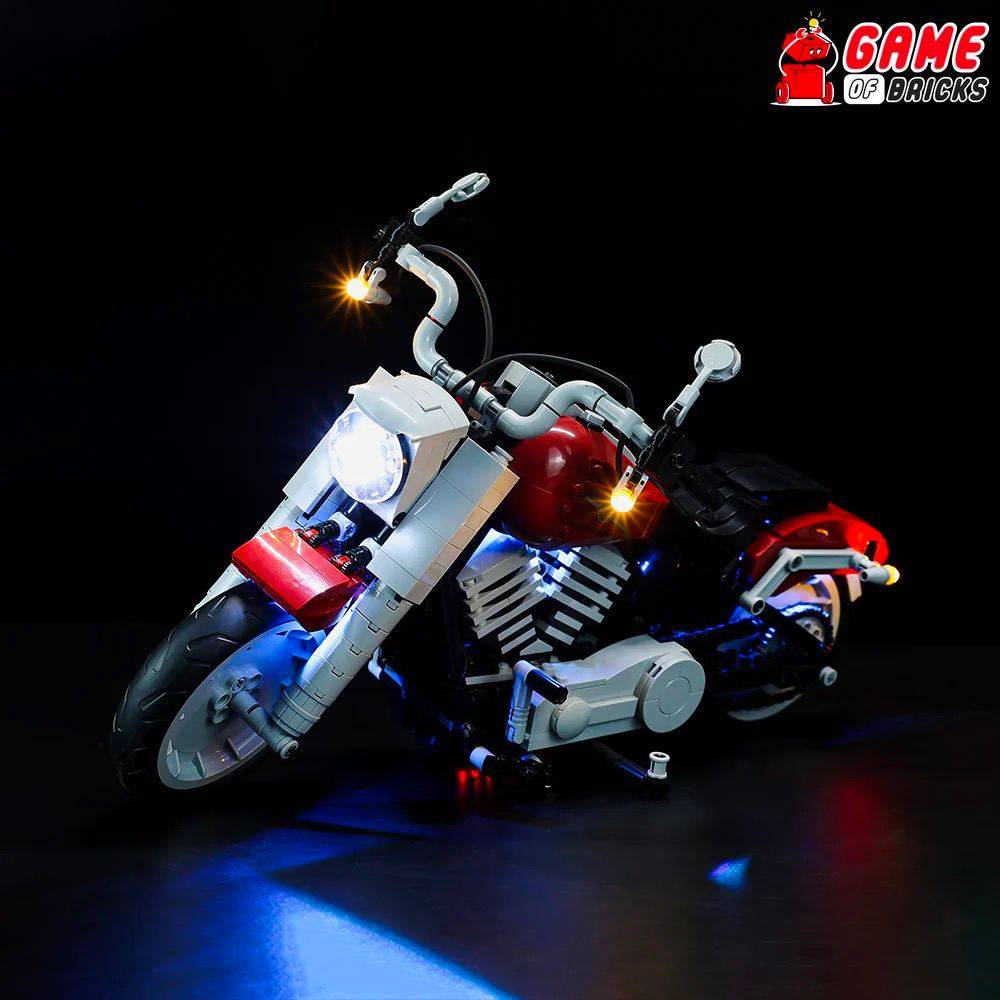 INSTALL.
You can only begin this process after completely building your Lego Harley Davidson Fat Boy 10269 set. To do this successfully, each light kit has a special blueprint manual to help you through the process. There are also a ton of videos and articles you could watch and read on our website before embarking on this journey. Feel free to make use of all the resources at your disposal.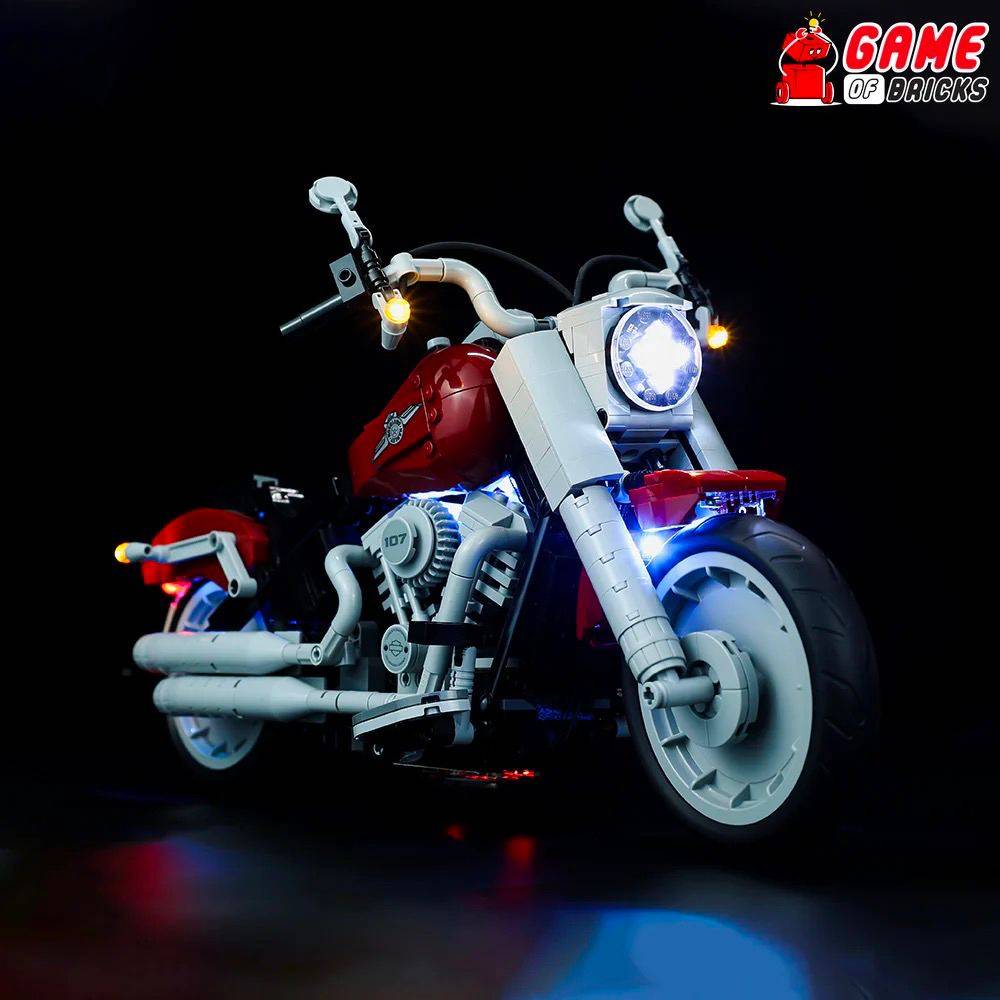 TEST RUN.
Once you are done installing your Lego set, you can now take time off to test run it, making sure it is in the best condition. To do this, check for signs of short-circuiting, as this could help you quickly identify the problem. Once you have located the problem, be sure to fix it. Once you are sure that everything is in the best condition, you can finally relive your Epic Lego Harley Davidson Fat Boy Motorcycle moment in style as you put this set on display.