Exploring the Cosmos with LEGO International Space Station 21321
By

Eve Alessa Arevalo
/
August 14, 2023
For any LEGO enthusiast who dreams of venturing into the cosmos, the LEGO International Space Station (ISS) 21321 offers a unique, engaging, and hands-on introduction to the world of space exploration. This kit is part of the LEGO Ideas range, a collection inspired by LEGO fans worldwide who submit and vote for their favorite concepts. This comprehensive review dives into the intricacies of the model, highlighting the exceptional attention to detail, intricate design, and fantastic playability that this set delivers.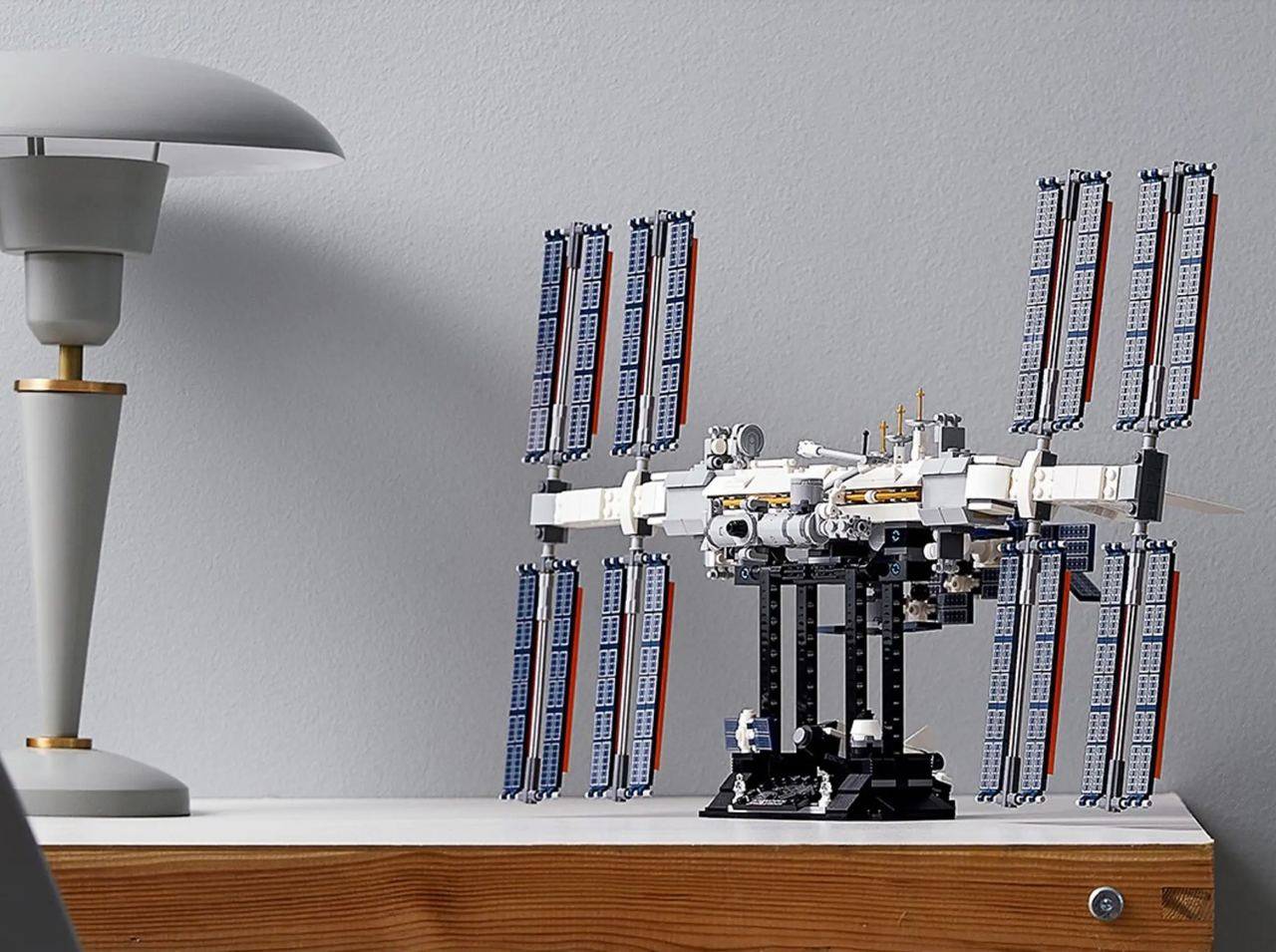 A. Main components or areas
As an ode to the real-life International Space Station, this set incorporates several elements designed to mirror the iconic, high-tech hub in space. With a total of 864 pieces, it offers a compelling model that replicates the actual station's complex structure, complete with interconnected modules, solar panels, and a robust support stand. A clear standout is the detailed set of rotating joints that connect the photovoltaic panels, adding an element of authenticity that will impress even the most knowledgeable space enthusiasts.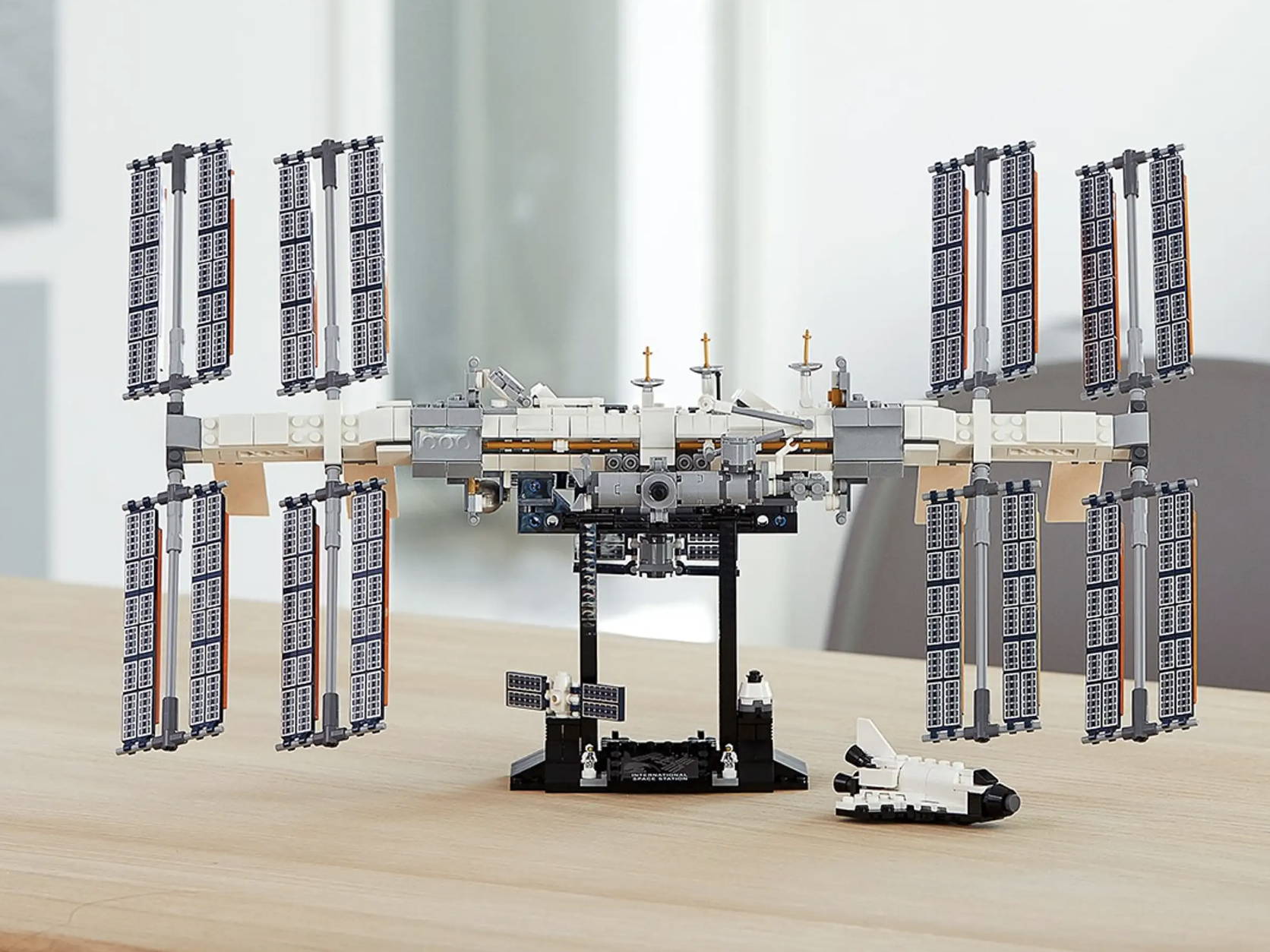 B. Minifigures
Although the kit does not include traditional LEGO minifigures, it comes with two astronaut microfigures that add a sense of scale to the overall model. These minuscule astronauts give life to the space station, fostering an imaginative play atmosphere and encouraging users to create their own space-related narratives.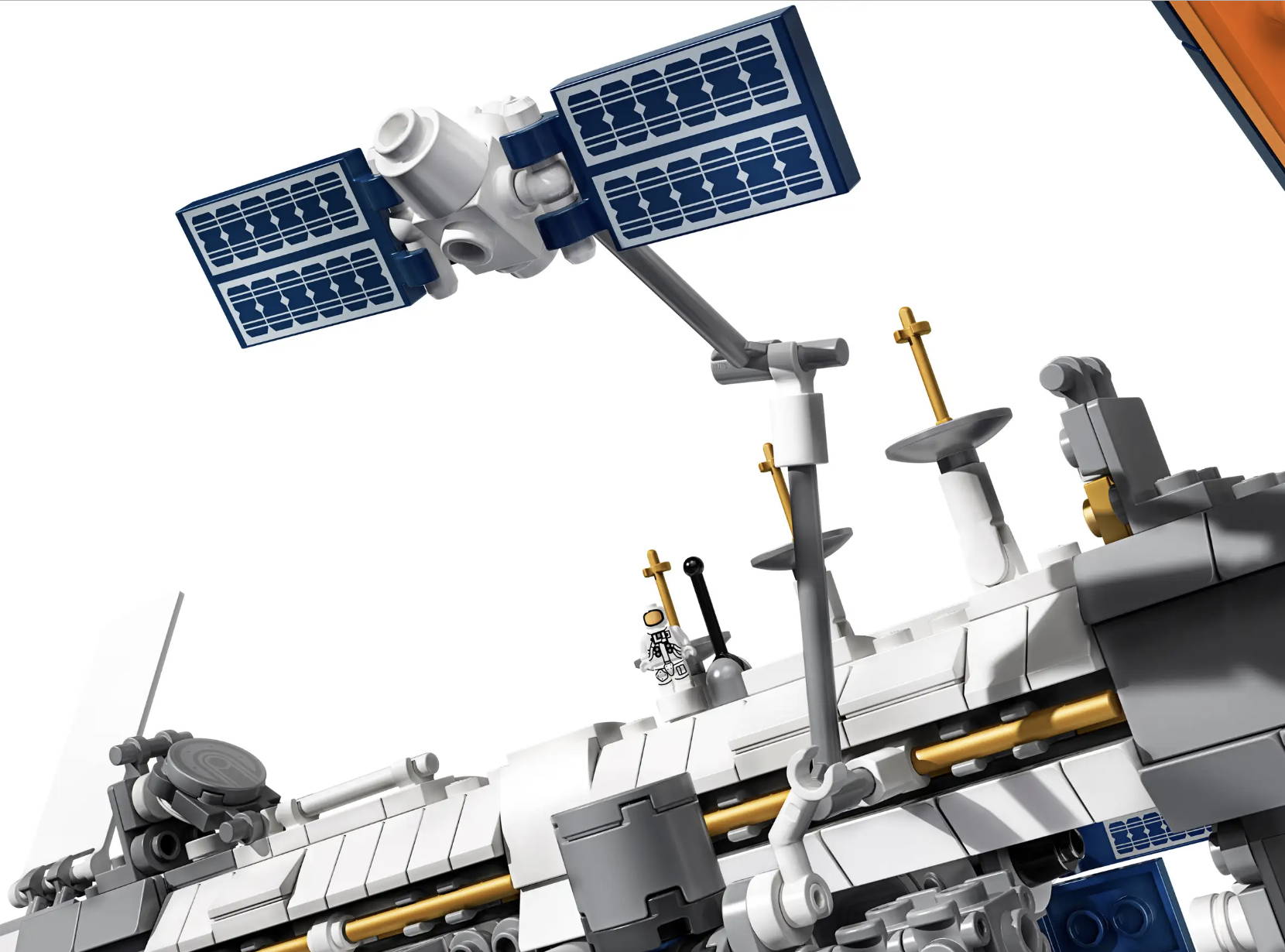 C. Accessories and decorations
Rounding out this detailed set are a miniature version of the space shuttle, two cargo spacecrafts, and a detachable satellite, providing an array of extras to bring your space exploration narratives to life. The detailed nanoblock-built stand, adorned with a plaque displaying details about the ISS, brings a museum-like quality to the set when displayed.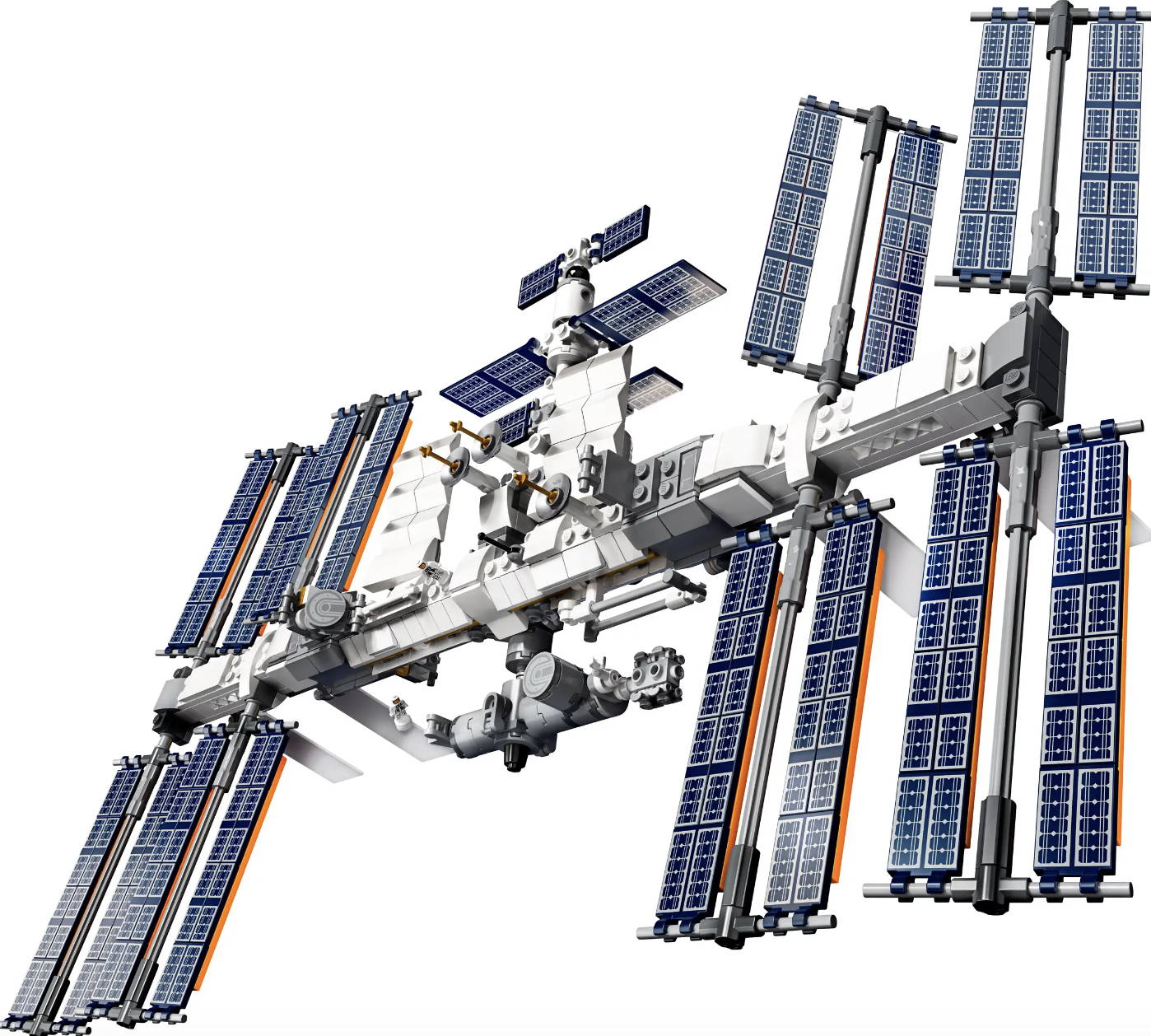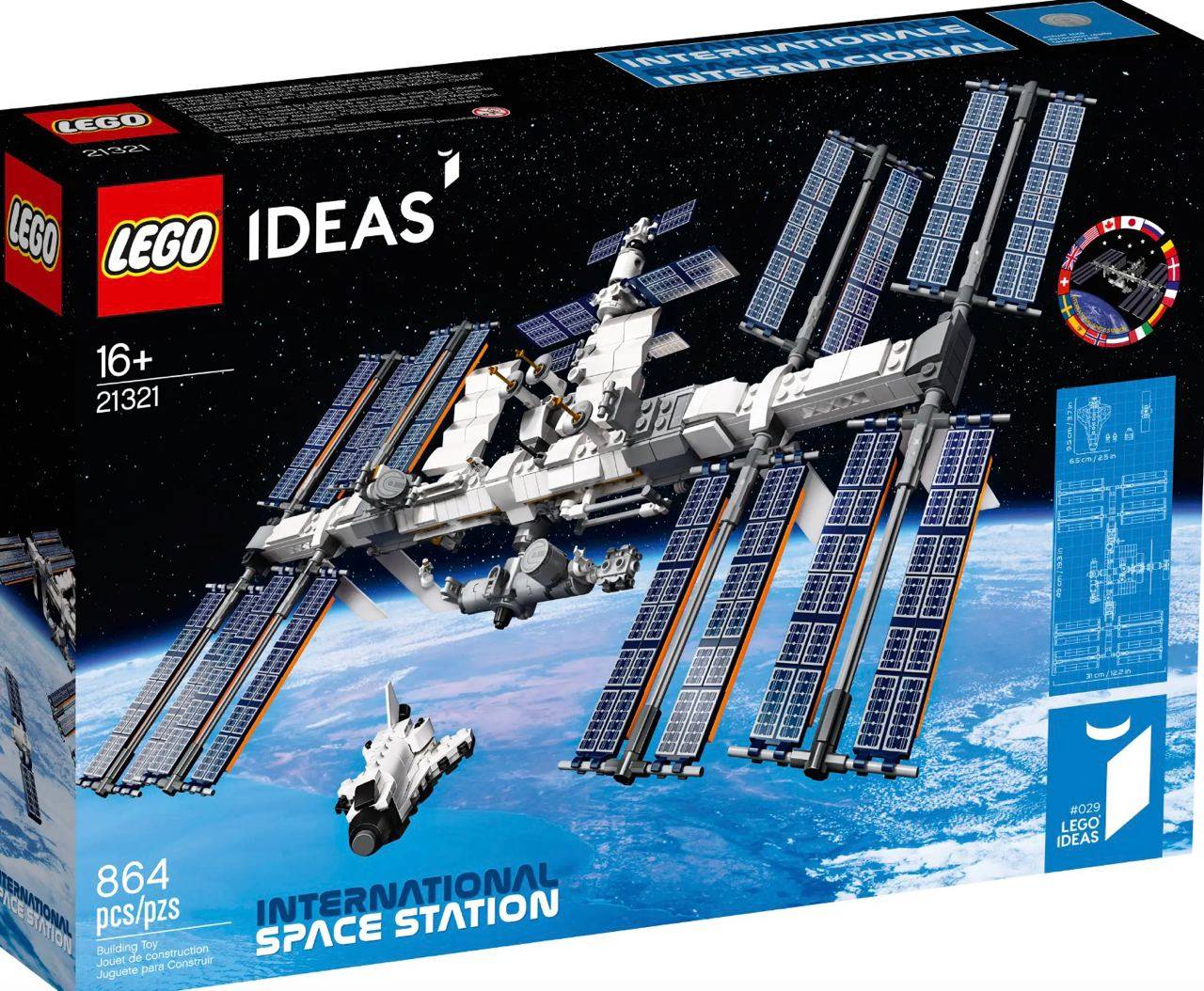 A. Complexity and engagement
With a suggested age range of 16 years and above, the LEGO ISS is a moderately complex model. The intricate build will engage seasoned LEGO fans, providing several hours of focused building experience. The model's complexity is a testament to the real ISS's elaborate design and acts as an invitation to learn more about space exploration.
B. Instruction manual and building process
The instructions provided are clear and straightforward, with step-by-step diagrams that allow builders to witness their progress at each stage. Though some parts can be a bit repetitive – particularly the eight solar panels – the end result is well worth the effort. The building process offers a satisfying challenge, especially when connecting the modules, assembling the solar panels, and arranging the various components on the display stand.
Playability and Entertainment Value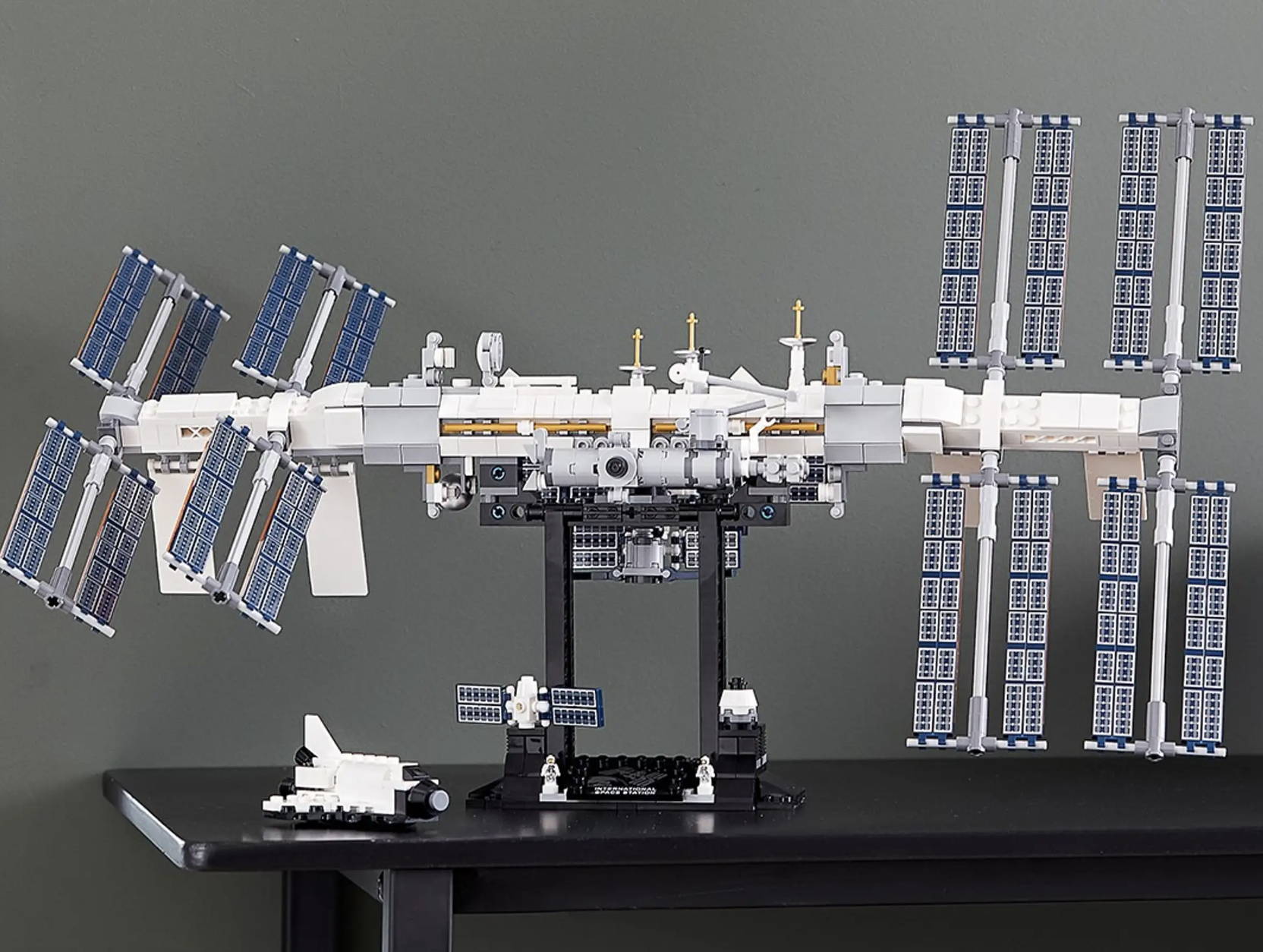 A. Interactive features
While this model leans more towards a display piece than a playset, it offers enough interactive features to engage the builder's imagination. The movable solar panels, the detachable space shuttle, and the microscale astronauts all contribute to an immersive, interactive building experience.
B. Opportunities for imaginative play and storytelling
The LEGO ISS offers ample opportunities for creative play and storytelling. Whether you're embarking on a space mission, performing a satellite repair, or imagining new scientific discoveries, this set can serve as a launchpad for a variety of space-themed adventures.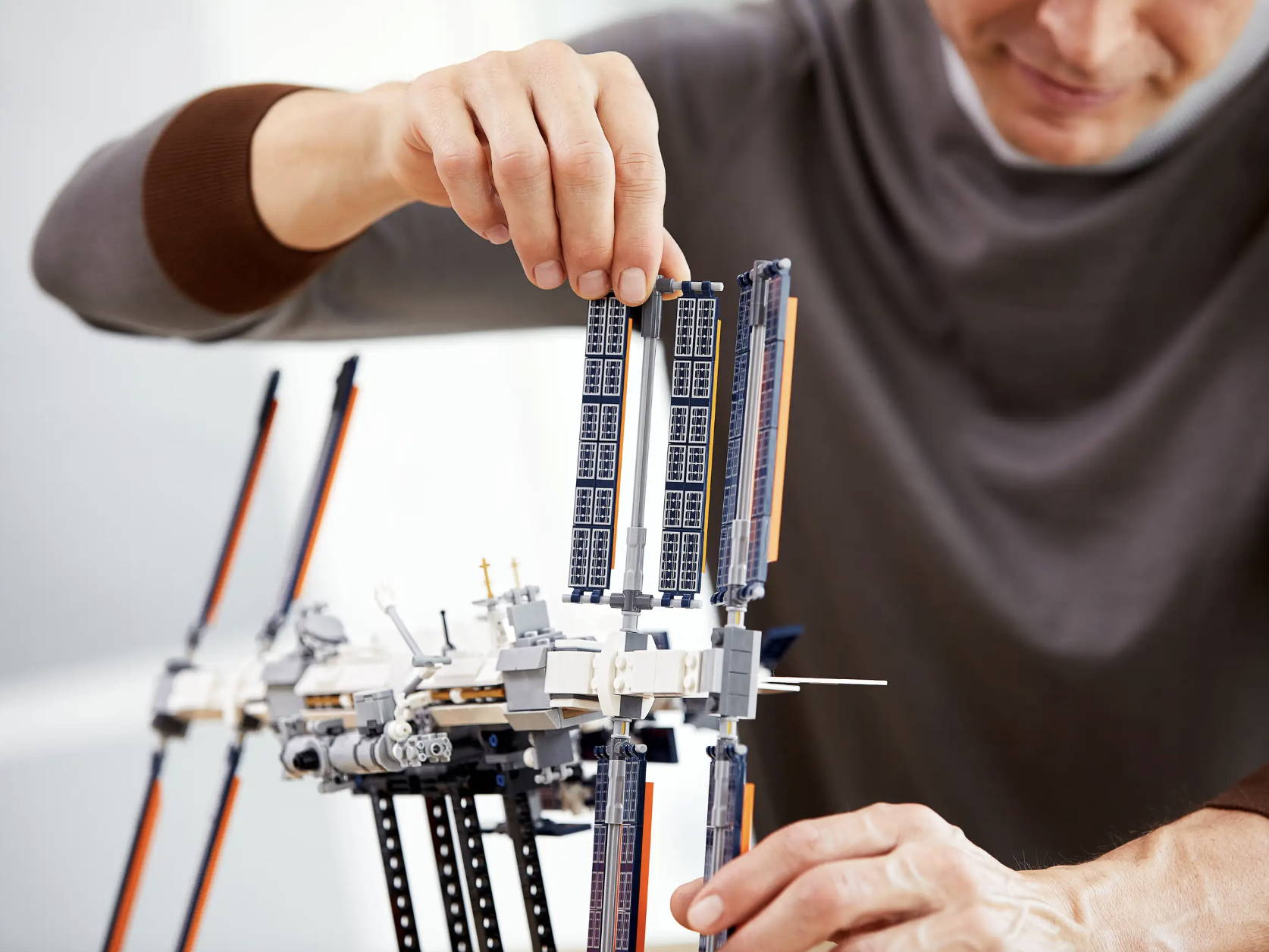 A. Number of pieces and design
With its 864 pieces, intricate design, and unique theme, the LEGO ISS provides good value for money. It stands as an impressive model that will captivate both LEGO enthusiasts and space fans alike.
B. Compatibility with other LEGO sets and themes
As a standalone model, the ISS is a unique addition to any LEGO collection. However, it also integrates well with other space-themed LEGO sets, especially those in the Ideas and Creator Expert lines. This compatibility allows for extended building experiences and even more grandeur in your space-themed displays.
Pros and Cons
A. Pros
The LEGO ISS is a detailed model that offers a rewarding building experience. It has a realistic design, comes with unique accessories, and provides opportunities for imaginative play. The set also serves as an educational tool, introducing builders to the intricacies of the actual International Space Station.
B. Cons
Despite its many positives, the set isn't without a few downsides. It may not appeal to those who prefer traditional minifigures, given its reliance on smaller microfigures. Some might also find the assembly of multiple identical solar panels repetitive.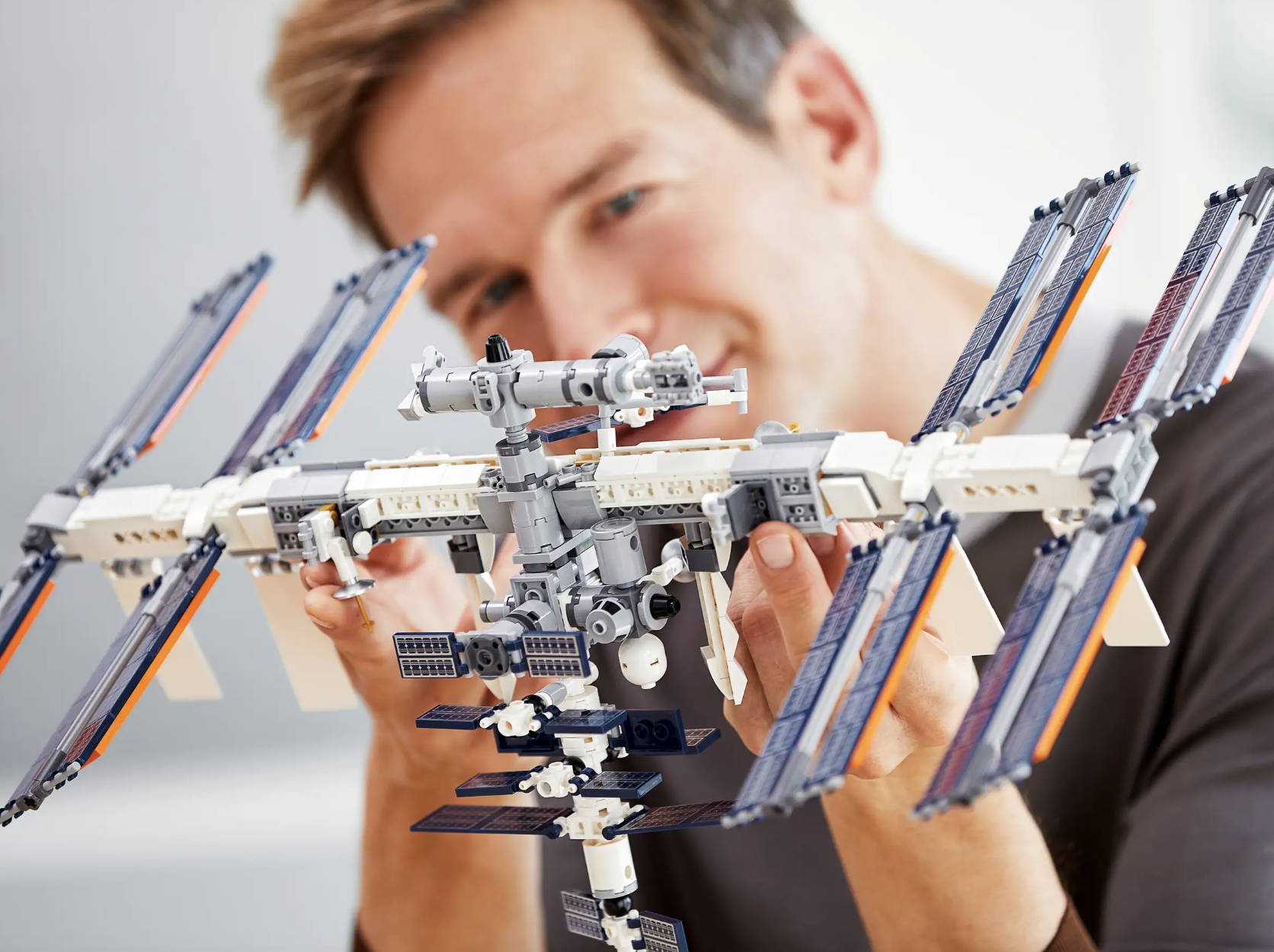 Final Thoughts and Recommendations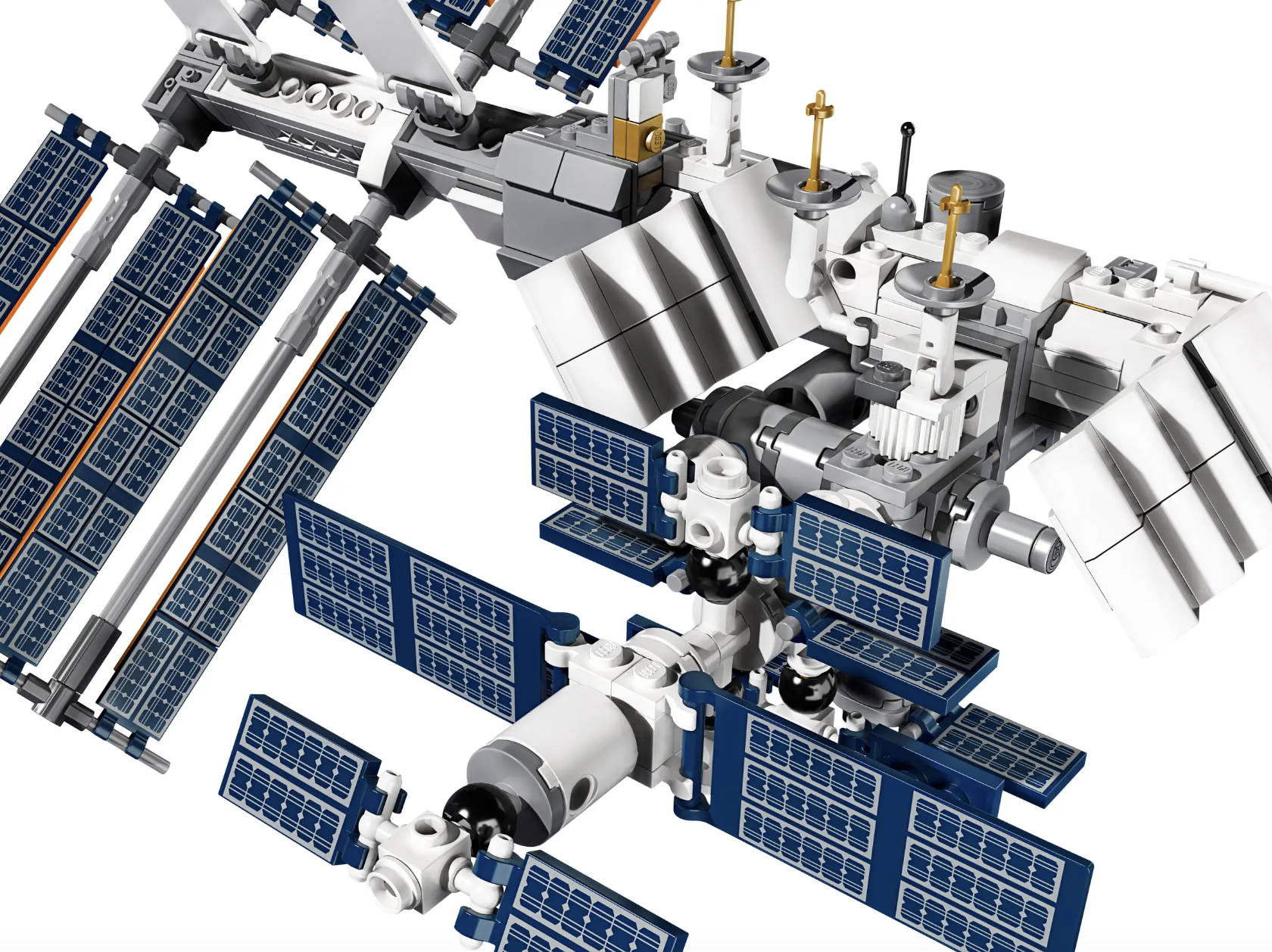 A. Summary of the set's appeal

The LEGO International Space Station 21321 offers a remarkable balance of fun, education, and challenge. With its intricate design, attention to detail, and space-themed extras, it captures the imagination and appeals to builders of all ages, making it a worthy addition to any LEGO collection.
B. Target audience and overall value
The ISS set is perfect for LEGO enthusiasts with an interest in space and technology, providing them with a unique, tangible, and interactive way to explore the world of space exploration. Although its complexity might pose a challenge for younger builders, it's a fantastic set for experienced LEGO fans, making it a worthwhile investment.
In conclusion, the LEGO International Space Station 21321 is more than just a toy; it's an immersive journey into the world of space exploration, one brick at a time. Whether you're a seasoned LEGO builder or an aspiring astronaut, this set offers a rewarding and enriching building experience, making it a must-have for all space enthusiasts.
Lighting up the Stars: A Review of the Light kit for International Space Station 21321 by Game of Bricks
In the realm of LEGO® aficionados, the International Space Station (ISS) 21321 set holds a special place with its intricate details and impressive design. But a set as exquisite as this can be further enhanced with a lighting kit. Enter the Light kit for ISS 21321, a product from the well-established company, Game of Bricks. The company, renowned for its innovative lighting solutions for various LEGO® sets, brings to us a product that takes an already mesmerizing model to a whole new level of reality and brilliance.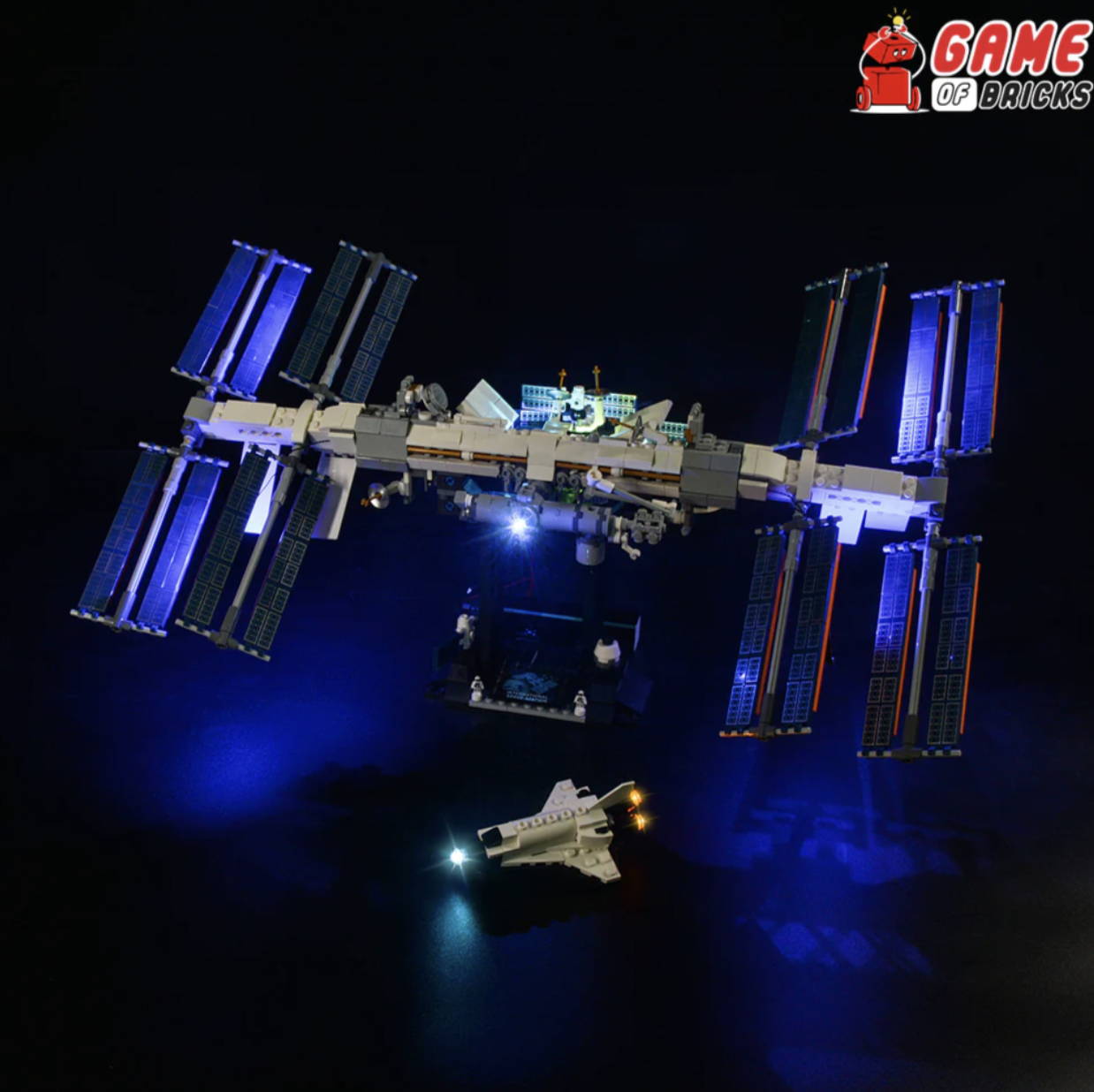 Easy Installation
One of the Light kit's most commendable features is its easy installation. As someone who is not naturally inclined toward wiring or technical tasks, I found the detailed and clear instruction manual extremely helpful. Whether you're a seasoned builder or a beginner, you'll find the setup process simple and manageable, as it smartly uses the LEGO® structure to hide wires, providing a neat and clean appearance. The plug-and-play design further simplifies the installation, allowing you to breathe life into your model in no time.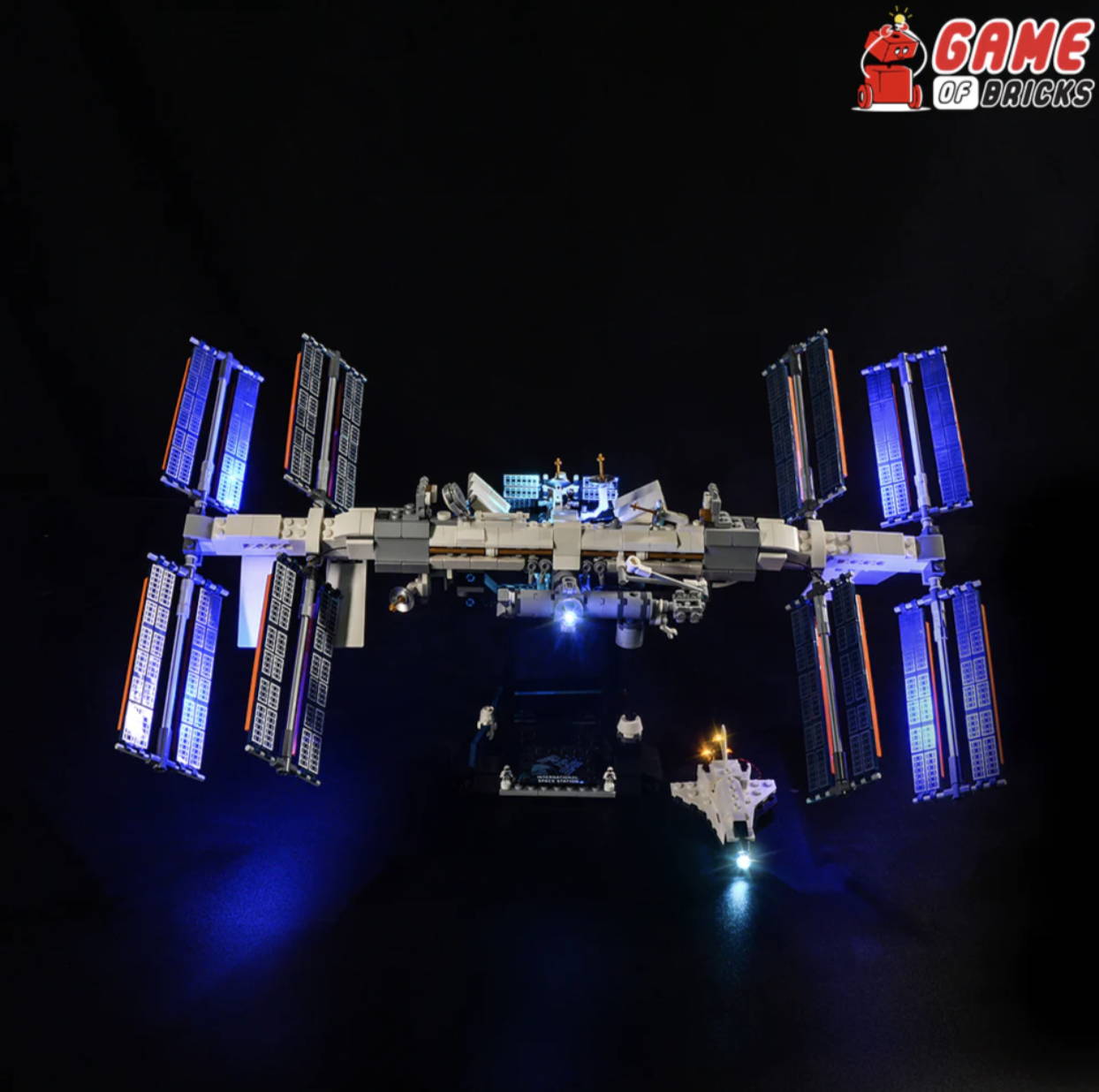 Enhanced Details
Once installed, the light kit accentuates the ISS model's details in ways you might not have imagined. The strategically placed lights bring out the texture and depth of the structure, illuminating the model to highlight its intricacies. The solar panels, once dull and static, now shimmer with a realistic gleam. The living modules, previously dark and empty, shine with the warmth of life. It's not just a lighting kit; it's a tool that injects a pulsating sense of reality into a static model.
Customizable
The customization offered by the Game of Bricks light kit is another standout feature. With various light modes and intensity settings available, the user is given the freedom to adjust the lights according to their preferences, creating different atmospheres. This range of flexibility allows you to create a dynamic display, from the tranquil ambience of the space station in idle mode to the intense illumination during a hypothetical space emergency.

Durability
In terms of durability, the light kit does not disappoint. The LEDs, encased in high-quality material, provide long-lasting and consistent lighting. The wires, though slim and discrete, are robust enough to withstand regular handling. It is evident that Game of Bricks has paid attention to detail not only in design but also in ensuring the longevity of their product.
Minor Downsides
While the light kit is overall a stellar product, there are minor downsides to note. For one, the installation, although straightforward, can be time-consuming. And while the wires are cleverly hidden, managing them requires patience and precision. Furthermore, the kit could use more brightness settings, offering even greater customization for the user.
In conclusion, the Light kit for International Space Station 21321 by Game of Bricks is a phenomenal accessory for any LEGO® ISS set owner. It significantly enhances the set, transforming the ISS model from a static piece into a dynamic, living model that captures the ethereal beauty of space. Despite a few minor downsides, the kit stands as an impressive combination of easy installation, customizability, and durability. It not only illuminates your LEGO® set but also illuminates the imaginations of those who gaze upon its beauty, creating a mesmerizing mini-universe right on your shelf. It truly takes the LEGO® building experience to the next level. For anyone who owns the ISS 21321, this light kit is an unmissable upgrade.