Enjoy one of the most impressive vacations when you build the LEGO Las Vegas 21047 Set.
By

Eve Alessa Arevalo
/
February 27, 2023
Las Vegas is one of the most beautiful cities of cities in the world. This City became popular in 1905 when a Railroad leading to Los Angeles and Salt Lake City was built. As a result of this nice infrastructure, the City began to swarm with lots of tourists, and fast forward to 2023, it has become one of the top ten places to visit in the world. One thing that makes Las Vegas so special is the fact that like Los Angeles, Las Vegas is also home to some of the most influential TV and Music stars in the world. It is also home to different types of hotels, from boutique hotels to four and five-star hotels. Every tourist would have a place to stay when visiting Las Vegas. Las Vegas is also known for its beaches and nice and stable seasons that are around all year round. The citizen here in Las Vegas are very friendly and chill people. Half of them were tourists before deciding to live the rest of their life in the country. The most popular Las Vegas attractions include the Encore Hotel, Stratosphere Tower, and the Bellagio Hotel.

Are you a fan of the beautiful City of Las Vegas? If yes, you are going to love some of the amazing features replicated in the Lego Las Vegas 21047 set. This set comes with lots of cool and authentic details which would be just fun to build and look at for hours. The Lego Las Vegas set also comes with a lot of bright colors which would be easily spotted by kids, making it a very good distraction for them while you work. In this post, we are going to be looking into everything there is to know about the Lego Las Vegas set, from its amazing building experience to its features, and Lego lights. If this is something that would interest you, stick around as we try to make your stay worthwhile. Let's now start with the first topic, the sets-building experience.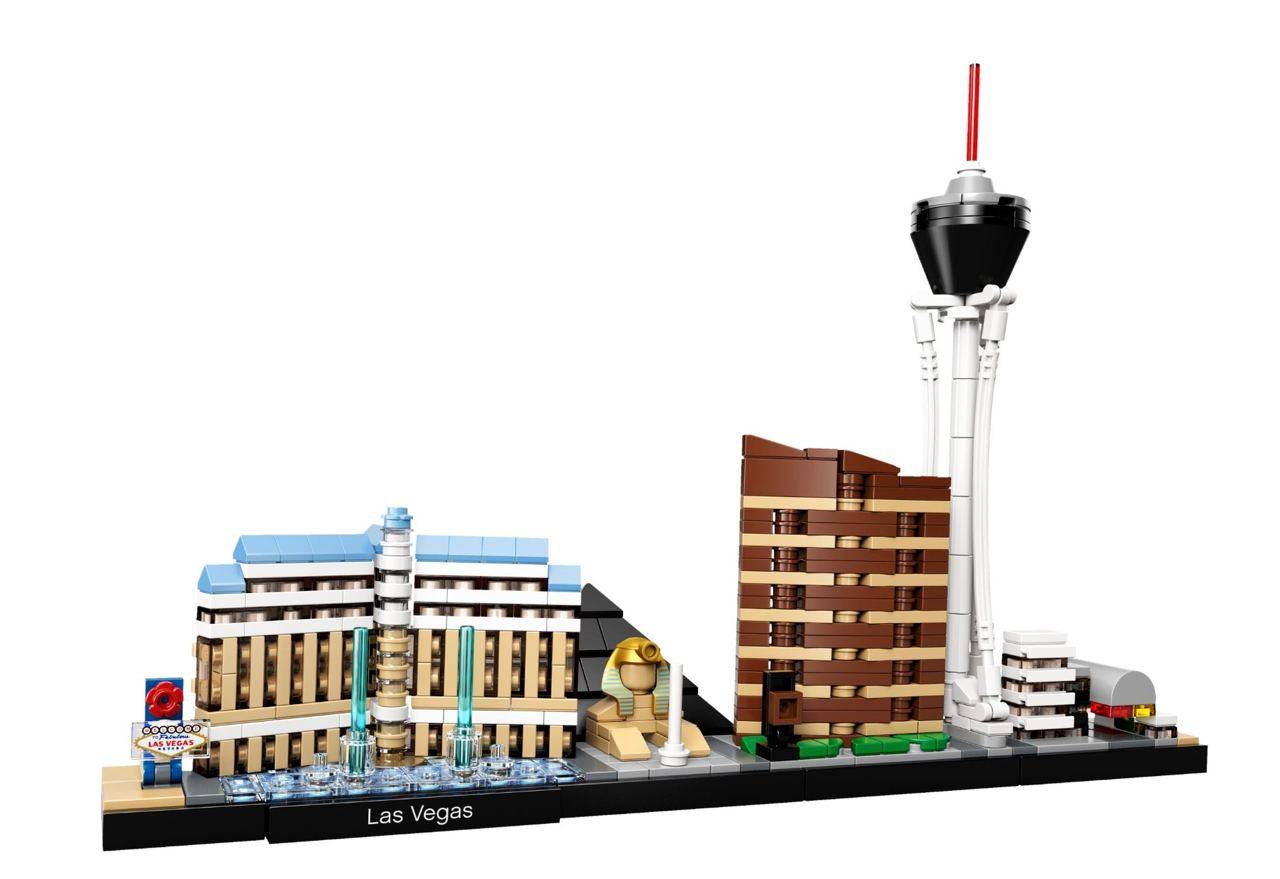 AN AMAZING BUILDING EXPERIENCE FOR THE LEGO LAS VEGAS 21047 SET.
The Lego Las Vegas set comes with over - pieces, which have all been designed to be very compatible, and work well together. This helps makes your building experience as smooth as possible. It also helps ensure you finish work on the set faster, so you could go on to display it. The Lego set is also well organized in nice numbered bags. This helps you know which bricks are for each building stage. This means that when you are working on the first building stage, all sets you would need are occasionally going to be in the bag or bags labeled. But sometimes this may not follow, and you may have to open all the numbered bags before building. But if you are fortunate and your set appears that way, you would immediately notice that your whole experience while the building will be a lot smoother. The Lego Las Vegas set also comes with a nice, easy-to-understand manual that you could use as both a beginner and a professional.

The information in the manual has been broken down so that even those new to Lego like teenagers and adults can still build the set comfortably and in record time. The manual contains diagrams and even pictures which will help ensure your building process is very clear. And, it helps divide your whole building process into different stages, helping you get more work done faster than you would have. And aside from all these, the instruction manual also contains a bit of information about Las Vegas, and all that went into the building of the Lego set. Overall, the Lego Las Vegas set is designed for all types of builders both young and old. All you have to do is love the beautiful city, so much to want to replicate it in Lego form. Aside from an amazing building experience, the Lego Las Vegas set also comes with lots of cool features. Let us find out what these features are.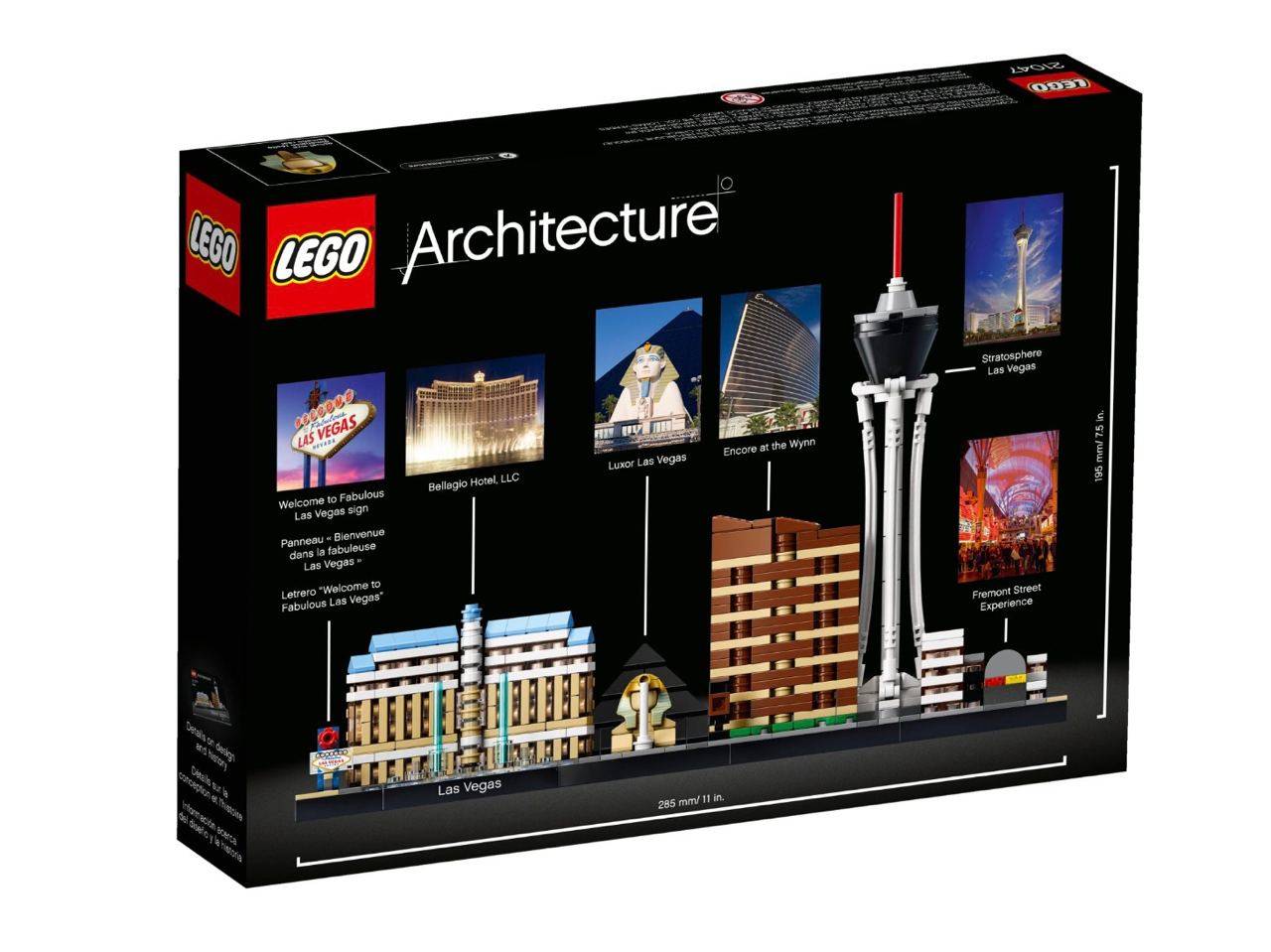 ALL THE AMAZING FEATURES OF THE LEGO LAS VEGAS 21047 SET.
AUTHENTIC DETAILS.
The Lego Las Vegas set has been designed to contain features that help it replicate the real-life Las Vegas city. The Lego team was able to achieve this by perfectly replicating popular buildings from the city which could be easily recognized, and appreciated. Some of these amazing buildings include the Encore Hotel, Stratosphere Tower, and the Bellagio Hotel. These amazing buildings among others are arranged side by side with each other so that none would be hidden from your view. This helps you not only be able to examine how well-detailed some of the features of the buildings are but also appreciate the effort put in by the Lego group to help make it possible.
TOP QUALITY MATERIALS.
Aside from being a very well-built set, the Lego Las Vegas set is also made using the best materials the Lego team has to offer. Each brick piece is well designed so that they are not only compatible but also very easy to use. The Lego team is so confident in what they have built and guarantees that if cared for properly, the set could stand the test of time. This is why retired sets are so highly valued by Lego collectors, and is a great investment plan. The Lego team also makes sure their sets are highly safe to use and will not cause users any harm. So you do not need to worry about experiencing any harm as a result of working with this set.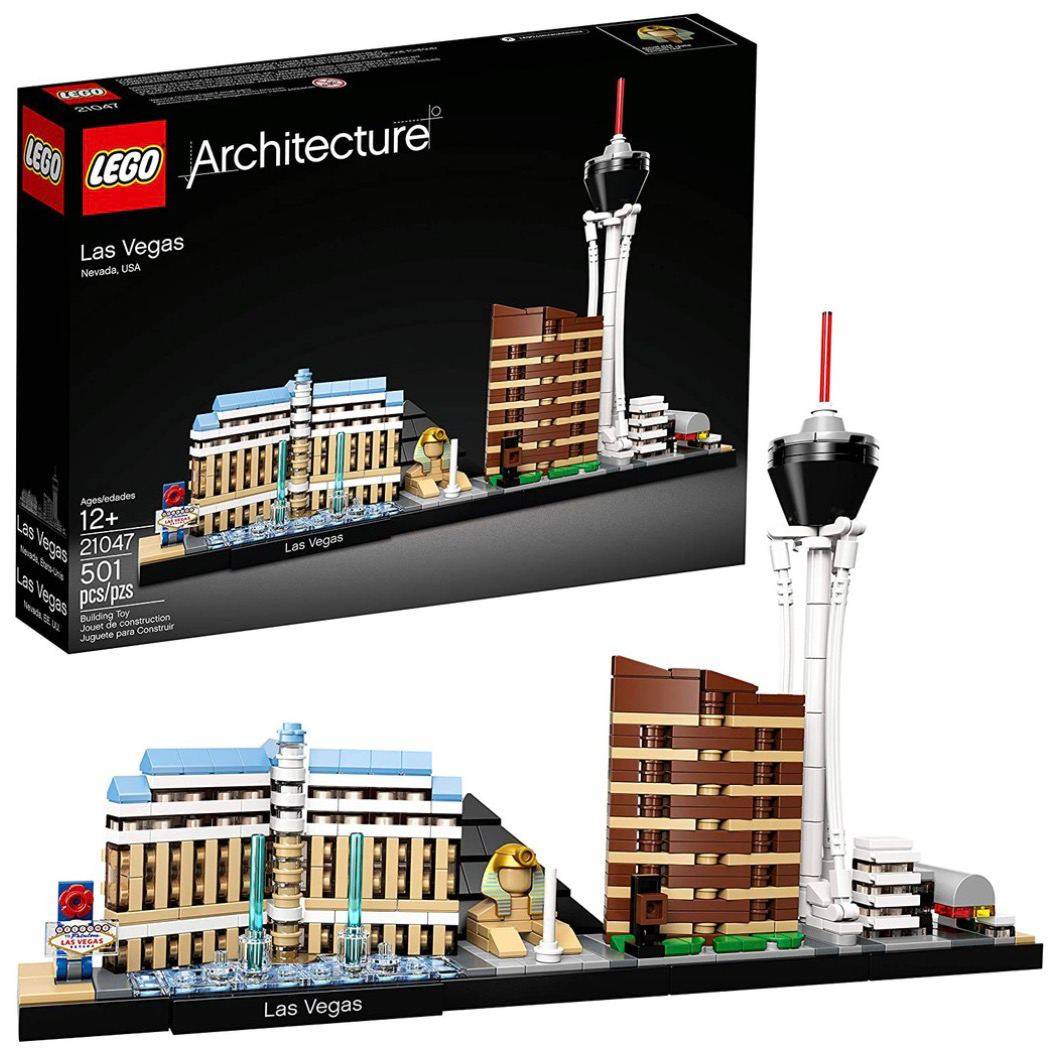 SET SIZE.
The Lego Las Vegas set comes with a total of 501 pieces, all used for the building of the set. This set is completely built and measures about 7 inches high, 10 inches wide, and 2 inches deep. The set size makes it perfect for display. The size also means that you could store this set anywhere you choose comfortably without needing to worry about it not fitting. This includes being stored on your shelf alongside other Lego sets.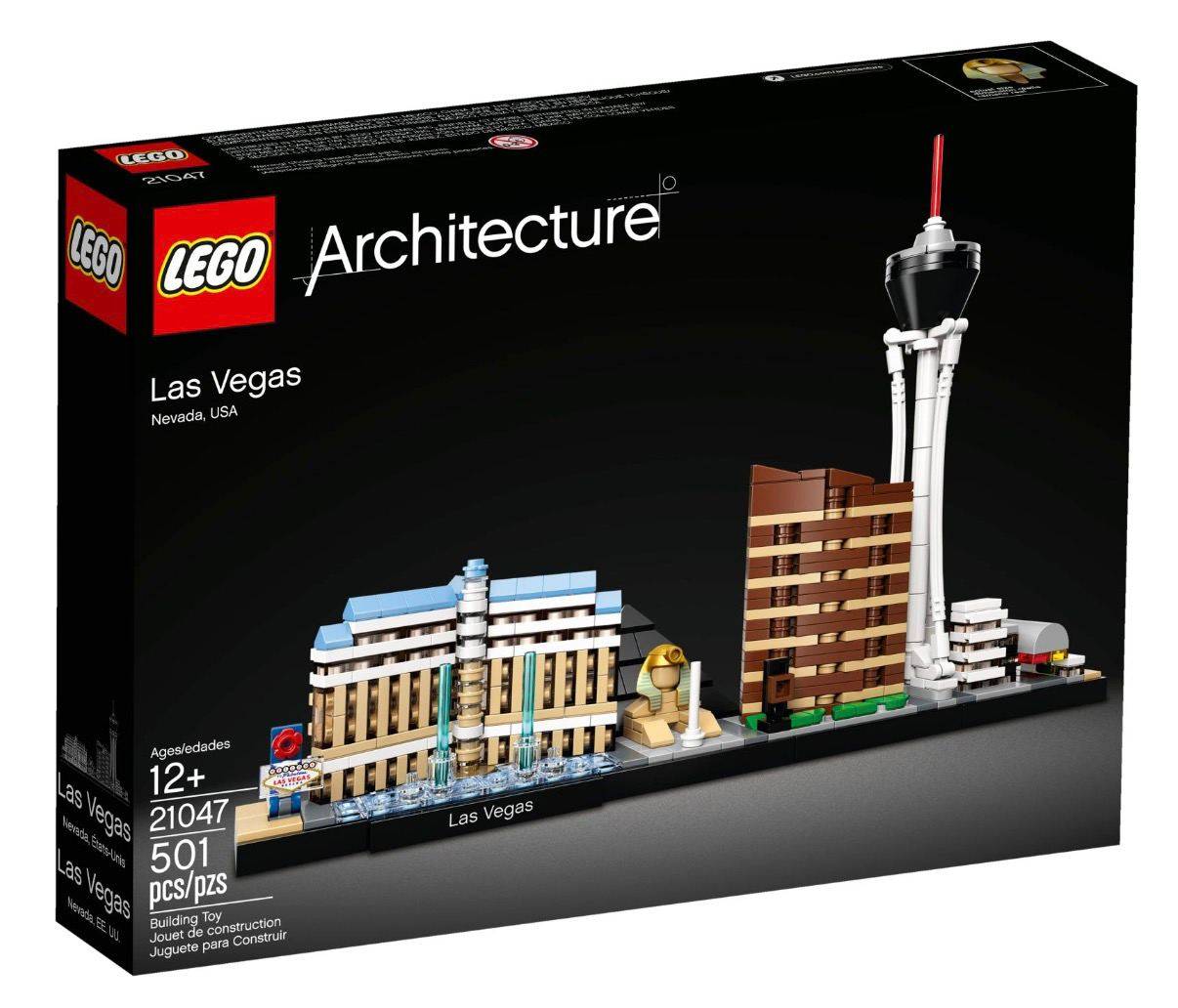 SET PRICE.
The Lego Las Vegas set, though retired, could still be purchased from other brick collectors' websites. The set is still cheap but may increase in price over the coming months. We speculate the set to cost anything from 90 to 100 dollars. We believe this price is fair seeing that the set has been retired for a long time now. We also speculate that the set may just increase in worth as it gets older. Plus, the price listed above is a price for a fairly used set and not a brand-new box set. If you were to find such, it would surely be very expensive. If by some miracle you can get your hands on this Lego set, be sure also save up a little more for our amazing light kits which is a cool external feature your Lego set will need.


MAKE YOUR LEGO LAS VEGAS 21047 SET LOOK AS REALISTIC AS POSSIBLE WITH OUR AMAZING LIGHT KIT.
The Lego Las Vegas set already looks very impressive but can be made to look a lot more with the help of our amazing Lego lights. This is because our amazing lights help unveil even the most hidden details of the set. And for what it's worth, our lights make your set display very amazing at night. Our Lego Lights come in two basic types, which are the basic and standard versions. Your level of skill will determine which light kit you purchase. If you are a basic light kit user or have no idea how to get started, here are a few tips that could help.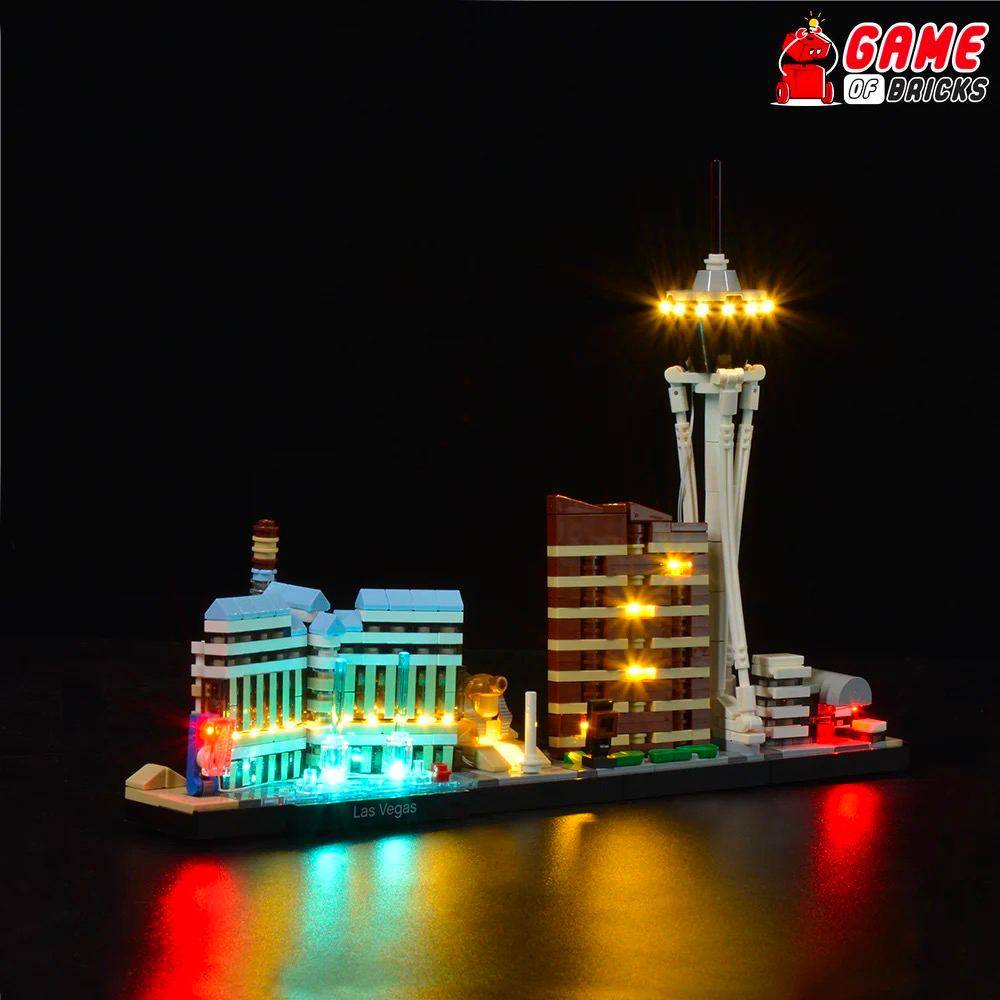 INSTALL.
You can only begin this process after completely building your Lego Las Vegas 21047 set. To do this successfully, each light kit has a special blueprint manual to help you through the process. There are also a ton of videos and articles you could watch and read on our website before embarking on this journey. Feel free to make use of all the resources at your disposal.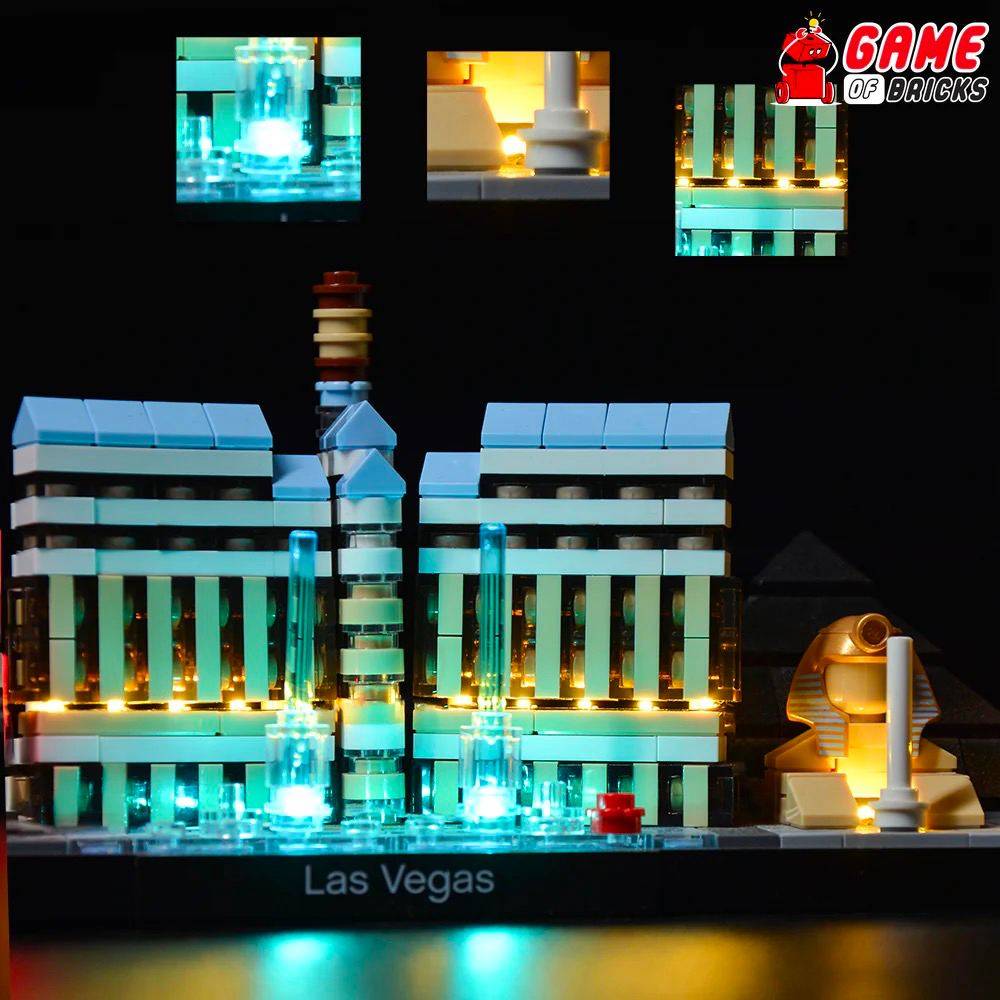 TEST RUN.
Once you are done installing your Lego set, you can now take time off to test run it, making sure it is in the best condition. To do this, check for signs of short-circuiting, as this could help you quickly identify the problem. Once you have located the problem, be sure to fix it. Once you are sure that everything is in the best condition, you can finally relive your Epic Lego Las Vegas moment in style as you put this set on display.