Best LEGO Magazines
By

Nikita P.
/
December 30, 2019
Where are all the comic lovers in the building?
There is nothing more fun that basking in the joy and love that LEGO sets bring. Kids all over the world use them to inspire themselves and ignite their creative genius. As a parent, you would agree that these LEGO sets have helped you do what would have taken ages to do by word of mouth- keeping them still in order to be creative. Now, some may argue that they always have to deal with untidy rooms and cluttered spaces. But first, think about it, they would not be kids forever. One day, they will outgrow their childish ways, and all you will be left with is memories. Now is the perfect time to allow your children to explore their interests and creative abilities while the pressures of life aren't dawning on them yet.
Who knows what can stem out of it? Secondly, there are several ways of keeping your sets organized without losing your mind. If you have a little kid that loves building bricksets and another kid that loves breaking them, there are several ways to manage the situation. One of such ways is the LEGO display shelves. More on this later.
For those of you stumbling on this piece and asking yourself, "What is going on here?". Maybe this is your first time of stumbling on the word 'LEGO'. Not to worry! We got you covered. LEGO is simply a line or group of plastic construction toys produced by the LEGO group; a private company based in Denmark. The company produced its first batch of products in the form of minifigures and several colorful bricks that interlocks with themselves. Over time, these bricks have become one of the best play toys for kids all over the world, and the beautiful thing about it is that the bricks produced today are still compatible with the ones produced long ago. Just a bit more…. Sophisticated!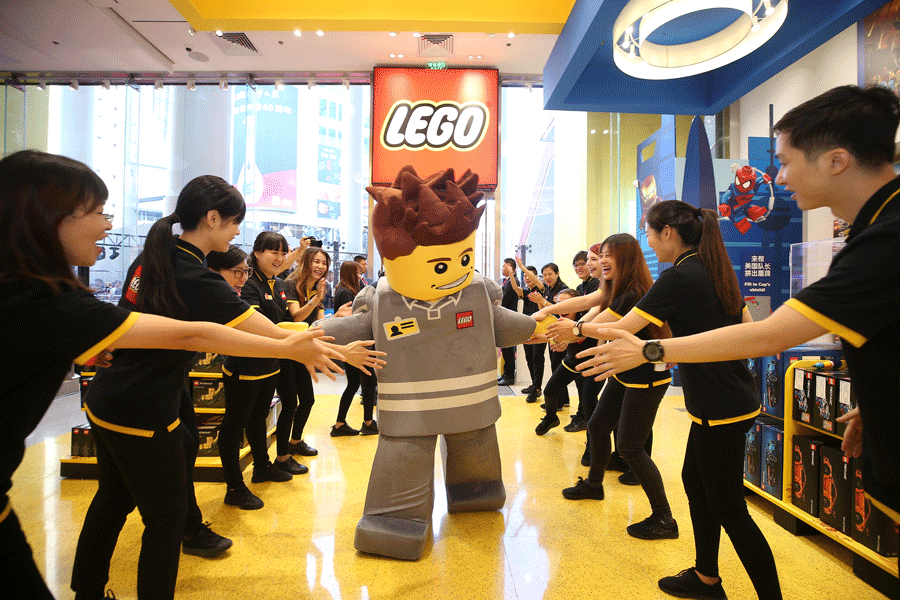 This unique company thrives on creating a culture where kids, teens, and adults can freely express themselves. They embraced several kinds of technologies to help kids to not only be innovative but to also control their inventions. Some of these kids, aged 6 and under, can learn to create stuff even before they master their reading abilities.

In a bid to create and sustain the creative culture, LEGO Life was produced. It is a social networking app that targets audiences from ages 13 and under. But unlike conventional social network platforms where people come and share their pictures and private information, LEGO Life only allows them to share their creations and connect with people who have similar interests. This way, parents do not have to worry about the privacy of their kids being jeopardized. Furthermore, LEGO has begun to use plant-based plastics to create products that are sustainable and friendly to the environment. What could be cooler than that?
Apart from using bricksets, there are other ways of reading comics and getting inspired. One of such ways is by using LEGO magazines. It was formerly called Bricks 'n' Pieces in the UK, Brick Kicks in the US, LEGO club magazine, before finally being called LEGO Life Magazine. But it is simply referred to as LEGO Magazine.
What is the LEGO Magazine all about?

It is simply aimed at informing kids of everything LEGO, from its products, comics, modeling tips, games, contests, and so much more. If you are a fan or you have little kids around you that live to build bricks, then LEGO magazines are a must-have. Some are specifically designed for kids, some for teens and adults, but in all, they are awesome for all fans.
Now, some people may argue that they would rather choose LEGO books and news sites over magazines. Each has its unique features, but LEGO magazines are highly beneficial because they offer updated and relevant information on recent events, although not as accurate as news sites. On the other hand, these magazines provide more detailed and in-depth information on topics that news sites may not have the time and patience to create. So, it is a win-win on both sides.
So, probably you are wondering, "There are so many LEGO magazines out there. How do I know which one pertains to which age group, and which one would I enjoy the most?"

You are going to enjoy all of them, but here are the best LEGO magazines that are sure to spice up your day and help you express your creative abilities, in no particular order.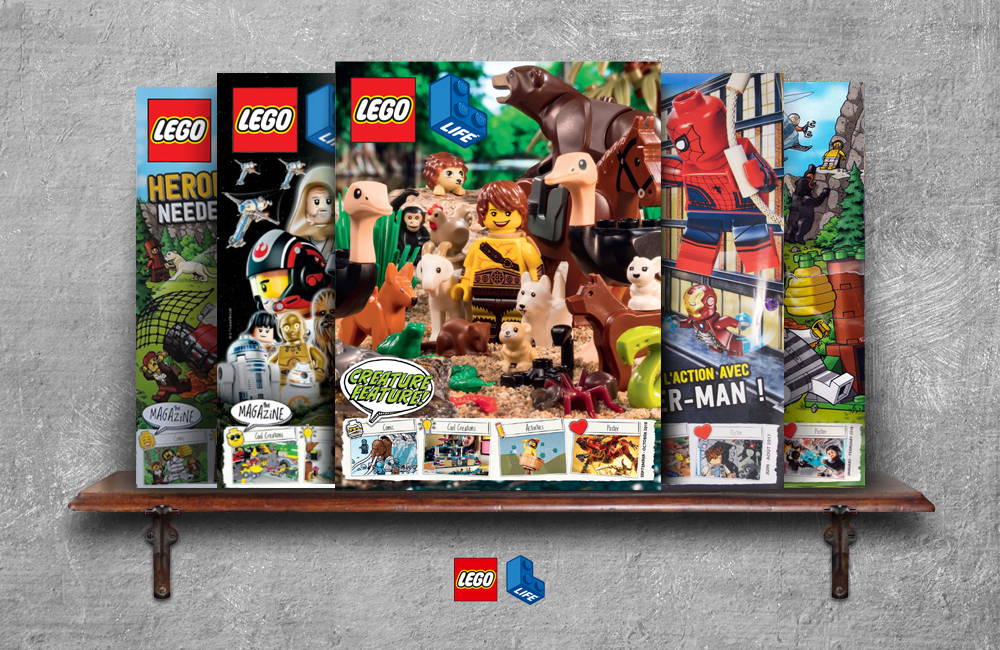 This is by far one of the best LEGO magazines that you would ever come across in your life. Just so you know, this Magazine is simply the same as the LEGO Club Magazine, whose production was discontinued. This is one magazine that really tries to inspire kids to be creative and think out of the box (or imagine there is no box), so it is aimed at kids from ages 5 to 10. When you subscribe to this magazine, it gets mailed to your house quarterly, that is, four times a year.


Every issue is filled with a lot of educational and inspiring content, from interviews, comic adventures, cool creations, puzzles, games, and building challenges by LEGO lovers all across the world. So, you can basically get any content you want here. There are also sneak peeks from time to time of upcoming themes and sets. You can either this magazine either as a hardcopy or a PDF version. If you want the hardcopy, you have to find out if it can be gotten in your country because it is not available in some countries. But the PDF version can be easily downloaded from the LEGO Life Magazine Website.
Plus, the beautiful thing about this magazine…. It is free!

Sure you like the sound of that!

b. LEGO Ninjago Magazine: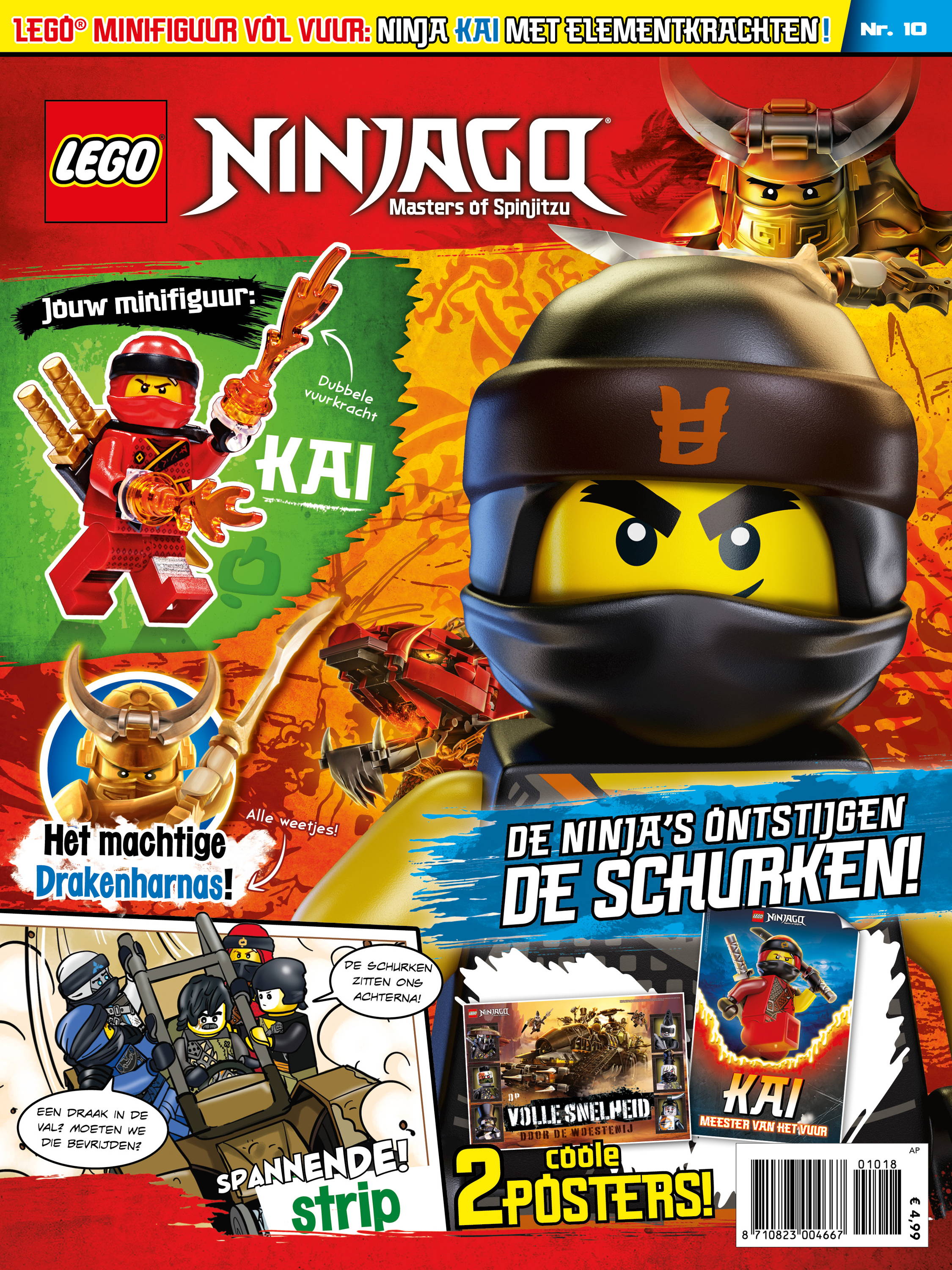 The LEGO Ninjago Magazine is almost the same as the Life Magazine because it contains puzzles, comics, games, and posters that kids would definitely love and enjoy. But unlike the Life Magazine, it is published by Media Lab Publishing with rights from the LEGO Group. That is, they publish these magazines on behalf of LEGO. One unique feature that helps this magazine stand out from the rest is that they attach a Minifigure with accessories in a sort of foil packet to the front page of the magazine. So, when you get a copy, you also get a Minifigure for free! Talk about a win-win situation!

Another distinct feature of the Ninjago Magazine is that, unlike the Life Magazine, which spreads its interest across the board and covers a lot of themes, Ninjago Magazines hover over just one interest or topic. The LEGO Ninjago magazine is part of the LEGO Kids Special Edition Magazines, so we have other types of magazines in this series such as LEGO Friends, the LEGO Movie 2, LEGO City, etc.
You might have to pay a tiny amount of money for this one though, but it is totally worth it! You will be glad you did.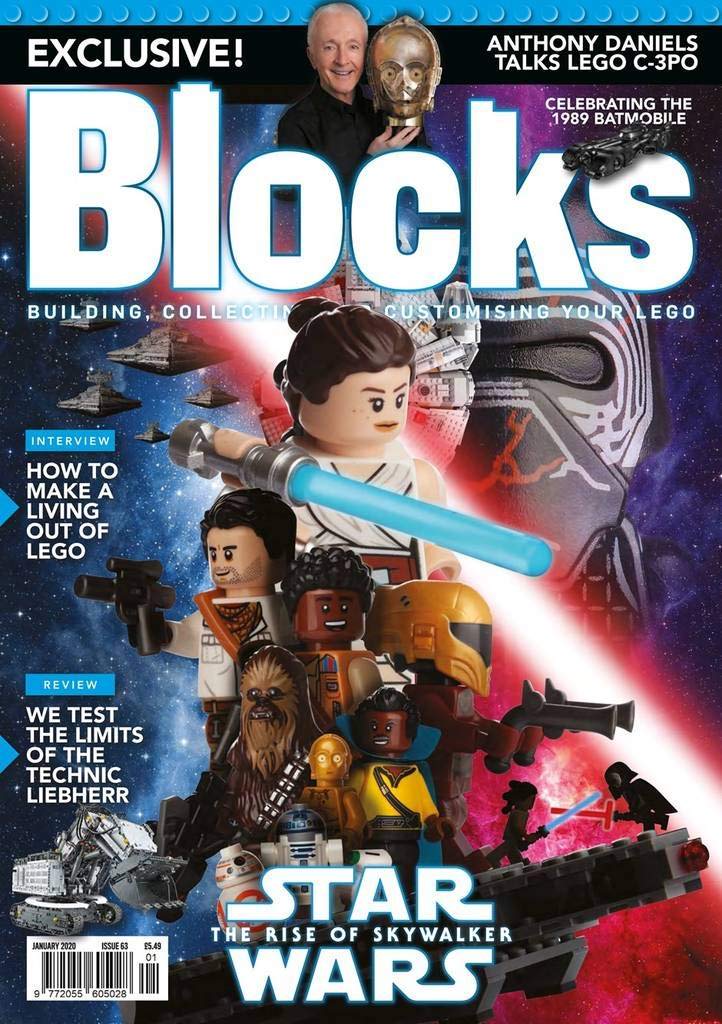 You probably thought the list was only going to list kid magazines, right?
Well, here is one for the teen and adult community. This magazine tries to improve the creative genius of teens and adults, so the audience is typically between the ages of 14 and over. Every issue includes interviews with renowned LEGO designers, news, comic events happening across the globe, interviews with prominent and active members of the LEGO community, building techniques, custom builds, reports from events held around a local community, articles from some fans, history of LEGO, set reviews and a host of other things that teens and adults would like.
The Block Magazine is produced in the UK but is available in the US at very selective bookstores, so if you are close to a store that sells it, you are in luck! You can also get it through their website. This magazine is published monthly, so you can either opt to subscribe for one year (which is 12 issues), two years (24 issues) or you can get previous issues if you are not a consistent reader mailed directly to your home. The price varies depending on the part of the world you are living in. You can also request a PDF version from their website.
The beautiful part about this magazine is that is a whopping 110 pages long, so you have more than enough to keep you busy till the next issue rolls in.

d. Bricks Fanatics Magazine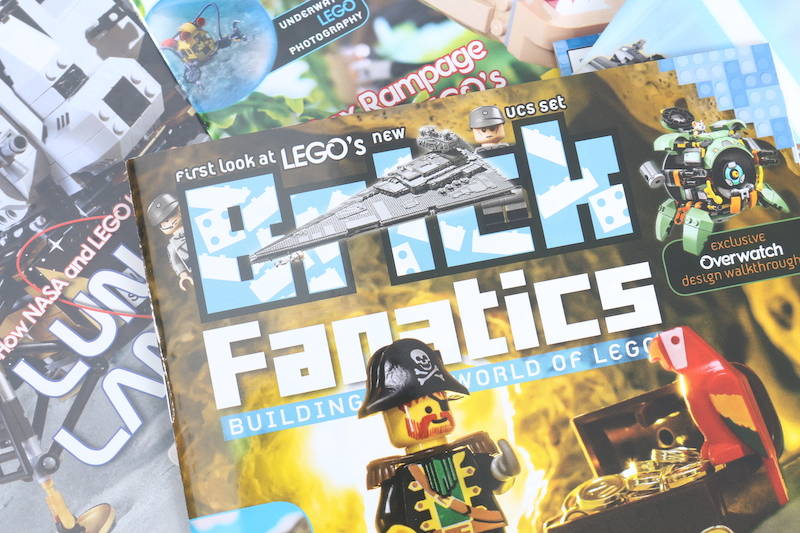 This is another magazine that caters to the needs of the teen and adult community. This magazine is produced by the same people who own and manage the Bricks Fanatics website, and it is published in the UK. It is relatively new because there has been a little over five issues produced so far, but their work is commendable. It is almost similar to the Block Magazine, but the only difference is in the size. While the Blocks Magazine is produced on a European A4 page (if you do not know what a European page is, it is something between a US legal paper and a US letter), the Bricks Fanatics Magazine is published on half the size, so it is so handy and easy to carry about. Another difference is the page count because the Bricks Fanatics Magazine contains only 80 pages.
Its content is almost similar to the Blocks Magazine: every issue contains events, set reviews, interviews with distinguished members of the LEGO community, articles from LEGO fans, building techniques, etc. The price for subscription is almost the same as Blocks Magazine in the UK and even cheaper in the US, although it is not readily available everywhere. If you subscribe to this magazine, there is no cost incurred in shipping.

If you stay in the UK, count yourself lucky that you are in a community that supports the creation of LEGO magazines!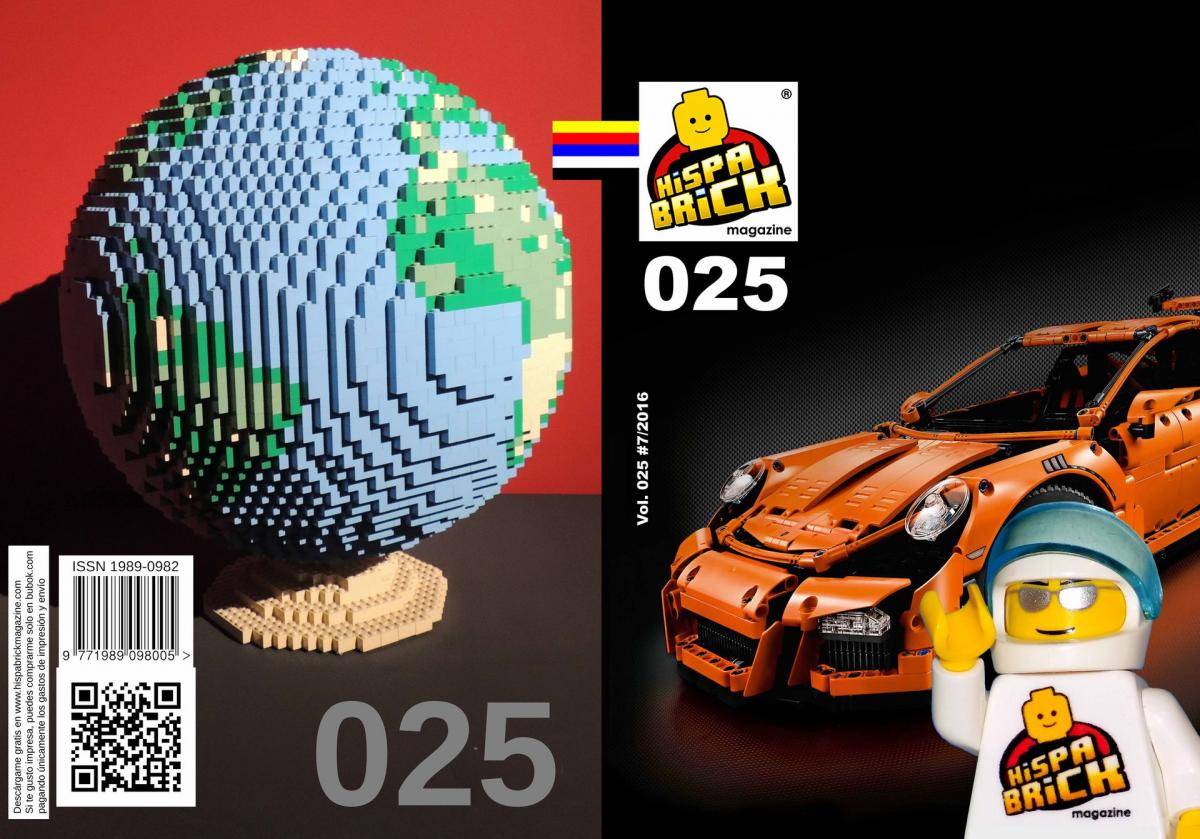 Where are all the LEGO lovers living in the Spanish community? This is for you.
This magazine was created by some fans in 2008 to cater to the needs of teens and adults in the Spanish community so that their custom models and unique articles and culture can be expressed and preserved. The first issue was produced in Spanish, but from the third issue, they began to produce it in both Spanish and English. Over 32 issues of the magazines have been produced, with at least two issues produced every year.

Like most magazines, HispaBrick Magazine is both produced in PDF version which can be downloaded from their website, or as a printed version which can only be gotten from an on-demand printing service in Spain. This means that it is only printed when there is an order.
Generally, it is an amazing magazine.
What's the summary of all this?
There are several kinds of LEGO magazines out there. To choose the one suitable for you, you have to get one that pertains to your audience. If you want to get one for your kids, Life Magazine is highly recommended not just because it is free, but because it has a lot of educative and inspiring content that can help upcoming lovers. If you want kids' magazines with more specific content, then get a Kids Special Edition Magazine. For teens and adults, Blocks Magazine and Bricks Magazine are good options. HispaBrick Magazine is good for a causal digital read.

Now, imagine subscribing and getting all the issues either for yourself or your kids. Imagine now buying sets for kids to play with, and you come home every day with each set littered on the floor.

One of the nightmares parents have to go through with their LEGO loving kids is the messiness of the environment. You either have to deal with arranging these sets and magazines in order or separate arguments between siblings over which set to play with.
Here are some brilliant ways to organize sets and magazines without losing your mind:
a. LEGO Display Shelves: This is one of the best ways of organizing these sets because not only does your house get tidy but you can also put up your finest work for display. You can either get those open LEGO display shelves or one of those bookcases with glass doors.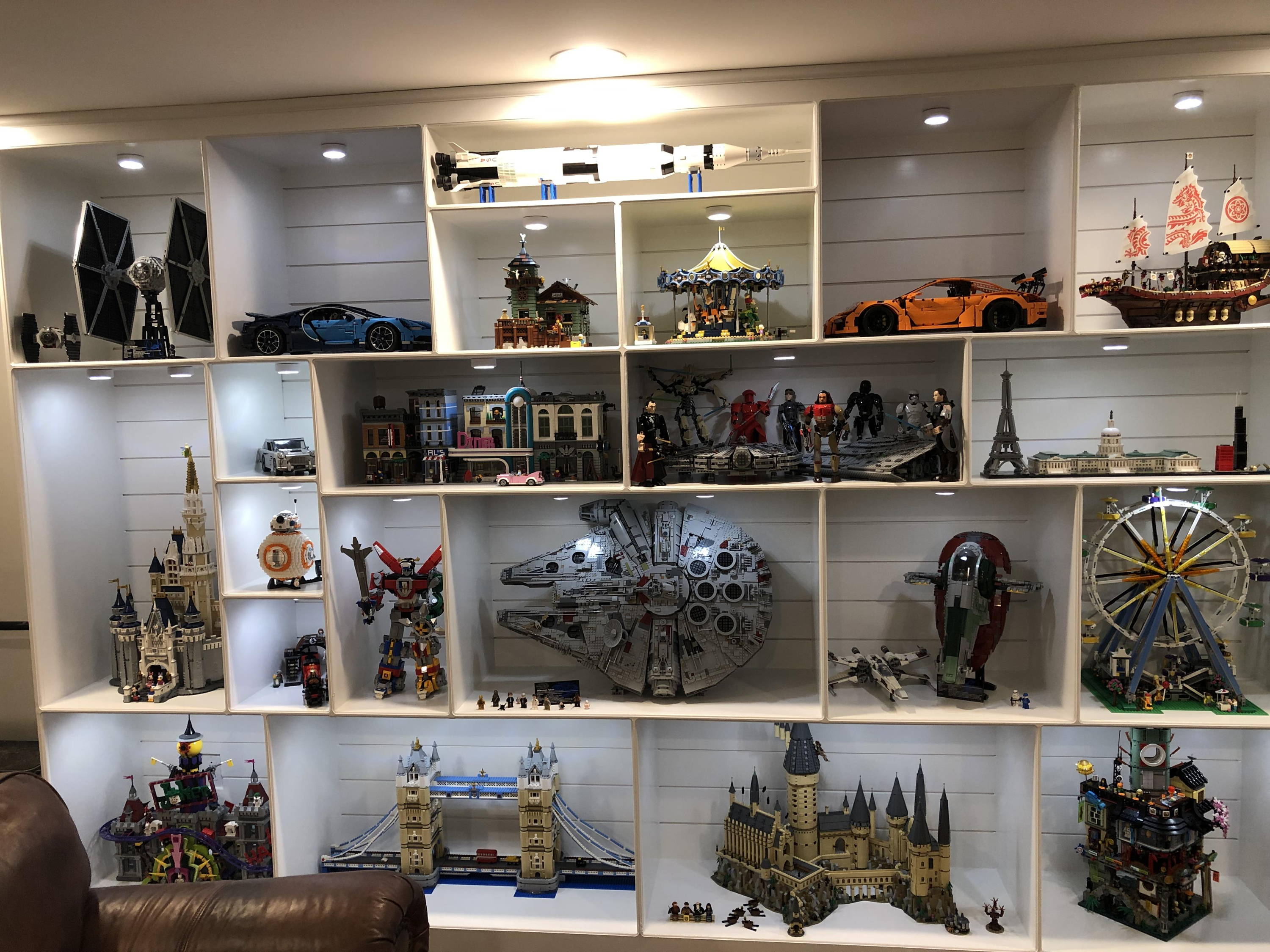 b. Bookcase: Who says you can't convert your bookcase to a LEGO storage system? You can easily get a bookcase at a thrift shop for a cheap price, store your completed sets and solve one of your problems, remaining 999. If you want to create a playroom for your kids, a bookcase can be a great option.

c. Glass Coche: People normally feel that a Glass Coche is only used for extravagant decorative purposes. But that isn't always the case. A Glass Coche can be used to show off tiny but beautiful sets. And they can also be used to decorate a playroom or kids' area.

d. Underbed LEGO set platform: What is that extra space doing under your bed when you can arrange your sets on it? Simply clamp a piece of plywood underneath your bed and place a sort of base plates on top, and voila! Extra space for your sets has been created.

e. Adjustable Wall Shelves: This is another great way to store bricksets and magazines, and they are not expensive! All you have to do is to go to a local store and get one, then install it in your home. Put it low for the kids to have easy access to it, or high enough to keep out of reach.

So, there we have it, ladies and gentlemen! Boys and girls! LEGO magazines are a great way to get inspired and boost your creative genius. It all depends on the age-grade you are in or are searching for.
For kids, the best options are LEGO Life Magazine and Kids Special Edition Magazines. The only difference between them is the variety of content. LEGO Life Magazines have content that spans across different topics and themes, while the other one is centered on just one theme. Plus, LEGO Life Magazines are free!!!
For teens and adults, Blocks and Bricks Fanatics Magazines have content that is specifically designed for them. Blocks Magazine typically has more content than Bricks Fanatics because of the size and number of pages, but they are both good regardless! They are published and mostly available in the UK, but are also in the US but at very selective toy stores. They can also be gotten in PDF versions. HispaBrick Magazines are great reads as well.
After getting these magazines and buying sets, you have to look for a way to store them properly, right? LEGO display shelves are your best bet. You not only get to arrange these completed sets properly, but you also beautify your home.