Best Halloween LEGO Sets 2021
A lot of people enjoy Lego sets because practically all themes are covered through the Lego world. Halloween is coming. It is time for you to remember that you could get unique Lego sets with Halloween themes. Lego has a lot of themes that it would be almost difficult to get a perfect Lego set or a perfect Lego theme for Halloween. If you do not know which Lego set or which Lego-themed set you to need to enjoy using through this beautiful period of Halloween, worry not cause this article is here for you. This piece will talk about all you need to know about the best Halloween Lego Sets the year 2021 has yet. 

It is a fantastic idea for you always to remember that whenever Lego is in the mood to do horror, it doesn't go crazy, and Lego does everything on a very light note. A variety of LEGO Halloween-centered sets is way more adventurous than a lot of others available out there. Some of them include explorers, brave investigators that fight and chase off ghouls and ghosts. Whenever you are searching or hunting for something scary, you would just end up getting some very light chills. These are not so bad when you are in the mood for a Halloween Lego-themed display. The Lego Group has made various attempts to make every Lego fan worldwide have whatever Lego Halloween theme they desire. There are Lego Halloween fans that like very different Lego sets. These sets could include scary Barbie Halloween sets, Ghostbusters sets, or scary hidden train express sets. It does not matter. The Lego group has it all. Keep reading this piece to learn more about all the Lego group's things in store for you and your loved ones who are Halloween fans. 
As we all know, Halloween is pretty much close or near, to be more specific, and I see it as an excellent opportunity to advertise (meaning share according to contextual meaning) a few of our best and most fabulous LEGO set themes for Halloween.
Do not think of asking strangers for candy, bobbing apples, and dazzling dresses, these fabulous and incredible LEGO sets will put you on guard. We also deliver fun or, in other words, entertainment to you and your family for this Halloween, not excluding any age group!
List of The Best t Halloween Lego Sets 2021
1. LEGO Jack-o-lantern Building Set for Halloween
There is not a thing that howls Halloween spectacularly like the Jack-o-lantern! If there is any possibility that you will search for the LEGO Halloween, you must possess this LEGO set with fifty-two unique pieces.
I don't think we can fathom a more enticing method to put everybody in the spirit of Halloween and influence our close ones than showing off these good, entertaining, and brilliantly prepared works of Art, the Jack-o-lantern in our windows. In addition, it Is not so much as messy as making a pumpkin! (what they use for Halloween). Apart from the cool-looking pumpkin that this LEGO set has, it is a freaking Jack O lantern Lego set that you could build for the night of Halloween. You do not need to stress yourself or get heartache if your real pumpkins are unavailable. You could get about five jack o lanterns and light them up close to your windows. Your trick o treaters would be excited and happy you have such a beautiful Lego set, or Lego sets, that is, if you put a lot on the windows. You could get some of these LEGO sets for your loved ones too. Trust me. They would love it. Let's get to the next one, shall we?
2. LEGO Monster Fighters Haunted House Set
If you are searching for a set of LEGO, I think that would be just a little more complicated. You can look out for the Haunted Monster Fighters House! Which has about two thousand, six hundred and four (2064) set pieces. The haunted Victorian house is indeed a bit much frightening, but it will provide you the fun you always wanted or dreamt of this Halloween, encompassing glow in the dark, vampires, three floors, folding stairs, et cetera.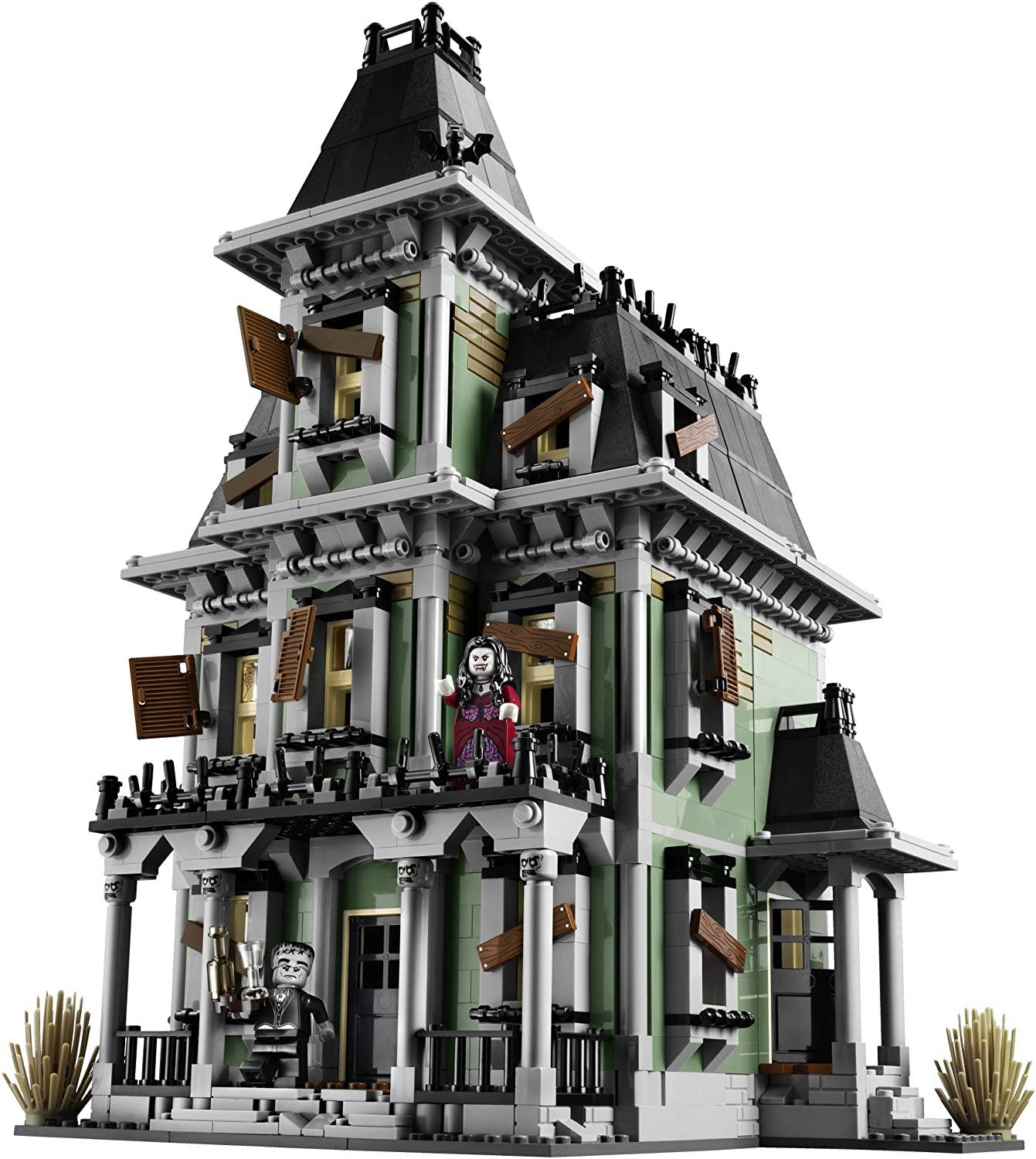 3. Huge Set of Monster LEGO Minifigures
Possibly statuettes of LEGO could be something you like and find pleasure doing or, let me say, a hobby to you? Satisfactorily this set of unique Halloween customs appears with mini-figures which are sixteen (16) in numbers to include in your packages! Especially icons for horrors like the monster of Frankenstein and the harsh reaper popularly known as the grim reaper, as well as staples that are fright-night like a skeleton, a witch, and werewolf. We love this LEGO set filled with monster Lego mini-figures. Do you know why? Who does not want to have amazing fairy-like scary creatures around them when Halloween comes? Creatures like a werewolf, a witch, a fright nighty skeleton, and various other animals would surely make your Halloween 2021 a Halloween to never forget.
With the presence of these kinds of identities like belonging to your collections, there is no way you would not be in an excellent mood during Halloween. And when that mood comes, it would be best to share it with all your loved ones around.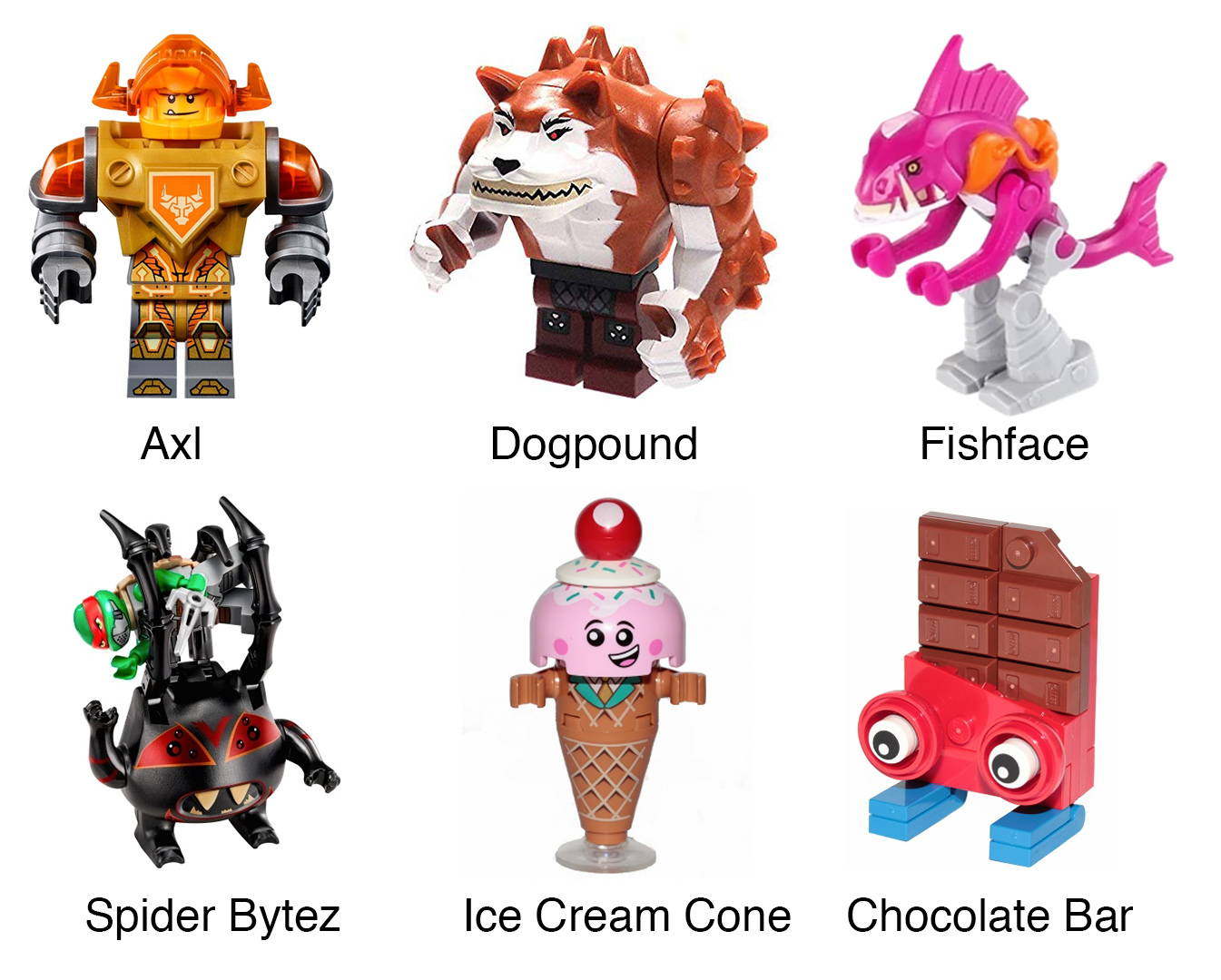 4. Monster Fighters Vampire Castle LEGO Set
A mysterious dungeon ambushed doors, and secret entrances are just many of the things you should anticipate from the Castle Vampire LEGO set! With it containing nine hundred and forty (940) pieces, a fantastic car which also has a launcher and plenty of small figurines, I think it should undoubtedly merit your precious time and valuable money.
Looking for something you want well and very much or possibly symbolize Halloween for you, I don't think you can get better and more fabulous than this particular one!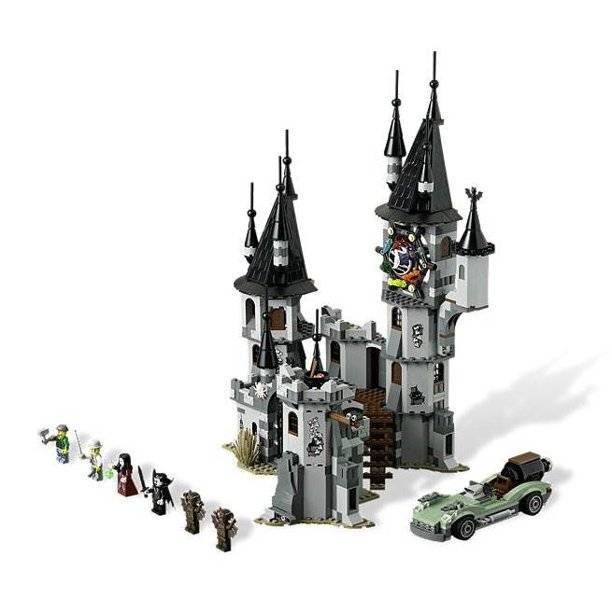 5. LEGO Scooby-Doo Mystery Mansion
On behave of the fans of the Scooby-Doo (Phoning all Scooby-Doo fans), I would like to talk about this proudly! Scooby-Doo has always been a favorite program in the days of our childhood or, let me say, among children. It is a perfect match for the themes in Halloween because of the mysteries and strange things that happen in it and the help of the LEGO Mystery Mansion, which plays a considerable role in capturing the spirits in the show. In addition, it arrives with a nearly enormous gang in Mystery Inc.(except a character named Fred) and three (3) monsters, in which their original faces are seen when you rotate their heads! It contains eight hundred and sixty (860) pieces, which proposes a dare or a competition that is not too large of a job to assemble. I would certainly suggest that you try this out if you are insane with everything happening in the Scooby-Doo program.
6. LEGO Ghostbusters Ecto 1 & 2
If you enjoy an assortment of spooky entertainment while searching for an elaborate and sweet Halloween, then there is nothing compared to themed LEGO called the GhostBusters! It comprises the ECTO-2 motorcycle and the ECTO-1 ambulance, in addition to the entire crew of warriors or protagonists from the movie. It is pretty simple to assemble without reference to the pieces, so it operates better as a toy once built.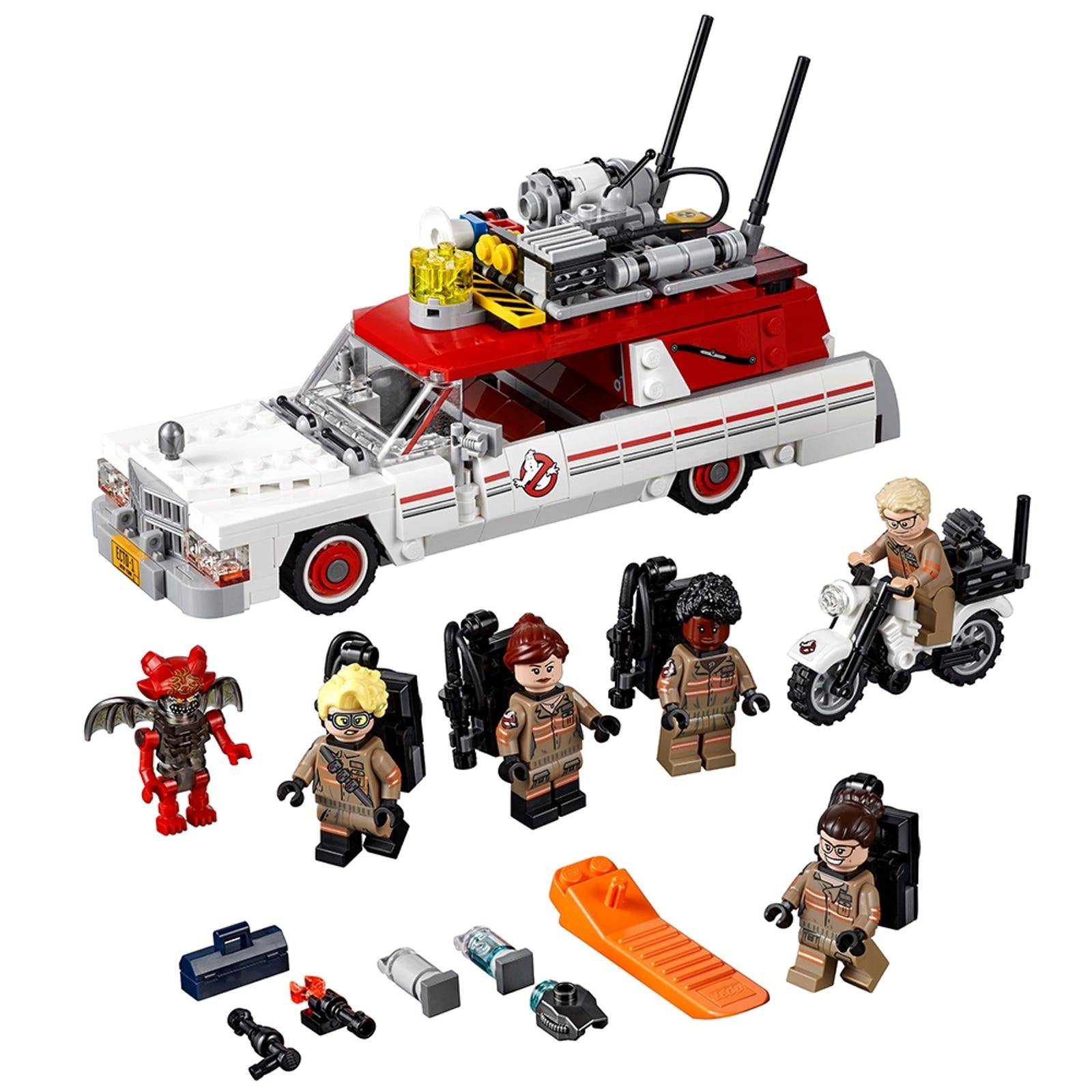 7. Ghost Train LEGO Monster Fighters Set
Another succeeding LEGO set that would serve as an incredible embellishment for your Halloween is the gleam inside the grimy (dark) Ghost Train! Comprising of seven hundred and forty-one (741) pieces, this LEGO play-set is lawfully simple to build even with the skill set you have. In addition, you will obtain an airplane for heroes, so you are obtaining a Monster Fighters transport vessel for Monster Fighters in one.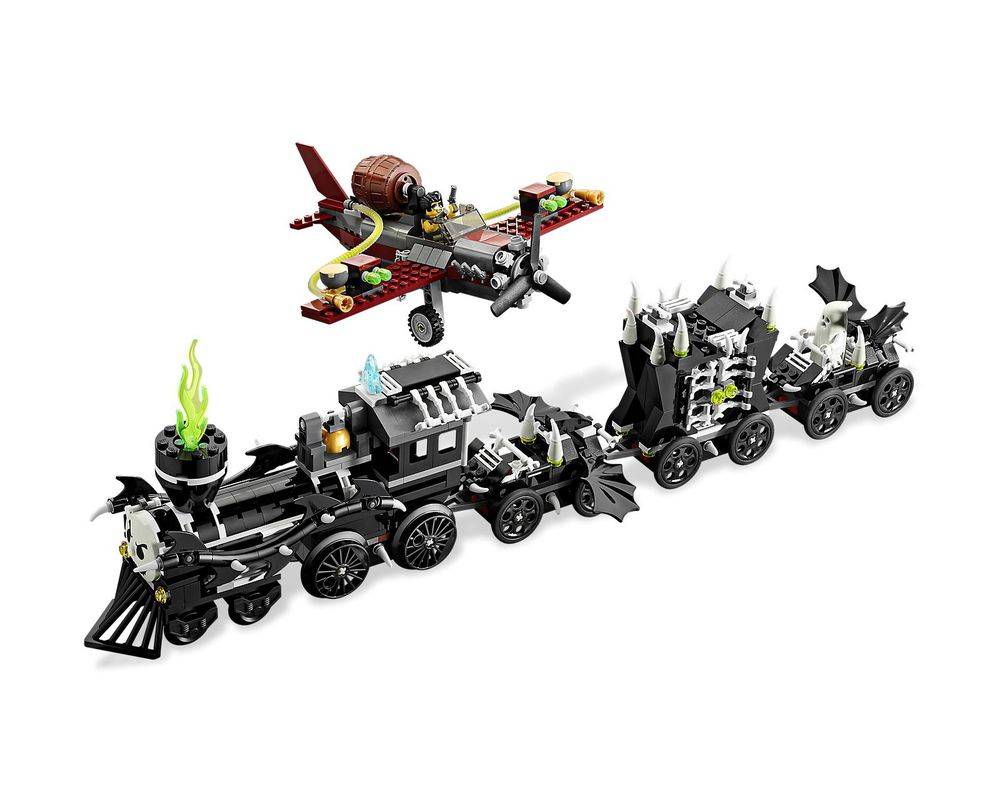 8. LEGO Winged Skeleton Minifigure
It had come to our acknowledgment that LEGO could manufacture what wonderful embellishment! Another astonishing advertisement piece for your collection is the Winged Skeleton Minifigure. It augments an additional level of entertainment to all the play-sets of Halloween! It is possible to build it without a wing, but it relies entirely on your choice of vibe.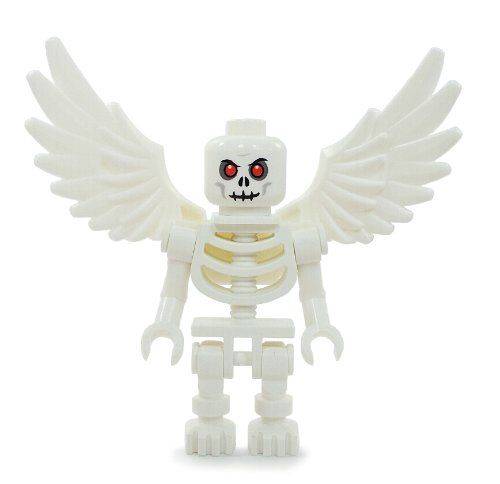 9. LEGO Hidden Side Graveyard Mystery Building Kit
One of the latest themes for LEGO is the Hidden Side. This particular Graveyard set arrives with just a few excellent characteristics. The best existing ghosts for the location could only be seen with LEGO's app with an already created AR functionality!
We enjoy these big ideas created by LEGO. A considerable bit of technology will be solicited to kids already used to using digital components in their toys. If you're searching for a pleasure Halloween set that uses recent technology, I recommend this for you.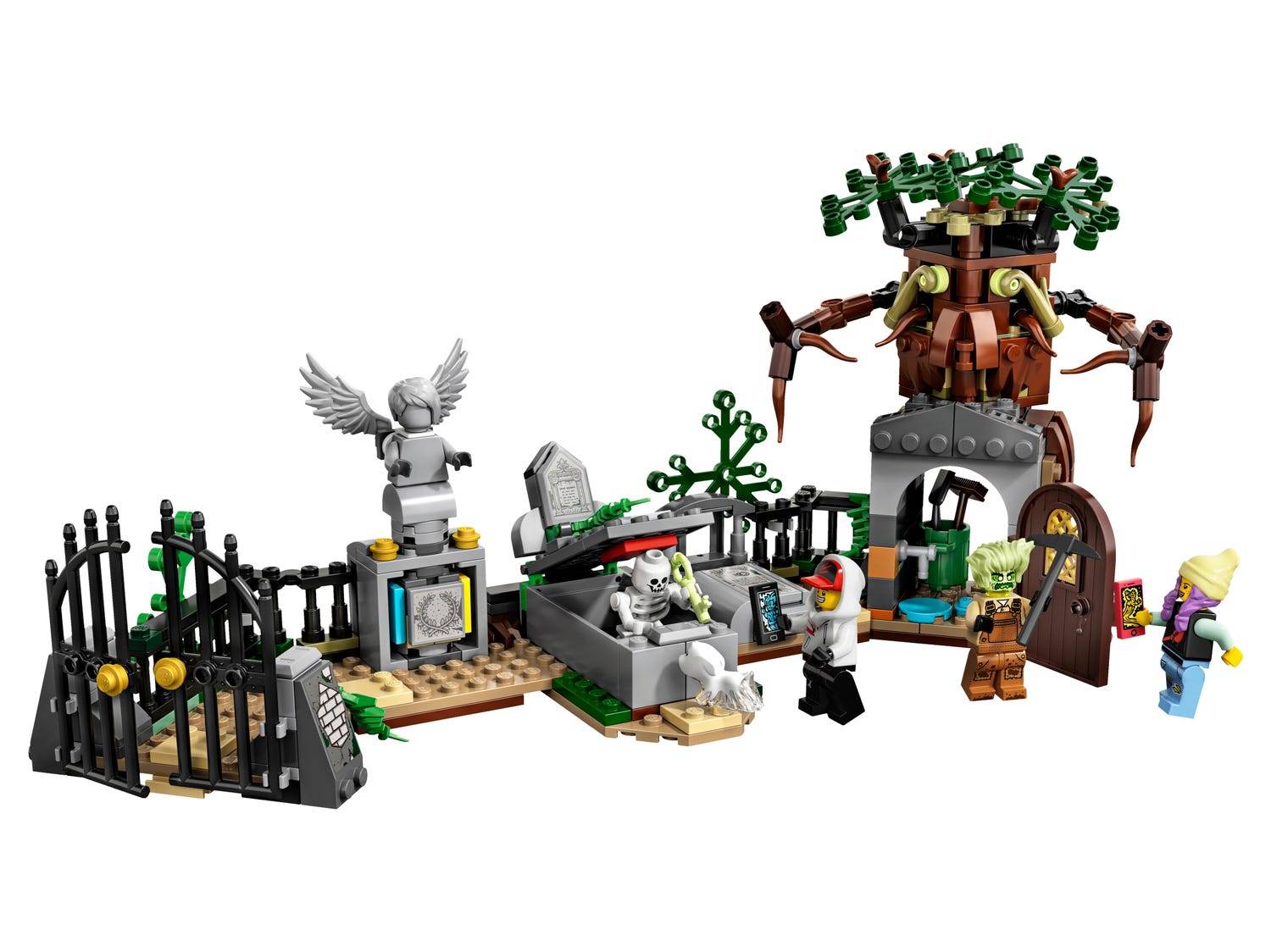 10. LEGO Brickheadz Halloween Witch
Instead of you assembling what is supposed to compete with you or a set that is good to keep yourself entertained, the collection of LEGO Brickheadz is supposed to be a show-off toy. The Witch has the brad brick head view and is created precisely for Halloween! She arrives with a spooky potion and a broom. It is straightforward to arrange, and it will look perfect for the showing off of Halloween.
With the availability of all of these beautiful LEGO sets for Halloween, it is indeed comfortable to confess that you can never be short of options for your maximum pleasure during Halloween. We believe you would admire a few of our fun, spooky in any LEGO of your preference.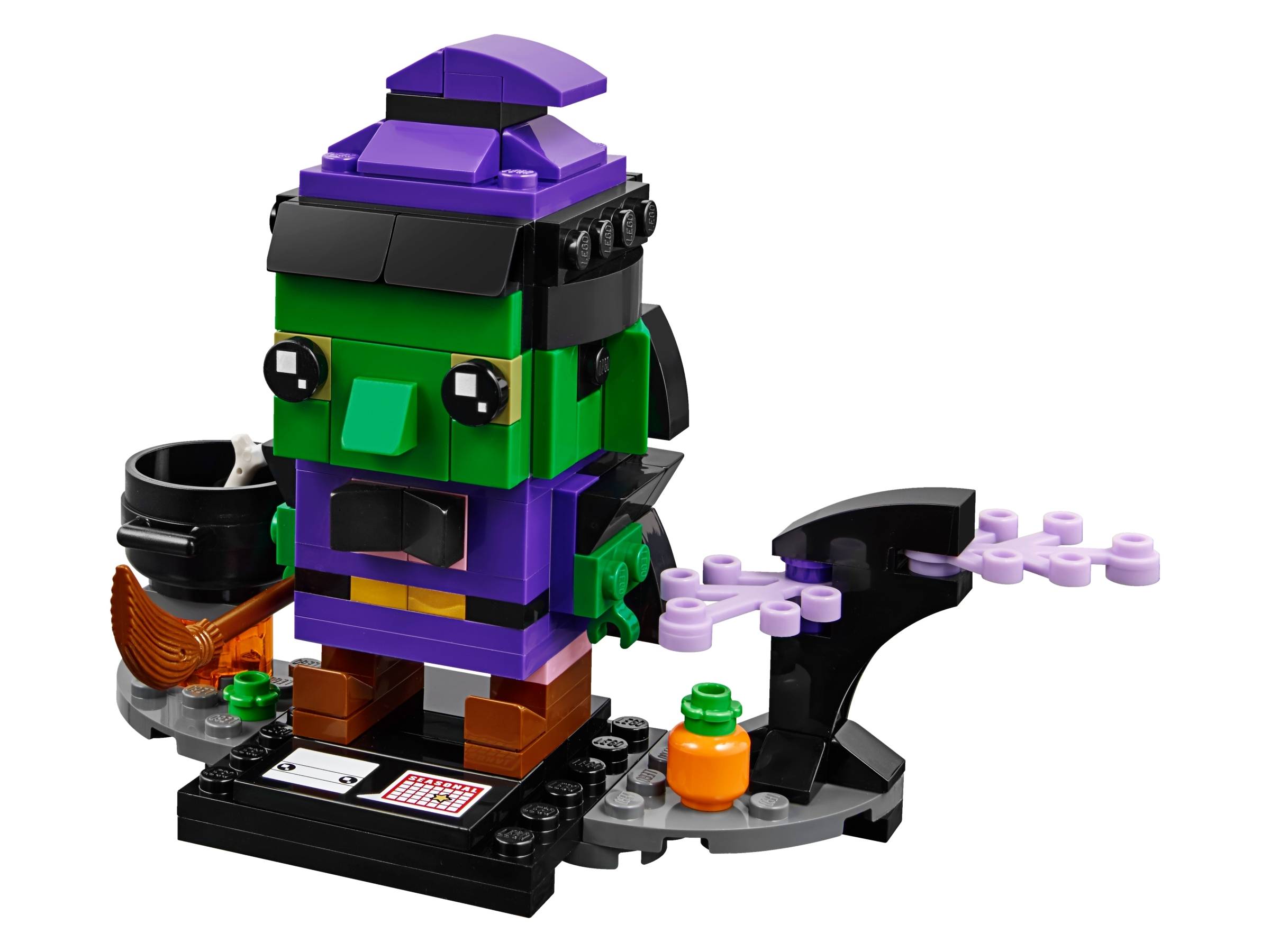 11. LEGO Hidden Side Graveyard Mystery 70420 Building Kit
One of LEGO's newest themes is the Hidden Side, and this is undoubtedly a little bit different from LEGO's usual themes. Hidden side is all about hunting a ghost, but there's a twist. Unlike the standard action figures we're used to and the glow-in-the-dark features, here, the 'ghost' for this Halloween set can only be seen if you use the LEGO app's AR function! It's a rad idea and great use of technology, making it fun for kids who are used to playing smartphone games as they will be playing LEGOs with their smartphones. But, it still puts building at the forefront of the entire process.
LEGO's Graveyard Mystery gives us an excellent example of how the Hidden Side theme works. Although it incorporated technology unlike the usual Hidden Side theme, such that if you don't use the app, you'll still be getting a horrifying graveyard set that has a few action figures, a monster, and some spooky backgrounds. But if you have the app, you'll be getting a very colorful, haunting, scary, and creepy experience that makes this set stand out. If you're looking for a Halloween LEGO set that also leverages technology, this might be a good choice for you.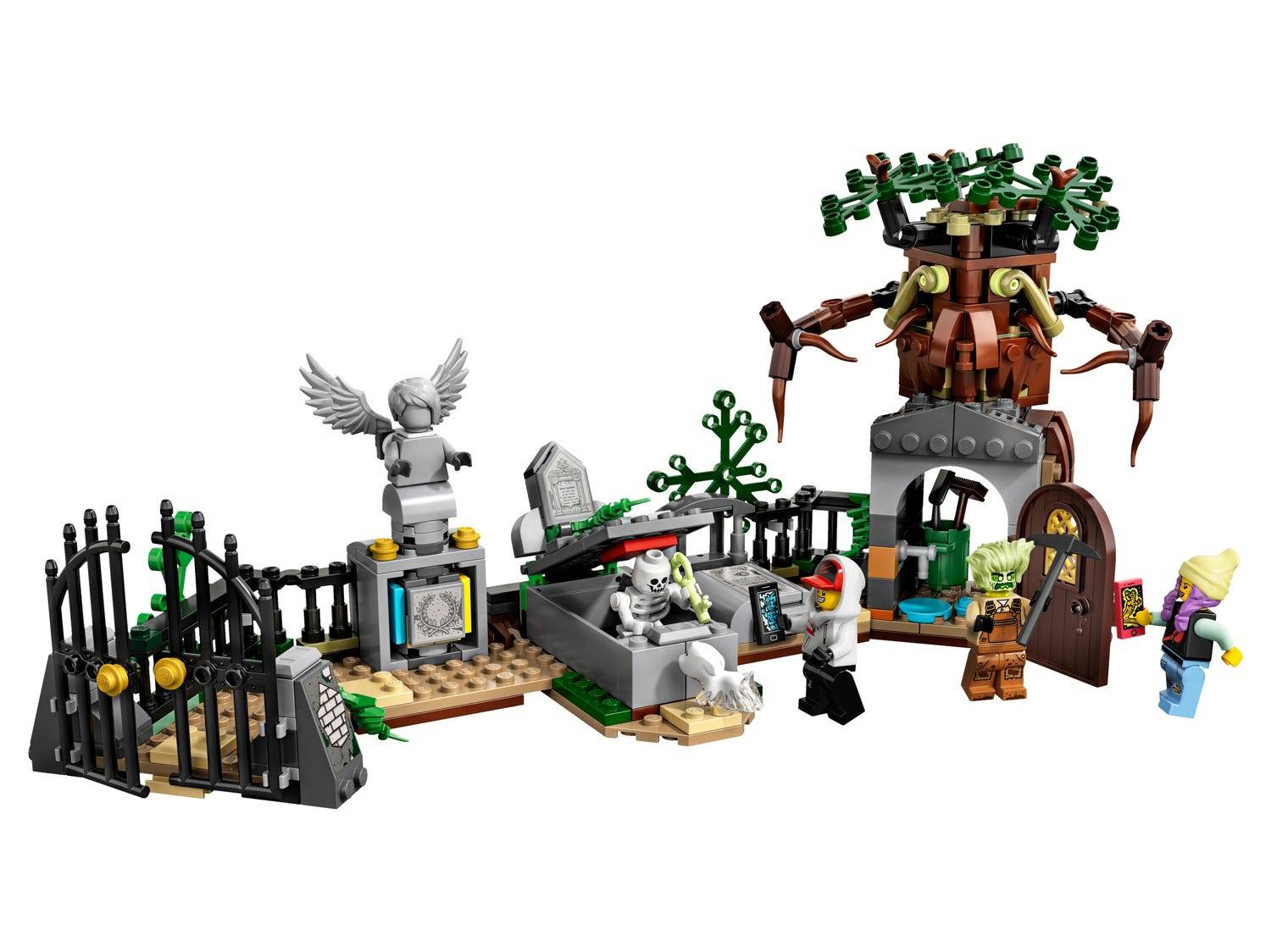 12. LEGO Bat & Pumpkin (40090)
Having just 156 pieces, this LEGO Bat and Pumpkin set is a small set, a tiny one. Its size is something you'd easily buy in some superstores, but small doesn't equate to evil. This set is very much a seasonal build, you know, that kind that you could use as a gift or for celebrations like Halloween, rather than those used by people looking for building games.
The Bat and Pumpkin set, as the name implies, is a stylized bat and a pumpkin set. The bat is small and really cute, not scary but entirely in line with popular Halloween decorations. The pumpkin also is small and makes an exquisite decor, making it suitable for a desk or on your mantle. The set does an excellent job of expressing the Halloween theme, something you would expect from a LEGO holiday set. If you're looking for a building set that is super cute, fun, and easy, then this may be the one for you.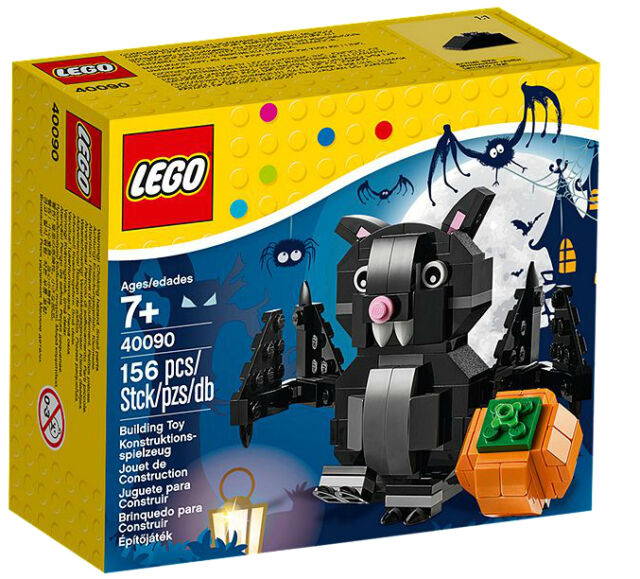 13. LEGO Hidden Side Newbury Haunted High School (7042)
This outstanding Haunted High Newbury School serves as LEGO's big play-sets for the Hidden Side theme. You can see this clearly in how it is constructed and in everything. This is included in the set. It has over 1,400 pieces and happens to be one of the biggest Halloween builds in the market, and it doesn't fall short on its accessories. Unlike several other Hidden Side creates, the Newbury Haunted High School set is incredibly creepy just by looking at it - it's a very monstrous school even without using the AR effects.
This set makes use of the AR technology, and while the AR feature is probably the most excellent here, it doesn't mean that this build entirely relies on it to bring out its fun. You could have fun playing in several classrooms and areas if you spin the body set around! No of these areas require the AR effects. This kit also has four cool mini-figures and a ghost bog, which helps you build up the whole cast of characters for the theme set. So, if you're looking for an AR-driven theme or if you like the classic build set in which you'll add to your collection, you need to check out this one.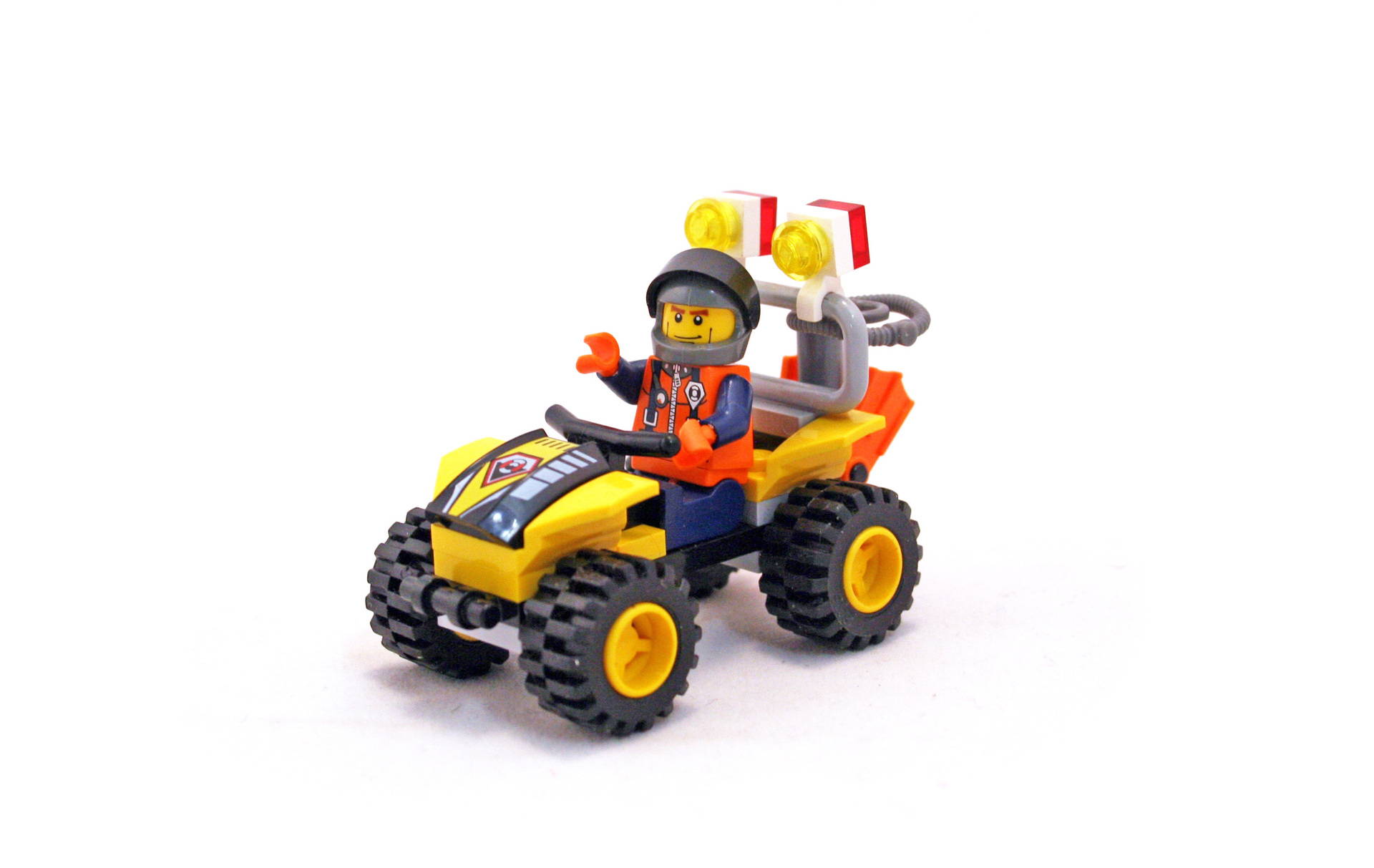 14. LEGO Holiday Halloween Haunt (40260)
As we know, LEGO's holiday sets are always simple build sets. Unlike the complex builds that LEGO is known and loved for, the holiday set is pretty straightforward. These holiday build sets are fun holiday additions that you can easily set up no matter the occasion and pack up while waiting for the next holiday in the calendar. Because of this, the LEGO Holiday Halloween Haunt is not one that people will complain of being demanding or time-consuming to put together. It is merely a fun celebration addition to make up your Halloween holiday that comes with a cool mini-figure.
Easy to build and a lot less stressful than you imagine. The fireplace is the central buildable part of this set, with a tiny witch cauldron. The rest has just come Halloween accessories like a small but neat LEGO pumpkin. The star of this set happens to be the vampire mini-figure. This vampire looks quite similar to the (hard-to-find mini-figure of) Vampire from the Monster Fighters. There's also a skeleton in this set which you could always add to your ever-increasing skeleton monster army!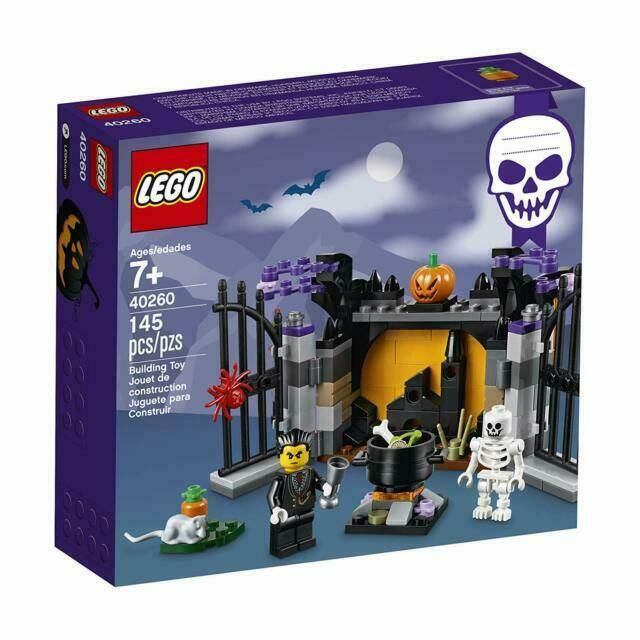 15. LEGO BrickHeadz Halloween Witch 40272
When LEGO was asked to give us desk display toys, they gave us the fantastic LEGO's Brickheadz line! Unlike builds meant to be challenged and conquered or toys intended to be played with, you build these figures simply to show them to others or flaunt them, if you may. The BrickHeadz are very simple to put together – just a figure with a large head and a small body (hence the name). The Witch, unlike the rest, is, without a doubt, quite more extensive and flexible, with a bit of extra, compared to the majority of what makes up the line.
The Witch certainly has the Brickheadz trademark style, but now she hovers down with a few more accessories. This means that you can get the Witch to brew a spooky potion while holding on to her magic broom, which is a lot more than what most Brickheadz can do. Being a great fan of this fantastic line of Legos and you want something that you can flaunt, flex or showcase this Halloween, then this might be one of the simplest Halloween sets available for you to build as well as the perfect one to display both at your workplace and home.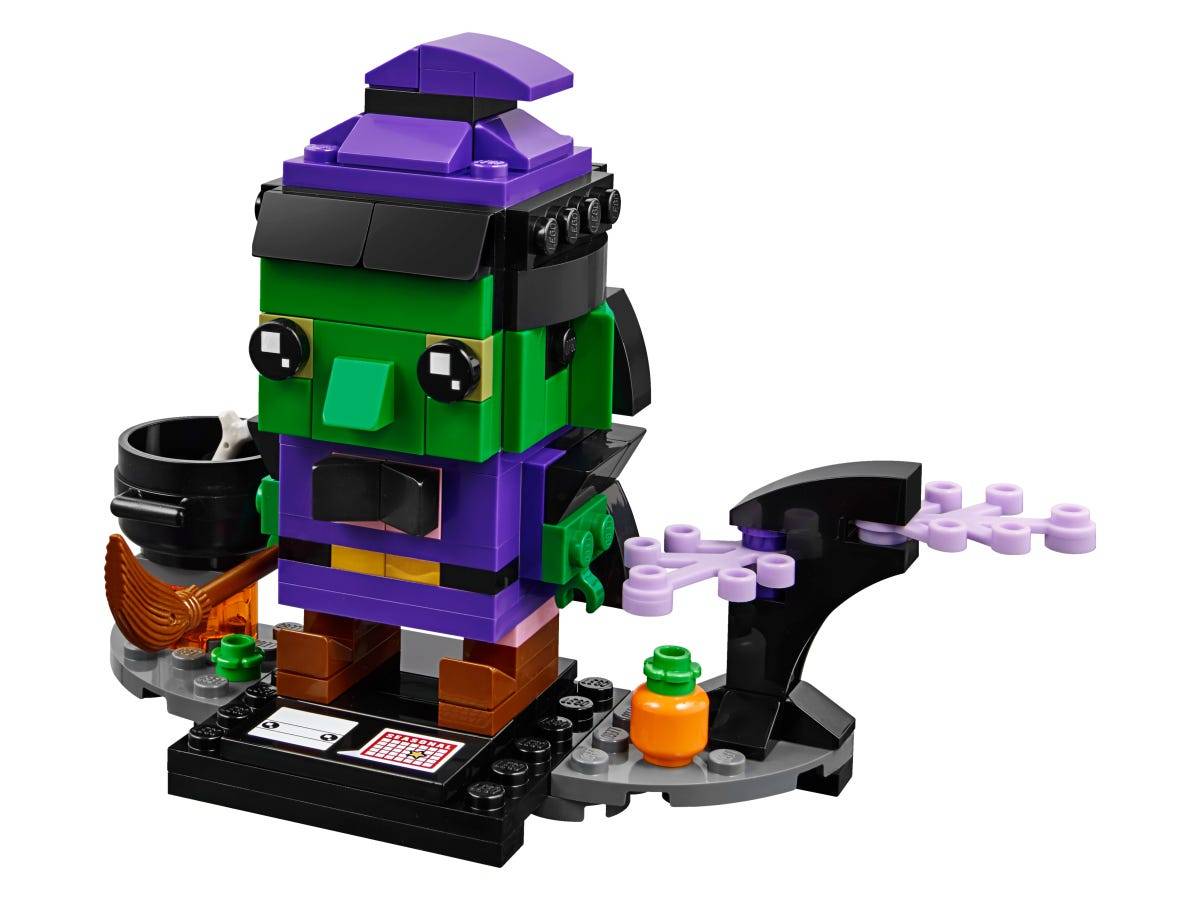 16. LEGO Monster Fighters Vampyre Castle (9468)
Monster Fighters is the LEGO set that came as close as possible to what true horror is. This, too, with as much emphasis as it could on Universal monsters and the entirety of all that surrounds each of them. Although this line didn't continue as long as one might have imagined it should, it did leave behind some very spectacular creations that have become Halloween favorites. If you're looking for something that shouts "Halloween," you won't find anything better than the Vampyre Castle.
On two levels, this set is fantastic. You'll be shocked by all of the action figures incorporated into the castle if you just look at it – it's much ahead of its time, even when it's being compared to some of the sets that came out after it a few years later. A fantastic automobile with a launcher and many unusual mini-figures are included in the collection. If you're putting together a Halloween display, this is a full-featured set that's not only worth your effort to assemble but also worth a lot of table space. The only flaw in this entire line is that it didn't manage to last very long.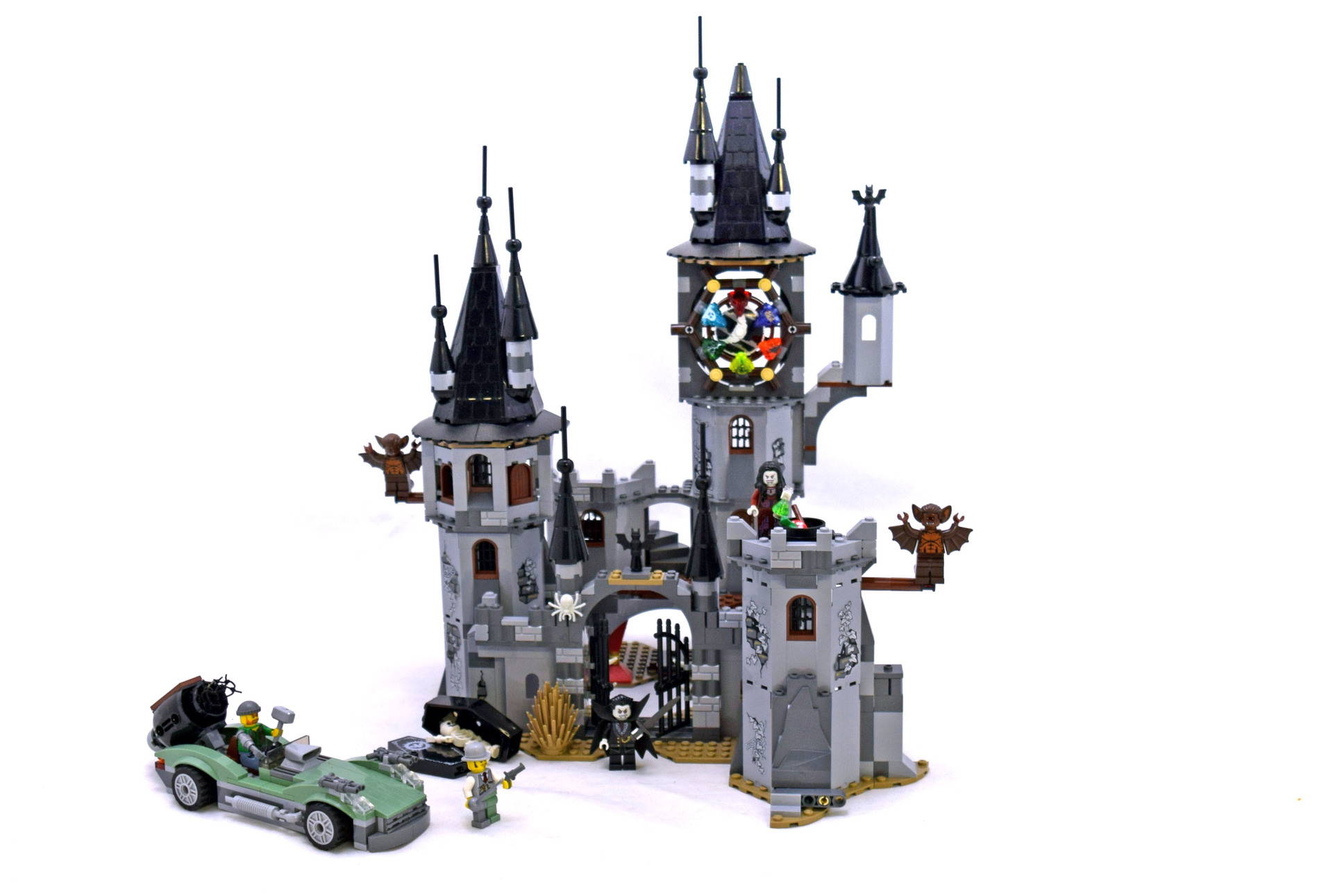 17. LEGO Scooby-Doo Mystery Mansion (75904)
Scooby-Doo is among those remarkably favorite votings that is not much of a horror, but it is pretty certainly Halloween-contiguous. It has forever existed about the scary things and ghosts, but there is never a doubt on the comedy or fun it produces and a lot of reliance that it will end with a happy ending which makes it difficult to call a scary movie. This set of Mystery Mansion is undoubtedly among the good portions of the themes in Scooby-Doo, an entity that does not just believe that it is right out of a comic or a cartoon but an entity that furthermore wholly apprehends the heart of the event or show.
While a lot of fun is gotten from the caste itself, there are few elegant litigation characteristics. The mini-statuettes are indeed the powerful pull here. It contains all of the Crews or casts in Mystery Inc. except for Fred and threesome 'monsters' that disclose their actual covers. That is when you wiggle their heads in rotation or uncover their masks. I think this should be an outstanding tribute to every great cartoon in Scooby-Doo, and most of the time, it is excellent for someone who adores Halloween. Indeed speculate this form if you would like to catch a little of that Scooby-Doo feeling.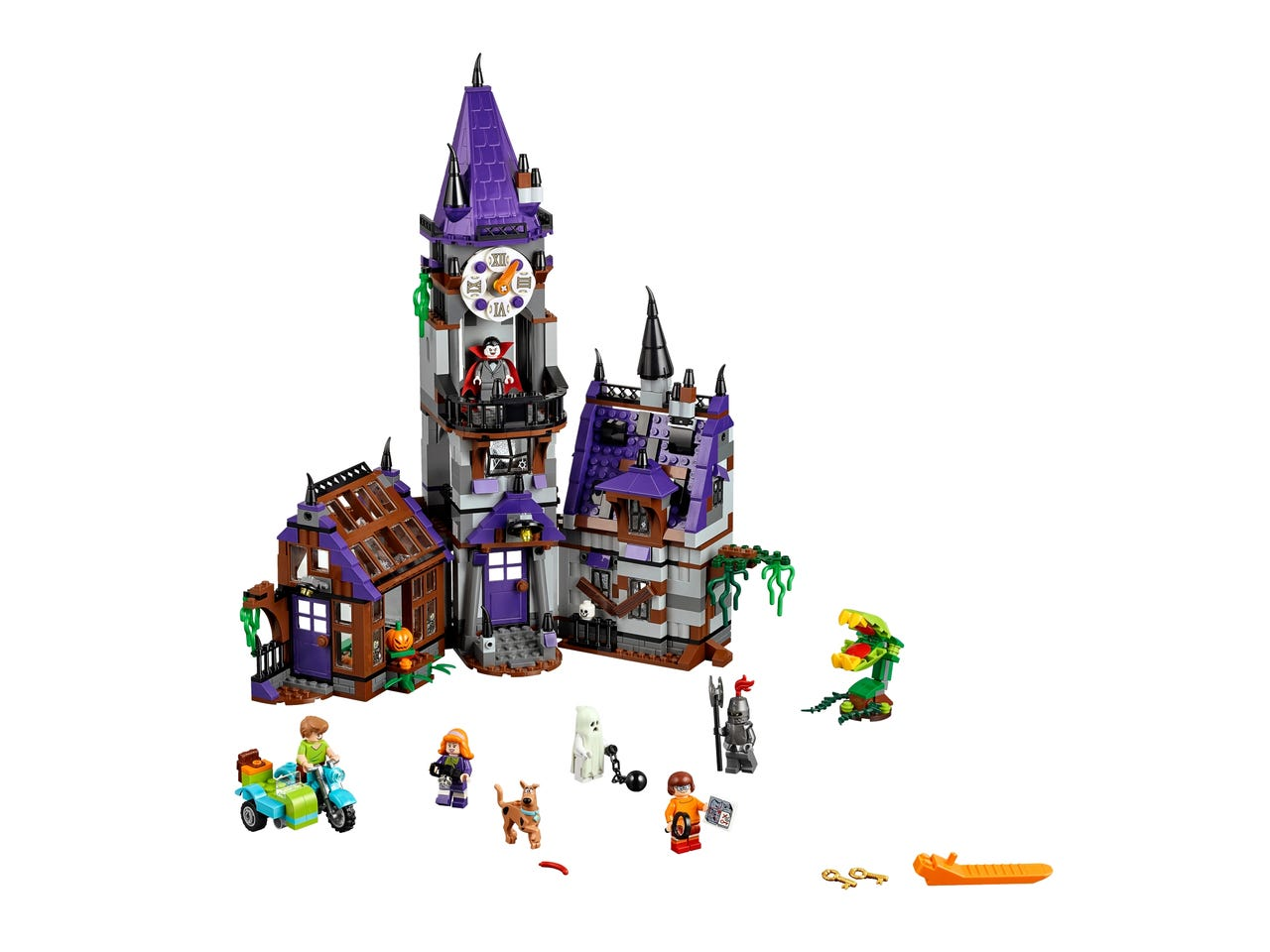 18. LEGO Trick or Treat Halloween Seasonal Set (40122)
If you search for yet another easy pattern, this particular one will operate adequately for you. It is not about how simple sets of LEGO get. It has only one hundred and thirty-three (133) pieces. They can't be an entity here that would be able to push you as a creator or put on you any difficulty, but that is certainly not the case. Instead, you are receiving a structure that gives rise to it being simple to aggravate a themed Halloween fraction of the symbol of LEGO in the absence of having to input plenty of feats into the building process. Periodically, that is worth much supplementary than an enormous set.
The excellent announcement present is that the set is undoubtedly cute. It calls attention to a bit of house with a structure or skeleton at the back of the door, in addition to a broom and indeed a witch since a broom is involved. Every single thing present here is in the distinctive LEGO technique, so it honestly does seems like it is a little of a flashback correlated to plenty of the distinct set that is spooky out there. It is not the sort of stuff you are pushing to assemble because you need or like to fiddle with it or maybe because it is entirely about jointly the joy or fun set. Still, you can also make use of it to expand a tiny bit of additional holiday passion to your home.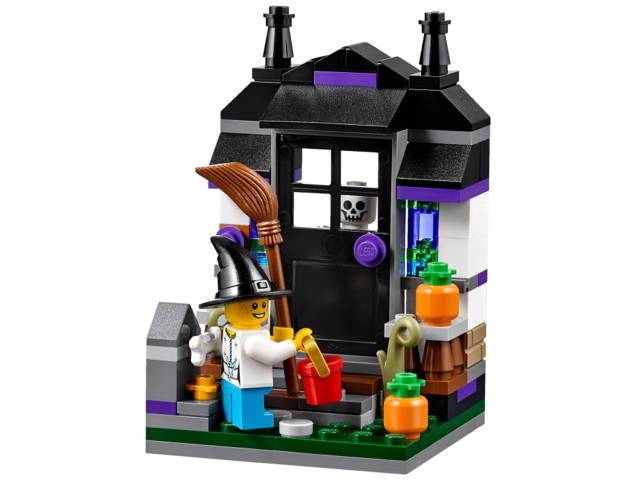 19. LEGO Ghostbusters Ecto-1 & 2 (75828)
The movies of the Ghostbusters entirely perch the ropes between frightening and amusing and manage to do so in a direction that authorized all the ages fans to get a kick out of the movies. If you are interested in a good theme for Halloween, it is nevertheless pushing to be entertainment for all, and this structure could be the single for which you are in search. Due to the additional contemporary films in the voting, this structure stars both the ECTO-2 motorcycle and the ECTO-1 ambulance and the entire cast or crew of heroes belonging to the film.
Suppose, from the beginning. You are a Ghostbuster set collector. In that case, you do not have any reason to fear. This structure is a decent bit distinct from the initial ECTO-1 pattern, though it is at the correct hierarchy to suit the play-set Firehouse. This is simpler to fiddle around and simpler to joint, so it operates best as a toy. Suppose you are by any means interested in possessing a vehicle that exemplifies one of the distinctive spooky votings with few revamped playable characteristics. In that case, this is certainly a set that I think you should consider.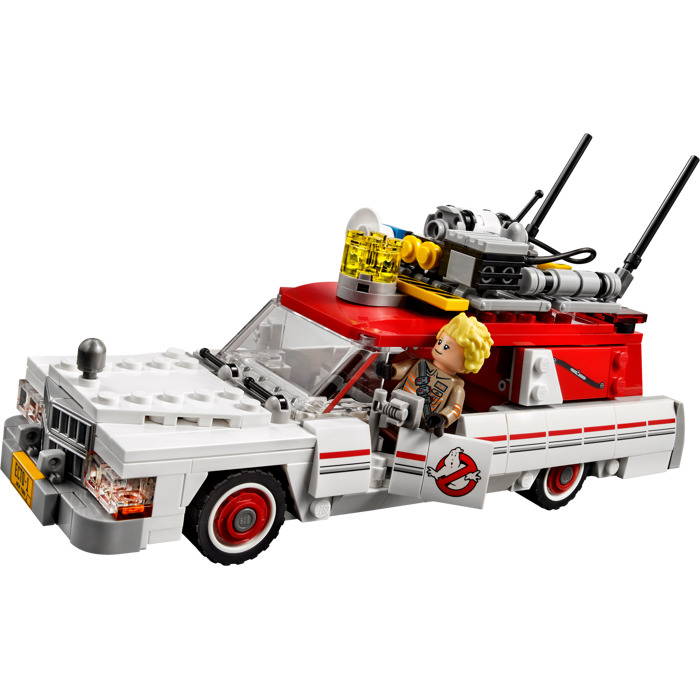 20. LEGO Hidden Side Ghost Train Express (70424)
The Hidden Side theme proceeds to be an outstanding basis of alarms for makers, particularly with this train set. There is something intrinsically spooky relating to the older-style trains. LEGO truly leverages that with additional effort characteristics and few fixtures to give rise to an honestly alarming toy. It arrives with some mini-figures and a few fine accessories, earning it not simply a vast spooky toy but one that everybody should obtain or should be like a mandatory thing to anybody who has the zeal and seriousness to collect every single portion of this theme.
Like the Building of the Graveyard or Graveyard Building, plenty of the mysterious nature of the Ghost Train arrives from the AR app. With just a single click, you can observe all sorts of ghouls and ghosts – indeed, something that is an entertaining delight for Halloween. However, it carries a limited elevated struggle to swagger than a few other gears here. Luckily, there are few other additional traditional procedures emphasized on the train that fetch a little of their so-called mischief that is spooky as well, so you could attain few shocks whether you don't appear to hold a phone on you. This particular LEGO set next-generation is a good illustration of the variety of frights creators eligible to enter the future.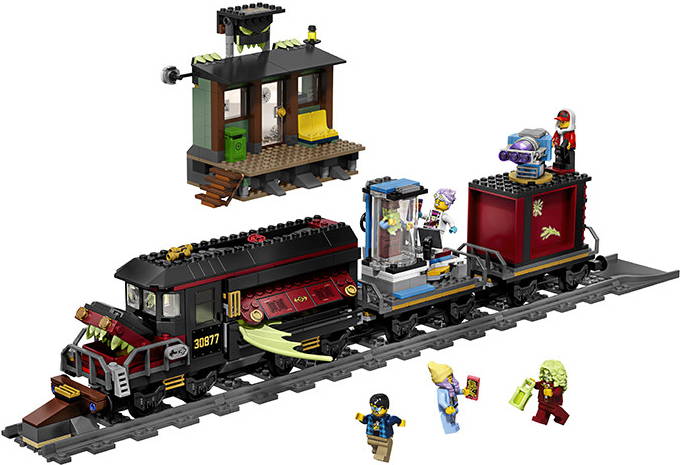 21. LEGO Monster Fighters The Vampire Hearse (9464)
The Monster Fighters line certainly had plenty of genuinely frigid and weird structures, several of which are excellent for Halloween. Nonetheless, the line has always been perhaps agreeably recognized for its buildings. Few of those peculiar structures were vehicles. You certainly can't lose out on this hearse if you are a fan of Halloween. With several very much obvious significances heaved from both The Rob Zombie and Munsters, this vehicle both stays out as a highly contemporary piece of the line and well-suited for the scenery of Halloween. It is not precisely horrifying, but it goes with any sort of spooky kind of aesthetic that you could want to build.
Well, this could seem like a weird build, that does not imply that it is a highly sophisticated structure comprising only the little hearse and one motorcycle. It is a simple gear to arrange or join in the level of skill you locate yourself. The mini-figurines that are encompassed are exquisitely excellent – a hunter, an 'Lord Vampire' and a zombie – and there is also a tandem of delightful limited accessories incorporated as well. Past that, however, you have a monster-themed set which is easy and would undoubtedly expand to the atmosphere if you are attempting to fuse any type of exhibition associated with Halloween.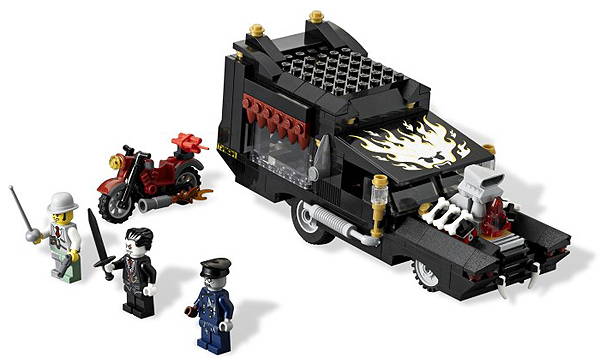 22. Toby Woodcocks
Well, fanatically on LEGO around the age of five (5). As a result of the absence of chance since that period, except for having enough money to spend on LEGO!! I am an inventor and correspondent of BricksFans.com – your alternative reference for the recent or newest LEGO news, analyses, et cetera. I have gathered a good knowledge of the LEGO society and a wide, severe and commission to all things about LEGO. I toil in discovering LEGO's most recent news and product and being a professional on the entire gaming base for LEGO. So are acknowledgment to BricksFans – Where Your LEGO Lifestyle Would Be Fueled.
23. LEGO 10273 Haunted House
The most reasonable manner of commemorating Halloween has to deal with the weird and spooky Haunted House of LEGO. Drive the elevator to anywhere, see one of the most frightening antiques, and unlock historical puzzles.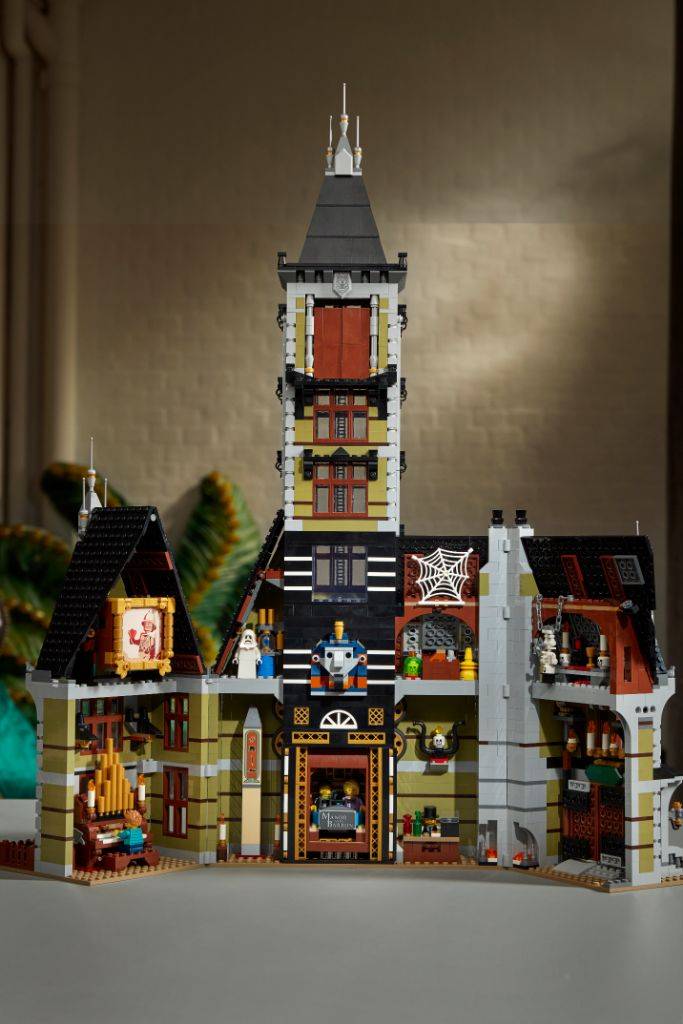 24. LEGO 40422 BrickHeadz Frankenstein
Bring the monster of Frankenstein to existence with the help of the BrickHeadz version of LEGO. This particular set is outstanding to exhibit for Halloween because it usually arrives with the ID of its own identity or character and large baseplates.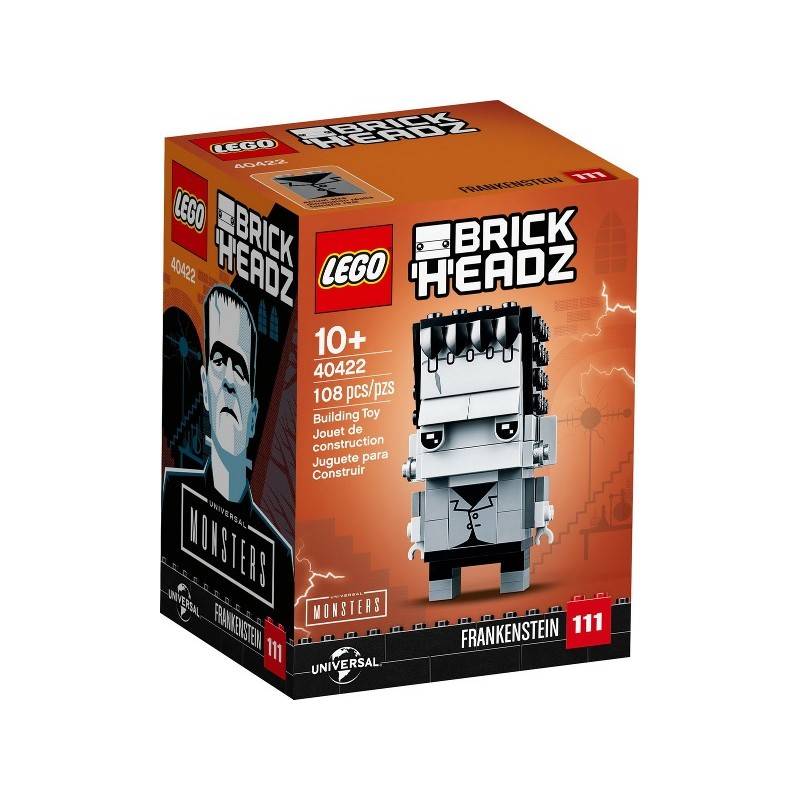 25. LEGO 10274 Ghostbusters ECTO-1

When you begin searching for ghosts on the night of Halloween, you are indeed reaching to desire and possess the LEGO ECTO-1 Ghostbusters on your side. Create the changed Cadillac Miller-Meteor ambulance of 1959 from the movies of Ghostbusters.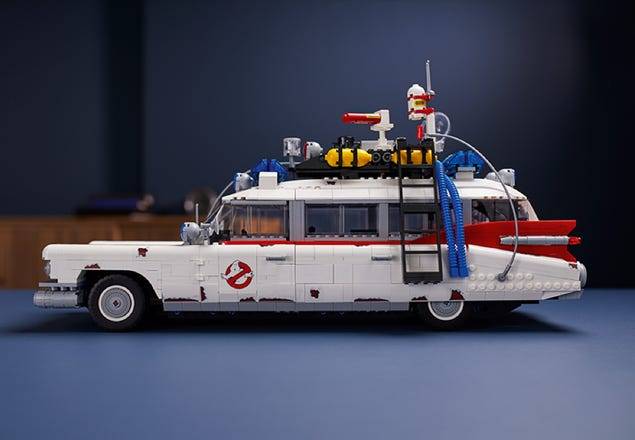 26. LEGO Halloween Hayride 40423

You could use this incredible Lego set to create a wonderful festive fall celebration. This Lego Halloween set has two beautiful mini-figures which the Halloween costumes are added inside. There's also a tractor driver that the Lego group dressed to look like a mummy. Can you imagine being inside a tractor, and then the driver is a mummy? It would even scare you a lot more if you did not pay any attention to the mummy driver. Until maybe you want to spend your tab or you want to tell the driver where you will go, and when you look at the driver and realize it's a mummy. That is so great of the LEGO Group to add to this unique Halloween set. There is also another mini-figure. It is a girl that is dressed as a skeleton. The Lego group does too much, you know. Imagine if you may be entering a taxi or a shared Uber with someone else, and then you notice a skeleton girl inside the car, and you cannot go out. You would scream a lot, wouldn't you? Well, that's the idea the Lego group has for this Lego set. You can use this Lego set to create impressive Halloween themes skeleton figure, a vintage tractor, a hay cart, and an entrance arch.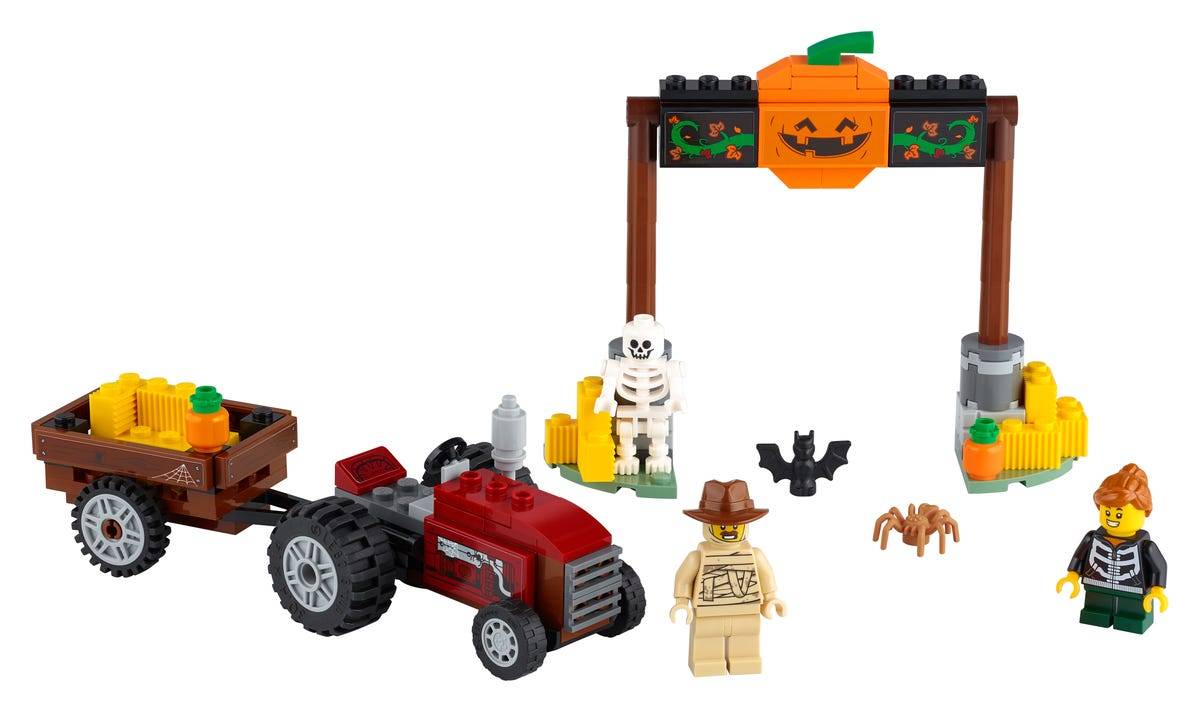 27. LEGO Haunted Yard and King Boo Expansion set 71377
I know there are various Lego super Mario fans out there. If you are one of these people, you would need to prepare your Lego super Mario sets for you all to enjoy awesome Halloween fun using this Haunted Yard set and this Lego King Boo. Using this excellent Lego set and the little minions there, there is no match for Lego Luigi and Lego Mario. With this set, you can save and protect the princess without any stress.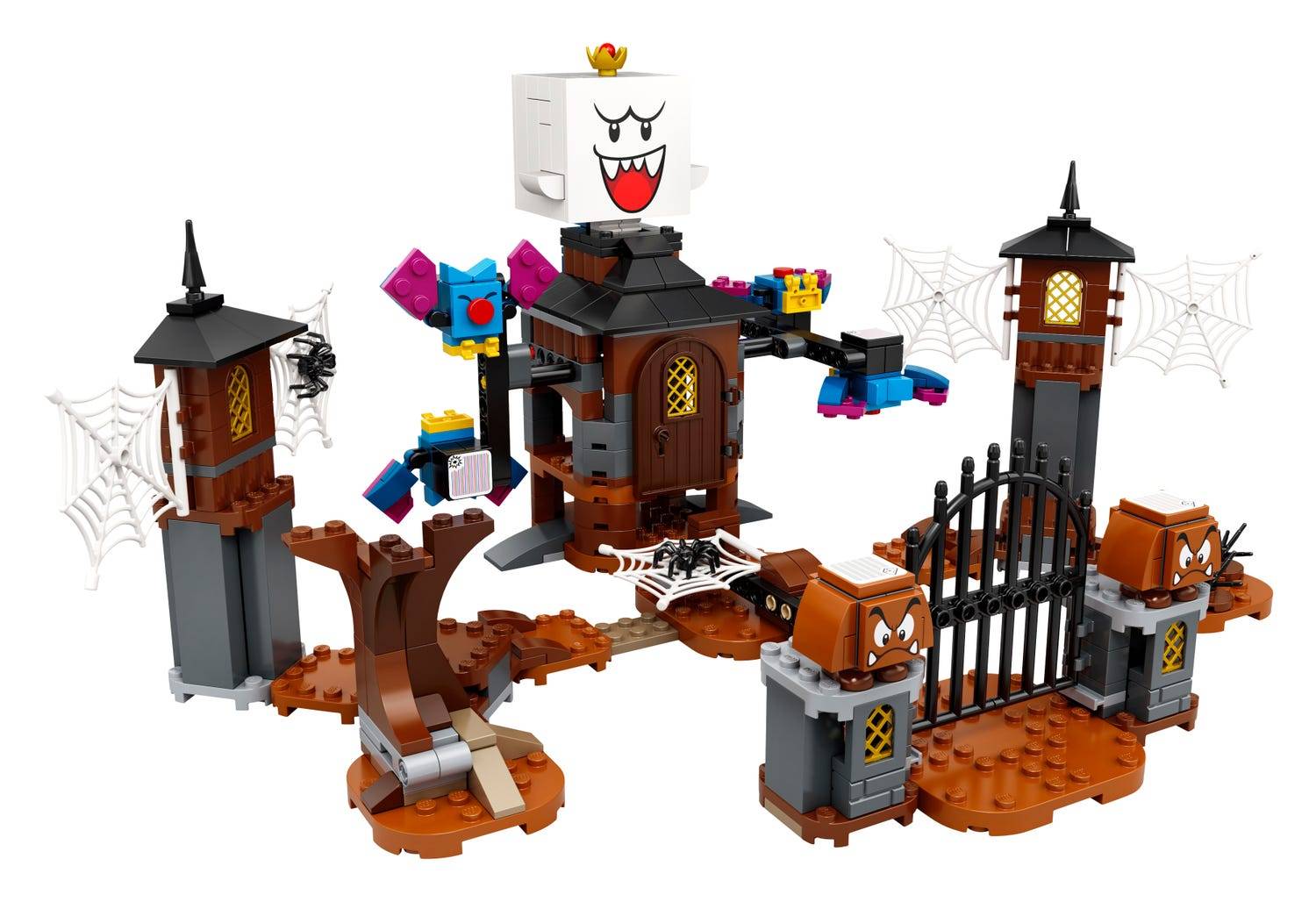 28. LEGO Haunted and Spider House Pack.

You could make your home look amazing using this wonderful Haunted and Spider house. This beautiful spider scary house has different legs which could move. This fantastic and spooky haunted house would be very sure to make everyone scared on the night of Halloween. Everyone knows that spiders are a powerful theme for Halloween. Imagine a spider Haunted House that would give everyone the freaks if you ask me.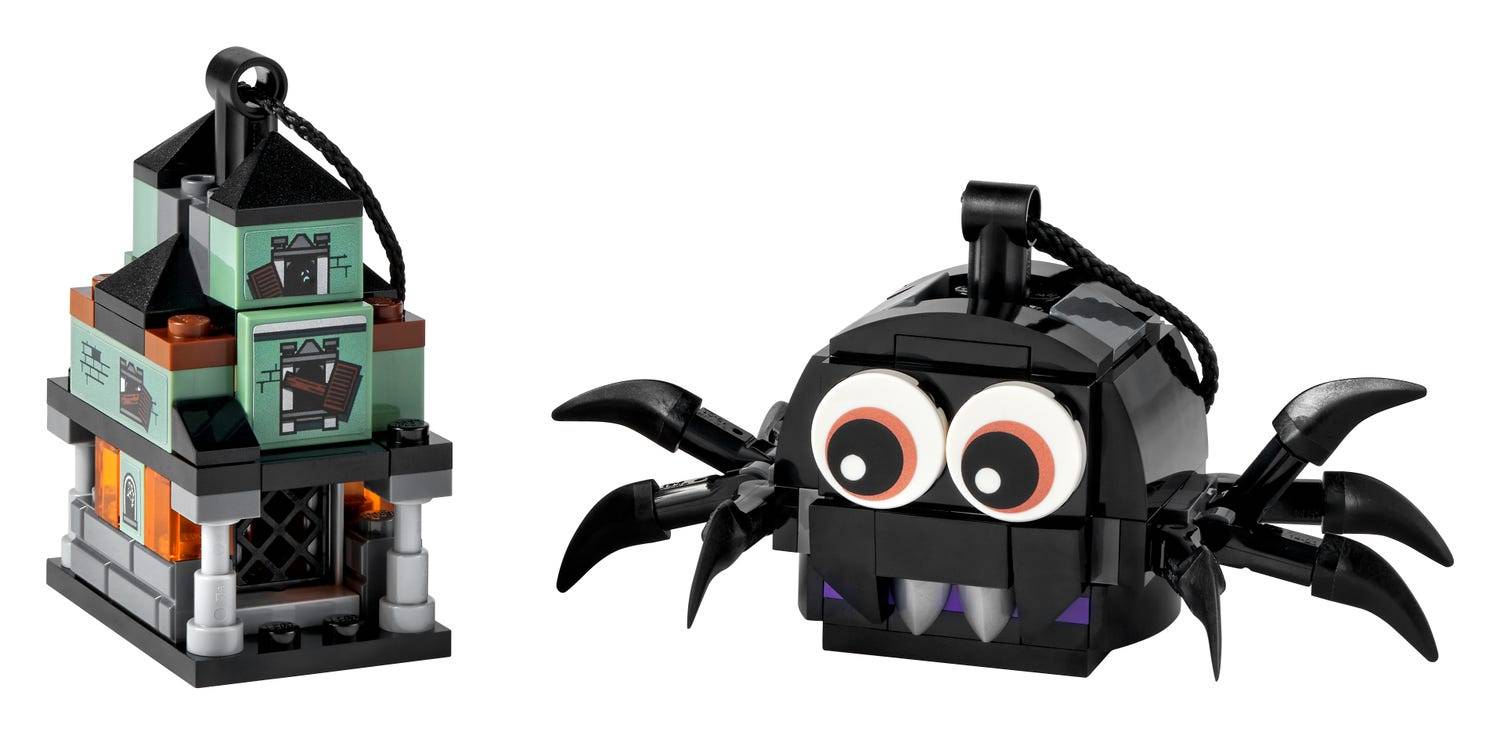 29. LEGO Halloween Owl 40497
When you have little trick-or-treated kids knocking on your door, you could ask them, "Who's there" using this Lego Halloween Owl set. The eyes of this Lego Halloween Owl 40497 rotate 360. The wings of the owl also move up and down whenever you want them to. This excellent Lego set has two different Halloween Fall flowers for pumpkins inside. So this adds beautiful accessories to your apartment for Halloween night. So tell all of your friends to get ready cause this Halloween, things are about to get down.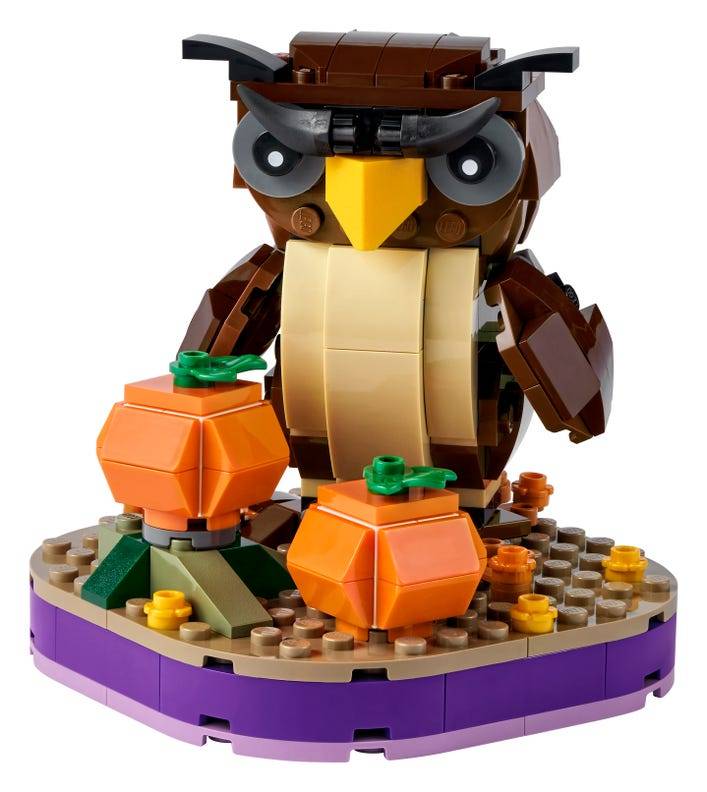 30. LEGO Pumpkin & Bat Duo 854049

You could add in some beautiful, incredible decorations for Halloween using this Lego bat and pumpkin. This has a box which is also quite Haunted. The wings of the bat could move any and every which way. These models come with extremely scary face stickers, and then some strings could be used for hanging.
31. LEGO BrickHeadz La Catrina 40492

You should enjoy and celebrate your Halloween day using this excellent BrickHeadz La Catrina. This has some beautiful, dark pink hats with flowers made using unique and beautiful Lego bricks. There are also ornate torso and face tiles which are here too.
32. LEGO Harry Potter Hedwig 75979

When Halloween night comes, you should enjoy and take flight using this beautiful Lego Hedwig. You could build this animal from the Harry Potter universe, and all Harry Potter and Lego Halloween fans would be nothing but happy when they come to your apartment and see a live Lego version of this fantastic bird. This Lego Halloween set has Mechanical wings which move whenever Hedwig is displayed with a Harry Potter Lego mini-figure. When Halloween comes, and you have a beautiful Lego set, all you should think of or have your mind thinking of would be the fact that Harry Potter is standing near or close to this magnificent bird. Imagine you are Harry Potter and know that no scary thing can stress you with Hedwig by your side.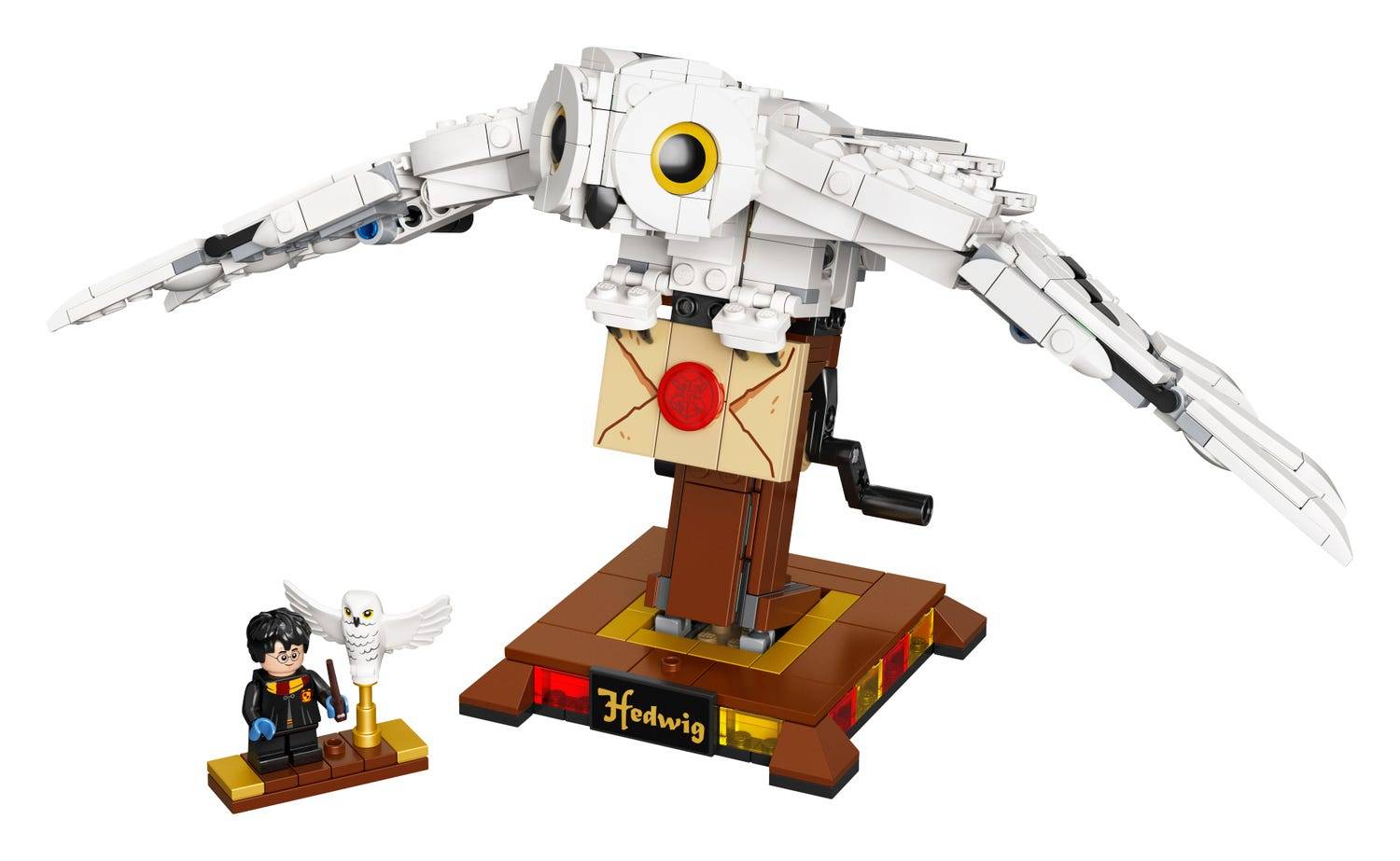 33. LEGO the Upside Down Stranger Things 75810

Have you seen Stranger Things? If you have, you would really and truly enjoy this Lego set. Stranger things have given the Lego group the idea to help the Lego stranger things fans to enjoy themselves. This Lego set has terrific details to the stranger things universe. It has things like Will's bedroom, alphabet lights, and some of the best things here is that you could flip your Lego set and then switch between the upside-down world and the real world. This is almost as cool as it gets. So unique, honestly. You could get all of these and then read many people's experiences about this incredible Lego set for your friends and loved ones.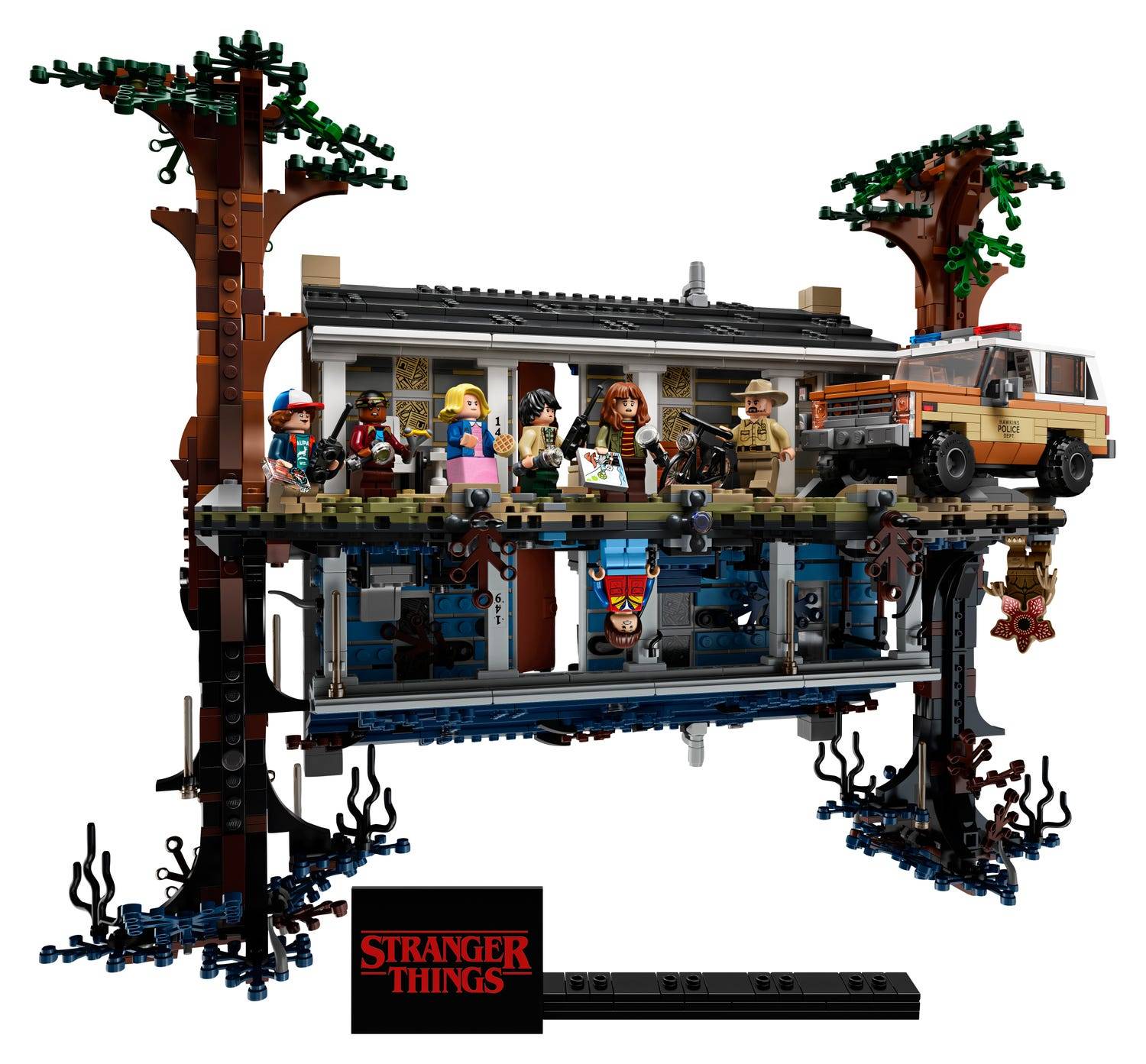 34. LEGO NINJAGO Skull Sorcerer's Dragon 71721

Halloween night is coming. You will enjoy this Lego Ninjago Skull Sorcerer Dragon Lego set if you are a Lego Ninjago fan. It would be best if you ended up getting trapped inside the terrifying Dungeons from Shintaro. You can remember Shintaro, right? That scary place where the super team from the Lego Ninjago series fought skeleton warriors, his dragon, and the Skull Sorcerer. It is a perfect Lego set to have when Halloween comes. Your kids get to re-enact the scenes from their favorite Lego Ninjago.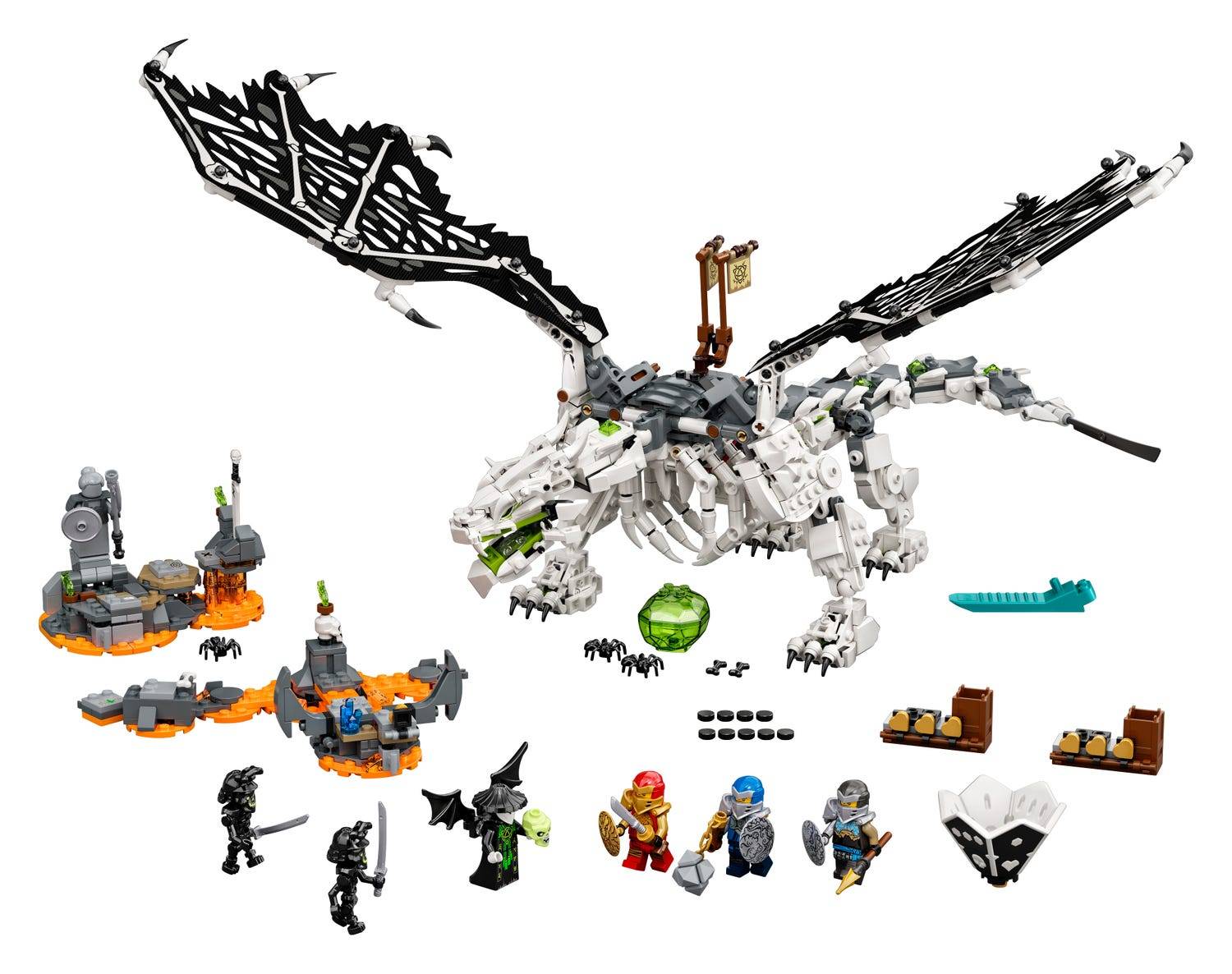 35. LEGO Voldemort, Bellatrix and Nagini BrickHeadz 40496
Do you want to have a spooky or a mysterious Halloween, you could make use of this awesome Lego BrickHeadz. There are a variety of different characters from the Harry Potter films. Characters like Bellatrix, Nagini, and Voldemort are also there. These were all recreated wonderfully using the dark magical powers they had. We are pretty confident you would make your Halloween as unique as you desire with this LEGO set.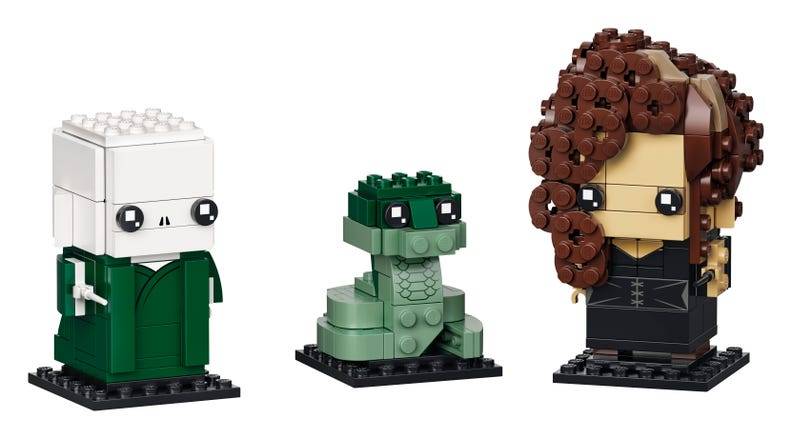 Conclusion
The world knows Halloween is just around the corner. And we also understand that no one needs to stress their beautiful minds on looking for a better way to celebrate Halloween. Using three nifty Halloween Lego Sets, you could make use of these sets brought and provided by the Lego group to make sure that your Halloween this year turns out to be one of the best. Do you know that the Lego group creates sets for every holiday every year, and Halloween is one of these holidays? So you should know that Halloween Lego Sets for the year 2021 are already available. Using this piece, you should take your pick and then select which Lego set you should use to decorate your apartment, your room, or to know which 2021 Lego set to purchase for your kids and your loved ones before Halloween comes.
Many of these LEGO sets have been featured, and they are available on the Lego store calendar for October 2021. You should make sure that all of the gifts, promotions, and upcoming events are known to you. You should also learn great ways to celebrate Halloween at a place popularly and publicly known as Lego land.
For you to also get into the festive mood, you should try watching the Lego Halloween Star Wars special, which premiers on Disney+. For all Halloween, Star Wars, and Lego fans, you should enjoy all of these scary tales. It has been titled Lego Star Wars Terrifying Tales. There are many people that, don't get me wrong, love Halloween and cannot wait for when Halloween will come. But still, they do not want Halloween to be so terrifying. If you are one of these people, you need to go through the internet and check out available reviews. These reviews would help in calming you down and making you feel better.
So we hope you enjoyed checking out our list of these best Halloween sets for Lego and from the Lego group. Make sure you get at least seven for you, your friends, family, and loved ones. Just kidding, if seven is too much or too small, you should simply get the appropriate number. Remember, Halloween is no joke. Enjoy your trick or treat.

---