A new way to travel with the LEGO Pickup Truck 10290 Set.
By

Nikita P.
/
October 20, 2021
Are you among many who do not seem to fancy luxurious rides? Well, what could be your reason? Could it be because of your line of work? Or maybe, routes you like to take. Well, no matter how cool and fancy a Ferrari or Lamborghini is, its strength and durability still can't be compared to that of a pickup truck. However, the fact remains that the older the truck model, the more powerful and durable it should be. Well, did you ever own or ride one of these bad boys before? Maybe it was your loyal companion throughout your years of work. How would you feel if you had the chance to rebuild one of these old model pickup trucks? Maybe one you owned in the past or still currently own?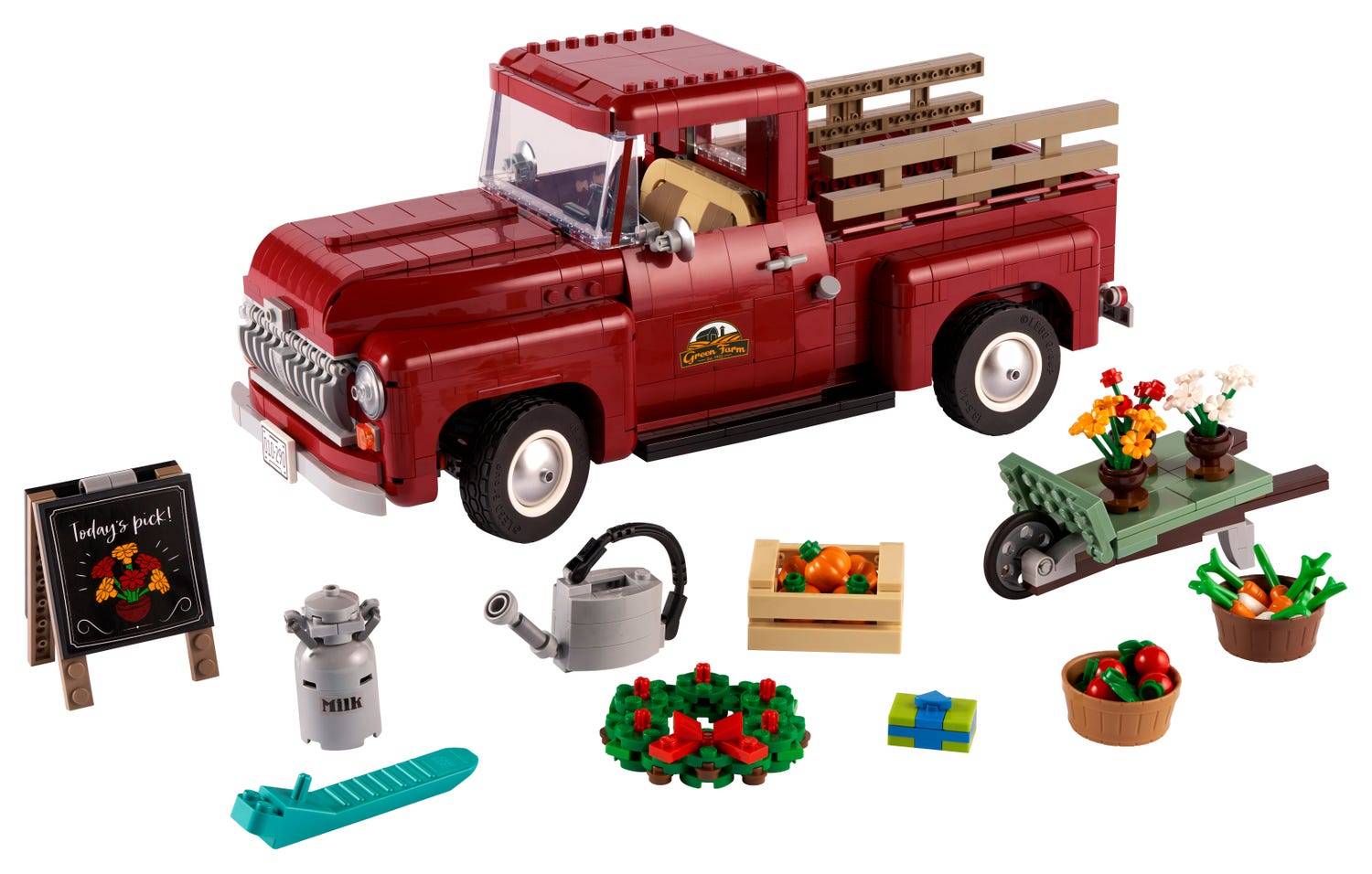 If that's how you feel, then your dreams could become a reality. You could accomplish this and more with the Lego pickup truck 10290 set. Are you a fan of the Lego buildable model series for adults? Do you also love vintage pickup trucks? Then this set would be worth your time. It comes with authentic details, which makes it look like an old modeled pickup. Be immersed in the building of this set as you bring it to life one authentic Lego brick design at a time. But is that where the fun ends? What more do you stand to feel? Let's find out in the next section.

BUILDING EXPERIENCE FOR THE LEGO PICKUP TRUCK 10290 SET.
For many years, Lego ideas series for adults have worked hard to ensure that they give adults the best experience for vintage buildings. Designing sets and artifact which is has a presence in real life. This is just what has been accomplished then again with the Lego pickup truck set. This set comes with many authentic details and intricate designs, which will leave any Lego pickup truck fan impressed at the result. The set comes with over 1000 pieces of top-quality bricks that make up the truck's overall body. But it does not stop there, as Lego also accompanies accessories like a gas cooker, flowers, etc., to make the set look even more rewarding. Since the set is designed for adults, Lego has made the set to be a bit more challenging to build.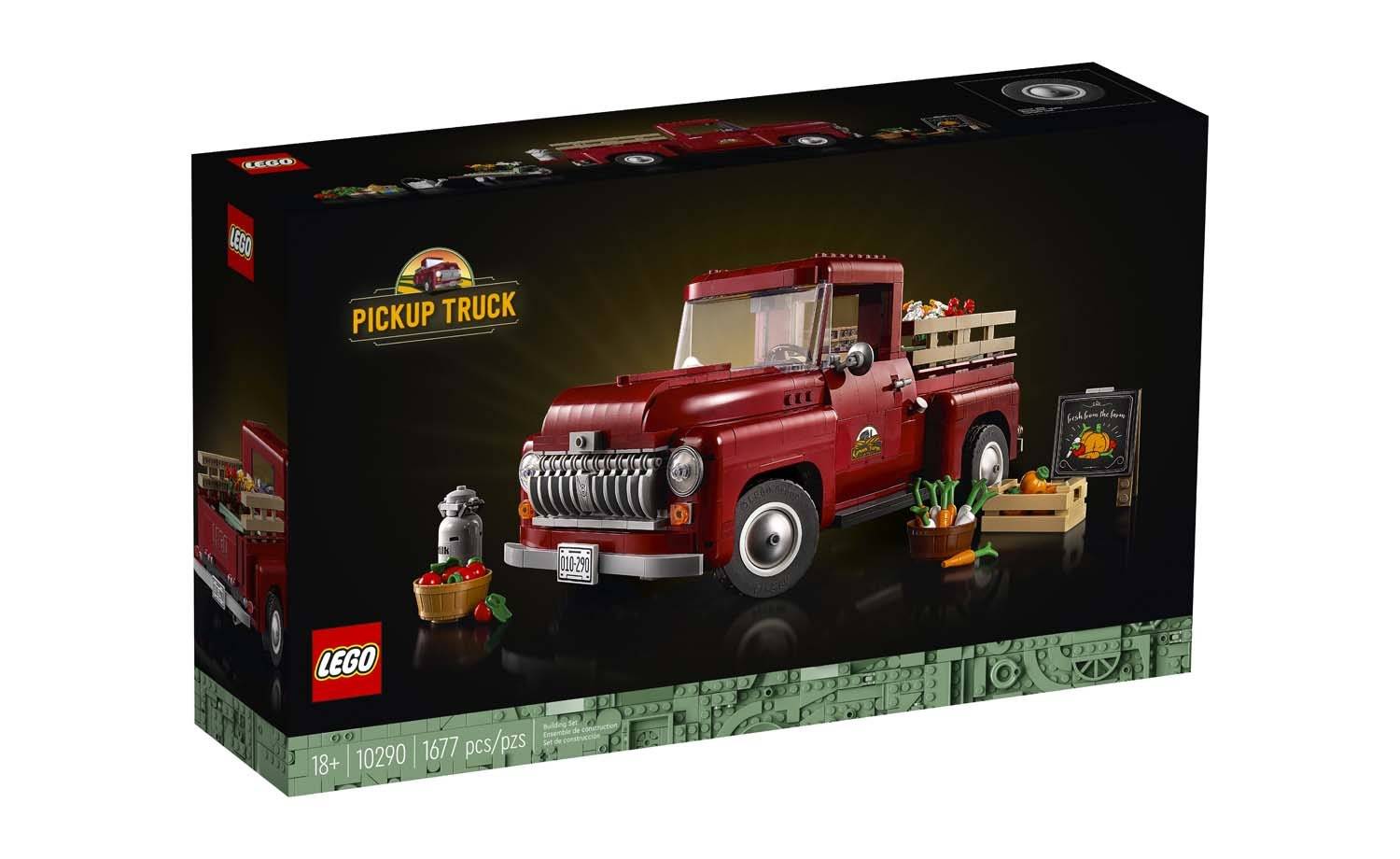 If you choose to build this set on your own, you better clear out your schedule, for you will be engaged for quite a while. But if you won't have the best of both worlds, you should make your next family project. Are your wife and kids fans of the Lego ideas series for adults? Or maybe you have teenagers? Building this set together as a family will help promote teamwork and help sharpen you and your family's building skills for future projects. And what is more, the result of the set is satisfying and can serve as a display piece at the center of your office table. Now let's look closely at the remarkable features of this set.

FEATURES OF THE LEGO PICKUP TRUCK 10290 SET.
The Lego pickup truck set comes with many great details, which make it as close as possible to its real-life counterpart. This section will focus on some of these features, which help set this set apart from other Lego sets.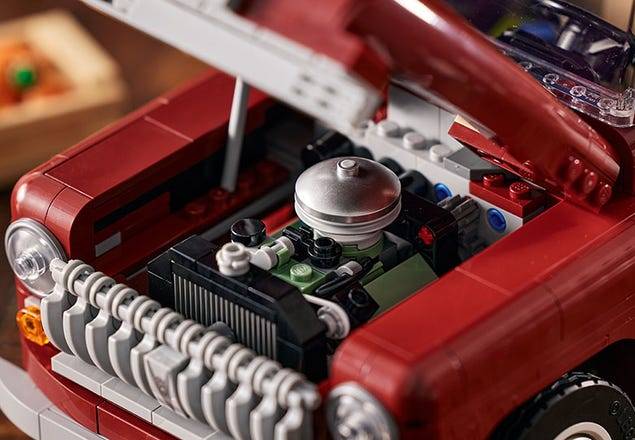 • SET DURABILITY.
This Lego set, just like other Lego ideas set adults, is known for being highly durable. Unlike other brick sets, which have a more childish feeling, this Lego set does not. It is a product of high-quality bricks, tested and proven to be highly durable and reliable. As a result, you have bricks that interact well with one another, attaching and detaching quite smoothly. The set also comes with an excellent paint job which is quite realistic. It is just like the type of paint job you will find on an actual car. The attached bricks also have a nice blending feature, which helps hide that it was designed from bricks.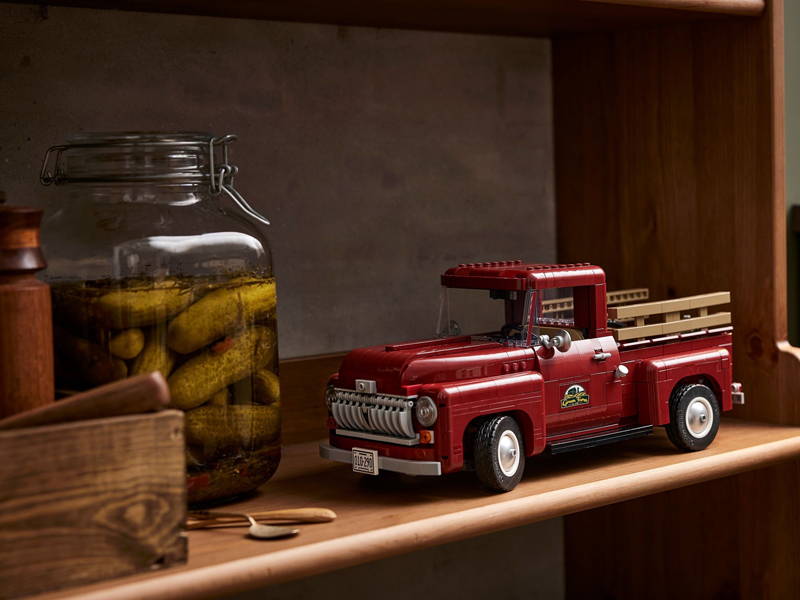 • SETS BUILDABLE FEATURES.
This Lego set is designed to replicate an older model of a pickup truck perfectly. And so, to make this look more convincing and realistic, Lego has added some cool features which could be found in the original set itself. These features include detachable wooden side rails, a step inside the bed, an opening door, and a tailgate, with even accessories for seasonal display. The set also features a plate number at the front and back, seats and wheels, with even a staring wheel. The only thing missing is Minifigures.
• SET SIZE.
The Lego pickup truck set could be regarded as a medium-size set. It the the the the main reason for being there do during their spare time. And if they are a fan of vintage trucks, that is an added plus to the set's appeal for them. The set comes with about 1667 pieces of pure bricks. It's is about 6 inches high, 13 inches wide, and 6 inches in diameter. This set also comes with added accessories which helps add to the overall set size. Overall though, this set will look good as a display piece.
Lego set prices are manipulated mainly through your location and the current availability of the set in your location. This means that if you choose to buy offline or online, do not expect to see uniform prices. Set could be either cheaper or more expensive, from city to city. But if you decide to buy the set from lego.com or Lego store in the US, you would be sure to get it at a uniform price. This set is sold on lego.com and Lego stores in the US for about 129.99 dollars. This could be slightly cheaper or more expensive anywhere else. This is why it's best to buy directly from Lego stores in the US or the Lego website.
MAKE THIS SET EVEN MORE GLORIOUS WITH OUR AMAZING LEGO LIGHT KIT.
Well, would you love to make this set even more glorious and realistic? Well, you can do so by adding are special light kit for effect. Are you new to Lego lights? If so, read this post to the end as I bring to you steps to help make your light kit installation much more accessible.
1. COMPLETE YOUR SET.
The most important priority is to complete your Lego pickup truck set first. Doing so will enable you to know just what type of light kit will better suit your truck. Whether a basic light kit a more advanced light kit with remote controls. Doing so will also help you correctly map out a plan for success as you install your kit. So you must complete the building of your pickup set and do it right. Only when you are done building can your mind wonder about to matter of installation.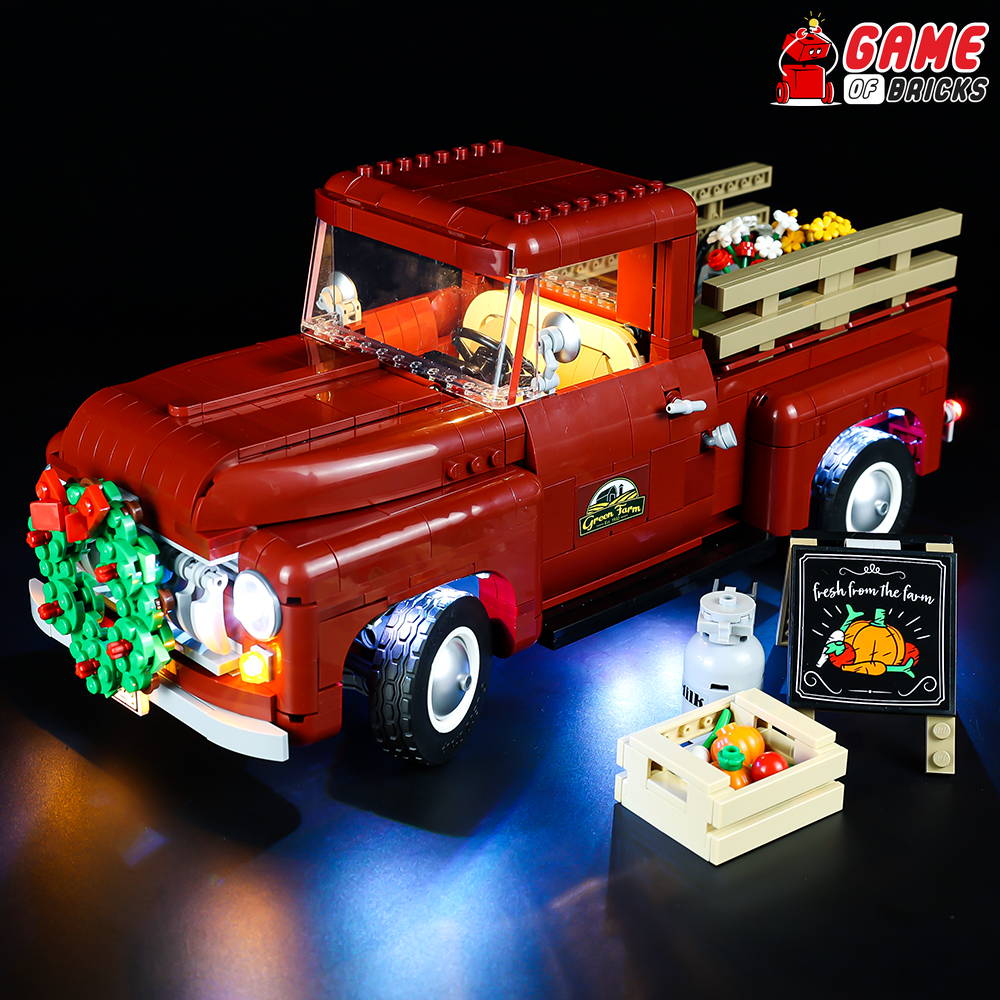 2. INSPECT AND BUILD.
As soon as you are successful with building your pickup truck, now is the time to order your light kit. Once light kits have safely arrived, it's advisable to inspect each light kit and accessories quickly. As you do so, search thoroughly for any broken accessories or cut wire. It is essential to run this check, for it has become rampant for the light kits to sustain damages during shipment. Once you have done your checks successfully and all looks good, you can now go on to install your light kit.
HOW TO INSTALL: This depends on the type of light kit, whether primary or advanced. Light kits and accessories must be passed neatly through the bricks and should never be forced for fear of damaging the light kits. If you are experienced in Lego lights but still fall into some snag, you can refer to the instruction manual. If you are a new Lego light kit user, it's best to start with a more basic light kit. As you install, ensure you follow the clear direction from the manual to help ensure maximum success.
3. DO A TEST RUN OF YOUR LIGHT KIT.
You must have successfully installed your light kit by now. You must also be excited to show it off. I mean, who wouldn't? But before you get carried away with the feeling, it's best to slow down a bit-Why? Because you would need to run one final test to ensure your light kit is appropriately installed and safe. So turn on your light kit while you watch out for Sparks or short-circuiting. These signs could help detect that there is a problem. If you notice any problem, try your best to fix it. Once all looks good, turn on your light kit, showing off the magnificence of your Lego pickup truck 10290 set.

We have the best collections of LEGO lights for your LEGO. Who wouldn't want to beautify their LEGO sets with these creative lights? Virtually no one. Check the amazing collections and contact us. We will love to hear from you.