76168 LEGO Captain America Mech Armour
By

Nikita P.
/
January 10, 2021
The 76168 Lego Captain America Mech Armour is honestly impressive. This Model truly captures all of the strength of Captain America. It also incorporates his shield cleverly. It hasaccessory features that have incredible decorations, which also connects Captain America and the mech.
The Minifigures which are associated have torso's that are updated too. These combine with the great features from early captain America Minifigures, and they also have improvementsin other places. We have an armored suit with consistent schemes in colors between them all, and the colors compliment each other as we all could expect.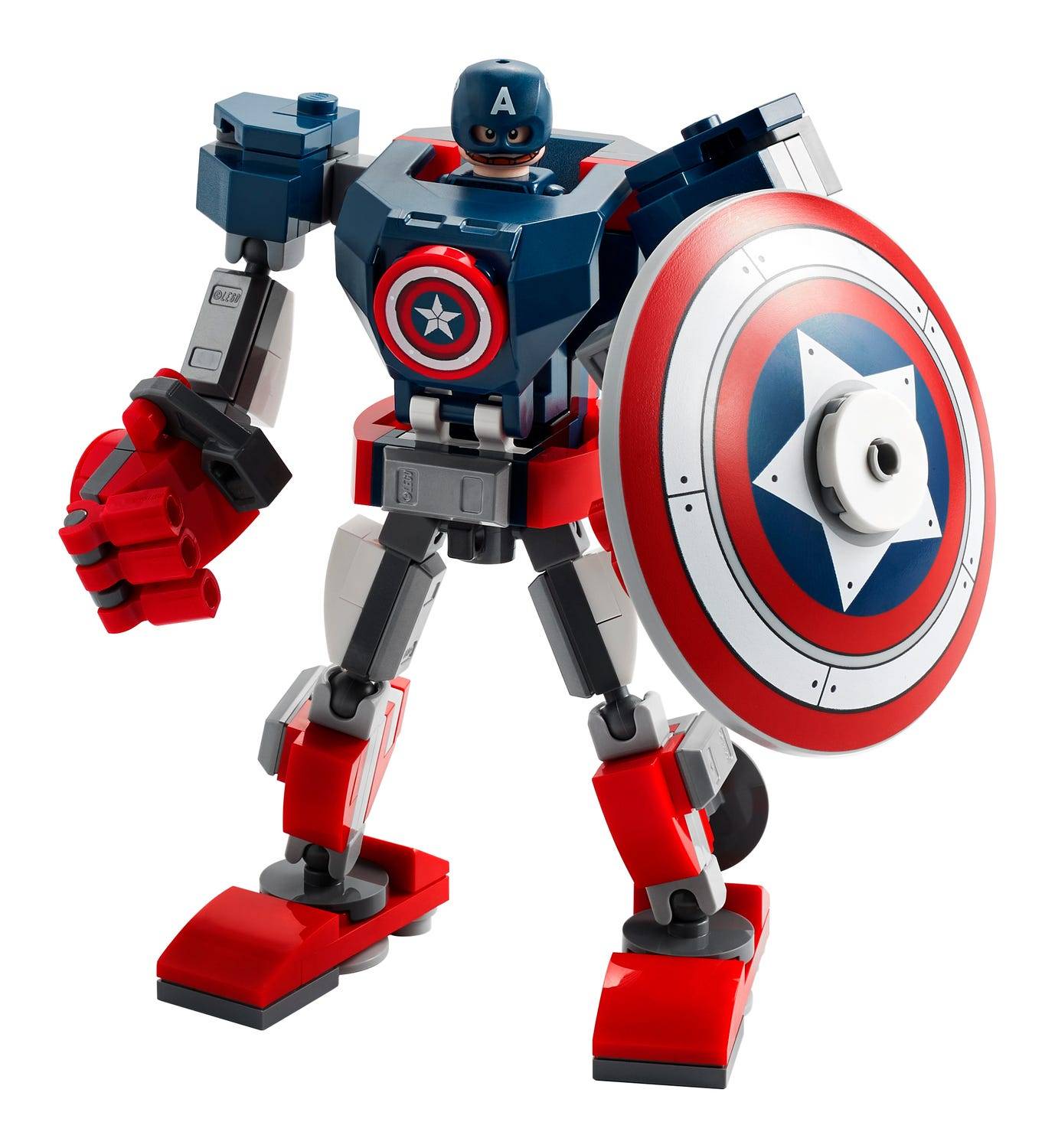 The Minifigures
The 76168 Lego Captain America Mech Armour has introduced a great captain America mini figure which wears its separate helmet component. This has wing icons that are printed on eitherside. These pieces come back here, and it looks great. They are both in combo with the head flesh that can be found underneath. These features a helmet strap on a side and a smile, which can be seen on the other side. Sadly# you wouldn't notice any piece of hair that would be provided.
It has a torso, which makes the mini-figure look different from the set it is following. The differences cannot be noticed easily, though. You would love the color merge of dark redand dark blue. These have a beautiful blue accent that comes across both sides of the torso. These legs are decorated, and they would undoubtedly be welcome, but they are not necessary for the options discussed here.
Captain America, as we all know and love him, has a beautiful special shield. This accessory is used twice, and it looks great. Though the white printing could improve and dark bluishGrey was selected to serve as the elemental color underneath. These variants might have been released during the 2014 and 2012 versions. These have always remained the most effective, though.
The Model Model after it has been Built Completely
The character mechs of marvel have similar proportions, and then there's the 76168 Lego Captain America Mech Armour, which is about eighteen cm in height and matches with other models.It has large hands and broad shoulders, which appear as one of the 76141 Thanos Mech's best reminders. This seems appropriate because of the drivers respectively and how they are renowned for how strong they can be andhow they can have firm determination.
Constructing the mechs using this scale enables articulation extensively. This is why this ModelModel can arrive with a lot of poses. Several different shields would be used for theother part of the LEGO set. This separate shield is quite useful because of Captain America's interaction, and this also reflects on the vitality of the mech to the captain. You could enjoy the impression that this shieldis in the two hands because this LEGO set's shoulders can move towards the inner parts or onwards.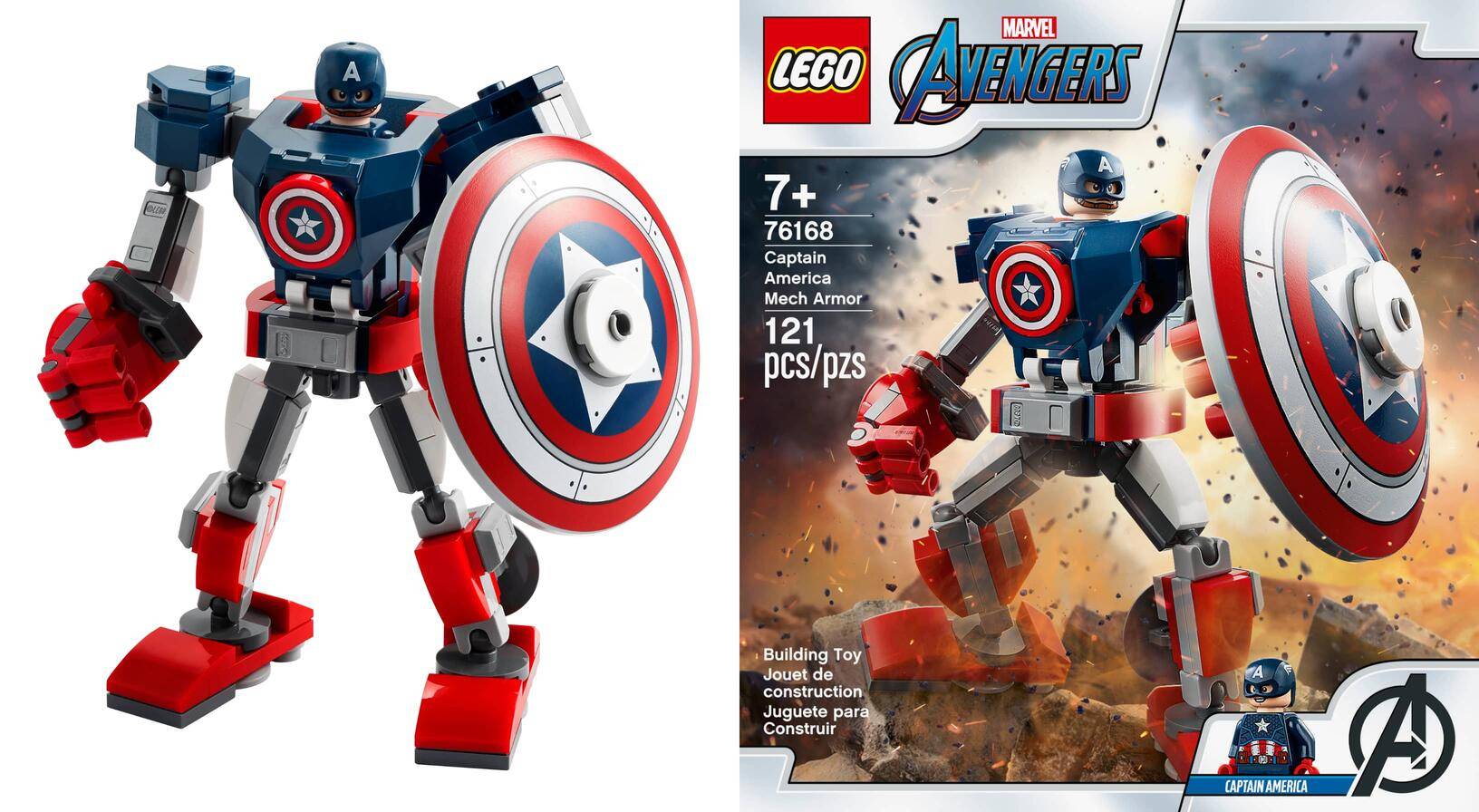 This decorative emblem and the one that's fixed on this LEGO set chest is printed, making use of about five metallic rivets, silver in color, and look epic. This 2x2 tile that'sround doesn't obstruct the opening of the cockpit. It lets in easy and straightforward access to put captain America inside. There's the pearl silver 1x2 ingot, which quickly forms a belt buckle that appears attractive.This matches the Minifigure, and then it features some other similar belt buckles. There are ingots which could be found on the legs and arms too.

Usually, there are no controls that are included. These are quite disappointing, and you could think that these Minifigures should have been honestly secured as firmly as possible. Thereare ways in which you could integrate the mech with the LEGO set. It all looks great, though, because the head of Captain America shows from the torso. Usually, one can mention that there are no stickers provided when themech gets ample detail without having them in your view.
The arm has assemblies and a match of the 76141 Thanos Mech, almost identical even. These have very similar shoulders and forearms. These designs look great, and the white highlightsthat'll appear on both the legs and the arms are all cool. The hands are cleverly designed, and they feature articulated fingers fully, and they present secure attachments to the shield points.
You could merge and match the chest decoration to the Minifigure accessory. Captain America has a shield that displays the beautiful red proudly. There are also blue and white colorsaround the star, which has five points. These rivets are grand, and you would love the 2x2 plates with Technic inverted pins, which have been integrated on the connection with the arm. Once again, this white printing doesn'tseem washed out in any way. These are not pronounced so much due to the 8x8 dish found underneath has lighter color.

This shield could get attached to the back part of the mech part of the LEGO set. The methods of configuration are honestly less versatile than when you want to connect these by hand.However, you should enjoy and appreciate so many other options. This mini-figure shield could also get stored on the reverse side of the vehicle. Though on the left leg, these are great storage solutions that have been appropriatelyconcealed.
Nevertheless, storage using accessories are welcome. There are lower legs that are assembled backward that would honestly be interesting. You would also love the color combo of whiteand red. However, there are rectangular feet that include little details when you compare them using the mechs of many other characters from the marvel universe. These don't provide proper stability through all that'snecessary for model posing.
The Bottom Line
We all think that the 76168 Lego Captain America Mech Armour is one of the best of all three character mechs from the marvel universe. The miles morales Minifigure from its mech armorcould be more appealing than the one gotten from the captain America Mech. However, the shield's integration is more successful here, and the beautiful color combination of white, dark red, and dark blue looks terrificfor the character.
We have the best collections of LEGO lights for your LEGO. Who wouldn't want to beautify their LEGO sets with these creative lights? Virtually no one. Check the amazing collections and contact us. We will love to hear from you.