15 Creative And Practical Ways To Use LEGO
By

Nikita P.
/
March 08, 2020
You must have probably heard about one of the most popular children's toymakers, LEGO. Over the years, LEGO has been and is still a great opportunity to bring out the creative side of kids. It makes them artistic and lets them bring their imagination to life. Instead of letting those LEGO blocks lying around, you can put them to good creative use and the kids would be delighted to help.

Here are 15 creative and practical ways to use LEGO:


When last did you lose your keys? Well, you don't need to let it happen to you before you realize that you can use LEGO to construct a key keeper. You can hang it by your door and safely drop your key into it once you come home. This is better than letting these blocks lie around on the ground. If you're not careful enough, you may hurt your feet.

You can easily make a key keeper by drilling a hole in one flat LEGO block so you can easily loop your keychain around it. You could make it in the form of a square basket so you could just drop your key in it. Try this out!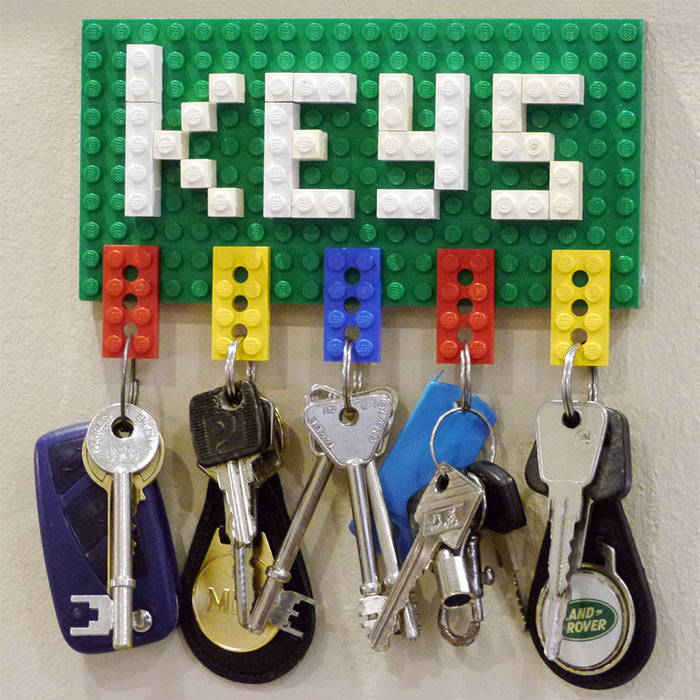 This may be a large project but it is what doing as you can use the completed work for a lot of things. Note that you can customize this project with your specific designs, colors, and so on. When you're done, you can use it as your normal kitchen tabletop. The only difference is that this one is LEGO inspired. Place your cutlery bowl on it, cups, and so on. It would give your kitchen a decorative and creative look.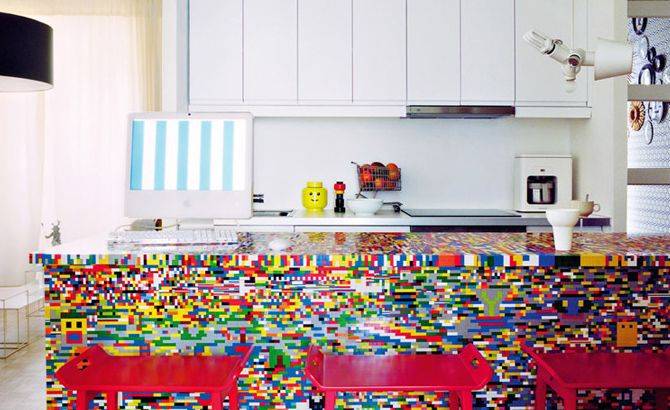 Lego lanterns are very easy to construct. You only need to create a simple box with Lego bricks. However, they should be clear or very close to being transparent. The next step is to put in an LED light and there you have it! You can use it to decorate your bedroom or sitting room. Of course, the LEGO blocks will make it quite a lovely sight to behold.

LEGO brings up a lot of hidden creativity and this is just one of it. Of course, you can create a fruit bowl from Lego bricks. It doesn't matter if you want to put in real fruits to set on your dining table or artificial fruits to display in your sitting room, it all works! You can create any size you want and use different colors of bricks to suit you. It all depends on what you want and how you want it to be.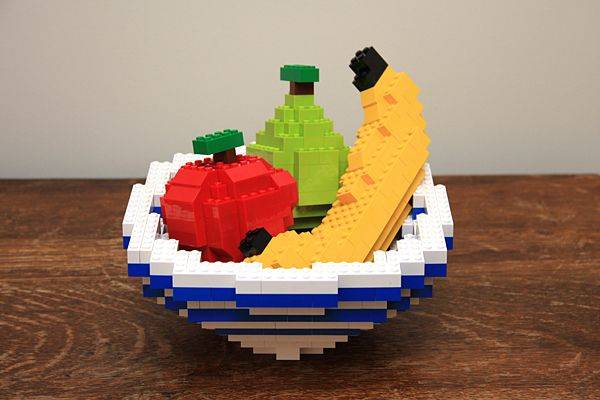 This would be another great addition to your kitchen beauties. Create a napkin holder today with Lego and put your napkins in it. It is much better than letting those kitchen napkins lie around on your cabinets. Create a fancy napkin holder with Lego and arrange them beautifully inside it.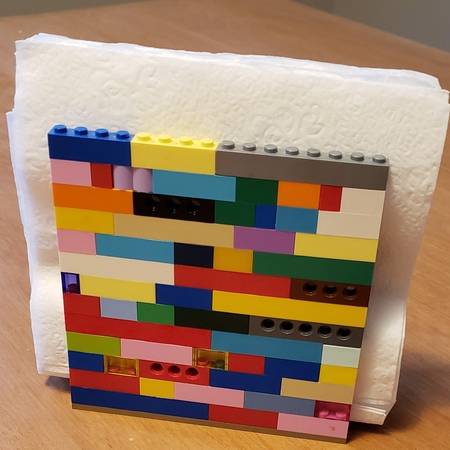 6. Office Desk Organizer:

Of course, you can give your office that Lego touch by creating a desk organizer. Let's say it's just where you can stash in pens, markers, keys and any other office junk. In this way, your table would be free from all those junk and at the same time look very decorative too.

You can design this any way you want it as regards the color of the bricks and size. You will also choose the perfect shape you want it to be. Unleash your inner creativity by creating this office desk organizer.


Thinking of a unique way to store in your valuables? You don't need to go in search of a box because you can create a Lego safe. It may interest you to know that a unique and original Lego brick can withstand about 950 pounds of pressure. This is the reason why your feet hurt you so much if you mistakenly step on them. Well, you can see that your valuables are safe.

You could store in your jewelry, checkbook, keys and so on. You determine the right size and the perfect color combination for you. You can also figure out a way to include a lock in the safe just so you know it is completely safe.

To take Lego creativity to another level, you can turn your wall into an amazing combination. It's going to be hard work, yes but the final result is mind-blowing. First off, you have to gather as many Lego blocks as you can. Check your sitting room floor, bedroom, drawers and so on. Then, pick out the colors you intend to use. Well, you know exactly how you want the decoration to be so it may not be a big deal. Also, you know how wide and how long the wall needs to be so you'd work towards that. Putting Lego blocks together is not that difficult so you'd eventually get around it.
When you're done, you can use it to demarcate space in your house or just leave it at one corner of your house. You'd be delighted at such beauty. Of course, visitors to your home would want to know the secret.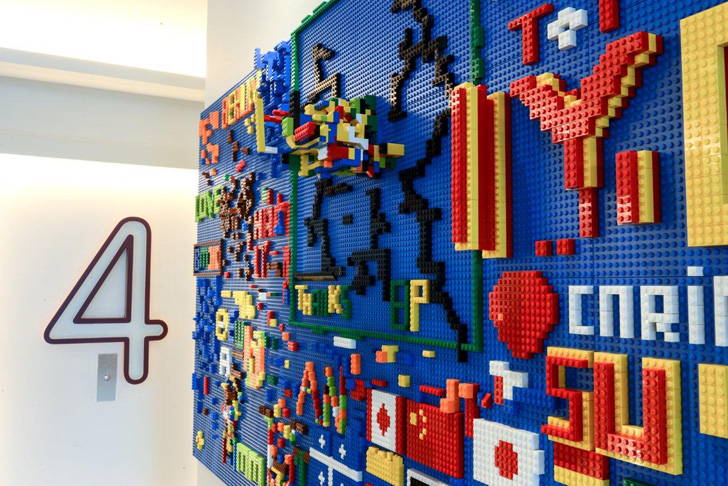 9. Do-it-yourself Wall Repair:

LEGO bricks may just come in handy when you need to repair your wall. Yes, you don't need to call a professional for everything as you can just let your creative side get the best of you. Simply measure out where needs a repair and work with that. Afterward, you can put in the completed project in that space and there you have it.

You can make your home Lego-themed by using Lego bricks for your interior decoration. Well, you might think that's weird until you see the actual work. Take those bricks off the ground, do something creative and stick it in corners of your house. It could be on the tabletop, on your television stand and anywhere at all in your home. You'll be delighted to see how much your interior decoration would change with a touch of creativity.

Well, you can make an entire house from Lego and decorate your home with it. It could also be in your office or even your car, depending on the size. You only need to know how a typical house looks like which you know. Get the bricks and set to work. On completion, include it to your interior decoration by leaving it on the tabletop.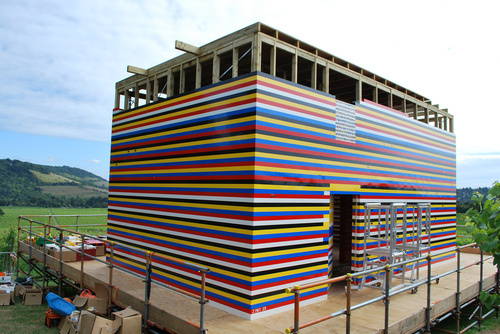 12. LEGO Christmas Ornaments

You can make Christmas ornaments with those bricks lying around on the ground. Create reindeers, Christmas tree, gift boxes and so on. Yes, your Christmas can be an entire Lego affair. You only need to ensure they are ready before the Christmas period and the kids would love to help you out too.

Looking for a way to keep those books together? You can easily make a DIY bookshelf from bricks. It may not necessarily be as big or large as a bookshelf but something to keep the books together. You can bring your inner creativity to life by making bookends. You're at liberty to choose your color combination and the right size you want. When you're done with the entire project, you can arrange your books on it. You can place it in your bedroom, study room or your office.

Make lovely flower pots with the bricks and you'd be glad you did. It would just be like any other flower put, with the only difference being that it is made of Lego bricks. If you're done with it, you can put in your soil and put your plant in it. You can also stick in natural flowers in it. This could be a great addition to your home.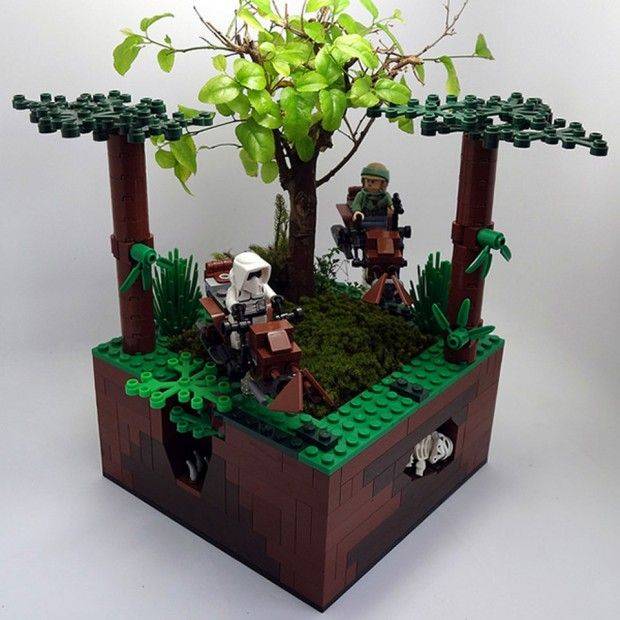 Get a safe place for your knives today so the kids don't carry it off. Even if you stay alone and no one is going to carry your knives off, create a beautiful item to place them in. You can do this with bricks and you would be happy you did. Decide the shape you want it to be, the colors you want to use and the size you want it to be. On its completion, you can carefully place your knife or knives in it then put it on your kitchen table or cabinet.

In all, Lego is a wonderful addition to the home. Whether it is just for the kids to play with or for a creative sense. Rather than letting those bricks lie about without use, you can put them to work with these ideas above. Of course, you'd love the result and look forward to creating more projects. Therefore, use your extra time to make your home, office, parties, and decoration a Lego-themed one. This you can do with the 15 creative and practical ways to use LEGO.