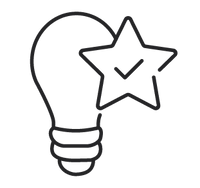 Premium
Quality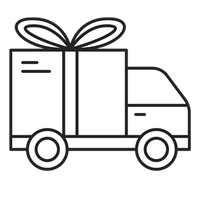 Free
Delivery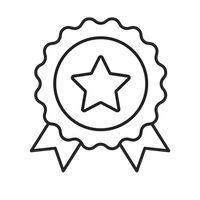 2 Years
Warranty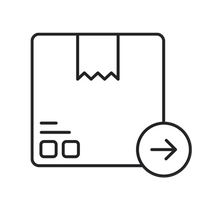 1 Business Day
Dispatch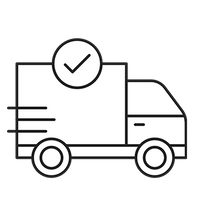 3-12 Days
Delivery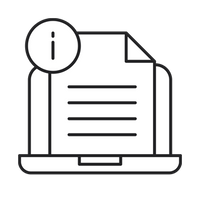 Instructions Both PDF
and Online
THE NINJA CITY
You can be certain that a well lit up LEGO NINJAGO City 70620 will be more fun to play with. Relive The NINJAGO Movie today with our special LEGO lights.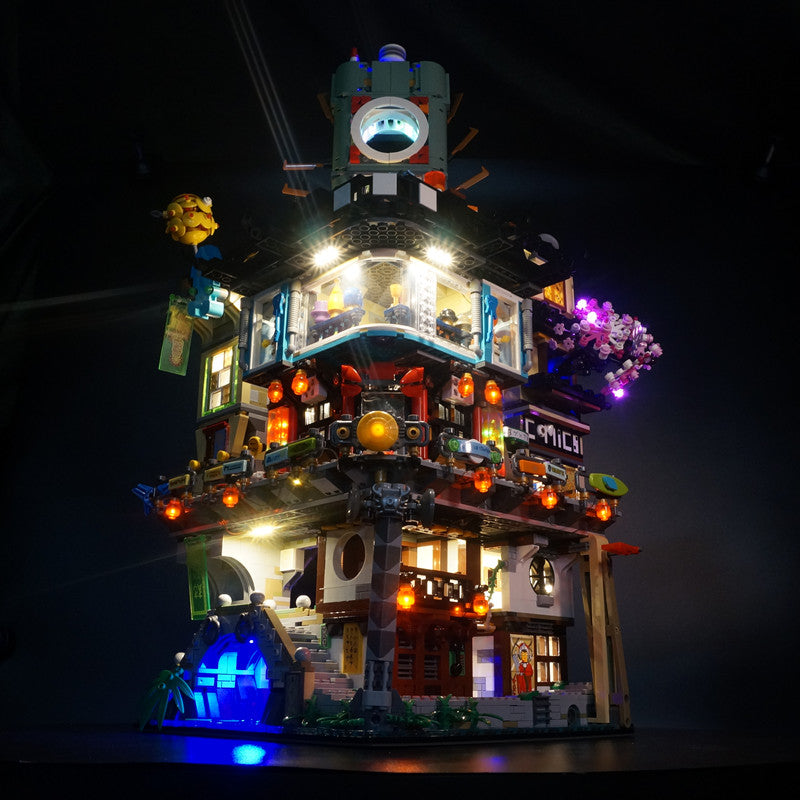 Magnificent ninja city
Have a look at this glamorous city where all the actions is found. It is also filled with drama
Gorgeous scenery
The scenery of the city is so glamorous, it is filled with the activities of the city live in ninja style.
Posterior view of the city
The posterior view of the ninja city is so marvelous, it really looks like a back alley of a city.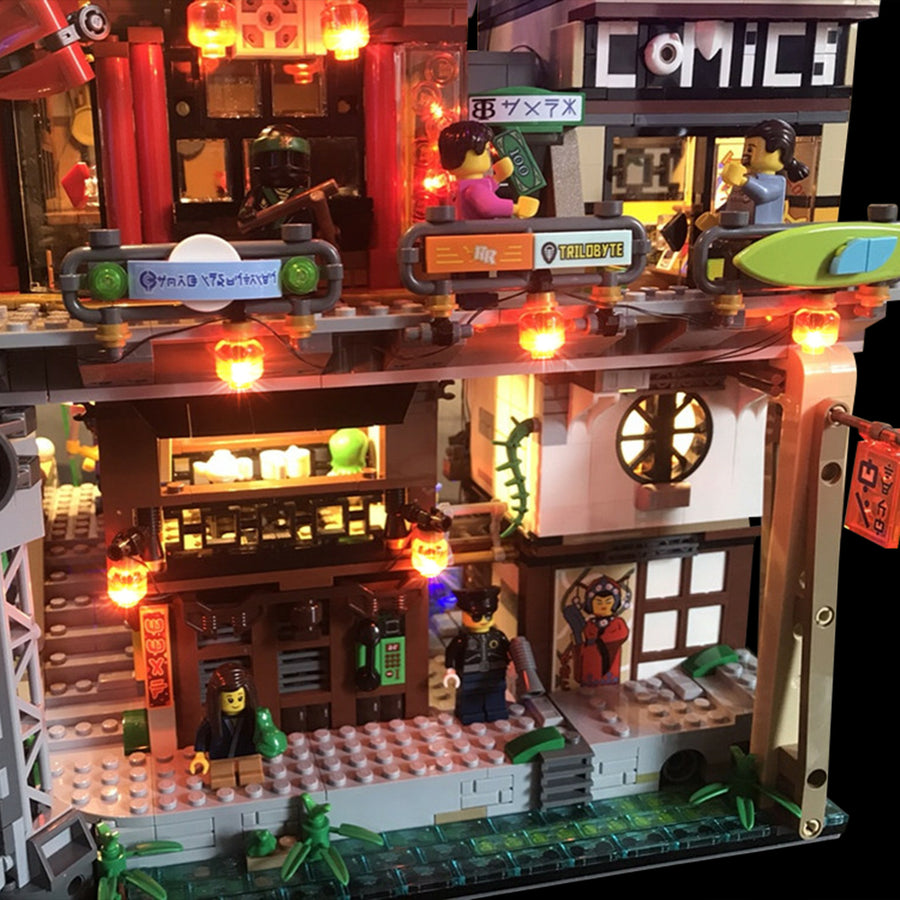 Fabulously detailed
This ninja city is so incredibly detailed, it has all the minifigures going on with their daily activities in the city.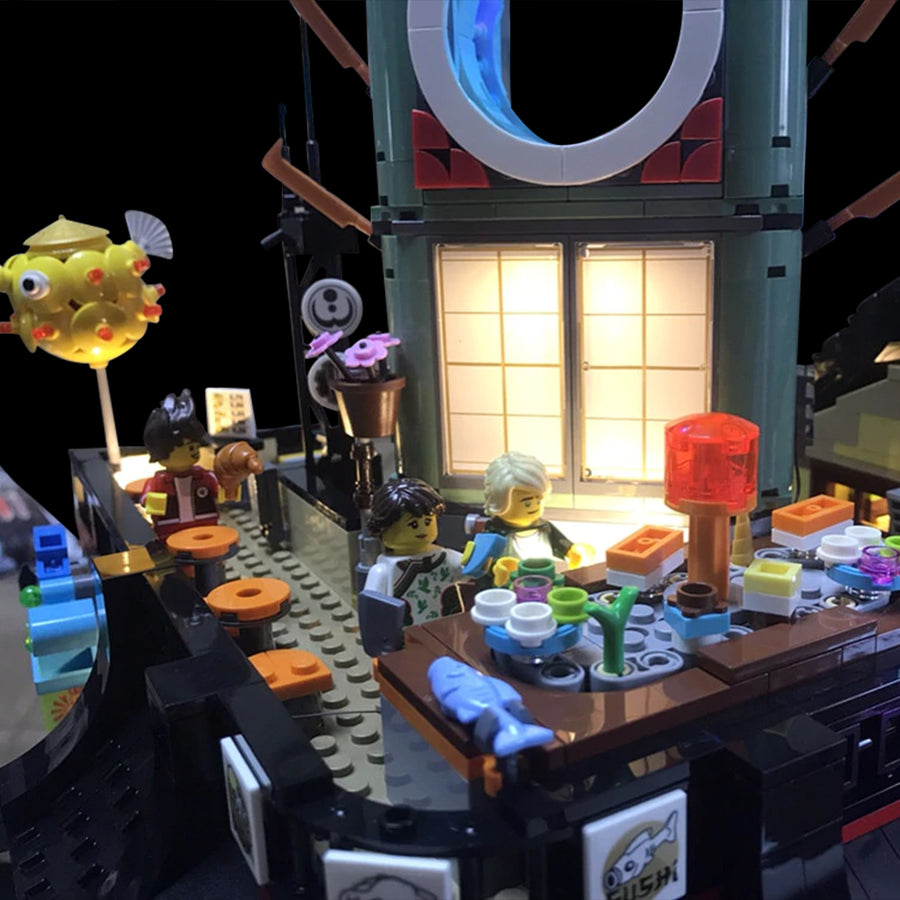 Light of the ninja
The ninja city is so beautiful with the shining lights bringing out a glorious view when seen afar.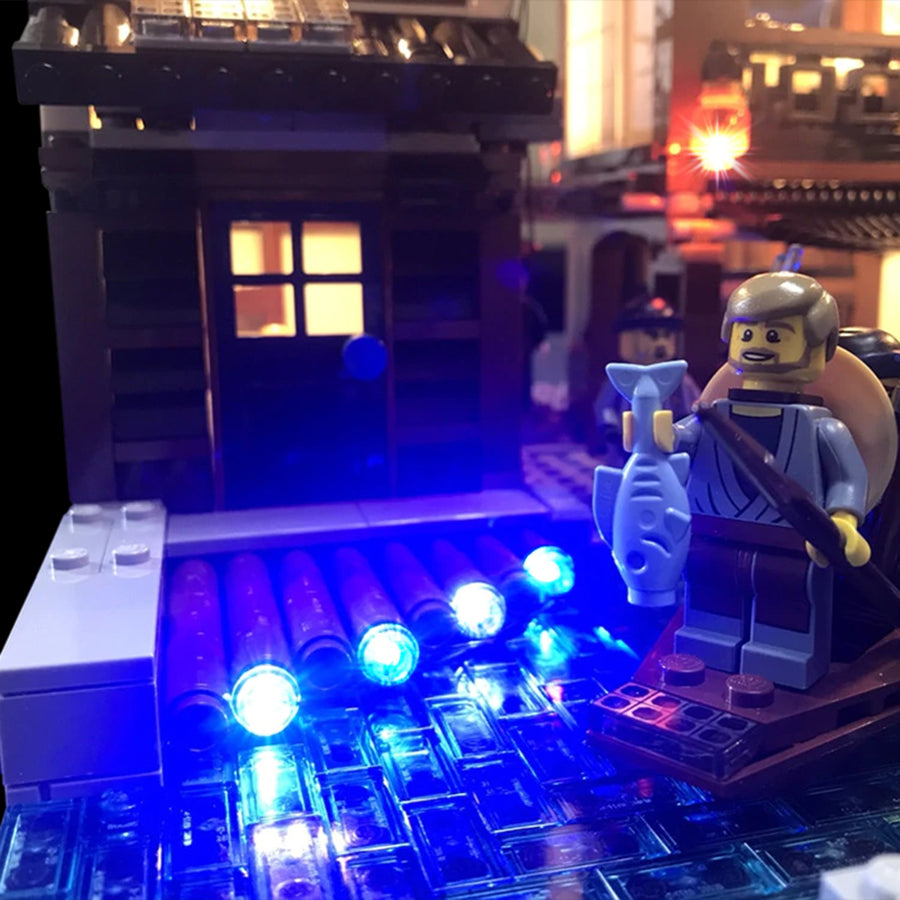 Show off your ninja city
Display your ninja city to everyone, showing them the vibrant life in the ninja city.
What's included
Standard Version
Original Game of
Bricks Box
Battery Box
Instruction Both PDF
and Online
About Game of Bricks
Game of Bricks makes it a point of duty to provide you with the best LEGO lights for your sets customization. Quality of LEGO Light Kits is our speciality. This set is a light kit only. Model is not included.
Readers Section
Do you ever wonder what it would feel like to be in Ninjago City? Walking through the fish market or standing on the bridge over the stream? Well, you're not alone. Fortunately, you can do all of these with the LEGO 70620 Ninjago City! Adding Game Of Bricks LEGO Lights make this LEGO city more attractive.

LEGO Ninjago City 70620 is a thoroughly detailed 3 level LEGO building. All the 3 levels in LEGO Ninjago City 70620 are connected by an elevator.

In the first level of this amazing LEGO house, you can shop for fish in the fish market, take a nap in the house, go fishing on the boat or relax on the bridge. The second level features a comic book store, a fashion store with all the best cloth designs, an ATM for withdrawing some cash and a crab restaurant.

At the top of the city is Misako and Lloyd Garmadon's apartment, a radio tower and a sushi bar! It's literally a city in a building. Why would anyone want to live anywhere else?! You can also lift each level of the city to play with the level of your choice.

To enhance the beauty of the LEGO Ninjago City 70620, we at Game Of Bricks present you LEGO Light kit specially made to bring this vertical city to life.

The Game Of Bricks LEGO LED Lights contains numerous individual lights for all the parts of this building. You can raise the roof of the LEGO house and easily install the lights into rooms.
Delivery
After your order has been confirmed, you can expect to have it delivered to you soon enough as our dispatching time is between 1-3 business days (usually it is just 1 business days).
During busy periods dispatching time can take up to 8 business days. (examples: Black Friday days / Christmas time)
We offer free shipping worldwide. Delivery time to most countries takes from 3-12 business days.
Warranty
Our lights kits are backed by free support for 2 years after purchase. We offer free shipping in the first year, but in the second year, you will have to pay a 5 euro shipping fee.
Returns
You may return most new, unopened, or damaged items within 30 days of delivery for a full refund.
Disclaimer
We would like to let you know that we sell only lights for LEGO sets. We have specially-built lights to beautify and bring your LEGO creations to life.
LEGO® is a trademark of the LEGO Group of companies which does not sponsor, authorize or endorse this site.